DIVING into a Wedding Stationery Business (Top Tips)
Ready to take the dive into starting a wedding stationery business?
Are you bursting with passion, creative zeal and have your mind racing with designs for your wedding stationery business? I hazard to take a guess that you have also spent the last few weeks madly pinning away wedding stationery on Pinterest?
Before you start reading everything below, I want to give you a heads up, that half way through you may feel so overwhelmed, that you've missed some key actions that I took, or how are you going to possibly achieve your goal, PLEASE, PLEASE, DO NOT GIVE UP and take the time to read through properly and push through any current limiting beliefs that you do have. I have taken a great deal of my time out to give all of this value to you, for free so that you can learn from my journey.
As a hand painted wedding invitation, calligrapher and stationery designer, I am now seven years in to the game and although I feel as though I am still very much on the so called creative journey and still not exactly where I want to be, however,  I am happy to have made it past the start of my creative endeavour. Even now within my seventh year of business, I have been through some of the most exhilarating massive income and work peaks where I have three clients in some months and some incredibly quiet, low times where nothing seems to be happening or working no matter what I do.
I would love to share some essential nuggets of wisdom that I couldn't quite find when I wanted to start my business.
By the way – if you would like to be alerted every time I post new content or blog the ups and downs or great content about the stationery / calligraphy business, drop an email over to me and I'll add you to my email list. I rarely send emails out but when I do, it's like sharing gold!
If you're interested in a 1:1 private coaching session, with a seasoned luxury wedding invitation designer, who is still in business, get in touch and apply. I charge £250 per hour and I'm friendly, open about all of my experiences, good and bad and I'll be happy to share any industry insider information with you. Get in touch via rubana@crimsonletters.com, I'd love to hear from you.
Rubana Gaspar, the owner, designer, illustrator and artist behind the brand Crimson Letters
Come over to my Instagram and follow me.
I have started to do a series of reels videos to support the stationery community, here below are a quick list of a range of small videos you can access that will offer you some value and insight into my world.
This article will cover what I should have done in the beginning and moreover what I should have stayed way clear of in those early vulnerable stages, so that hopefully you can learn from my mistakes.
In this wedding stationery business article I would like to not only share as much valuable information, links, mentors, courses, where to source materials, debunk SEO myths, but more importantly I want to share exactly what you SHOULD NOT NOT NOT DO!!!!
No matter how sorely tempted you are to do it, just do NOT make the same mistakes that I did!!!
So let's start right at the beginning:
"IT ALWAYS SEEMS IMPOSSIBLE UNTIL IT'S DONE" -Nelson Mandela
MY FIRST STEPS INTO THE WEDDING STATIONERY BUSINESS WORLD.
I spent many weeks pinning wedding stationery from other designers as an inspiration point to start designing. Having come from an arts background and having a degree in Textile design, I knew I had something to offer.
I knew I could design really, really, well. I had always had a strong sense of inner confidence and artistic ability. I had pretty much spent a large part of my life drifting and not really aligning with my true skills, because I had a limiting mindset that I would never be able to make good money from art.
I knew I could excel in this. But what would be my unique selling point, what would set me apart?
I literally had absolutely no idea. I had no signature style yet and didn't even know how to position myself and in my mind I remember thinking, but I am just another one of them out there in the sea of wedding invitation designers.
Right back then, I thought there was only one main competitor out there. I had no idea that calligraphy and watercolour was fast making its own movement of workshops and that this trend was growing internationally and across the country.
NOT YET!!!
What did I do to get myself kickstarting for a wedding stationery business?
For 6 months straight, and I mean it, for 6 months non-stop I just went into a design immersion and created design after design after design. I really did have the luxury to do this, with my husband being the primary breadwinner, I had already left work to further my study as a teacher and had some savings on the side.
If it is at all possible do not stop working and design slowly on the side.
My mistake was that I should have kept my job as a source of security and income and only left when I knew that I had regular orders coming in.
This way you will not have the desperate -scarcity mindset which can be very detrimental when orders are not coming in and you will not feel like giving up with zero finance coming in.
I went through a terrible period of depression two years into starting my business. As you can imagine leaving a full time job is already a huge change. To not have a good income coming in month after month and instead having a lot of money go out and not seeing any results come in was a very big life challenge and for a few months I felt devastated and like a complete failure. I want to spare you from that. So please do follow my advise and work part time or full time if you can.
You can carry on developing on the side slowly, until orders start coming in.
My plan was simple
Create a portfolio of stunning designs, have them professionally photographed and pop them up on a website and start selling. As I remember looking back, I created a range of about 6-7 collections. Within each collection I had about 5-8 pieces.
I remember looking at my designs with such love. I thought I had produced the most dramatic, elegant and stand out designs in the realm of stationery!
Boy was I wrong!!! I was so in love with the process of being creative that I had no idea how lame my designs really were!
AS PART OF A WEDDING STATIONERY BUSINESS IT IS SO IMPORTANT TO DESIGN A COHESIVE PORTFOLIO
YOUR PORTFOLIO IS A HUGE REFLECTION OF YOUR BRAND
Now looking back I really needed that time to just allow myself to start in order to develop in a cohesive look.
I needed to give myself the luxury of time and just play with paint and hone my calligraphy skills. When I ventured into this business, I thought my style and my calligraphy were good enough.
They were NOT!!!
So this is where you need to just stop comparing yourself to all the other wedding stationery business owners out there. Just switch off all of those Instagram accounts and stop Pinterest surfing and find some original sources of inspiration.
This is what I mean by original sources of inspiration:
Find classical artists that inspire you, anyone from Cezanne, Picasso, Rembrandt. use their style to inspire new designs
Out of the ordinary themes such as circus, cowboy, Egyptian influences. Think outside the box and your designs will be equally as original as well
Try to focus of using a a key set of colours that you love more than anything else
As I began to close myself off from what other stationery designers at the time were doing, I managed to continue to work more and more on just creating and playing around with illustrations. I tried to develop my artistic skills as much as possible. Eventually there came a time where I stepped back and saw a commonality that started to develop throughout the wedding invitations.
I knew that I wanted to go down the specialising in hand painted wedding invitations "route" and that would be my stand out feature.
Also, my portfolio was beginning to have a defining look, a sort of signature style. I started to fall in love with dramatic, intense designs, that were rich in colour and I often gravitated towards using golds and blacks as my base colours. Here below is an example of this type of work that I gravitate towards now. You can view the below collection here. Bear in mind that it took me four solid years of constant hard work, guts and dedication to be able to get to the level were I created this type of work.
I began mixing blacks and golds with other lighter colours and knew this was how I could position myself.
A very particular style began to come about with a secret sauce of:
Envelope liners, acrylic large flowers, crest designs, Baroque style, watercolour washes and very detailed flourished calligraphy.
I loved creating the most elaborate envelope liners,  crazy elaborate!!!
I began to specialise in acrylic large hand painted flowers, everyone else was doing watercolours.
I liked to create my own monogram/crest design, each suite would have a different styled crest.
I loved using a heavy baroque/

European

influence which made my style stand out.
I tended to start hand tearing the edges of all of my invitations for added depth and interest.
I used my travel experiences and to inspire my collections.
In all of this I also added into the mix watercolours and hand calligraphy, rather than having to outsource calligraphy.
My calligraphy was also starting to take shape after two years.
I began to use more flourishes within my calligraphy, rather then modern brush writing which was everywhere!
DON'T BE AFRAID TO STAND OUT.
I also remember coming across a very niche wedding blog, called Rock n Roll Brides, that was all about edgy brides who are loud, confident and all about an alternative style, with brightly, dramatic coloured wedding dresses that make a statement instead of romantic white weddings.
I thought to myself, if this wedding blog can be so specific in their look and be highly sought after and have managed to make a success out of that business model because of that, I could do the same with my wedding stationery business and really stand out from the crowd.
Yet at the same time I had to be very very brave and confident in myself to do this with my style.
There was practically NODOBY doing using the edgy colours or highly detailed illustrations that I was coming up with. I even had one or two creatives commented that I needed to create some mainstream more pinky/plain designs to attract any clients.
That was very scary to hear!
Yet I stuck to my ground.
When I did hear that, remembering the Rock N Roll Bride and even designers like Alexander McQueen and Cath Kidson who both set themselves completely apart from the norm and made them vastly successful, those examples somehow propelled me on.
It is only when you find a way to stand out of the crowd as much as possible, with what you offer, or the services you provide, or the way your branding looks and the colours you use, will you manage to attract the right client and repel the wrong client. Your wording, the images you use all have to match and naturally compliment the designs that you will create. You have to try and speak specifically to one type of client. If you are trying to please too many people, appeal to too many clients you will in effect be appealing to no one.
IS BRANDING REALLY IMPORTANT FOR A WEDDING STATIONERY BUSINESS?
BRANDING, oh BRANDING!!!!
Branding means much, much more than just choosing a pretty logo.
Yes of course your logo design and branding colours goes a long way towards communicating what your creative company is all about and attracting your clients.  (More about logos in a section below). Yet branding, is a way to differentiate your business and appeal directly to your client.  It really is essential to position yourself correctly for the growth and long term survival of your business.
"DESIGN IS THE SILENT AMBASSADOR TO YOUR BRAND" – Paul Rand
You must delve deeply into the world of branding and what it means. Do as much research as you can on this area, but don't feel too overwhelmed.
Right in the beginning stage, most small businesses have no idea who their ideal clients should be,  or how they will go onto attract them. You are just madly passionate about jumping right in and starting your business. I completely understand!
For your wedding stationery business keep it simple to start with
The good news is just start and this area will likely be revised later on down the road after you have been around for a year or two.
Here are some basic links to help you get started in the right direction:
Another point to bear in mind – when I started I had a rough idea of the direction I wanted to take but to be quite honest, I had absolutely no idea at all that my brand would grow and evolve into becoming what it is today. After so many years of trying to develop my design, hone my brand and develop my signature style, my branding has changed. I should really completely update my website and branding but I am holding on for dear life, until the very last moment before I do this. I want it to be the right investment at the right time.
Don't be too hard on yourself in the beginning. Your business will grow and change and you will be able to eventually niche down and become an expert in one area specifically. That will not happen overnight, but over time.
However, having said the above, I have seen photographers websites that really look like they have been slapped together in one night by a teenager, with all sorts of photographs with strange couples, zero direction on a chosen look, such as fine art look, (specialising in baby/newborn photography moody photography etc….) or choosing to focus on one key look or area that they can really specialise in, such as, adventurous couples, elopements, destination weddings, luxury wedding etc…
This very photographer had no idea why she was not getting any clients!!!
It is because their portfolio wasn't focused enough and seemed all over the place without a strong identity, but they had no cohesive refined look, nasty fonts, and their other social media screamed the same too.
Try to niche down as much as possible
IF YOU'RE SPEAKING TO EVERYONE YOU 'RE SPEAKING TO NO ONE
It took me a while before I could truly gage what the above statement meant.
I started my wedding stationery business by wanting to design everything, use all colours, wanting to use many materials etc… Again, going back to the time that I started pinning every single wedding invitation design image on Pinterest because I wanted to somehow use those designs as inspiration. I did that from from a complete lack of confidence.
By trying to design everything and try to use all sorts of colours, I was in fact not niching down enough. I was being, just another one in the crowd and I was not niching down enough to stand out with my brand.
Starting your wedding stationery business involves much more than just choosing the right logo, but the branding, the messaging and copy that you use upon your website and every interaction that you take makes an impact. Your "look" that your business portrays is key to attracting the right types of clients!!! If you have a cheap look, with rubbish product photography, mismatched together, you will inevitably attract cheap clients.
Learn more about branding here via skillshare on with how to create a brand on what sets you apart, here.
GIVE YOURSELF TIME!!!
Truth be told, when I started my business back in 2016, I thought that in about four months maximum I should have orders that would start to trickle in. I was so naive and inexperienced and in such a rush to set the world alight, I had completely unrealistic ideas about how long my business journey / success would take.
To be brutally honest, you have to prepare yourself and know that business, really good sustainable businesses are not made or launched in the space of 3-6 months. I have spoken to many many creatives about this.
You will not overnight, skyrocket to an online sensation.
Don't get me wrong, you may be a great designer, you might have the right contacts and get off to a rolling start.
Yet for mist of us success, real longterm success comes after years of consecutively investing in yourself and your business. By investing I don't me investing only financially. I mean investing in your skills, your craft, developing and hoping your signature style and constantly working on your marketing and getting your messaging out there.
Here's are some helpful videos starting with another wedding stationery designer's story:
Listen to this podcast, where another stationer from Momental Designs, discusses how she waited for four years before she left her full time job.
You may get dribs and drabs of some clients to begin with but you can then go for some very long periods with nothing happening and you need to stay focused on your end goal and improving your marketing  (which I cover more below).
This will take time and you just have to have the patience, put in the hard work and have the sheer dedication to stick it out. If you are passionate enough and do work hard, you can do this and you will get there!
Here below is an excellent video that you must watch if you are considering breaking into the wedding stationery business.
This is excellent encouragement below, beware some swearing but the lesson is very real and very important.
Also you HAVE to watch this video below.
FIRST LESSONS:
SO rounding off, the first lot of lessons are,
Create a cohesive strong collection that sets you apart
Don't give up your day job or at least work part time to support yourself
Educate yourself about branding
Know that this will take a lot of time, don't dwell on where you are now but plan for the future, know that it will take perhaps a year or two before you become established
ARE THERE ANY COURSES OUT THERE FOR WEDDING STATIONERY BUSINESSES?
THE COURSES LOWDOWN
While you're in the process of finalising your portfolio, don't jump into setting up your website or designing a logo just yet ( for now just use some simple large headline text for our logo and get around to it later on), rather than do that too early and waste a lot of money, take your time to put together a really credible portfolio and try to learn as much as you possibly can, in the way of courses.
Here below, I have painstakingly searched for wedding stationery design courses and been on the below courses, specifically geared toward a wedding stationery business.
I have listed them all here for you to take full advantage and load yourself with all the right skills.
Skillshare

has everything from illustrator, photoshop skills, to branding, setting up a portfolio, launching your business, marketing and more! They have pretty much got every area that you might need help with (you can get one-three months as a free trial).
Atly

. To build my knowledge base for a wedding stationery business, I did my very first stationery 101 course with Atly. There were a few interviews with other stationers too. Be sure to select the right course that suites you. You have courses that also deal with wholesale, if you would like to go into stocking your stationery in shops and boutiques, these courses are a good option for you.
Design House Prep School

. These courses are specifically for a wedding stationery business, covering all sorts of areas like pricing for profitability, digitalising calligraphy and artwork, the art of saying no, no such thing as a bad client, sketching designs, branding and watercolour themes.
Monvoir

also offer artwork digitalising classes and we as in person workshops and a calligraphy summit, that occurs at certain times throughout the year.
For podcasts, I highly recommend:
If you need help with pricing, this book is perfect for calligraphy rates:
YOUR WEDDING STATIONERY BUSINESS NEEDS A LOGO RIGHT?
Here's to the logo hunt…..
Now that I've shown you the best courses to take, I'd like to talk about my whopping mishap with my first ever interaction with a fellow creative for a logo design that went disastrously.
I was far too excited and jumped far too quickly at the first logo designer that I found.
My husband is Portuguese, so we were a little romantic in the notion that wouldn't it be great to hire a logo designer from lovely Portugal. So we together found a great website of designers and creatives and this logo designer in question has a reasonably presentable portfolio of logos.
Now this is the major take away here.
I thought she looked credible, yet none of her designs actually struck me. I thought being a designer, if I showed her some examples/images of what I was looking for, she would be able to come up with something similar.
NO, NOT AT ALL!!!!!
IT WAS AN EPIC CATASTROPHE.
The logo that she designed in the end for me, after lots and lots of communication and my filling out a huge form with what sets me apart and my branding ( complete waste of my time actually) she truly created the most plain, pathetic logo that my 10 year old son could have easily created in a word document.
She gave me 4-5 versions/ concepts of the same dreary designs!
Not one logo resembled any of the examples that I had given her.
I lost a LOT of money, when she refused to change the logo.
The more I tried to influence the creative direction, the more resistance I felt!
I then went to look through Behance, which is a wonderful creative platform and found a wonderful designer. I loved all of her work, every one of here logos seemed to strike an immediate chord with me and resonated so deeply with me, that after reading the reviews, I knew I had found my logo designer for my wedding stationery designer.
She created the most perfect logo which shows on my website today. I am still in love with it and don't want to change it at all!
Takeaway lessons here:
Only use a logo designer whose work you are absolutely in LOVE with!!!!
Ask them what happens if you don't like the design and how many separate concepts and design revisions they will make for you.
How many versions of the logo can they offer you, one for print, for web, a circular version for social media?
Avoid paying all the money upfront and only agree to paying 25-50%.
Be very, very clear with your instructions and the examples of what you are looking for.
If you can jump onto a call with them to see if they are open to you leading to design, rather than them dictating the design direction. Ask them questions about how they work. Designing a logo really should be a collaboration

(see the video below). 

Ask for a timeline. How long is the logo design expected to take?
Here are some of my favourite logo designers:
WEBSITE, WEBSITE, WEBSITE!!!!
Ok, so I had built up a coherent collection for my wedding stationery business, my logo was all set, the next big purchase on the list was the website.
WHICH DESIGNER SHOULD I WORK WITH?
As you may find out when you dive into the world of trying to find the right website designer, may of the designers out there are very pricey, and often fully booked!
I cannot tell you how many emails I sent out to web designers that I found via Pinterest. No one was responding and it was ludicrous!!!
Then I decided to play it clever and do something a little off the cuff and crazy.
I am British and I did some research and found that with the exchange rates £1000 roughly gave me $2000 Australian Dollars. I wasted an enormous amount of money paying a custom website designer where I could have used a gorgeous DIY theme and remade my website again later down the road.
Again, I was way too excited, didn't check any testimonials, or even know what I was looking for. But I did some searches specifically based on an area, such as website designers in Adelade etc…
I found a website designer who made tons and tons of promises. She promised to give me the website of my dreams and not stop working until I was 100% satisfied. She promised to help me get my website on the first page of Google.
Both were HUGE HUGE EPIC LIES!!!!!
Not only did she deliver a website that was half down with upside down images but she did absolutely nothing, and I mean NOTHING IN TERMS OF SEO!!!
SEO: this means search engine optimisation. Pretty much you work on your website so that it appears naturally upon the first pages. I cover SEO and everything that you need to know about it below!!!
I was really furious, but there was nothing I could do about it.
And she knew it.
SO MY TAKE AWAY LESSONS FOR YOU ARE:
Use flothemes for your website. Prices start at $240 and the websites are beautiful!
Use Squarespace for easy to use themes that you can manage yourself.
Go to Fiverr.  This is pretty awesome for the LEAN entrepreneur that has pretty big dreams but a low budget. Make sure that you check through all the rating and read the reviews first though!!! If you just want to get started and need some very reasonably prices freelance website designers to help you put a site together.
DON'T TRUST ANYONE who promises to get your website on page one on Google. It is not possible for a new website to get on page one. Google takes a long time to trust new websites and you need to create a lot of content to get ranked naturally.
Let's Dive into SEO
But wait…what on earth is seo?
SEO: Search Engine Optimisation.
Basically – how you can get found on Google.
When you search for anything on Google, the results that come up on the first page (that are not adds) are all ranked by Google. Google ranks all the articles on the first page and classifies that content based on exactly how good, and how valuable that  content is. You can optimise (put together) your website and especially your blog to write extremely valuable content (like this blog) to get found and spread awareness.
You can write highly valuable content for your perfect clients so that they can find you.
Here's a little bit about my SEO journey/ story / drama!
I was told for a wedding stationery business getting on one of the first pages of Google would be almost impossible.
I WAS DISTRAUGHT!
THE WEBSITE DESIGNER HAD PROMISED I WOULD BE ON THE FIRST PAGE
Long story short, my website designer clearly said that she is the queen of Google or seo and could get me on the first page. Although (I found out later) that she offered seo as an extra alternative service, I was led to believe that with my new website that she was designing for me, that she would be able to get me to the first page of Google.
I discovered that my website was nowhere to be seen on Google. I was horrified. I thought that once I had my website up and running that I would instantly start having eyes on my business and a flurry of clients. Goodness was I deluded.
My SEO education
I decided to take matters into my own hands and started doing lots and lots of reading articles and endless, endless research. I reached out to seo experts to get advice.
This is one of the very first things they told me (amongst 10 other areas of improvement):
Firstly, as a new website it takes a lot, a lot, a ton load of time for Google to trust this website and begin to rank this site. I found out that it can take up to 10 months for Google to start trusting a new site!!!
Secondly, the website that I had designed had ZERO TEXT!!!!
I LITERALLY HAD NO CONTENT ON MY FIRST PAGE, JUST IMAGES ON MY HOMEPAGE!!!!
CONTENT ON THE HOMEPAGE
For Google to recognise and rank my website at all I needed to have content on my website's front page.
As the seo expert that I reached out to explained, when he came across my website, he had no idea what my website was about. He was confused and thought that the site was a photography site, featuring photographs!!! There was no text at all to explain what I did, or what I offered and this could cause people to quickly bounce off my page.
I looked at my competitors and saw that the sites ranked on the first page for my niche "hand painted wedding invitations" all has around 300- 700 words on their website's front page.
I set about, immediately creating some content for the front page.
PHOTOGRAPHS NEEDED TO BE OPTIMISED
All of my photos needed to be sorted out.
The whole website was a mess!!!
When you naturally upload a photograph to your website it will have a weird name img 573574… or like this saying "screen shot…" This is terrible for Google.
Example: If I am writing a blogpost ( you will need to target a keyword every time you write a post) about large custom made envelopes, I would name the below image Large custom made envelopes with deep purple and gold floral design for floral wedding stationery.
Why do you need to name your pictures? Google cannot see images. So you need to explain what the image is about.
Think of Google as a blind person, you have to tell him/her what the image is about. You must name the image but you need to choose the name carefully to fit the purpose of what you are using the image for.
The website designer failed to tell me that I not only must I name my photos but also reduce my photographs size.
Normally a photograph is around 2MB when you transfer a photo from your camera to your mac.
You must resize it so that is is around 200-400KB. 400KB is quite large, but if you can manage to resize your photos on photoshop for the web, that is the best option for you, it resizes your photos without loosing image quality.
Save your image to a low resolution jpeg.
To start with if you are using a PC or a mac, just go to tools and hit adjust size. You can reduce the file size there.
When you upload the image onto your website, make sure you fill in the alt text field as well.
Here's a great article to help you understand why you need to optimise your images for the web and some tools to help you as well, see here.
HOSTING YOUR WEBSITE
To begin with I used Bluehost as a host for my website.
I chose the cheapest hosting plan and as a start up, I suppose it was ok, as I didn't have a blog, hardly any text and just a very bare portfolio.
Yet, I was told later by a seo expert that Bluehost was too slow as a host and I needed to transfer my site to a faster host.  Now I have transferred my site's hosting to a better company called Siteground.
They have lighting fast loading speeds due to local servers.
Google loves fast loading website and actually penalises slow loading websites.
Not only did I transfer my hosting, but I purchased a plan for 3 years. That is makes your business say to Google, this business is more credible because it aims to stick around for years- not just one year.
MY MAJOR SEO MISTAKE
One year into my business I wasn't hardly seeing any traffic and Goggle wasn't really paying attention, despite my adding a YOAST plugin to help with seo and keywords.
So with some of my savings, I decided to go for it and really give my website a huge boost and opt for a seo agency.
ANOTHER HUGE MISTAKE!!!!
I wasted a shed load of money, paid an agency for 3 months to seo my site and after 3 months I finally saw my website on the first page of Google when you searched for my niche, "hand painted wedding invitations".
GUESS WHAT…..
IT LASTED FOR 1 WEEK.
Then my website dropped like a stone to maybe the four or fifth page where it was when I started off.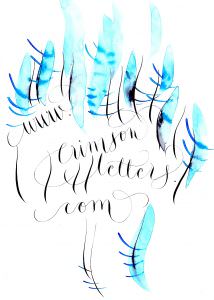 I took matters into my own hands and just seo'd my own website.
HOW DID I BOOST MY RANKINGS IN GOOGLE FOR MY WEDDING STATIONERY BUSINESS?
CONTENT, CONTENT, CONTENT
START BLOGGING NOW
Write blogposts with long content. That's right LOOOOOONNNG content.  Blog writing with relevant articles is a wonderful way to attract your ideal clients and position yourself as an expert. No 300-500 word blogposts will NOT do. Those days are long gone.
Think 2500+ articles, rethink your titles, use relevant other keywords related to your topic, use internal and external links. These will be classified as a cornerstone piece of content and Google loves them.
If you cannot manage that quite yet, that ok, try if you can to aim over 1500 or 1800+ if you can.
Of course, you might not be able to do this every single time that you blog. That's ok!
You might write a bunch of sorter posts.
If you feel stuck on what to write, and you certainly don't feel like an expert, well believe me, I have been there and I can totally relate!!!!
I remember right as the start of my business, coming across youtube videos that would say write content, whether it is a vlog, a video, a podcast or a written blog, but position yourself as an expert.
I felt as thought I was learning myself. How could I dare to position myself as an expert when I am only just starting out?
It actually felt dishonest to even dare to claim that I was an expert.
Nevertheless, you are good at some things that other people can learn from you.
BLOG PORTFOLIO ITEMS
Why don't don't you write a long blog post on each portfolio item you create.
Instead of just placing pretty pictures up in a gallery, start from the very beginning of how you use a point of inspiration and start to create a wedding stationery suite, or a hand painted wedding invitation design with calligraphy and hand painted details. How you go about incorporating watercolours, which envelope colours you select to compliment or contrast with the design?
This way you can use your portfolio as you build your business to help with your blog.
Search for what has not been blogged about yet or a blog post that is very easy to outdo.
If you find a round up post of the top 10 best wedding florist to follow on instagram, go and write an article with 20 best wedding florists on instagram with triple the amount of content and helpful tips. Then, just let it sit on Google.
You would be surprised the amount of areas that have not been written in a long blogpost form.
How about a review of a wedding venue that a bride of yours might be using. Visit the venue if at all possible, or email them or call them up with a set of questions and say you would like to interview them for an article. That way when your bride searches for that venue, she will come across your post and find out about you.
Listen to this podcast, where the Garter Girl blogged a small post every day which bought her an insane amount of traffic from Google.
Other blogpost ideas:
Write about your own creative journey. If your passionate, the words will pour out!
Create moodboards / colour themes and create collections or artwork inspired by them and blog it.
What is your most preferred paper or materials to work with?
How to create moody wedding stationery.
How to create lighter airy romantic designs.
Write some tutorials on how your clients can wax seal and address their own envelopes etc…
If you would like more ideas on what to blog, see this list here.
BLOGPOST WRITING TIPS
I used a combination of these two videos below to help me propel my content and at least start my content going. The guys from Income school and Brian Dean from Backlinko really inspired me.
Brians videos are invaluable in the seo world and not only educational but fun to watch too but don't worry about getting back links, as the two guys below will help you out with in the second video.
Watch this…..
WHICH MARKETING MISTAKES DID I MAKE AS A NEW WEDDING STATIONERY BUSINESS?
Over time I have had various other stationers get in touch and ask if they should advertise on wedding blogs. So I thought as part of your insight into starting a wedding stationery business this is a very important area to cover, so again, you don't make the same wasteful, wasteful mistakes that I did!
I honestly wish there was some valuable information like this out there when I was looking into this as well.
Yes at the same time, you may decide to advertise and it may work for you!
Every business has a different experience and on a case by case basis, you have to look at what has worked, where your clients come from ( always ask them how they found you) and then repeat what works.
Try to test advertising, or any marketing that costs a substantial amount in small ways before you place a larger budget and potentially loose lots of money for nothing.
WEDDING BLOGS
I started off by thinking, that if I list my wedding stationery business on a leading wedding blogs directory, of course in the calligraphers/ wedding invitation section, that brides would see this and be racing to my door.
I reached out to as many blogs as I could to find out the costs of getting listed for one year. I approached and was listed for quite a large cost one The Ruffled Blog, 100 Layer Cake The Pretty Blog and quite a few others.
I was very excited to receive my little badges to show that I had been listed and I thought that it would seriously add to my credibility as a new stationer on the block.
EEERRR…..GUESS WHAT HAPPENED?
ABSOLUTELY NOTHING.
Not only did I waste a huge, huge amount of my savings, but I had no results at all. A complete, complete waste of money.
Rather than do that do this instead to get yourself on blogs.
TAKEAWAY LESSONS:
Go for some sponsored posts instead. A sponsored post once published will stay on the wedding blog of your choice and be a credible, good authority link going back to your website, which in turn will help your seo efforts, help Google to recognise and rank your site better.
My directory listing expired after one year, whereas a sponsored post will never expire.
Do some selective style shoots.
Believe me, style shoots are a subject that I can write a book about with all the awful experiences that I have had.
Yet from the 26 or so style shoots that I have done, only about 8 of them have been published.
One or two of the style shoots have been published on some very sought after and highly regarded wedding blogs such as Strictly Weddings.
Style shoots are a much better way of getting onto a very credible wedding blog for free. All you have to do is put in the time, effort and pay for the shipping.
Wedding Fairs
Rather than spend a huge amount of money going to wedding fairs and go to all the hassle of hiring out a stall, (if you have done this and had success, then that is fantastic and well done to you) I would rather go this route:
Many top stationers actually make about 15-20 beautiful, beautiful packs of stationery, their best pieces and send them off to wedding planners that they would like to work with. Sometimes it is great for a new wedding planner to notice you, but remember, they do get sent so many samples, that they often throw those samples away.
How to approach a wedding planner
I listened to a podcast a while ago and was surprised with what I heard a wedding planner say. As I mentioned above, she was used to getting so many samples regularly sent her way that she would just discard it and yes – throw it out.
Instead – try gifting.
Follow that planner on Instagram, Facebook and Pinterest and try to get a feel for what they might like. Keep up with their stories, sometimes write them a little comment – NOT A SMILY emoji please!!! Try to strike up a real relationship, or neutral friendship, without being too stalky or ikky! You don't want to come across as overbearing , too desperate or come off as too tacky!
Create a relationship, and foster it.  The after about 3-6 months, send them a meaningful little gift. It could be a set of lotions, perfume or anything you choose. Send that along with your samples.
Now be careful here and make sure you use the right approach.
Don't approach a top luxury wedding planner when you specialise in low end of the market stationery. If you create quickly printed, cheap invitations and stationery, then you will want to find the same wedding planners that deal with those types of clients and so for your wedding stationery business you will naturally be a good fit.
Similarly, if you deal with higher end stationery or middle end market stationery, find the matching wedding planners and send your items out to them.
Alongside this for your wedding stationery business, you can also send packages out to bloggers.
Offer wedding planners a 10% referral commission, that way there is something in it for them.
HOW CAN YOU TELL IF YOU ARE A GOOD FIT?
Look at their instagram and facebook accounts. That should tell you how they position themselves and provide you with enough insight to know who they are likely to attract with their services.
Another great marketing tactic, rather than spending on wedding fairs, is this:
I came across this podcast with an interview with Andrew who is a photographer. He has a way of doing Facebook advertising that has enabled him to book, 6 out of 7 clients that he tests his strategy out on. In fact it works so well for him, that he even set up his own facebook ad courses. This add system works for him every single time.
So here's the link, please try it!
I hope that I have provided some good insight here in what to do and not to do when setting up your wedding stationery business. It is not all set in stone, so from all of the content that you come across, for all the tips and advise, make sure you only take and adapt what works best for you. One size does not fit everyone! I am sure you may have done something differently and it may have worked wildly well for you!! This has been my way of giving back to the stationery community and my way of reaching out to you new wedding stationery business newbies and giving you a ray of hope – that certainly wasn't around when I started out.

If you have any extra tips, chime in and let me know what you think!
Crimson Letters create exquisite, dramatic and luxurious, custom made wedding stationery, check out the website here > www.crimsonletters.com
If you have any comments at all, I would love to hear more about how I could help! Let me know in the comments below and share a little about your story.
Please do take time to visit my shop to buy my prints or original artwork.