Château de Vaux-le-Vicomte ( BEST Wedding Locations in Paris )
Looking for the most beautiful wedding venue in Paris?  Château Vaux le Vicomte is one of those wedding locations in Paris with everything you have ever dreamed of, and more.
Paris – the most romantic city in the world, and the perfect place to become betrothed to your beloved. If you didn't manage to receive a heart-stopping proposal in front of the Eiffel Tower, you can still live the dream by tying the knot in your very own fairy tale castle, set deep in the countryside just south of Paris.
In this article, we will take a close look at:
Chateau Vaux le Vicomte as the perfect choice for a wedding locations in Paris.
Why you should choose Chateau Vaux le Vicomte.
To make things easy for you, you have all the top most reliable and well known wedding vendors in Paris including everything from photographers, make up to florists.
Other wedding locations in Paris to make sure you have plenty of choices!
Let's dive in with our most favourite of all wedding locations in Paris.
Château Vaux le Vicomte is a simply stunning baroque French Chateau located in Maincy, on the outskirts of the some of the worlds best backdrops for romance. As a venue, it offers all of the luxury and opulence you could ever want for your picture perfect wedding.  From the grandeur of the deluxe and opulent interiors, to the rolling acres of landscaped grounds and French gardens, Château Vaux le Vicomte is THE very best wedding venue Paris has to offer.
There can surely be no more idyllic place for lovers to get married than Château de Vaux le Vicomte  as one of the best wedding locations in Paris, on the outskirts of Paris itself. It's no surprise that Paris has long been nicknamed the City of Love. Romance permeates its historic, cobbled arrondissements as couples dine by candlelight, stroll arm in arm down the tow paths of the Canal St-Martin and gaze upon the works of the romantics in the Louvré or Musée d'Orsay.
No wonder then that so many brides dream of marrying in La Ville-Lumiere, or the City of Lights, to give Paris one of its other nicknames.
With so much history and so many exquisite stately homes, palaces and châteaux to choose from, I thought it would be impossible to narrow down which of the many best wedding locations in Paris to choose from.
Which one would be the perfect fit for a destination wedding.
But, as soon as I drove up the long tree-lined driveway leading to château de Vaux le Vicomte, just 50km outside Paris, I knew I had found the one. While there are many unique intimate wedding venues in Paris, it was love at first sight as soon as I caught my first glimpse of the perfect symmetry of the château's fantastical baroque architecture.
The front entrance is simply magnificent, with huge curved glass doors stretching up as tall as trees, making quite the impression for wedding guests as they arrive.
The staircase, meanwhile, looks as if it belongs in the Cinderella fairytale. You almost expect to see her glass slipper, still lying accidentally discarded as she fled from the ball at the stroke of midnight, racing against time before her dress turned back to rags and her carriage became a pumpkin.
Walking through the colossal doorway, you enter into an imposing oval-shaped room with a vaulted ceiling which appears to disappear up, up, up into the heavens.
Wherever you turn in the château, you could never tire of looking at the classical architectural details, while the interiors are furnished as if creator Nicholas Fouquet and his family have just left the room and could return any moment.
As the largest privately owned estate of its kind in all of France, Château Vaux le Vicomte is a genuine 17th century castle, oozing with all of the prestige and glamour you would expect from such a unique and historically important location.  A true baroque masterpiece, its beauty lends itself perfectly to the type of fairytale weddings that every little girl dreams of.  Become a real-life princess for the day in your own fairytale castle, rich in old world charm, and as sumptuously superb as any celebrity wedding venue the whole world over.
If you want awe-inspiring architecture to wow your guests, a bridal suite that a Disney princess would be proud of and acres and acres of landscaped gardens to celebrate in,  Château Vaux le Vicomte will tick every single box on your dream wedding venue wish list.
Splendour At Every Turn
With chandeliers and intricate architecture aplenty, the Chateau offers a real taste of times gone by.  A 17th century ballrooms awaits you and your guests, as you celebrate the most romantic and important day of your life.  For a ceremony or reception fit for a queen and her king, the venue will take care of even the smallest of details to make sure that your wedding day is truly unforgettable.
Join as many as 220 of your guests for dinner in the luxurious Grand Salon.  With its majestic fireplace and fine tapestries you could easily be sitting in the court of a king.   The magnificent dome that soars to its fullest height in the Grand Salon, provides a gilded frame for this opulent and most luxurious building.  The whole estate is flawless and offers the perfect mise-en-scène for your romantic French wedding in Paris.
Set amongst a 1,200-acre park, all of the château's ceremonial rooms overlook the formal gardens.  With your every desired catered for, you can indulge yourself and your guests in some five star cuisine.  Imagine your gâteaux de mariage, a majestic pyramid of crème-filled pastry and glistening spun sugar, served on centuries old dining tables in the centre of the Grand Salon. You will be the envy of all your friends and family, and your wedding, with its grand accoutrements,  will be talked about for many years to come.
You and your guests can enjoy the privacy of the entire estate, and your wedding photography will be as delectables as images found in Vogue – chic, elegant and undeniably breathtaking.
Summer Weddings With Style
If you wish to get married in the gardens, you could not ask for a more beautiful setting.  Your ceremony can be conducted overlooking superb views of the castle itself, or the majestic state fountains.  You and your guests can enjoy cocktails on the terrace, or ease yourselves into a night time celebration with as many as 2000 candles lit to add romance and atmosphere to your evening event.
The traditional French gardens and courtyards offer an inspiring space to celebrate long into the night. Surround yourself with fountains, water falls, low hedges, beautiful sculptured parterres and statues enjoy fireworks at midnight. The venue even has its very own exclusive nightclub tucked away in the historic Orangerie.
The Château Vaux le Vicomte offers magnificent architecture, sumptuous decorations and beautiful gardens and outdoor spaces.  If you are looking to start your new life together with style and prestige, you will not find a better venue than this exquisite French Château.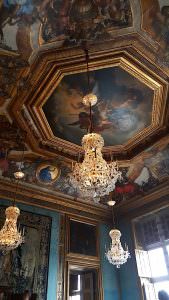 Best wedding locations in Paris & the best wedding vendors too!
It's vital, then, to ensure that every wedding provider chosen for the special day, from the flowers to the photographer, the cake to the couture, are more than a match for the stunning setting of the Château de Vaux-le-Vicomte. Here are my favourites, discovered through other well- known vendors based in Paris:
Please scroll down the the bottom of the article, to see recommended vendors and more luxury wedding venues in Paris.
Florists
We didn't think Château de Vaux-le-Vicomte could get any more beautiful until we saw it bedecked on our wedding day with florals, created especially for our ceremony. These are our recommended Parisian florists.
Floresie
Floresie takes inspiration from your own love story, the season and the venue. There's no price list or standard catalogue because its florists put together tailor-made florals after finding out about the hopes and needs you have for your wedding. Florals are shaped to complement the architectural detailing of a venue, trailing under doorways to create the perfect frame for wedding photos in Paris, or winding up curved stone staircases to showcase your big entrance. @Floresie  www.floresie.fr
Floraison
Floral artist Akiko Kovacs may originally be from Japan, but she is now firmly established in Paris as one of the city's pre-eminent wedding florists. With a love of all things French and romantic, she creates unique arrangements from her studio close to the Arc de Triomphe. Her work includes glorious over-sized roses hand-tied into relaxed arrangements and floral garlands draped over stone fireplaces in unique intimate wedding venues in Paris. @floraisonparis www.floraison-paris.com
Lily Paloma
Florists Soline and Clement love nothing better than to see their romantic bouquets come to life during a couple's special day. Inspired by nature, art, fashion and music, the creative team creates bouquets and floral displays with a natural, slightly wild feel, which are perfect for country or vintage weddings.  @lily_paloma_flowers www.lilypaloma.fr
Cake makers
The right cake in the right venue can create one of the most show-stopping moments of a wedding day in Paris. We ate a lot of cake flavours (one of the best parts of wedding planning!) and looked through an array of designs before choosing our own wedding cake. These were our two favourite wedding cake makers in Paris.
Synie's
We loved Synie's philosophy of creating delicious memories through cake art. There's an attention to detail, creativity and service which is second to none, and her cake portfolio is sure to win you over, featuring beautiful buttercream layers and giant ultra-realistic florals in soft pastel shades, autumnal russets or winter reds and whites to match the season.
@synies www.synies.com
Bertie's Cup Cakery
Making beautiful custom cake and cupcake designs in the heart of Paris, Bertie's offers custom wedding cakes, cupcakes or a combination of the two. You can also choose personalised sugar cookies or cupcakes as wedding favours for your guests, or a personalised groom's cake. While not everyone opts for a groom's cake, it's a thoughtful addition to a wedding in Paris; a traditional gift from bride to groom which reflects his tastes, personality and interests through its unique flavours and style. @bertiescupcakery www.BertiesCupCakery.com
Wedding Planners
When planning a wedding of the style and scale Château de Ville-le-Vicomte deserves, it's vital to have a little help! The best wedding planners in and around Paris will ensure they incorporate the theme and details you desire at your wedding venue outside of Paris and that your special day runs smoothly from before you take your first step down the aisle to the final firework of the evening:
Alejandra Poupel Events
Alejandra Poupel handles every last detail of an exquisite wedding in Paris, allowing you to truly relax and enjoy one of the most special days of your life. Her agency has developed a deserved fine reputation for curating bespoke and luxury weddings in Paris, allowing you to think big and then sit back to watch your dream come to life. @alejandrapoupelevents www.alejandrapoupel.com
Avec Weddings & Events
Meaning "with" in French, Avec was so named because special occasions are meant to be shared with special family members and friends. An American wedding planner living and working in Paris, Jennifer Fox loves the beauty, elegance and deliciousness Paris has to offer, and makes sure every bespoke wedding is infused with the unique  spirit of this most romantic of cities.
@avecweddings www.avecweddingsandevents.com
Photographers
While it's vital to live in the moment, to truly enjoy everything your most special of days brings, every bride wants to capture those perfect snapshots to look back on in years to come; perhaps sharing those special moments with your future children or even grandchildren.
Le Secret D'Audrey
A film photographer based in the heart of Paris' Marais district, we love the way Audrey brings her cinematic documentary style to weddings, capturing fairytale moments in her signature black and white, and dreamy colour. Her passion for light and storytelling means the emotion of the day shines through in each shot. @audreyparisphoto www.lessecretdaudrey.com
Harriette Earnshaw
A fine-art film wedding and portrait photography, Harriette is a romantic at heart, who is inspired by stories of love. She enjoys nothing better than capturing people in love, creating beautiful images which will stand the test of time. Romantic destination weddings are her speciality. @harrietteearnshaw www.harrietteearnshaw.com
Make-up and hair
Every bride wants to look beautiful on their Big Day, and one sure-fire way to look like the very best version of you is to hire a professional hairdresser and make-up artist:
Marina G
Marina aims to enhance the bride's natural beauty, never using the same look twice. She does not label any style as 'bridal make-up,' but instead works with the bride's natural features, ideas and wedding theme to create stunning bespoke wedding make-up. @marina_littlemissmakeup www.marinag-makeup.book.fr
Trine Juel
A Danish hair and make-up artist now living in Paris, Trine confesses to having a soft spot for weddings, where she can be part of the atmosphere – the love, dresses, flowers and happiness. She believes in 'less is more,' letting a woman's true beauty shine through. @trinejuel www.trinejuel.com
Spa treatments in Paris
Of course, any wedding is not just about the Big Day itself, but about the build-up to it. Booking spa treatments or facials before the special occasion is a great way to treat yourself and the bridal party, ensuring that you are relaxed and your skin is primed, ready for your make-up.
Institut Dior
One of Paris' leading fashion houses has teamed up with the Hotel Plaza Athénée to deliver a luxury spa experience inspired by haute couture. We loved the Dior Prestige Radiant Smile treatment, which used kneading and stroking techniques to smooth fine wrinkles and plump the lips; getting us camera ready for all those wedding day smiles! www.dorchestercollection.com
Les Bains de Lea
Les Bains recognises that looking your best on the day of your wedding requires preparation. You can opt for the two-day Cinderella package, which includes a Hammam or Sauna session, complete wax, body massage and facial before make-up and hair on the Big Day. www.bainsdelea-paris.com
More Wedding Locations in Paris: other venues
While we opted for the grandeur of le Château de Vaux-le-Vicomte, Paris and its surrounds are awash with incredible château, whether you are looking for a wedding venue or simply a stunning day out with members of your wedding party, or a romantic date with your new spouse! These are some of the most jaw-droppingly beautiful.
Château de Fontainbleau
One of the largest continuously inhabited palaces in France, le Château de Fontainbleau even has its own chapels. In the 18th century, the King of France, Louis XV was married to Marie Leszczynska in the Chapel of the Trinity. Every inch of the palace is embellished with ornate woodwork, skilful frescoes and stunning paintings, with each of the royals who lived here over three centuries leaving their mark. While the château can be explored in a day, its formal grounds and the town of Fontainbleau would make the perfect Honeymoon weekend destination.
Château de Chantilly
With a choice of spaces from the small and intimate to the grandiose, le Château de Chantilly is a beautiful choice for a wedding of any size. You could hold a reception in the 18th century architectural masterpiece of the Great Stables, which have previously hosted receptions for kings, or choose to have your ceremony in the English Garden against the backdrop of the Temple of Venus. The château itself hosts France's finest collection of paintings anywhere outside the Louvre in its attached Musée Condé.
Château de Compiégne
Sitting on the edge of the huge Compiégne forest, this enormous Neoclassical masterpiece was built for Louis XV and redesigned by both Napoleon I and Napoleon III. The historic apartments are a delight of lavish furnishings, huge chandeliers, gold filigree work and detailed murals, while the sprawling grounds feature statues, a rose garden, ponds and terraces. It's not hard to imagine guests from Napoleon III's famous month-long Autumn parties sipping drinks and spilling out onto the terraces after a day of hunting.
Invitations
If you have secured your venue and wedding date, now is the time to order your invitations. Bear in mind that bespoke designs from www.crimsonletters.com are hand-painted and can take anywhere from two to five months for calligraphy, painting, printing and delivery. Each invitation is individually created with love and care, designed to be cherished memoirs that you and your guests can keep forever. You can choose to bring in elements of your wedding in Paris to your invitation, perhaps taking inspiration from the stunning architectural details, such as the painted shutters, of the Château de Vaux-le-Vicomte.
Now it's your turn, what's the most memorable place that you've ever visited? What is your idea of a dream wedding venue?
I would love to hear your thoughts.
Please leave a comment below!
A wonderful way to generate excitement about your wedding is to send out bespoke wedding invitations that reflect your love as a couple. Crimson Letters offers an opulent, hand-painted design service to create beautiful invitations that are exclusive to you. Head over there now for more information > https://www.crimsonletters.com/