SUPER STYLISH Latest Wedding Invitation Trends (Updated)
Wedding invitation trends for 2019-20 and beyond, what's hot, what's growing rapidly in popularity, what are brides interested in and which of the latest trends are here to stay regardless of trends.
As a hand painted wedding stationery designer and calligrapher I will be taking a look at what's red hot sizzling and just roaring on fire with the latest Wedding invitation trends for 2019, as well as what I see as being popular with the high end brides that I serve.
If you have just got engaged, are madly in love and happily planning your destination wedding, maybe searching for a custom stationery designer, or if you are scouring for something in the way of fine art wedding invitations or hand painted wedding invitations that don't want to make you heave, then hopefully you will find this latest wedding invitation trends for 2019 helpful. If you have an innate sense of style, then mass produced – printed wedding invitations turn your stomach.  You have come to the right place!
Grab a cup of tea while you read through this mammoth blog, you are in for quite a ride.
Need a stationery designer? Contact me rubana@crimsonletters.com
In this article of wedding invitation trends 2018 we will be showing exclusive dramatic designs and go really in depth with what's hot by covering the areas below:
Black & edgy

Luxury Signage

Calligraphy- invitations / outside envelopes

Calligraphy drawn florals

Calligraphy wraps

Calligraphy on tiles /agate

Hand painted wedding invitations

Watercolour wedding stationery

Large bespoke envelopes

Leather envelopes

Monograms & crests

Wax seals

Hand made paper

Acrylic designs

Silk ribbons

Silk hand painted wraps

Maps & Venues

Creative
So let's dive into this round up of the Latest Wedding invitation trends for 2019.
1.Black & Edgy
Black and edgy I hear you say?
Crimson Letters is all about rich-dark, black designs that are oozing with opulence and daring dynamic designs. I couldn't be happier that to hear about this new trend. Yes, my heart skipped a beat!
Think black tie wedding.
The combination of black and gold is a timeless classic. Not only is calligraphy a beautiful addition but by using gold ink, calligraphy is certainly  gorgeous.
Why not choose black and gold menus? They can be a surprisingly beautiful way of leading your guests eye down from the flower arrangements to their place setting whilst add a touch or rich regality throughout an event or wedding.
Have a look below and see some of the ways that you can use this new trend invitation -black, to elegantly yet be daring enough to make a statement.
2. Luxury Signage
Next, we hop on over to another popular colour that's trending for invitation trends 2019 with luxury signage.
Couples are looking for much more than just the conventional sign.
They want to elevate their event to give a feeling and a sense of who they are and what they love. As you can see above, this couple opted for a classy fine art twist to the normal escort card table. They wanted to bring in their love of art and paintings to their event and we as weave their colours through seamlessly.
3. Calligraphy- invitations / outside envelopes
The world of calligraphy has hit the wedding invitation scene and exploded to create it's own movement for 2019 wedding invite trends. There are masses of calligraphy workshops, building community and creating a widespread movement and love for hand calligraphy wedding invitations. Here we will be looking at some of the new ways as a 2019 wedding invite trend that calligraphy is being used and applied in different ways.
One of my clients requested a poem by Ludwig Van Beethoven to be written on the back of all of her envelopes (above).  Her wedding stationery became a much more personal experience for all of her guests to experience.
It used to be that calligraphy was only the new rave not only for hand addressing envelopes. Yet,  calligraphy has also transitioned into main stream fine art weddings. It is now seen on pretty much every single fine art wedding style shoot from top curated wedding blogs such as Magnolia Rouge and Wedding Sparrow.
Calligraphy has evolved and is even being used on the outside of envelopes to create luxury decorative features.
4. Calligraphy Drawn Florals
Another calligraphy wedding invitation trend 2019 that is proving a strong contender, especially in the fine art wedding realm, is line botanicals. Line botanicals, or simply put, drawing out flowers using a calligraphy dip pen and ink is proving very fashionable. This type of aesthetic, it's delicate nature make it a very subtle addition to your wedding stationery as you can see below and many brides are requested to have a small additional piece of artwork that can be included within their wedding stationery suite as a keepsake for guests,  as you can see below from my work.
5. Calligraphy invitation wraps
In terms of calligraphy as one of the mainstays in the sphere of invitation trends 2019, wedding calligraphy has made a leap towards embellishing the outer wraps as well. Outer wraps are a sophisticated way to loosely hold your hand painted wedding invitations and add to your overall wedding experience. Wraps as I call them, are a much more sophisticated way of holding your stationery inserts / cards, rather than a boring looking belly band, that are very often used.
The calligraphy wrap from the collection above can also be used for a more ethereal, artistic photography for brides who are looking for photos that are refined and completely stand out from the crowd.
When your guest reaches down into your envelope and pulls out a highly embellished watercolour and calligraphy artistic wrap, they will be instantly enthralled. An expectation is set and set pretty high.
Your wedding invitation wrap, doesn't have to have calligraphy though. This clear invitation wrap has hand painted flowers painted on top, finished off with pinches of gold foil. Not only is this a great aesthetic addition to the suite, it also add more texture and detail to a bride's wedding photographs.
6. Calligraphy on tiles /agate
One of the next emerging new wedding invitation trends 2019 for calligraphy, is to use calligraphy on a wide variety of surfaces. Whether it is wood and stone, glass, acrylic, or tiles and agate. Calligraphy is definitely seeing a big boom in terms of use on tiles and agate slices in particular. I had a client reach out to me and ask for a calligraphy message to be laser engraved into a Carrera tile for their wedding and filled in with gold.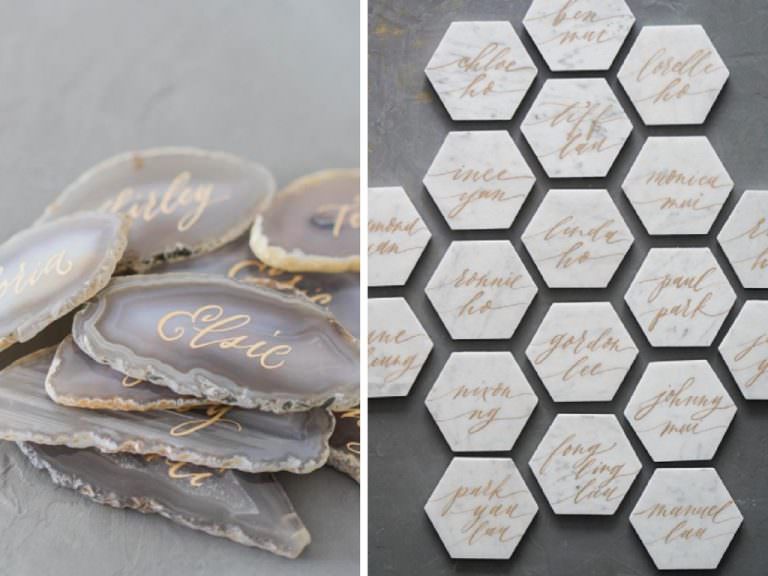 7. Hand painted wedding invitations
Hand painted wedding invitations & stationery are here to stay and have proved  a new trend invitation that is here to stay throughout 2018 and beyond. It is a very special niche for wedding invitation trends 2019 and I am continuing to see this niche grow.
Brides and other clients are really tired of mass produced printed items and are really looking for something much more personal. Style shoots, like this one here from Strictly Weddings are playing a huge role in this realisation.
I have had two clients reach out after seeing this style shoot and both book me for their weddings!
Pinterest spread these style shoots and the editorial style of presenting wedding ideas in a shoot allows a bride to see that stationery can be integrated into their wedding too.
Alongside this I have had clients reach out to me from New York, to Germany, Texas and Italy and they would all like something personally created for them.
8. Watercolour wedding stationery
Following on, another one of the latest Wedding invitation trends for 2019 that does not seem to be slowing down at all is watercolour.
Watercolour wedding invitations are also still pretty hot and I would definitely keep an eye peeled for them as a 2018 wedding invite trend. Not only is a watercolour painted background loved, as you can see above, brides love merging watercolour backgrounds. One particular designer that is doing very well and has over the past year suddenly seen a dramatic increase of followers on instragram, is Monvoir.
Watercolour wedding venues are really sought after at the moment too!
Beneath, you can see that I created some watercolour artwork, for a watercolour wedding stationery suite with strong accents that went out to a client in Russia. Scroll down and see how this artwork was used to create a cohesive watercolour design.
 On we go, are you ready for some more loveliness….
here are some more hot trends that you will be surprised to know….
it's all about envelopes, envelopes, envelopes!
9. Larger bespoke envelopes
Forget the days of boring, conventional envelopes. Latest Wedding invitation trends for 2019 are all pointing to hand made, hand crafted bespoke made envelopes with maximum personalisation.
Whether an envelope is large or small, it no longer has to stay plain.
The envelopes displayed below are slightly large than an A4 sheet of printer paper and are particularly made to be larger to hold all the unique pieces that are beautifully designed and make quite a statement. Envelopes are seeing their own treatments such as watercolour being applied directly to the paper, than than having a printed watercolour look.
Envelope liners, well…….
Let's just say when you open an envelope prepare to be blown away! Envelope liners are now often thickly hand painted with actually paint, rather then boring prints!
Vellum envelopes are on the rise too, with many brides requesting transparent envelopes.
10. Leather envelopes
Another new wedding invitation trends 2018 that is making it's own waves and still popping up in many areas, is the use of leather.
Leather, whether it's white, brown, pale camel or even available now in colours like electric blue, is being used with gold metal pins to construct the most unique envelopes. This trend goes well ultimately with modern suites, or country wedding suites. Brides are often requesting something much more tactile and they are willing to pay for the prestige of something weightier and more stand out-ish.
But that's not all….
11. Monograms & crests
Let's dive into the sphere of monograms and crests for our next big wedding invitation trends 2018.
Crests and monograms are hot, hot, hot!
Monograms and crest are fast becoming very sought after. Couples not only want calligraphy digitalised names for their wedding websites, but they are also interested in wedding branding in the form of designing their own monograms and crest designs to use throughout their wedding suite and to print onto their wedding stationery suites in gold foil.
Below you can see from several of Crimson Letters designs, completely original and exclusive crests have been designed by hand and absolutely not copied from clipart on Google!!!
12. Wax seals
Some history for you, because I love history!
Can you believe that wax seals are in no way a new thing. They have quite a history attached to them.
I came across a wonderful website, the art of manliness.
From there I found some super wax seal facts!
Can you believe that the use of wax seal can be traced all the way back to some of the world's earliest civilisations and even to the Mesopotamian and Indus valley people?
They were often times stamped with rings to show their formal nature and the fact that the message inside was very important. If the seal had been broken they could tell the message had been tampered with and of course, it goes without saying that in times even before the 19th century, critical messages and letters were often intercepted an opened.
What better than a wax seal!
I know that I loved seeing Henry Tudor ( from The Tudors series) and Queen Victoria ( from the series Victoria) using it. It does add such a regal accent to where ever it is applied.
Wax seals are still as popular as ever. They are here to stay as a wedding invitation trends 2019 and way beyond too. Couples are now asking for their monograms, crests or even designing very specific wax seals to use throughout their wedding invitations. This is an element of wedding stationery that is most coveted by brides who are looking for a very refined fine art wedding feel.
Some of the best wax seals that I have found on the market are below.
Written Word  (below) also stocks her own range, with some beautiful designs at a slightly lower price than Saint Signora.
Would you like to create your own custom design wax seal?
No sweat, have a look at, Nostalgic Impressions and Stampitude.
They both are able to translate your designs into wax seal and provide all sorts of wax colours.
But hold on, there's more yet!
13. Hand made paper & torn edges
Another mainstream new Latest Wedding invitation trends for 2019  that has seen some good growth in popularity is the hand made paper trend.
This is a trend that is very fashionable amongst fine art weddings and especially used when creating wedding stationery for style shoots that are often featured on Magnolia Rouge and Wedding Sparrow.
Brides are loving hand made paper with bumpy textures and soft velvety surfaces, not to mention the rough torn, hand deckled edges.
I have had many client requesting the torn edge look, so let's look below at some of the textured pieces that I created for an editorial sent out recently to the south of France, as well as looking at some of the hand made paper types available on the market today.
Here are some of the best hand made paper stockists out there:
Fabulous Fancipants Cotton Rag Paper
Feather and Stone
14. Acrylic designs
The use of acrylic is growing in the area of latest wedding invitation trends for 2019. I'm not talking about paint, I am talking about the transparent plastic substance that resembles glass but isn't glass!
Acrylic is a very versatile substance that can be used with pretty much any design that you have in mind. You simply use your chosen artwork and place it behind the acrylic and add any calligraphy or typography over the top and your good to go! You can even add an extra touch of paint over the top to add some extra luxury.
Here are some table numbers that I made recently for a bespoke order that went out to Portugal.
Hold on…… we are almost there,
………..just three more categories to go!!!
15. Silk ribbons
Silk ribbons, from Silk & Willow are now making waves throughout the wedding industry.
Silk hand made and hand dyes ribbons are made from natural and plant based colours, to create the most tantalisingly gorgeous colours, with splatters of different shades woven through the ribbon.
They are being used everywhere throughout the majority of the style shoots. Most often they are  draped from the brides bouquet, but also they are being used more and more to tie up and present wedding invitations with the upmost style an flair. What could be better than opening your envelope to taking out your invitations that are wrapped up in the sheerest, highest quality silk ribbon. It elevates the whole invitation experience to a whole new level.
Here are some more silk ribbon stockists:
16. Silk hand painted wraps
For some of the latest wedding invitation trends 2018 we can also look at the luxurious hand painted silk wraps that are being used to hold wedding invitations.Brides are opting for a more personal experience and want to personalise their stationery with more than just simple paper. Raw silk dupion is used to hand paint pink accents to create a gestural, abstract hydrangea on the wedding invitation suite below.
17. Maps & Venues
Yet another new wedding invitation trend that I have seen spread throughout the wedding scene are wedding maps and wedding venue drawings. Brides want to see their wedding venues custom designed and drawn by hand, or drawn with a calligraphy dip pen. Often times these drawings are then translated into a gold foil design and printed upon hand made paper. The effect is quite a powerful one and it does make quite an impression and set the tone pretty high for your wedding.
Below this wedding map is hand painted with watercolour. These sorts of maps are very, very time consuming and have many different elements that are individually hand painted, with lots of layers before creating a final map, so prices start from $800 just for the artwork preparation.
18. Creative
To wrap up this epic wedding invitation trends 2018 list, if you are still reading this, you deserve a medal!!!!
The final category is one of my favourites in the world of wedding invitations. Creative wedding invitations.
Many brides are using much more creative ideas, with laser cut wood and all sort of inspiring elements such as, feathers, suede, leather, slate, you name it. Wedding invitations sometimes have their own branded boxes to match the interior. The world is your oyster.
Below, is one of my favourite designs from Crimson Letters, with hand painted large floral and cut out black leaves for extra detail. To see the full collection visit here.
I hope that you have enjoyed discovering these new wedding invitation trends. Gold will always be a favourite amongst brides but it is interesting to see how wedding stationery and the world of stationery in general evolves over time.
Which invitation trends are your favourite, and what would you like to see introduced as a new trend?
I would love to hear from you!
Perhaps you would also be interested in these blog post as well:
Top 10 Wedding invitation Instagram Accounts to Follow
Starting a Wedding Stationery Business
20 Luxury Wedding Venues in Italy
Are you going to have a destination wedding?
Perhaps you would find these blog posts helpful:
20 Luxury Wedding Venues in Italy
Luxury Wedding Venues in Morocco
If you need any more information, or would like to see a blog post on something, drop me a line here.
A wonderful way to generate excitement about your wedding is to send out bespoke wedding invitations that reflect your love as a couple. Crimson Letters offers an opulent, hand-painted design service to create beautiful invitations that are exclusive to you. Head over there now for more information > https://www.crimsonletters.com/