Villa Balbiano Wedding Stationery – Serenely Sumptuous
Villa Balbiano Wedding Stationery – Serenely Sumptuous
Villa Balbiano Wedding Stationery For The Destination Wedding of Your Dreams
This Villa Balbiano wedding stationery collection has been specially designed to complement a high-end luxury wedding venue. And Villa Balbiano ticks all the right boxes. It's glamorous, luxurious and best of all, exclusive. It's even part of The Heritage Collection. But when choosing a venue this opulent, you need to make sure that everything, right down to the last detail, reflects its charm and elegance. This includes every aspect from the moment you send out your Save the Date cards to your favours, place settings and all the delicate details of the day.
The good news is, beautiful venues like this one and others of its calibre (such as Villa Astor) can be the perfect inspiration for your wedding day. If you're hoping to plan an unforgettable event draped in splendour and sophistication, then look no further. A Villa Balbiano, Lake Como Wedding is the ultimate choice for a destination wedding in Italy.
Have you got somewhere else in mind? That's OK too!
In this blog post, I'm going to look in more detail at this Lake Como wedding destination and, in particular, the Villa Balbiano wedding invitations inspired by this beautiful place. Hopefully, this can help to inspire your perfect destination wedding in Lake Como and beyond.
A Bit About a Villa Balbiano, Lake Como Wedding
Villa Balbiano is an Italian jewel located on the stunning shores of Lake Como. This perfect destination wedding venue can be found in the small Italian town of Os
succio. The villa was originally built in the 16th century but was embellished further in the late 18th century by the famous Cardinal Durini.
This wonderful venue is surrounded by immaculate lawns, panoramic views of the mountains, private access to the lake and inside, all the charm of its past. Its Baroque frescoes and antiques are perfect for inspiring a luxurious, lavish wedding day.
Choosing The Perfect Stationery For an Italian Destination Wedding
One of the first steps towards planning your wedding day is setting a date and booking your venue. Once you've done this, it's time to let your guests know those all-important details. This means sending out your Save the Date cards in the first instance, followed by your wedding invitations when you have sorted some of the finer details like catering, ceremony times, etc.
If you're planning a wedding at Villa Balbiano, your invitations need to convey all the majesty and splendour of the venue. After all, a destination wedding at Lake Como deserves to be celebrated and show all the opulence that Italy has to offer.
Remember, your invitation suites are your first chance to let your guests know what kind of day they can expect. So you want your invitations to set the right tone. This means you need to choose the perfect Villa Balbiano wedding stationery that not only captures the beauty of the venue but also who you are as a couple.
Of course, if you're not getting married at Villa Balbiano, but you're planning an Italian destination wedding elsewhere in Italy, you still need to tick all of those boxes. So, as well as looking at this Villa Balbiano invitation suite, we're also going to discuss some of the different styles of Italian-inspired wedding invitations out there, so you can choose the look that's perfect for your big day.
Italian wedding invitations
Italy boasts some of the world's greatest works of art, architecture and gastronomy. The nation and its people elate, inspire and move us like nowhere else in the world. Not to mention it is a country of incredible cities, towns, villages and seaside escapes. This makes it the ideal place for a wedding.
Think Rome, Tuscany, Naples, Amalfi Coast, Lake Como, Florence – need I go on? The list of beautiful places to visit (and to get married) in Italy goes on and on. But wherever you decide to tie the knot, you want wedding invitations that showcase all the beauty and splendour of Italy.
Italian wedding invitations much like the ones from my collection often make the most of flora, fauna and intricate golden details such as crests and small golden leaves.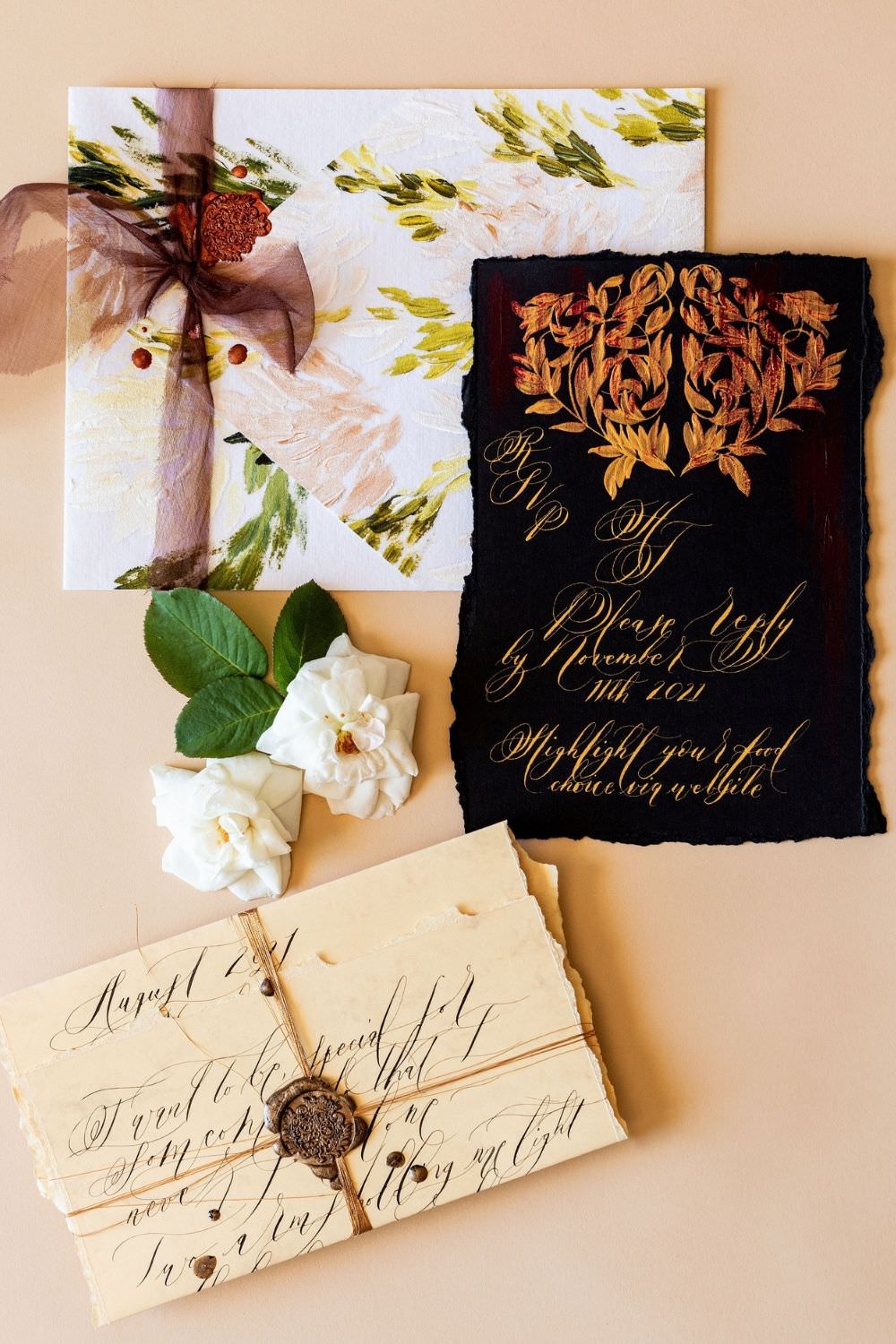 Photography
Passionate

| Styling items by Cristina Francis
Italian inspired wedding invitations
However, this is not the only way to create truly beautiful Italian inspired wedding invitations. You need to carefully consider your colour palette, and this might depend on your theme, flowers or perhaps the time of year you've chosen to get married.
Alternatively, you might want to let the venue inspire you. For example, if you're getting married near the beach, opt for blues, creams and yellow hues. If you're getting married in the countryside, perhaps deep shades of green are more appropriate.
More importantly, what I'm really saying is that thanks to the varied and wonderful nature of Italy and the vast wealth of inspiration at your fingertips, Italian inspired wedding invitations can take even the smallest but most wonderful detail of the place and turn it into something great.
Typically most of the conventional invitations for couple's marrying throughout Italy feature lemons, others olive groves. But for people working with me and opting for bespoke designs and hand-painted invitations, the world really is your oyster. My client's rarely opt for lemons. You can take inspiration from any or every part of your day, and we will work together to create something as beautiful as Italy.
Italian renaissance wedding invitations
Another important part of Italian history and culture that you might want to take inspiration from is the renaissance. The movement, which started in the 14th century, was a reinvention of Greco-Roman art, focussing on symmetry and geometry. This was a huge part of the Italian culture for decades, so what better way to create invitations that embody the best of Italy, particularly if you've chosen an older venue that continues to embrace this style.
I have worked on Italian renaissance wedding invitations in the past, using sumptuous jewel tones, decadent golden shades and that dramatic renaissance style. You can check out my Italian renaissance inspired wedding invitations here.
By looking at all the different styles of Italian themed wedding invitations on my portfolio, you can begin to draw together ideas and inspiration for your own personalised wedding invitation suite. Don't be afraid to mix and match a few pieces from various collections. Every couple is unique and no one size fits all.
Lake Como wedding invitations
And of course, this final section leads us nicely onto the Villa Balbiano invitations pictured in this blog post. There are lots of wonderful wedding venues around Lake Como, which is why it is such as popular destination. This is also why I have worked on several wonderful Lake Como wedding invitation suites in the past.
Taking inspiration from the beauty of the lake and surrounding area can lead you in several directions. But as you can see from the images above and the images in this Lake Como inspired suite I completed in the past, blues, creams and golden palettes complement the area nicely.
In these designs, there is also heavy use of floral patterns, crests and golden leaves. This is something that I believe captures the beauty and majesty of the Lake Como area.
The Inspiration For These Villa Balbiano Wedding Invitations
Now that we've looked a bit more at the options that are out available when it comes to Italian inspired wedding invitations, we're going to look at my Villa Balbiano wedding invitation suite in more detail.
If you're considering luxury invitations for a wedding at Lake Como or if you're just looking for inspiration for your high-end, luxury wedding venue, I'm here to help.
Above and below are some images of the invitations I have worked on in the past that are inspired by Villa Balbiano and the Lake Como region as a whole. Villa Balbiano holds such a wealth of possibilities and inspiration for a designer like me to pull from and use.
In this case, I chose to focus on gentle green and lighter coloured floral paintings, with stronger, heavier design features to mimic the beautiful antique interiors within the villa itself. But to give you a better idea of the whole process, I'm going to break this down into different aspects you can use to create breathtaking, luxury wedding invitations below. These include:
The colour scheme
When choosing a venue as beautiful as Villa Balbiano, you need to make sure that you choose your colour scheme wisely.
As you can see from the photographs, using deep copper colours, gold, cream, and black can create a real feel of luxury and grandeur. And you can couple this with some warm, dark colours like rich blood-oranges, deep blush, caramels and deep sage green for a moody, Baroque-style finish, which offers a decadent and high-end appeal.
If you want to inject a bit of colour into your designs, this can be done through the use of flora in your invitations as I have done in past suites, such as one of my other Lake Como and Venice wedding invitation collections which you can check out here.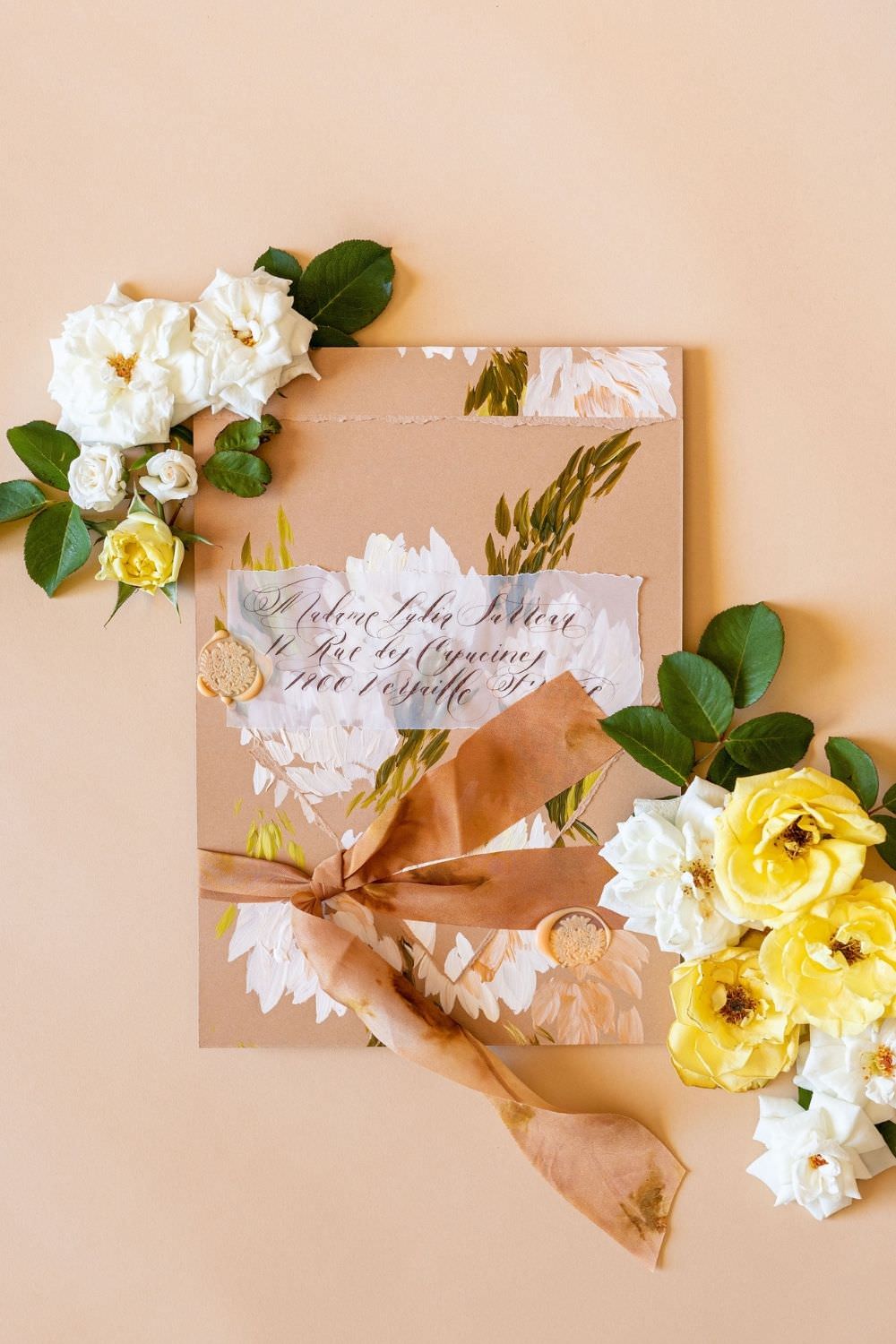 The calligraphy
For the writing on the invitations, beautiful hand-crafted calligraphy is always a timeless classic. This sophisticated style will add to the luxurious tone of your day. What's more, this can be used to create more than just an invitation suite; it can also be used to create pieces of artwork that you and your guest will treasure for years to come. You can choose from an array of calligraphy scripts from (below) wild, loose and gestural lettering to more formal and traditional calligraphy with grand flourishes and more of a Spencerian/copperplate style influence.
If you're worried about the legibility of your writing and would prefer for your invitations suite to have wording that is simple and very easy to read, then why not choose to only focus on using calligraphy for a decorative envelope liner, a pretty wrap, or a belly band that can loosely hold all of your stationery together?
If not, simply finish off your envelopes with calligraphy hand addressing. There are plenty of ways that you can add extra design touches throughout your stationery suite without the calligraphy dominating the design.
Check out this page to see more of my calligraphy styles.
The crests
Why not consider using details from the venue itself to help create beautiful crests that act as a centrepiece for your stationery suite? As you can see from my designs, these can be done using pale rose gold ink or gold leaf detailing and lashings of acrylic paint for a bold and dramatic finish.
What's more, the crest can be used in a highly effective way and featured in key places throughout your suite for maximum impact. And you certainly don't have to stick rigorously to just one crest design.
Below you can see that I have used two completely contrasting vintage crests designs as part of the same collection. You can even add to the drama of your Villa Balbiano wedding stationery by adding some wax seals to your stationery suite as a beautiful finishing touch.
The floral wedding invitation card design and envelope details
Lastly, floral patterns can make an excellent addition to your wedding invitations. You might wish to include images or inspiration from the flora around the venue grounds; alternatively, why not consider using your chosen wedding flowers as inspiration instead?
Some more ideas include using flowers either from your wedding bouquet, some flowers from an installation, flowers that hold a specific meaning for you as a couple or your favourite botanicals.
Abstract hand-painted flowers, loosely and gesturally painted using acrylic paint, are a great way to add instant depth and drama to your entire Villa Balbiano wedding stationery suite. These designs can be a great way to add a splash of colour and delicacy to your designs. You can see some of the examples from this stationery suite below.
Would you like to know more about working with me?
So there you have it, a Villa Balbiano wedding stationery suite for a beautiful destination wedding at Lake Como in Italy.
If this suite – or any of my other designs for that matter – have inspired you and your big day and you'd like to know more about my work, that's great! Don't hesitate to check out my full portfolio here or get in touch with me today if you'd like to discuss how we can work together on creating the wedding stationery suite of your dreams, no matter where you decide to tie the knot.
I look forward to hearing from you.
If you're looking for more inspiration for your big day, you can check out my full portfolio here. Or, for more details on how we can work together to create your dream stationery suite, get in touch today.  I would love to hear about a special event or celebration that you might have, tell me more so that we can start planning some extraordinary! Hop over to connect with me on Instagram or Pinterest!
Here are some other blogposts you might find helpful:
Destination wedding invitation tips
Calligraphy wedding invitations
Custom hand painted wedding invitations