Ritz Paris Wedding Invitations
Ritz Paris Wedding Invitations & Custom Handmade Luxury Wedding Stationery for Micro Weddings
I am very excited to reveal the utterly sumptuous, burgundy and gold wedding stationery invitation suite that I have been working hard on recently with these strikingly beautiful Ritz Paris wedding invitations. Overflowing with luxurious hand-painted details this burgundy and gold wedding invitation suite is finished off with elegant calligraphy and added accents of magenta and deep reds to create a collection that really sets the tone for a micro to medium wedding in Paris, full of finesse and style.
I'm Rubana, the owner and designer behind Crimson Letters. I would love to hear more about any custom wedding stationery projects you have in mind. I love nothing more than helping my clients realise their vision on paper. If you have a special event, reach out to me at rubana@crimsonletters.com or get in touch here.
If you are looking for more French inspired wedding invitations, view the Versailles Vogue, Chateau de Tourreau, or view the Vaux le Vicomte editorial collection.
During my time as wedding stationery designer, whenever I see a wedding stationery suite that has been designed, or custom made either for a style shoot, an editorial or for a bride, the colours have almost always been light blue with white and gold, or simple white and gold. Although these colours are very classical and elegant this client brought one heck of a stirring of the senses with requests for deep hot pinks, burgundy and deep rich reds.
So for a change, the hot pink wedding invitation background and burgundy and gold wedding stationery that I designed, creates a sense of love and passion, something which I believe is important to truly capture that Parisian charm. Every part of this suite is handmade and carefully finished. That being said, this is not scalable when ordering a large number of full invitation suites (unless the client places the order with enough advanced notice!) because of time constraints and budgets, so to keep the personal touch, I focused the hand-painted details on the most important focal points of the suite such as the envelopes.
In fact, all 70 envelopes I created for this burgundy and gold wedding stationery order were made from 3 separate pieces of printed artwork, that I then had to hand paint over with acrylic and finish with professional gold foil (also by hand). The whole suite is professionally printed with an artisan printer on a very heavy card to keep that thick, quality texted edge. The invitation itself is another card that I added more hand-painted details to.
The lack of scalability for intricate invitation suites like this make these Ritz Paris wedding invitations perfect for smaller more intimate weddings with guest ranges between 70 – 150. So whether you're planning a small destination wedding in Paris or you're arranging a very intimate get together with just your closest friend and family, here is some of my top advice and micro wedding ideas.
The below series of images show the final design proposal that I created for my clients before we went to gold foil print and production. I always make sure that I provide a good range of photography for my clients to see, so that they can get a good feel for the textures and details of the design throughout the suite.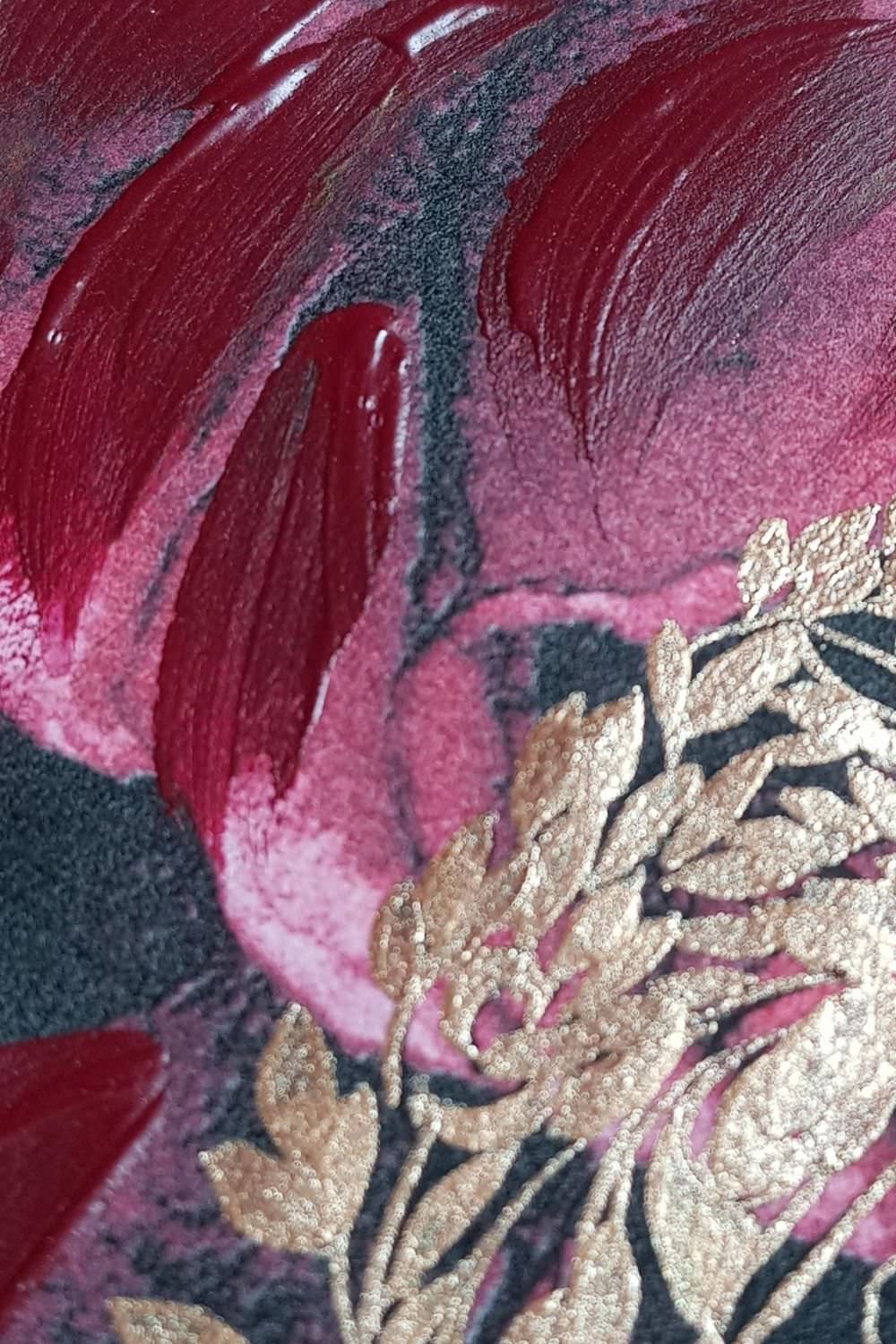 Following on you can see how this design was translated into some beautiful burgundy and gold wedding stationery
Burgundy and Gold Wedding Stationery for a Moody Spring Affair
At the heart of this exquisite Parisian affair, these burgundy and gold wedding invitations, certainly are meticulously designed to transport you to a world of old-world luxury and regency revival.
The invitations themselves stand as a testament to the richness of the past. The bold gold crest designs, reminiscent of a time when elegance was paramount, create an instant sense of grandeur. The deep burgundy and hot pink tones echo the vibrant yet enigmatic spirit of of regal vibes, intertwining the moody and all things baroque. And then, there are the hand-torn edges, a touch of hand crafted romance that will woo your guests as they touch the rough edges and run their fingers over the texture.
These invitations are more than mere paper; they are an embodiment of luxury and history. They invite your guests to a wedding that promises not only a celebration of love but also a journey into a world where time-honored regency style meets the allure of a moody spring. So, if you envision your special day as a union of grandeur and nature's mystique, our burgundy and gold wedding invitations are the perfect prologue to your own chapter of regency romance.








Why plan a micro wedding?
There are so many reasons why you might want to plan a micro wedding. It can be the perfect way to scale down costs and to give you more investment to spend where it can really make a dramatic impact in certain areas such as flowers, stationery, catering or  choosing the perfect venue (such as a Ritz Paris wedding). But money aside, it's also the ideal way to host an intimate, luxury event where you get to spend your special day with those that really matter to you the most.
Not only this, but micro weddings can make for a more relaxed day and could be perfect if you want to dodge stuffy wedding traditions and focus on the guest's experience as well as your own. Micro weddings are increasing in popularity, so if you're planning a close-knit event, here's how to go about it.
How to plan a micro wedding? 
There is a difference between small weddings and micro weddings. Typically, a micro wedding is made up of 20 guests or less, making this a very intimate affair. This gives you a chance to be very creative and organise a very tailored and personal event that is more similar to a luxury elopement with a very few select guests. But if you're unsure how to plan an event like this or you're looking for micro wedding ideas, check out the steps below:
Consider destination weddings
It's not always feasible to get a wedding party of 100 people to board a plane and fly to your favourite destination, but when you're planning a micro wedding it is entirely possible to get a smaller group of you to your chosen destination. It's also much easier with a smaller party to find a boutique hotel or indeed to all be able to reserve rooms within the same chateau or accommodation located closer to your chosen venue.
Find the perfect venue for a micro wedding in France
When planning a smaller wedding you open yourself up to lots more exciting venue options. You don't need to try and find a hall big enough to host everyone, instead, you can choose anywhere from a a high end hotel in Paris such as the Ritz Carlton or alternatively focus on finding a smaller private chateau. You just need to choose the perfect intimate venue for your big day.
Here's a link with a helpful post for small French wedding venues.
Cut your micro wedding guest list
The biggest part of a micro wedding is cutting your guest list, so you need to make sure that it only extends as far as your nearest and dearest. This may mean that you even ditch the traditional wedding party, perhaps just having a maid of honour and best man rather than a gaggle of bridesmaids.
Find the right officiant
As we've said, this is going to be a very intimate affair where every guest is close by and listening closely. As such, you want to choose the perfect officiant to ensure they give a memorable experience that reflects you as a couple.
Get creative with your wedding reception
A traditional wedding reception usually includes an open space, a dance floor, a DJ or band and a busy bar, but a micro wedding gives you license to be creative. Instead, why don't you and your guests enjoy dinner at a high-end Michelin star restaurant.  With a destination micro wedding, you will ample time to make a booking in advance to make sure that you reserve your seats ahead of time and make the entire wedding reception and unforgettable one.
Make it personal
With more budget available to spend on the finer details you can really make this intimate day very personal to you and your partner and take your guests on this beautiful journey with you. You can afford more budget and effort towards things like your wedding gown, invitation suite, place settings, favours and menu.
Hire a photographer
Last but certainly not least, just because you are having a small event, it doesn't mean you shouldn't have someone there to capture those special memories. Don't forget to hire a great photographer who can masterfully capture your (little) big day.