Sumptuously Rich Red & Gold Autumn Wedding
Are you thinking about planning your wedding in Autumn? Why not?! Why not use the change in the seasons and take advantage of the varying colours for a stunningly beautiful Rich Red & Gold Autumn Wedding Styled Shoot Inspiration and celebrate your wedding with your loved ones in one of the most colourful seasons of the year. Your photographer will thank you for it and no doubt you will have some of the most vivacious, vibrant wedding photographs to show off to your friends.
Alongside the above, long gone are the times that weddings were only planned in the short summer months. Now you know that the summer prices are often at their peak for that special wedding venue that has stolen your heart and no other venue can compare to. Perhaps you not quite prepared to go jetting off for that adventurous destination wedding but you would like a smaller, more refined wedding somewhere close to home. Now with a little advance planning, you can book your venue and have you wedding in Autumn when it's less busy and most of your family and friends are not on holiday.
This article will help you by providing bounds and bounds of Fall/Autumn wedding reception ideas as well as showing you some brilliant Rich Red & Gold Autumn wedding inspiration that you can use effortlessly throughout your own wedding.
What colours should you choose for your Autumn/Fall Wedding for your Rich Red & Gold Autumn Wedding Styled Shoot Inspiration?
With so many colour combinations out there and a sea of mood boards to look through on Pinterest it is very easy to go into overwhelm, there is so much to choose from that it can be quite a challenge to narrow it down. How can you create a meaningful impact with colours that are deliciously dark and decadent for the black tie feel, yet use bright, deep and rich shades and gorgeous details without over doing it?
Let's take a look below at how you can beautifully weave brilliantly vibrant colours throughout your special day without your wedding looking so over the top, bold, brash and tasteless but how to aim for elegant, decadent and full of exquisite opulence instead.
You will have some ultra-hot tips on everything you need to know including your:
wedding dress
table settings
hand painted wedding menus & table numbers with calligraphy
contemporary floral installations (that are all the rage now)
gold wedding dresses & your bridal bouquet colours
wedding shoes
how to pose during your photographs (so that if your best friend is shooting your wedding, we have you covered)
Sit back, grab your cup of tea, or coffee, or expresso or cappuccino, and enjoy the ride…..
Let's get started with some tantalising Rich Red & Gold Autumn Wedding Styled Shoot Inspiration table settings.
The furniture you use does not have to be too flamboyant to achieve a coherent eye-catching wedding day theme. Simply choose a dark coloured wooden table with a beautiful dark grainy-wooden texture ( see picture below), with gold chairs and start using your key colours in particular areas to make the maximum effect.
By using tarnished, dull-gold, onyx black, deep plum, subtle maroon, bright reds, black and gold and burnt orange let me show you how to create an unforgettable wedding day.
Use the same maroon table runners and lay them over your tables with gathers to create more texture and romance. The best place to get table linens is Silk and Willow with linens ranging from $65.00 to $ 400, see here or for a more crinkled fine art wedding look, see Frou Frou Chic's range with prices ranging from $ 92  here. Also, Seidenband has some sheer silk tables runners, see here.
Installations
Before we dived into some super table setting ideas, let's look at some flower installation ideas. These are vastly growing in popularity and many couples have an extra part of their budget set aside for this!
So what is a flower installation I hear you say?
It is when a large mass of flowers either dangles happily from the ceiling, a large light, or a large wall feature. In essence the flowers are all placed skilfully together to create a large mass of  artistic flowers that whacks quite a WOW factor and leaves quite an impression.
Flower installations can encircle a doorway, above the area where you exchange your vows, hover over over your bride and groom's table, over the wedding cake table outside where you expect to take your photographs or somewhere in the wedding venue that you might like to highlight.
Table settings ohhhh table setting, how we love you ooohhh table settings…
The flowers you choose to use can make an enormous impact. Seductive red roses paired with furry orange textured flowers, rich deep plum and branches of rosemary, can add a dramatic burst of colour, while gold candle sticks with white, gold, and bright orange candles and small gold cups and clear crystal glasses add a touch of undeniable romance, fit for a queen.
How about some height? Use taller flower displays in key areas on your wedding day, or throughout your entire table area. It helps build drama and creates a great impression instantly, not to mention your guests will be able to see each other for a chat!
How about using fruit throughout your table settings? It not only looks great, but adds another layer of elegance and colour, tastes great and gives your guests something to snack on while they wait for the food to be served.
Top each table off with some hand painted wedding stationery, these dark sultry black table numbers with gold calligraphy from Crimson Letters (seen in the picture above). See here for a few other table numbers ideas, or here for the full portfolio, you can have anything custom designed for you!
Finish your table setting off with some enticingly elegant black tie wedding menus, also from Crimson Letters, with lovingly made gold calligraphy on black artisan paper. Not only will they match the decor beautifully but they will also impress your guests as set the high tone of your wedding.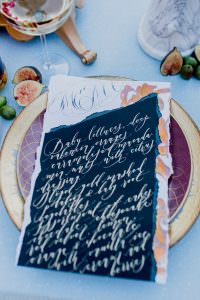 For the most beautiful fine art range of artisan wedding candles, have a look at Bark and Berry, see here.
Which type of wedding dress should you go for a Rich Red & Gold Autumn Wedding ?
Hold onto your seats for this one. White just does not do it, let's go for the gold. Are you thinking about a white wedding dress? Or are you ready to throw convention out of the window and go for the gold? Long gone are the days of white wedding dresses. Now many brides are not shying away from colour and you too can find more ways to introduce colour and add a spark of your personality and flair to your wedding with dresses that might be anywhere from champagne, blush, deep creams, calm blues and even blacks!
Let's Look at Gold Wedding Dresses…..
THE GOLD LOOK
For our Rich Red & Gold Autumn Wedding Styled Shoot Inspiration, I will focus on gold wedding dresses to bring together your Fall inspired Rich Red & Gold Autumn Wedding  day theme with style and panache. As you can see below, this gold wedding dress is custom made simply dripping in gold gorgeousness by Sassy Chic Bridal, see here.
Nothing but the very best will do in terms of florals. No small bouquets or little bunches of pansies will do here. Pair a collection of the biggest with the best for your Rich Red & Gold Autumn Wedding using flowers that are available during the Fall/Autumn season, from roses, scabiosa, salmon ranunculus, dark-red tea roses, seeded eucalyptus, pomegranates, viburnum berries, trailing green amaranths and finish off with masses of textured greenery. For this Rich Red & Gold Autumn Wedding inspiration theme, only the largest of wedding bouquet will do.
LIST OF PREFERRED WEDDING DRESS DESIGNERS
To compliment your Rich Red & Gold Autumn Wedding, have a look at some jaw-droppingly sensational gold wedding dress options, for the quiet and refined bride, to the seeker of the most lavish seductive, I have got it covered below!
For classical, refined palest of gold wedding dresses, with sheer layers covered with delicate embroidery and transparent lace lined with the sheerest of silks that are custom made visit this hot new comer, romantic wedding dress designer, Sasha Grebneva Wedding Gown's Instagram, here.
If you are a huge fan of lace, Emily Riggs offers a timeless alternative to the white dress. Piles of sophisticated creamy-gold intricate lace couture is shaped into works of art to create the most ethereal feminine dresses you have ever seen! Visit her website here.
Are you looking for something a little more upmarket and haute couture?
Try this Grecian, bold yet sumptuously stylish wedding dress by Haute Couture designer Krikor Jabotian, see here. Striking sequin embellishment is applied onto tulle overlay, opening into a fitted flowing skirt, that is sure to make you the envy of the room.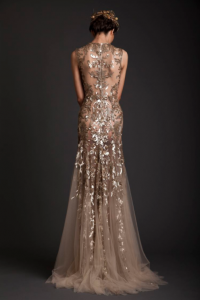 Another haute couture bridal designer, Elie Saab, see here, with extraordinary flair and design details will have you oohing and aaahhing in wonderment. His dresses are dreamy, with a classical signature style. Mixing simplicity and graceful elements to create the dream dress for a confident bride.
To finish your gold look off, here are some shoes that will fit perfectly.
We have some Jimmy Choo  beauties, see here,  as well as some no holds barred Badgley and Mischka prettiness  from $265 that will not only compliment your Fall wedding incredibly well but also have you falling off your seat! See here for the full range.
WEDDING CAKE
Following on from shoes, let's look at some of the possible wedding cake options.
Ever wondered how to display your wedding cake? There are many ways of presenting your cake, from the simplest of ideas by using any antique or even old furniture you may have lying around and turning it into something very effective as a cake station for maximum effect.
You can use an old pretty normal wooden cabinet or dresser and display your cake on it as below.
If space is an issue, use smaller tables and make a feature of trailing leaves that hang down from the cake all the way to the floor as below.
To see more wedding cakes you have to check this article out here. It has all of the most creatively impressive cakes in one place for the ultimate inspiration! If you would like many many more suggestions on how to style your wedding cake display then see here.
TO FINISH OFF, LET'S LOOK AT SOME IDEAS OF HOW TO POSE WITH YOUR MAN AND YOUR HAND PAINTED WEDDING STATIONERY.
Ok, so you have plenty of large open fields with long blades of grass and masses of orange and red trees, not to mention the plush velvet sofas. How do you stand, where do you stand. Don't worry, for your Fall wedding ideas I have some suggestions on how to stand, sit and even where to place your hands for your Rich Red & Gold Autumn Wedding. So get practising before your big day!
If you would like some more ideas on how to pose for your wedding, have a look at this article here.
Lastly we look at the all important hand painted wedding stationery.
Treasure forever – Each hand-painted invitation should be something that represents a piece of art designed especially for you. An irreplaceable memoir of your wedding day, they make a beautiful addition to your wedding scrapbook or as a framed picture on your wall.
So why should you choose a professional wedding invitation designer? Because your wedding is a celebration of your love and every aspect of the event should reflect this with beauty and originality. If your love is one of a kind, your personalities, your passions and the way you met, where you are from is unique and your invitations should be too!
If you desire a memorable wedding that is unique, special and opulent then it must be luxurious from start to finish. Why not begin the celebrations as you mean to go on by sending out beautiful, hand-painted wedding invitations? This special touch is guaranteed to elevate your wedding from ordinary to extraordinary.
But how exactly do you hire a wedding invitation designer? Your dream designer should match your design vision, provide a high quality and bespoke service as well as offering an enjoyable and stress-free experience. Follow my tips below to find a designer who is perfect for you!
Start planning your invitation designs now – Even if you haven't booked the venue or finalised your guest list, there's nothing to stop you from thinking about potential designs and gathering inspiration pronto. What type of artistic style do you love? Maybe it's classical, art deco or modern. When you search keep an eye out for designers who specialise in your preferred style.
Confirm your budget – Does your budget match your design vision? You may be able to find a designer who creates simple yet chic designs at a good price, but if you covet extravagant invitations with lavish embellishments then a more generous budget is needed.
Found a potential designer? Once you've found a designer with a portfolio you love, make sure they offer a quality service before you hire. Ask questions enquiring about their methods and materials, design process, timescales and make sure they are easily contactable. At Crimson Letters I work closely with the couple and stay in communication with them throughout the entire design process.
When to order – Have you secured your venue and wedding date? If the answer is yes, you should order now! Due to the hand-painted nature of the designs and delicate materials used, bespoke invitations can take up to five months for calligraphy, painting, printing and delivery.
If you're seeking a designer who will listen to your ideas and transform them into unique and personalised invitations then please check out my website, www.crimsonletters.com Through the use of painting, calligraphy and sumptuous embellishments, each invitation is individually created with love and care and designed to be cherished memoirs your guests can keep forever.