Review of 2019 as a Stationery Designer & My Thoughts Going into 2020
Today I'll be sharing with you all my review of 2019 as a stationery designer. You'll see all the most beautiful clients' invitations and projects that I got to work on last year. I would love to share the best and worst moments of each design and any client chaos that ensued. Yet I'll leave all that for another blog post for later!!!
If you might be looking for some sumptuously designed invitations, illustrations or artwork, please get in touch here or email me at rubana@crimsonletters.com. I'd love to hear more about your project and how I might help.
This collection from above is my most favourite design to date! I show more of this collection right at the bottom of this post.
All in all I am so incredibly, incredibly grateful for the clients and the blessing of being able to do what I love for the whole of last year!
I just took a look at my last blog entry and I had an eyebrows flying up in the air moment!
"WHAT!!"
My last blog entry. It was in August!!! But it made sense as well and was totally understandable.
I booked my last big client in August and spent all of August, September through the end of October on a long hard slog and working on one of the most beautiful orders yet! After the whole year with hardly any breathing room I needed to take sometime out.
In fact my health suffered terribly as a result and I found out I was terribly deficient in Vitamin D, Iron and Calcium. I was completely exhausted and needed to step back. I desperately needed to take some staff on, but moving house, moving countries and having to re-enter the system in England sucked up so much time!
Swimming in clients? No, It hasn't always been this way
As part of my review of 2019 as a stationery designer, let me take you back a little over one year, it was November – December time 2018. Going back this far, I'd like to give you some context and show you how much I struggled before all the clients came in over 2019.
Right in the beginning on of my creative journey, I was driven hard by my passion. I wanted nothing more than to spend months and months developing my artistic skills.
My sheer determination to succeed carried me through the first two years. But then I hit a wall.
I happily worked away for those two years. I was on a mission. Trying to hone my skills, further my painting, watercolour and calligraphy skills and constantly work on my portfolio. With great zeal and fervour, I was continuously collaborating in style shoots and editorials – which means free work and paying for the stationery and shipping from my own pocket.
I had had enough and felt as though I had tried everything and just come to the end of my journey. Everyone was giving me so much attention and praise on Instagram but no-one was hiring me.
Something just felt terribly, terribly wrong. I was at my lowest point ever. I allowed myself to feel like a complete and utter failure.
I allowed so many negative thoughts creep in.
Here were some of my thoughts:
My fault the business wasn't successful.
Lost all of my investment.
Wasn't getting any quality, let alone enough clients.
Wasn't making an income.
Felt as though I was a waste of space.
I remember being in pain. Such deep pain.
It was hard to make the switch from a primary school teacher with a good, steady monthly salary to being penniless. I was at my wits end and was very near giving it all up entirely.
This was such a painful time for me, I couldn't even open up to my husband or friends about it. I felt THAT much of a failure.
Reflection
You might question why I'm going through all this?
I want you to know that building a business is so far from the glamour, glory and fame that instagram and social media portrays.
If you're a creative I want you to know that it is natural to go through ebbs and flows and very low points can come from being so focused on getting results and not seeing any come your way. Isolation ( I didn't know any other woman in any circles of friends who was trying to establish and build a business) and my own inner voices and of course the expectations of my family (that I should be earning and contributing) played havoc with my inner voices.
What changed? How did I pull through it all?
Mindset. It was all about mindset.
I found a safe place to talk. I reached out to some very close connections that I had made on Instagram! Believe it or not.
A few wonderful followers that I reached out to had become my friends over time and they were there throughout this low period. I was encouraged to exercise, get out for long walks, get a change of environments. It helped just to be able to talk about it in a safe place, that was away from any wedding industry people.
Vision board
I had heard so much about vision boards and I was intrigued. There was no harm in putting my thoughts and dreams down onto paper. So I set about placing all of my dreams down.
Here are some of the dreams that I wanted to realise:
A wedding at a large palace somewhere in Europe (this happened in the form of a high-end super luxury editorial in Chateau Vaux le Vicomte see the image below)
Income goals.
Types of clients.
Art licensing portfolio ( I didn't put in the work here, so this is another future goal!)
The above photo is one I took of the immaculate Chateau Vaux le Vicomte, Paris, France. As I stood there and marvelled at the sights about me, I thought, what a breathtaking place this would be for an editorial.
Patience paid off
I would constantly listen to Gary Vee videos, where he would say, patience, patience, patience.
I was stunned. Things started to happen!
At the very end of December,  I received my first email enquiry.
After that client, which took 2-3 months of work, I was then rebooked by the same client for her wedding day items, which also took another 2-3 months!
I then had another small client, and then found out we were moving back from Saudi Arabia to England ( I could write a whole novel about this!!!) Once we arrived in England I had another client which took me right up to the end of 2019!
What a rollercoaster!
So as you can image, even though I am extremely exhausted from last year I am equally, extremely grateful! Grateful that I stayed the course and didn't give up.
My invitation designs
As part of my review of 2019 as a stationery designer, let me show you below some of the beautiful invitations that I made through the year. I'll be highlighting all of my most favourite pieces that I had the pleasure of designing.
December to Late February (Wedding Invitations)
Here's what the client said when she received her floral wedding invitations:
"I just wanted to write a note and let you know how truly overwhelmed, blessed and over the moon we are about our magical invitations.

They are the most breathtaking things I have ever seen, and I wanted to thank you. What a magical way to begin the journey into the wedding, by opening an invitation of pure and utter magic.

This is beyond my wildest dreams, I feel like the luckiest girl in all the world. Thank you!

Rubana, when you've had some time for yourself, I would LOVE to discuss moving forward with the rest of the designs for the wedding day! You are so gifted and a true artist. " Anoushka
March to May (Wedding Day Items)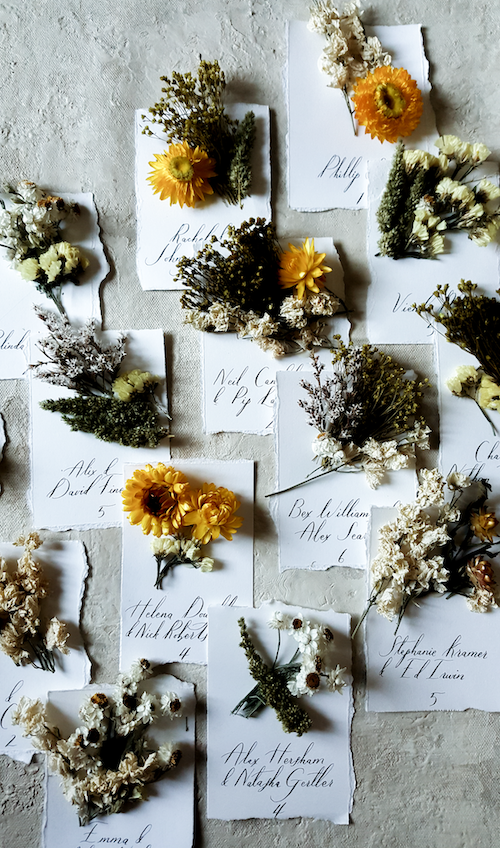 From May to the end of June/ July
Next came a complete change in terms of design back to my more traditional, ornate aesthetic. I loved every part of this design and it was such a pleasure to do.
From August to the End of October
All of designs and collections are close to my heart, but this last client from last year really had a jaw droppingly gorgeous suite. Here are a few highlights for you to enjoy.
I hope you enjoy my review of 2019 as a stationery designer. It's all about holding on and persevering until you get through.
Here are some other other posts that you might find of value and interesting to read:
Questions to ask your wedding stationery designer
Destination Wedding Stationery Tips
Process of Custom Wedding stationery, or Custom Invitations Explained
How to Plan a Fabulous Wedding Weekend
Why not connect and come along and take part in my creative journey and see what I'm currently up to on Instagram.