Renaissance Style Wedding Invitations
Renaissance Style Wedding Invitations – Popping with Sumptuous Jewel like Tones
Renaissance style wedding invitations have a charm all of their own. As a wedding invitation design, I create luxury custom invitations for special events, celebrations and weddings and I have to tell you that there really is nothing as inspiring to me as a wedding venue.  Especially a wedding venue as special as Villa Balbiano.  Ever since I came across luxury wedding venues in Italy and the remarkable venues under the umbrella of The Heritage Collection, especially after coming across Villa Astor and Villa Balbiano, I was instantly besotted.
This collection is partly inspired by rich, decadent gold interiors and the black and gold colours from below.
I was instantly inspired and desire to create a dramatic renaissance style wedding invitations suite that demanded attention. Using acanthus and ornamental architecture, I set about starting an entirely new design, old world European and Italian inspired design. I focused on using deep black card that was a thicker card stock so that the edges could provide a crisp tear and of course only use deep gold, copper metallic, finetic inks and paired it with thick acrylic paint to add extra depth and a build up of interesting layers.
I wanted there to be a focus of more design and less wording that might detract from the design, so I spaced the wording out to spread over two pages.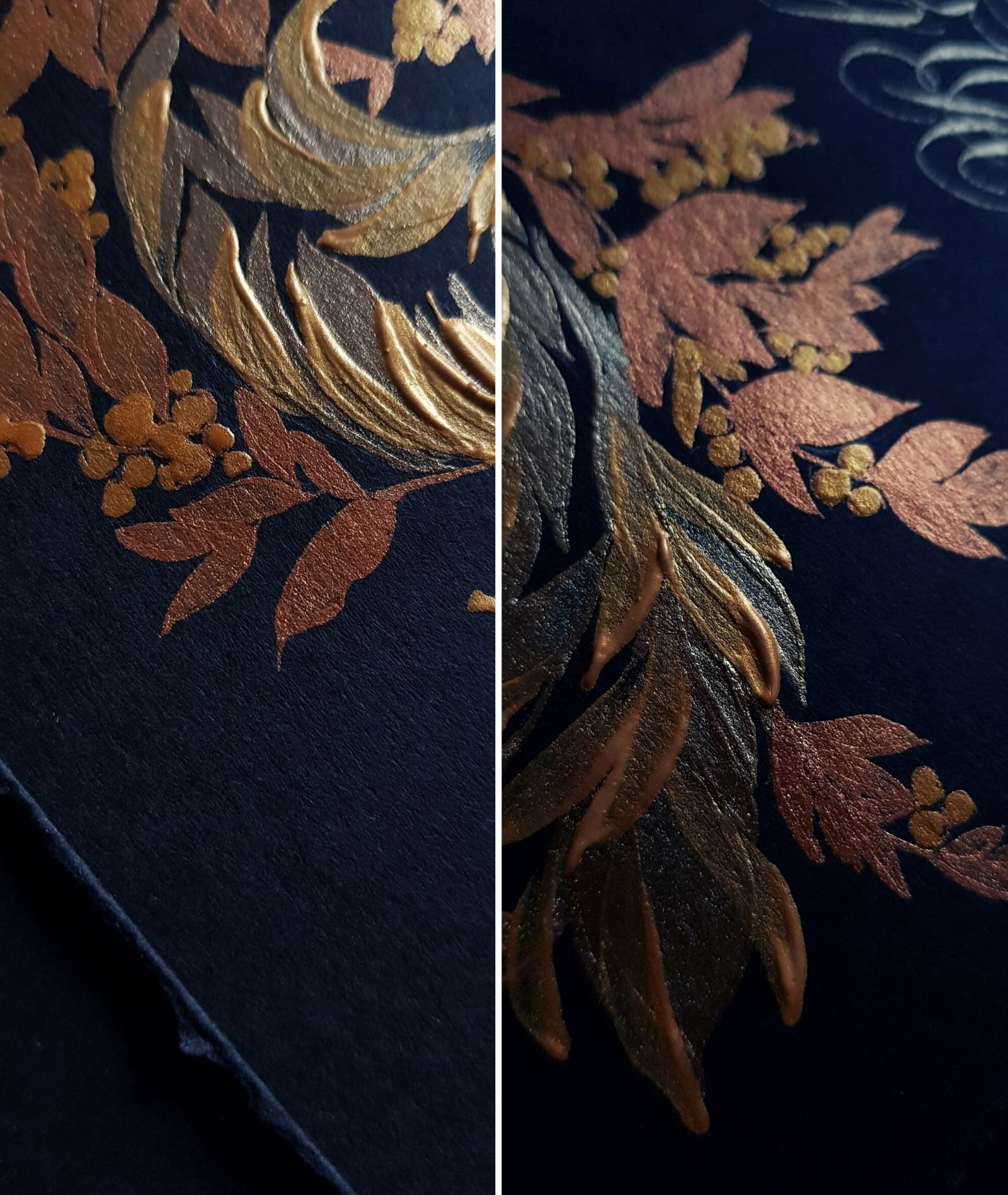 Other pieces of artwork for Renaissance style wedding invitations
Continuing on, when I am forming an entire collection, I look to what I can combine in terms of colour with the shark, dramatic deep black and gold hues from above. With a desire to be really edgy, in a dynamic and yet classy way, I decided to introduce a deep rich yellow watercolour background. It took me sometime to prepare this watercolour background design as I hand painted it first.
Here below you can view a range of hand painted place name cards that are hand painted and hand crafted upon a watercolour background. This watercolour affect is not printed and made by hand with watercolour, then pressed and dried before adding artwork.
If you might be considering getting married in Italy here's a blogpost that you might find useful: