Recently Engaged Top Tips
Recently engaged? What are the next Steps?
Have you recently been engaged? If so, CONGRATULATIONS and I am happy to be sharing this moment with you. As you are recently engaged, whether your wedding is 1 year away or 6 months away here are my top 10 things I would recommend you start doing as soon as you engaged. Grab a cup of tea/coffee and read on.
A quick note about me, I'm Rubana, a luxury wedding invitation design. If you're looking for some guidance, inspiration or need help with your wedding stationery, get in touch with me over at

rubana@crimsonletters.com

or get in touch via my contact page here.
So you're Engaged Now What?
1.) Tell your Family and Friends
You got that dream rock! You are recently engaged and so excited!!! You are ready to plan your lavish, elaborate wedding, private elopement or destination wedding.  It might be your first time down the aisle. It might be the second time.  You must take the time to enjoy this moment with your fiancé. Don't stress yourself, no need to jump on the wedding planning just yet. Enjoy this time as it is really special.
Now it's time to tell all your family and friends. Call up your immediate family and announce your good news. You want to ensure your family receives this news first.
Want to save time? Why not make reservations at a classy restaurant and invite your families for a nice "recently engaged" dinner. Make your announcement over a nice dinner. Treat it as a mini engagement dinner.
2) Announce it on Instagram
If you're newly engaged, nowadays it is so easy to grab a tripod, stick your iphone in it and make a little surprise video and upload it onto instagram. Use a series of large cards with writing on to announce that you have something special to say to all your friends and family. Or ask a friend to film that special moment, or just announce it on a video and tag all of your friends.
3.) Recently Engaged but now Let's grab a date
If your dream wedding is to get married in a beautiful vineyard in Italy, or the coastline, then you better set your wedding date. Now that you are recently engaged, the best engagement advice is, quicker you set your wedding date, the easier your wedding planning will be. After all this is the question that you will be most asked after you get engaged right!
Another thing to consider is the location. Most popular wedding venues book out in advance. Are you thinking of destination wedding in the South of France?  Then setting a date way in advance is more ideal for you. It's best to give your guests more notice especially if travel is expected and don't forget to give out those save the date cards so that planes tickets can be bought early enough.
Setting your date will also help you determine your theme and this will help guide you during your wedding planning process.
Thinking of a chic and glamorous winter wedding, then cooler tones will work best for you, or perhaps you would like to get married by the coast, then warm tones will look more elegant.
4.) Hire a Wedding Planner or Not?
The wedding you're planning is going to be a small, private affair. You have somewhere around a year or even a few months, then it is quite possible for newly engaged couples to organise the wedding entirely themselves, especially if it's going to be low key and based locally. Often venues can provide quite a lot of assistance in helping set up the venue, so see if you get them involved and ask them what they can offer in terms of help.
Do It Yourself?
Do you have a great maid of honour, or some best friends that you can bring in and delegate tasks to?  Mom is hands on and can you rely on her taste and competence.
Ask her to help with venues, catering and decorations?
Will you be able to put up decor, tear it down the next morning and usher catering staff in the right direction on the day?
As long as you're organised then you can do it there are plenty of good resources around to help.
Perhaps you can arrange the whole show and just bring in some highly qualified wedding stylists, that will handle putting up and tearing down the decor?
You might perhaps only need Day of wedding planning to help assist you on the day and make sure that everything goes smoothly.
Grab a Wedding Planner.
Alongside the above, if you have a large disposable sum, have a large list of wedding guests and certainly don't want to stress out, then you can hire a Wedding planner. This can help save you hours of agony and you can enjoy a smooth and stress free wedding.
Wedding planners will work with recently engaged couples on your vision.
They will create a detailed plan to ensure your wedding is just as you envisioned and they will guide you every step of the way.
Also they have the connections you will need when booking your wedding vendors.
You need the right team of vendors that are trustworthy to ensure everything comes together just as planned.
5.) Recently Engaged, How about a Wedding show for Inspiration purposes
Find out what elite wedding shows are coming up in your area. Take a few of your girlfriends or just your partner. They are fun and you get to meet all your potential wedding vendors all under one roof.
What to do when you get there.
There are more choices and you get to speak to vendors one on one.
 Do not make a decision on the spot but collect business cards and packages of vendors you are interested in.
Create stickers of your printed address and contact information.
Only apply to ballots that you are interested in for giveaways.
Address labels saves you so much time.
Ask questions and write down all your findings in your little wedding planning book for later references.
If you are really interested in a vendor make a little star or dot next to their name. Easy to remember.
Don't forget, you always have a wealth of magazines to look through. Mark anything that stands out.
6.) Pinterest your Wedding away
Do you have a secret wedding board with all your dream wedding ideas? I know you have one. Don't be shy, we all have one! Put all that aside.
Organise Your Pinterest Board
It's time to start a new Pinterest board.
Name it with your fiancés name, (you are recently engaged and you might as well start to get used to the name) and start pinning your ideas.
Invite your wedding planner, on the day wedding stylist, or maid of honour and closest friends and family to this board.
Make sure it is a secret board.
Pinterest is the best platform to start shaping your ideal wedding ideas.
Consider the season, your guests, colours and themes when pinning.
Make your notes and comments on each pin under the description area.
If you're new to Pinterest, see this post to find out how it works.

7.) Start working on your Guest List
Go ahead and create a tentative guest list. This will give you a better idea of the size of your wedding. Most vendors will need an estimated number of guests from recently engaged couples before they can start the planning process and give you quotes.
Here's how you go about it.
Create a list with all your family and friends.
Ask your partner to start on their list.
Don't forget to ask both sets of parents for their list and then combine the list into a master list.
Don't forget all the plus ones
Decide if you are planning to have kids at your wedding
Think about the style and theme of your wedding
Think of the location – A destination wedding at an adult only resort won't work for kids
Think about your crowd – are most of your guests already married with kids?
Your list will help you with your wedding budget, venue location and style of wedding.
Need more help and getting a little confused
How to create a guest list for your wedding in Less Than 30 minutes
Weddings are a fabulous time to celebrate with your loved ones, but what happens when your guest list is taking up all your precious planning time? Don't fret, below is a simple, 3 step guide to help you create the perfect guest list in less than 30 minutes.
Step 1
The easy part. Write down everyone you can't imagine your big day without, such as immediate family and close friends. These people are invited.
Step 2
Now you will be left with all the 'maybes'. To decide who to invite answer the below questions for each potential guest.
Have you spoken to them in the last couple of years? YES – answer the next question, NO – off the list.
Do they know your partner's name? YES – answer next question, NO – off the list.
Are they a co-worker? YES – answer next question, NO – skip to question 5
Do you spend time with each other outside of work regularly? YES – answer next question, NO – off the list
Would you be upset if they didn't invite you to their wedding? YES – invite, NO – off the list
Step 3
Congratulations, you should now have a guest list of your most favourite and loved people.
8.) Work your wedding budget
Most couples struggle with the wedding budget. Every wedding needs one whether you are thinking of hosting an elegant wedding up in the South of France or something elegant but intimate in your home town.
Sit down with your fiancé and talk about a budget that will work with your wedding vision (Hint – look at your Pinterest Board).
Discussion Time
Compile a list of all the things you are willing to splurge on, and things that you should have but are not necessary.
Which three things or areas are the most essential?
For example, your idea could be: a gorgeous wedding with amazing food, extremely elegant decorations and a photographer that captures those moment perfectly.
Or perhaps you must have a videographer?
These are what could be extremely important to you, so put aside an amount to this, get in touch with your favourite vendors and put a deposit down to secure your date.
Or you might be really into small details and all the little touches.
Signage, stationery and flowers could be extremely important to you.
Decide on key areas that you do not want to compromise on such as stationery, flowers, venue and wedding dress.
On the other hand, if you don't want to compromise on any areas of your wedding, why don't you opt for a smaller destination wedding in France, Italy, Spain or Portugal? Having a much smaller wedding means that you can have a much larger budget and plan for a luxury event.
9) You're Recently Engaged. So Start Thinking about your Save the Dates and Wedding Stationery
There is such an enormous choice of wedding stationery out there. What should you do and who should you use?
Helpful tips:
If you are having a destination wedding you must send out your save the date cards at least 5-6 months in advance, so that your guests can book tickets. However, don't just follow the crowd and get save the dates if you don't need to.
Most people keep in touch on Facebook and via social media. You can easily tell all your guests when your anticipated wedding will be, so you may want to skip your save the dates altogether and keep that budget for your wedding stationery.
If you cannot afford luxury wedding invitations to be made for you, that's ok! Why not get some very special pieces made that can be kept as a keepsake, such as some wedding vows that can be illustrated and framed?
With the latest trends in wedding stationery, make sure you identify which wedding stationery designer you most identify with. Which has the style that resonates with you on the deepest level? If you find someone that you like, reach out and book them.
Instead of boring everyday mass produced stationery, go for hand made envelopes, wax seals and try to incorporate some details that are really special and meaningful to you as a couple. If you have time you can even make stationery yourself? Visit this post as I take you through the journey of how I approach designing stationery for my couples.
Do your guests really all need a menu each? If you are on a budget, why not just get 1-2 menus per table, this way you can really go for it and make your day very special with custom made, hand painted wedding menus and table numbers to match.
Do you really need a large seating plan? Instead,  add which table your guest will be sitting on in a details card and send it out with your invitations. That way your guest will know to go straight to table 7 and save your guests time, finding their names on a large chart and preventing a large queue of people waiting to find their seats.
Ask a wedding stationer to provide you with some hand painted illustrations or a custom made couples monogram. If you cannot afford luxury wedding stationery, you can ask for custom made illustrations and print your own stationery with that.
May couples are choosing to share most of their information online via a wedding website. Why not have some custom art designed for your website? You can have anything designed from custom crests, monograms and other illustrations to use throughout the website.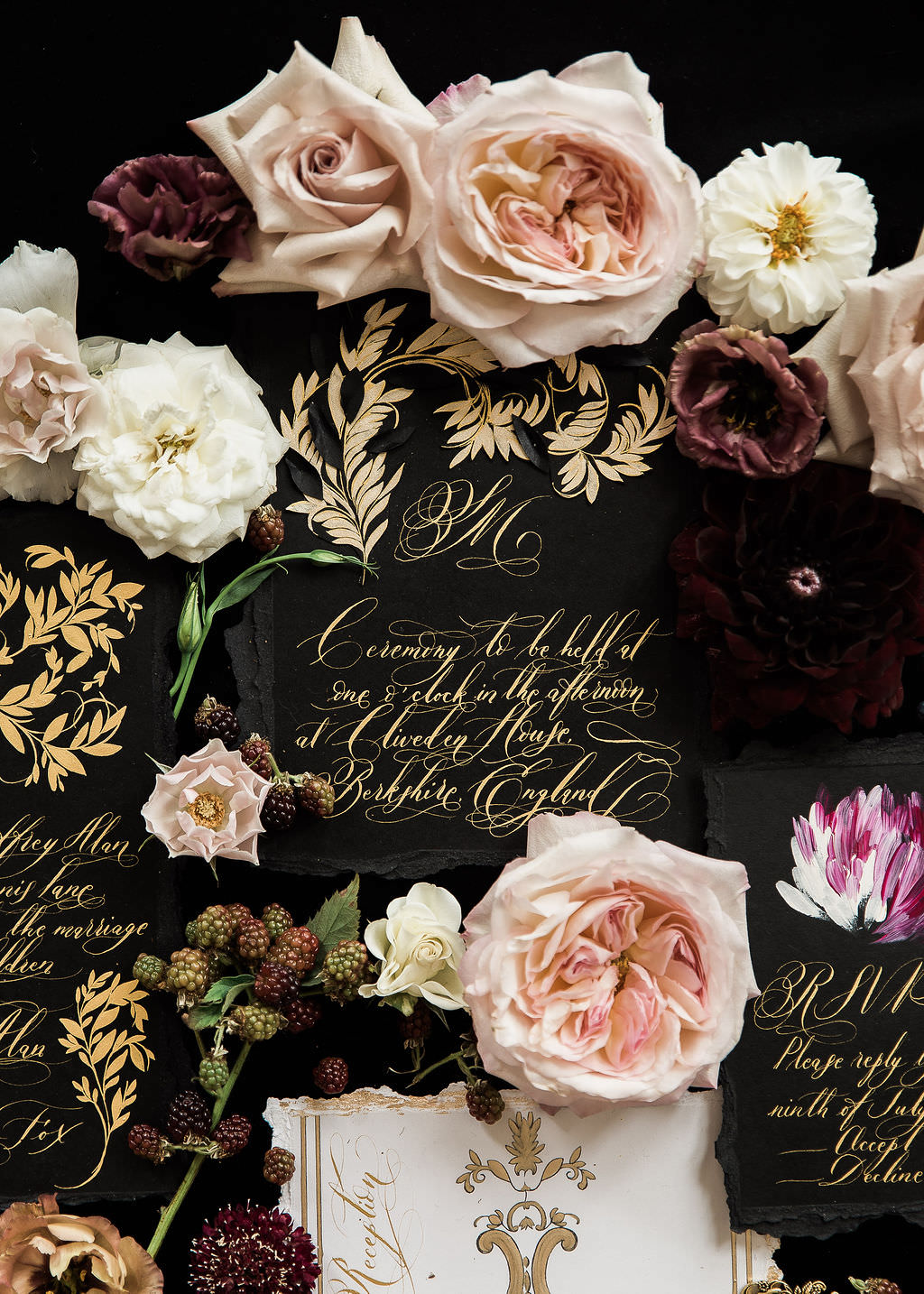 10.) A special bank account dedicated to your wedding
Put a percentage of your wedding savings into an account dedicated to your wedding. If your parents are contributing to your wedding then you can add it to this account.
Having the budget talk and deciding on your style of wedding will make the experience much more smoother.
11.) Make your commitment to a wedding venue
Book your dream wedding venue now.  If you pictured yourself having a wedding at a gorgeous wedding by the seaside then go ahead and reserve your space. Why? Most venues are booked months or years in advance. They book up extremely fast and you do not want to miss out.
Before booking a wedding venue and putting a deposit down, do a site visit to ensure the venue works with your theme and style. Thinking of having a grand ball themed wedding. Think of a venue with huge chandeliers, a running fountain outside and lots of space to create that feel and vision. It's also important to meet with the venue staff and find out what they offer and don't allow.
Visit this wedding venue, Palace of Estoi in the South of Portugal (below) . It's the perfect spot for a beautiful destination wedding. Visit this style shoot for more inspiration.
12.) Here comes the bride
Booked your venue? Now where will you be walking down the aisle? It's time to look into booking a ceremony location for your big day. Your venue may be able to accommodate your needs. If your venue can not accommodate this, look into finding a location sooner than later.
Thinking of having it at a church? Book it now. Ceremony locations book up equally as fast.
Perhaps you're thinking of getting married in a romantic French wedding venue? So many couples are opting for much smaller, intimate weddings. Why? Smaller weddings means having a much larger budget to play with. Couples are able to book higher end luxury wedding venues and are therefore much more interested in going for the destination wedding route.
Here's a blogpost sharing some beautiful small wedding venues in France. These book up so fast that you would want to reserve it as soon as you can. Planning a wedding can be stressful but by following our tips above and if you are on top of things, everything will work out.
Number one priority is to have fun and enjoy the process. With the right vendors by your side, you should be able to have a smooth planning process.
Every bride deserves to have the wedding they dreamed of since they were little girls. Have a plan and take the planning process day by day. Remember to take time to enjoy yourselves with no wedding talk once in a while.
Do you have any other tips? Leave me a comment below and please share this on your social media.
Why not send out bespoke wedding invites to create a truly special and luxurious vibe? Crimson Letters is a beautiful website that specialises in hand painted wedding stationery. Head there now to choose a design package suitable for you > www.crimsonletters.com
If this engagement guide helped you, please share with any other brides-to-be you may know who are agonising what to do next!
Here are some other articles that you might find useful:
Invitation Glossary – What is a Belly Band or an Envelope Liner?
Questions to Ask Your Wedding Stationer
Destination Wedding Stationery Tips