17 questions to ask your wedding stationer
17 questions to ask your wedding stationer and how to choose the right one.
How do you go about finding the right wedding stationer? How can you be best prepared to approach a wedding stationer?
Finding the right wedding stationer is no joke! Today's wedding invitation market is so incredibly saturated that you really do need to spend some time doing some key research and taking the time to ask the right questions- before you book the right package. These questions to ask your wedding stationer will help you find the wedding invitation designer that's the right fit for you. Here are just some of the essential questions that you must ask:
Do you like their overall aesthetic and style?

When you need to book them and if you need to give a deposit to secure your place?

Which part of your wedding stationery is the most important part?

How can you get the most bang for your budget?

Can your wedding stationer serve you if you need a small amount of invites, or for very large weddings?

Do they offer assembly, calligraphy envelope addressing and wax seal stamping?

Can they also offer you digital designs for your wedding website?

Do you need a Pinterest board to help with the design direction?

Can your wedding stationer help you with invitation wording?

How long will it take to design, produce and ship?

How do you share client proofs and design concepts?

Can your wedding stationer provide real samples?

Do they offer semi-custom design or only custom designed invitations?

Will they provide you with a timeline?

What will the printing and shipping costs be?
Are you looking for a highly skilled wedding stationery designer? Contact me or email me at rubana@crimsonletters.com and let's work together, or have a chat about what you need and how I can help you.
Below, is a guide full of the right no-nonsense questions that you need to ask your wedding stationer.
You have all sorts of questions, ranging from:
How to find the right style of stationer?
When should you book your stationer?
What do you really need to order?
What do you like and hate?
What sort of ceremony do you have casual / formal?
How many invitations do you need, is your wording ready to go and so much more!
Before you approach a wedding stationery designer ask yourself, do you even like the style of the wedding stationer?
This is a big one!
When you start searching take note of your favourite designs. Looking through the plethora of wedding invitations on Pinterest or Instagram, if you find a particular style that resonates with you, or specific design whose work makes your heart flutter, that is the one for you.
Does their moody style or light and ethereal designs immediately resonate with you? If so you'll love everything that they design.
Also you know that whatever they will create for you, you will love it! If their style aligns with your vision, then that is a great start to the relationship.
Going with the cheapest wedding invitation designer
Beware of just going to any designer and think that the cheapest one can do the job.
If they have a particular design and are only good at typography and graphic design and you ask them for a loose abstract watercolour design or a complexed crest design they may not be capable of pulling it off.
Do your homework in advance.
Make time to look through their body of work and check to see if they have the artistic ability to pull your vision together.
The last thing you want to do after you have placed your deposit down is that you start to work on a custom design and you realise that you have wasted your money. I experienced this with the first logo designer that I went with. Naively, I thought that any logo designer could design a logo for me.
How wrong I was. It really was a complete waste of money.
Secondly, for questions to ask your wedding stationer when booking; when do you need to order your stationery and reach out to book them?
Book as early as possible!
When you book your wedding venue, or book your cake maker that is a good time to reach out and book your wedding stationer. For save the dates for an international, destination wedding I would start anywhere from 9-10 months in advance.
You will need to send save the dates out 6 months in advance so that you can get your guests to book tickets and organise their holidays. For wedding invitation suites you need to start working together at least 6-8 months in advance.
Custom wedding stationery can take from 2-3 months to finalise but semi- custom design takes less time (I go over this in more detail below). Bear in mind you need to send your invitations out at least 2-3 months before the wedding.
Stationers can get booked up quite far in advance. If you wait too long your spot might vanish, so it's a good idea if you have found the right stationer to immediately place a retainer or a partial deposit to secure your place. Wedding stationers get enquiries every week and they cannot hold space on their calendar for more than a week for you unless you have a deposit paid.
Another essential question to ask yourself when you approach a wedding stationer – what do you really like?
This is crucial.
It really is.
You must do some research, look through your wedding stationer's portfolio and take a note of what you really like and make a note of all the different design elements that you really like.
What do I mean by design elements?
Use of their calligraphy,
Their envelopes,
Invitation wraps,
Their watercolour illustrations,
Their loose abstract hand painted designs,
Invitation cards,
Their use of colours?
(If you're unsure of these terms above – hop over to my Invitation Glossary article. I explain all that terminology there.)
What part of your wedding stationery is most important to you?
A hand painted envelope? Your wedding day stationery, such as your wedding menu?
Would you rather focus on having a statement card with a custom -made crest and go for plain envelopes instead?
Look around your wedding stationer's portfolio and find what you really love the most and communicate that early on to your wedding stationer.
You can then work out which of those can fit within your budget and hit the ground running.
Other really important questions to ask your wedding stationer. What do you hate? Which details and finishes do you not like at all?
You need to be willing to look around and do your research.  Do you like straight edges, or hand torn deckled / torn edges? What types of calligraphy do you like or dislike? Would you like calligraphy that has lots of decorative flourishes, or very simple elegant calligraphy. This will help you to refine the design direction straight away and get off to the right start, rather than waste time going in the wrong design direction.
Past Examples
Let me give you an example from one of my previous clients. She gave me a beautiful inspiration board full of love letters, delicate yellow blossoms, small white and green flowers and other pictures that I was to use for the inspiration and mood of her stationery. She did give me some examples of the calligraphy but she didn't explicitly state, "I want my calligraphy to look EXACTLY like this calligraphy font." I started to design her first set of calligraphy words for her invitations but was really disheartened with her feedback.
I had wasted a good few days making 10 calligraphy sheets with about 6 options for information, rsvp, welcome, and all the other wording that she needed for her invitation suite. She wanted all of her wording to be in handwritten calligraphy. I went ahead in my great enthusiasm and made the calligraphy very flourish, and decorative (which is the style that I am most known for) and therefore expected she would love what I made.
She hated it all!!!
I then asked her specifically to please show me some examples of what she was looking for. I had to spend some time readjusting my calligraphy handwriting to the style she desire, but then we finally got off to the right start.
So make sure when you first communicate all of your design questions to your stationer, that you ask them if they can change their calligraphy style to suit your needs.
Have you done your research and do you know what you need and what you want?
I often have brides that enquire with me, who have no idea what their guest count will be. These are some important points that you need to communicate to your wedding stationer.
How many guests? How many pieces will you require in your suite?
Due to the amount of guests that you have this could really affect how many pieces you need to budget for.
Larger Weddings
If you have a wedding of 300 guests:
You may want to make the best use of your budget and only have the main invitation, envelope, information/ rsvp card and place all the other information on your wedding website.
If you are having a large wedding, it would be useful and more convenient to have guests rsvp on your wedding website as well.
If you have a wedding of 50 – 150 guests:
As you have fewer guests you, may have a better budget and can really afford to create more pieces within your wedding invitation suite. So it is important to discuss this upfront with your wedding stationery designer.
Smaller weddings
Small intimate wedding of 10 -50 guests:
For smaller intimate, destination weddings the experience is altogether different. Often times I have had brides approach me for small destination weddings. They have a much larger budget for their stationery and can afford to have many pieces designed.
What is the wedding date?
If your wedding in in spring time, think of having soft pastel colours, blues, pale yellows, neutrals? Or if your wedding is planned for Autumn, how about using more orangey, golden yellow and vibrant reds throughout your designs? It could lend itself beautifully to the final design.
Where is your venue? Is it a casual ceremony in the woodlands? or is it a black-tie affair at museum?
Think about if your venue is very formal, or more relaxed and carry this through into the tome of your stationery.
For example, if you're getting married in the Ritz-Carlton, Paris and the room is full of gold and blue interiors, then it is ideal to carry this over into your design. Formal invitation designs with a French twist would be perfect.
Do you have a Pinterest board saved with inspiration in regards to the look, feel, mood and colour palette that you wish to use?
You must know what your colours are. What sort of a look would you like to go for?
For example would you like something that is:
roughly painted
emotive
traditional
ornate
highly detailed
painted with abstract art patterns
What sort of typography are you looking for?
modern
elegant
whimsical
are you looking for a clean digital font only or would you like a mix of hand calligraphy and digital font?
On the Pinterest board add some examples wedding stationery that you love from your chosen wedding stationer's portfolio?
Do you have other stationery examples for other stationers that you love? This way we can see if we are a good fit and if I can achieve the look you want to create.
Another important question to ask your wedding stationer. Can your wedding stationery designer help advise you with wording options? Do you have your wording ready to go?
Have you taken the time to sit down and write up and check the wording that you will need for your main invitation, rsvp, reception card?
You will be surprised how every single client that I have had so far hardly has any idea where to start when it comes to wording.
They all have to take extra time, to go away, put their thoughts down and think about how to word their invitations. Some brides are not even sure about their wedding venue! As a wedding stationer, you must have your wording ready so that the design can be made to fit around your wording.
Here is an article that I wrote with lots of wedding invitation wording options.
Questions to ask your wedding stationer about calligraphy. How do you feel about calligraphy and what budget do you have?
You need to know how important calligraphy is to your wedding stationery suite.
Would you like to use hand calligraphy in your wedding stationery? Original hand calligraphy on every single suite is for the higher end budget, so you ned to consider the best way you can get the most value for your budget.
For example, would you like to hand address all of the envelopes yourself, or would you like them addressed in calligraphy for you? At Crimson Letters I literally offer a one stop shop, with everything you need in one place, so no you won't have the hassle of having to hunt around and ask other calligraphers for prices.
To give you an idea hand addressing envelopes with calligraphy is from £4.50 per envelope.  So for 100 invitations you would need £450 to hand address invitation envelope. For an rsvp envelope and an invitation envelope both to be addressed it would be £900.
If you would like all of your wedding invitations to have hand calligraphy for all of your wording that can be anywhere from £7.50 – 15.50 per invitation, depending on how many words you have on your invitation.
It is really helpful to communicate your expectations with your wedding stationer early on so that you know what is possible within your budget. Can your wedding stationer accommodate all budgets?
If you don't have the budget for hand calligraphy can your wedding stationer create some bespoke calligraphy for you to have digitalised and use throughout your wedding branding collateral?
Other Useful Questions to Ask your Wedding Stationer.
It is also useful to ask your wedding stationer these following questions about the design process and production.
How long does it take to design your wedding stationery?
So to be really clear here, we are talking about the time it takes to design your stationery, through calls, discussion, emails and offering your ideas, this IS NOT THE DELIVERY OR PRODUCTION TIME!
This really all depends on what you choose for your design. If you choose a design that has already been created and sits within the portfolio and you don't need any changes at all, then your design can be ready to go roughly in about one week to ten days.
Yet if you would like a design on my portfolio but would like to add an extra details card, need to add more information and slightly change the design, or tweak the colours slightly it can take two weeks.
A Bespoke Designed Wedding Stationery Suite
However, if you would like a bespoke / custom designed wedding stationery suite it can then take anywhere from two to four weeks just on the design process. Remember all the art that is created for you is not bought online. It is created from scratch, starting with a basic pencil drawing, to a watercolour design, scanning into the computer and creating a digital design, then removing the background and prepping it so that it is ready to create digital designs. This process is very time consuming and can be a solid one-two months' work, which is why it is offered at a higher price point.
If you would like to find more detailed information about timings check out my Timeline article here.
How do you share design proofs with clients?
In addition, once you have asked your wedding stationery designer to finalise all the artwork and created your first set of designs, how will you be given a design proof, or design proposal?
Will it be in digital format?
You must remember that even though a design may look bright and colourful in digital format (when you view it on your device). Yet once you actually print it out it can look quite dramatically different. The colours will certainly be a little duller or not as vibrant as you will see on your screen.
Will your wedding invitation designer show you a real printed out version?
I do this with every client I have. I make sure that I not only provide a digital version, but I also print one suite out and show a few variations in colour.Additionally, I also add hand painted touches and the calligraphy. The paper suite is then styled on a flatlay and subsequently photographed to show real physical items; rather than digitally printed proof. You can see an example of this with a client's French wedding invitations I made for her destination wedding. Alongside this you can also see the full design process of a bespoke watercolour wedding invitations suite (pictured below) here.
This way you as the client can get a feel for what it looks like in real time.
What is the difference between custom designed and semi-custom in terms of pricing? Does your wedding stationer offer both?
Semi custom wedding invitations and custom designed wedding invitations are both something that I offer at Crimson Letters. Make sure that you ask your wedding invitation designer if they offer both options as well, as they are quite a contrast in terms of price.
Let's discuss both below.
What exactly is Semi –custom:
Semi custom design means that the design already exists or has been in the most part already designed. This means that it will sit within my collection upon my website.
Any designs from my portfolio are viewed as semi custom. The main design is ready to go and can be slightly changed or added to in terms of your details.
If you choose to go with a semi designed wedding invitation suite here are the prices:
Starting from £1,799 –  2,599 depending on how many pieces are required.
Digitally printed suite with hand painted details:
Starting from £2,599 – 3,899 again the price depends on how many pieces are required and how many changes are needed. If other printing techniques such as gold foil, letterpress, calligraphy are required, it will be at an additional cost.
Following on, let's take a look at custom designed wedding invitations and how it's different to semi-custom design in regards to pricing.
Custom designed wedding invitations:
You may look through your wedding stationer's portfolio and see that they are really talented and can design luxury wedding stationery, yet you can't find the colours of style that you really want made. You'd like something designed that is completely original and highly personalised to you. Maybe you'd like to feature parts of your wedding venue, or perhaps have an immaculate crest or heraldry designed. This is a custom design.
As I mentioned earlier, (above in How long does it take to design your wedding stationery) this process is very intensive for your wedding invitation designer. You will have to cover all that time that they are working.
Just to give you an idea in terms of design and costs, a website designer will charge you from $6,000 for a completely bespoke design which takes 6-8 weeks to complete on average.
My fees for custom designed wedding invitations start from £4,899. Shipping and Printing will be additional costs.
How long will it take after finalising the design to produce wedding invitations?
On average for a wedding suite of 100 invitations here is the approximate production time:
Printed invitation suite
Plain envelopes
No calligraphy envelope addressing
RSVP card / envelope /Invitation card / envelope
3-4 weeks
Printed Invitation suite with hand painted details
Handmade envelopes
Torn edges
Calligraphy addressing
RSVP card / envelope
Invitation card / envelope
Information card
Reception card
4-6 weeks
Every client is unique and has a different set of needs, so your production schedule will vary on a case by case basis.
Will you be given a timeline, or expected delivery date so that you can be kept up to date with when you can expect the wedding stationery to arrive?
Once we start the process I always make sure that I let my clients know upfront the approximate timelines. Make sure you communicate right from the start of your enquiry, how long it will take for your stationery to be designed, produced and delivered. Ask in advance when your invitation suite will be shipped.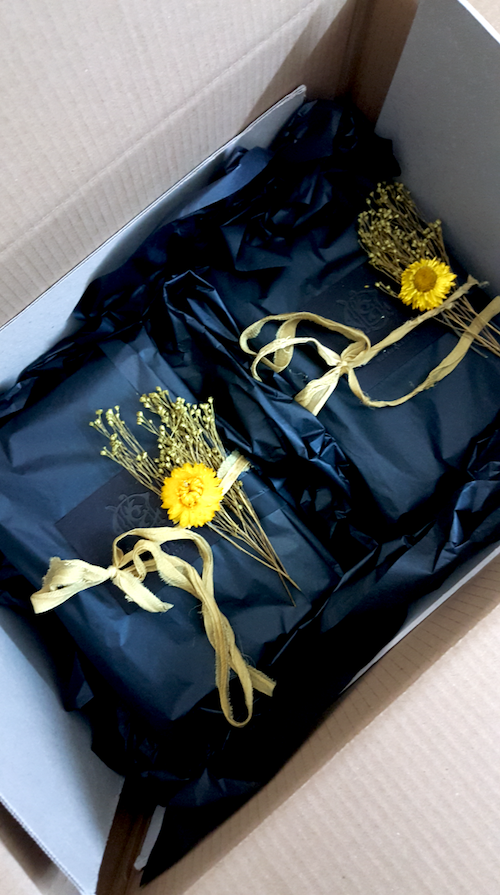 Another question to ask your wedding stationer is, when should I think about sending the wedding stationery out to guests?
You should send out invitations about 3- 10 months in advance, depending on your culture. Swedish people like to send their invitations 1 year in advance!!! When it comes to save the dates, they need to be sent out 6-9 months in advance so that your guests can plan holidays and book tickets well in advance.
Will your wedding stationer make a small minimum order?
Sometimes brides are looking for a small order of only 10 invitations for a very special destination wedding, or a keepsake for a vow renewal. Some stationers only take a minimum of 50-100+ invitations at a time. It's good to get in touch and ask them if they can handle a small order.
I do provide this type of service for one off designs, illustrations, vow renewals etc…. My minimum order starts at £899, to cover all of the communication, emails, design proposals and final production needed.
Can you provide a quote for the shipping and printing costs?
Shipping
Get in touch with your paper designer and ask them, for 100 suites, (or however) many suites you wish to order, what will the cost roughly be for shipping.
Bearing in mind that you will need to know how many pieces your suite will contain to get a rough shipping amount. Some clients will start off with a simple four piece suite and they will end up adding on a reception card, and information card, a statement card with some art etc… It ends up going from a four piece suite to an 8- 10 piece suite.
Extra items will ultimately have a huge impact on your shipping costs. In the end instead of having 400 pieces to ship (for a four piece suite) to needing to shipping anywhere from 800 -1000 pieces. Your shipping fees may range from £50-£350 or all the way up to £1200, depending on what you are shipping and where ere you are shipping from.
Printing
You also need to bear in mind that you will need to pay for printing costs.
Printing can be anywhere from £350 – 2000+ all depending on what you need. Gold foil stamping and letterpress, or engraving are much more expensive when compared to normal digital printing.  It is best to communicate the end maximum budget that you have for shipping and printing, or the total cost that you have to spend. Ask your stationer to see what they can provide for you within that range.
Lastly as one of the questions to ask your wedding stationer, what are your payment options?
If you book early enough and manage to book your stationery one year in advance, or even 6 months in advance you can spread the payment out over 4-7 months.
I offer this service to make payment easier for you, yet not all stationery designers offer this. Make sure you reach put and ask what payment methods and options are available to you.
That's all for now. Before we wrap up, let's go through a quick list of all the areas we have covered:
Do you like the style of the wedding stationer?
When do you need to reach out to book them?
What do you really love?
Which details and finishes do you dislike?
Have you done your research? What are your needs?
Create a Pinterest board to highlight your look, feel and aesthetic.
Do you have your wording ready to go?
Do you have a budget for calligraphy?
How long the design process take?
What are their design proof policies?
What is the difference between custom designed and semi-custom in terms and what is the price point?
Production timelines.
Ask when the wedding stationery will arrive?
When should the stationery be sent out prior to the wedding?
Minimum orders.
Printing and Shipping costs.
Payment options.
I hope that I have provided you with enough food for thought. You have a thorough list of questions now that you can read through and have ready. Make sure you make notes of what is most applicable to you and ask your wedding stationer those questions.
It's always best to ask these questions on a phone call if possible. Then you can really see if you and your wedding stationer are both the best fit.
Asking the right questions is absolutely key to making sure you and your wedding stationer are on the same page. Never leave anything up to chance otherwise you could face disappointment down the line!
At Crimson Letters I understand the importance of working together to create the wedding stationery of your dreams, that's why I work so closely with all my couples. I am very passionate about what I do and I love to take inspiration from the world around me, as well as listen to the exciting ideas that my couples have. That's how I produce beautifully unique luxurious wedding stationery, made with love.
If you're looking for a wedding stationer and you'd like to know more about what I do, email me at rubana@crimsonletters.com or get in touch here.
Here are some more useful articles:
Wedding Invitation Wording Ideas
London Black Tie Wedding Invitations
Escort Cards and Place Names Designs
Luxury Event Invitations in California
Advice on Marketing – for other wedding stationers and how to approach wedding planners
A Wedding your Guests will Remember
Destination Wedding Stationery Tips
Plan the Ultimate Wedding Weekend