Florence Finesse – Hand Painted Wedding Stationery
Graceful and elegant sweeping lines decorate this hand painted wedding stationery suite, inspired by the beauty and splendour or Florence.  Alongside an ethereal mild blue, hand painted peonies have been artfully painted all over the envelope liner and save the date. Peonies are known as the flower of riches and honour. Wth their rounded full bloom, peonies are the epitome of love, romance and a happy marriage.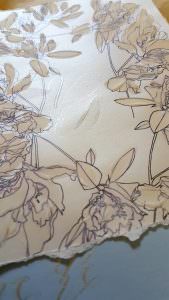 The duplex, thick, main invitation card is finished in silver foil, with black edging and decorated with an exquisite monogram crest design, is stylish without being overly heavy. All the items are loosely held together with a black hand calligraphed wrap, adding the most feminine fine art wedding stationery look to your hand painted wedding stationery.