Plan a Wedding (Using Pinterest)
How to Plan a Wedding & Going for Gold with Pinterest
Let's talk about how to Plan a Wedding using Pinterest. Now we all love Pinterest. The invention of Pinterest was the best thing ever created, especially for new brides, planning your wedding, finding the perfect venue or even sourcing your hand painted wedding invitations. This article will help you to plan a wedding step by step.
Why do we love it so much?
Well the number one reason is because it's a fantastic and awesome tool to use to plan a wedding. It has lots of inspiration and is a great way to collaborate with other wedding vendors, friends and family. And you can easily get lost in a sea of all the wedding prettiness.  We know a few of you have secretly been pinning your dream wedding on a board called "One Day"! Hands up anyone? You can tell us, we won't tell.
If used correctly Pinterest is the perfect tool for wedding planning (for planning inspiration, ideas and themes). It's a great place to start putting all your wedding ideas in one place.
Here are our best tips for using Pinterest to plan that elegant wedding.
Use it for Inspiration Purposes to Start With
Pinterest has a sea of great wedding ideas and inspiration or you to use to plan a wedding. Not sure if lavender and green match (No it does not match FYI!) look it up on Pinterest. Want to know what an upscale New York themed wedding looks like? Look it up on Pinterest. Have no idea which hand painted wedding invitations to choose, search for it on Google and get over to Pinterest. You have so many options on Pinterest to go by, go ahead and give it a try. As we mentioned before, use Pinterest for inspiration purposes only. Pin an image that stands out to you and matches your theme. Use the images and inspiration as a guide not to replicate. You want your wedding to be unique and creative by making it your own. Everything you plan should be a reflection of your style and personality.
Some material on Pinterest tends to get a bit repetitive as so many people tend to re-pin the particular images, so if you are looking for something really original, that will be exclusive, such as small wedding venues or hand painted wedding invitation, then search for it separately on Google or for designers and painted wedding invitations search on Instagram.
Ideas on Pinterest
Nevertheless, they are so many wonderful ideas on Pinterest, so pin away.  Use it as a guide to see how your wedding will potentially look. As a wedding planning checklist.
Pin inspirational photos that are similar in look, style and colour. If something does not match the overall aesthetic of your wedding mood board pin it but make a note on it. You might like how a particular wedding invitation looks or the wording on the invitation, but the theme or style does not go with your vision. Just make note on it specifying what you liked about that particular picture. You can make your notes under the description area of the pin. This will help keep you on track to plan a wedding successfully.
Sort out your Wedding Board
When planning a wedding, the key is to getting yourself organised. Want to be extremely organised?
Create a few wedding boards. One board for the overall look of your wedding ideas, defining your colours, themes and style. One board dedicated for all the little details such as your wedding bouquets and flowers and a board for your bridal party, fashion, and hair and make-up inspiration. That way when talking flowers with your florist, you will have something to show. You can easily pull out the board dedicated to your floral board.
Simplify the wedding planning process by only pinning what works for your style. Do not let Pinterest overwhelm you. And don't spend hours on it either. Keep it simple and to the point otherwise you will have so much to work with. Pin point what you really love and stick to that.
To make things easy for you here are some tips on the types of boards you can make.
Boards you must have 
To start with here is a basic list of all the boards you can pin. This list should help you to narrow down everything you need for your wedding.
Honeymoon
If you are planning a destination wedding, pin all of your destinations on one board. You can look at them together with your partner later and decide what is the right place for you as a couple. Your final choice should complement you both and cater for both of your interests.
Wedding Dresses
It is a good idea to have some wedding dresses saved before you visit your local wedding dress boutique. After you have pinned some of those dreamy dresses take a screenshot on your phone. This way when you go to your local boutique, show the Pinterest board, or screenshots to your stylist. The stylist will have a much better idea where to start!
Wedding Cake
There are so many beautiful, designer wedding cakes on Pinterest. Try to focus on your colour theme or vision, but yeah, I know, just pin away all the ones you love. Just have fun right now and decide later. This will be very helpful when you show your wedding cake designer the look that you have in mind. The cake designer should be able to tell you straight away what sort of budget your cake is in and if he/she can do something similar.
Wedding Invitations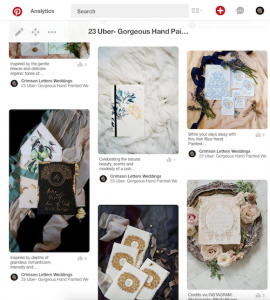 Your wedding dress, cake and flowers are all very important elements to your wedding day. So are your paper goods! There are so many choices! Hand painted wedding invitations and calligraphy are the new hot trend. Why should you settle for less?
What feeling do you want your guests to have when they open their invite to your wedding? I'm guessing one of wonder, excitement and intrigue. Do you think ready-made invites will do the job? Probably not! Although there are some perfectly nice, ready-made designs available, nothing beats an exclusive, hand-painted invite that oozes romance, decadence and class. Check these designs out here!
You have creative direction – A bespoke designer will take on board all your ideas and work with you to transform your vision into a reality. From the artistic design to choosing the materials, you are in control every step of the way.
You can even share your Pinterest boards with your stationery designer, so that they can see your vision.
Wedding Flowers
Pin all the types of flowers, flower walls, bouquets, table settings and anything else you love that include flowers. Take a note of the essential items you cannot do without and speak to your florist about what id possible. The availability of flowers depends on the season. Ask your florist what he/she can do for you. Or pass on all these ideas to your planner.
Reach out and Contact Vendors  
Now that you have the above boards all saved, contact some of the wedding vendors. Find out if the vendors can achieve your look. Tell them about your budget and see what they can do. Remember cake designers, hand painted stationers and wedding planners need the most time, so contact early on to discuss your options. Also make sure you only work with wedding vendors that you have a good feel for. Don't go for a wedding vendor that you feel a bit strange about, trust your gut!
The last thing you want is to go into your wedding with vendor issues!
Collaborate with your team 
We suggest hiring a wedding planner and a designer to assist you with your wedding plans. This is highly recommended for a stress free wedding but also ensures you have an elegant wedding. Once you have a board created, invite your team of experts to that board to collaborate. They will be able to pin to this board as well, make changes and add to it to ensure you stay on track with your wedding vision.
Here are some steps to Plan a Wedding on Pinterest using a secret board that only your friends or team can see.
Firstly go to your Profile page. You can find this by clicking on the top right.
Next, you click on the Create Board + button.
You will be directed to the Create a Board window.
Name the board.
Scroll down to secret and press yes.
You now have a secret board to collaborate with others.
You can type in an email under secret to send and invitation. Your friend can accept the invitation and join your board.
Pinterest Planning is also extremely helpful for those that have no idea how to style a wedding and have no clue where to start. The designer and the planner can start it all for you, give you a little boost and motivation that you may need. You will be able to see pattern and style develop and add your own opinion and special touch as you progress.
Remember, don't forget to add your own personality to the day. What is special about you both as a couple. Do you love aviation, or travel, weave that in!
This process will save you so much time. No need to send countless of pictures back and forth via email. And you will have all your wedding ideas located in one area for easy access.
Pin point stage – The fun part
What is a pin pointing stage? This is where you start removing any pins that makes no sense to your wedding and are completely irrelevant. Pins that do not work with your venue, or your style or it just sticks out should be eliminated from the wedding board. This almost like shedding off unnecessary and wanted things. This is how you can plan a wedding effectively.
Choose one theme, such as the Sultry Marie Antoinette theme below. Stick to it. This way your wedding will have a cohesive look.
Go ahead and delete anything that does not match the aesthetic of your wedding vision. I would suggest meeting with your designer and planner to decide what works and what does not before proceeding. You need to keep your wedding venue in mind. Do you have things on your board that will not fit in the venue? Then it may not be doable.
If there is a pin that you really feel will work with your theme but needs to be altered in anyway such as going with it but in another colour, then make a mental note. Put a reminder on the description so you know what it's all about.
Cutting back on Pinterest 
This amazing tool that we all love can be extremely addictive and become overwhelming. Spending hours pining away to plan a wedding? Stop! Once you meet your designer and planner and have pin pointed your style and vision, refrain from pin to that board again. You do not want too many options that will make it hard to choose from.
The whole point of "pin pointing" is to narrow your options down to a wedding style that works with your vision. Pick 2-3 theme maximum, then just step away for a while. Share these themes with your loved ones. Ask your closest friends, or a planner which look will work best?
Remember, to plan a wedding is not supposed to be stressful. After you confirm your decor theme and confirm it, do not pin to that board any more. You can use another board for that.
Very important, don't forget to add your own personality!
You know that Pinterest is addictive, you should back up and stop pinning right here. We would love to wish you a happy pinning day.
How do you feel about Pinterest? Do you use it for your business, or have you planned a wedding on it, or are you just plain not bothered?
Please leave a comment.