Navy Blue and Gold Custom Invitations
Navy Blue and Gold Custom Invitations – with Accents of Magenta, Burgundy & Plum
Last November 2020 I had the pleasure of designing some blue and gold, luxury hand made wedding save the dates that you can see here for a wedding at Le Meurice, Paris. As a follow on I have designed this same client's custom navy blue and gold custom invitations.
Consistency in design
It was important for my client to have a follow on in terms of design consistency from the save the dates that I previously designed. With her save the dates as it was a much smaller collection of 25 suites of – a save the date card and one envelope with a watercolour artwork envelope liner, it was much more feasible and viable to completely hand make and only use hand calligraphy throughout the entire suite.
However with the main wedding stationery suite for her wedding there are many more pieces or card inserts to be designed so it will not be possible to use original hand calligraphy throughout the entire suite. There will be an invitation card, information card, rsvp, reception card, ceremony card, invitation envelope and rsvp envelope. Altogether that makes a total of seven elements that need to be individually designed.
Using the same colours
It was important to the couple to use the same colours, yet they wanted to see a change and perhaps introduce a darker green colour. I mentioned more of a use of burgundy and magenta that could be used as focal points throughout the card and to use ink colours of magenta and deep plum to pull through and create more contrast and depth within their wedding stationery design.
Here below you can see the navy blue and gold custom invitations that I designed.
Crest Designs
To add extra flair and style to this navy blue and gold custom invitations suite and to offer my client a few variations, I created a series of 4 smaller crest designs that you can see in the top two photographs. Some crest designs had a CD, solid monogram letter shape and on the other crests I had calligraphy letters as a point of difference. It's important to me to offer my custom design clients a range of design so that they can see what's possible. Design is a very collaborative process and only with the client's feedback we move together to the next step.
Floral Watercolour
I could have easily used the watercolour floral painting for the last save the date collection, yet I wanted to offer the client some fresh and dynamic red rose and calla lily watercolour paintings. So above you can see that I created an entirely new set of watercolour painting illustrations. Once completed, I scanned this artwork in, removed the background and set about creating a composition for the envelope liner. You can see the watercolour illustration above that I used for the final suite below.
I wanted to keep another accent of this floral composition within the suite, therefore I used the rsvp envelope as a way to echo the same design through this navy blue and gold custom invitations suite.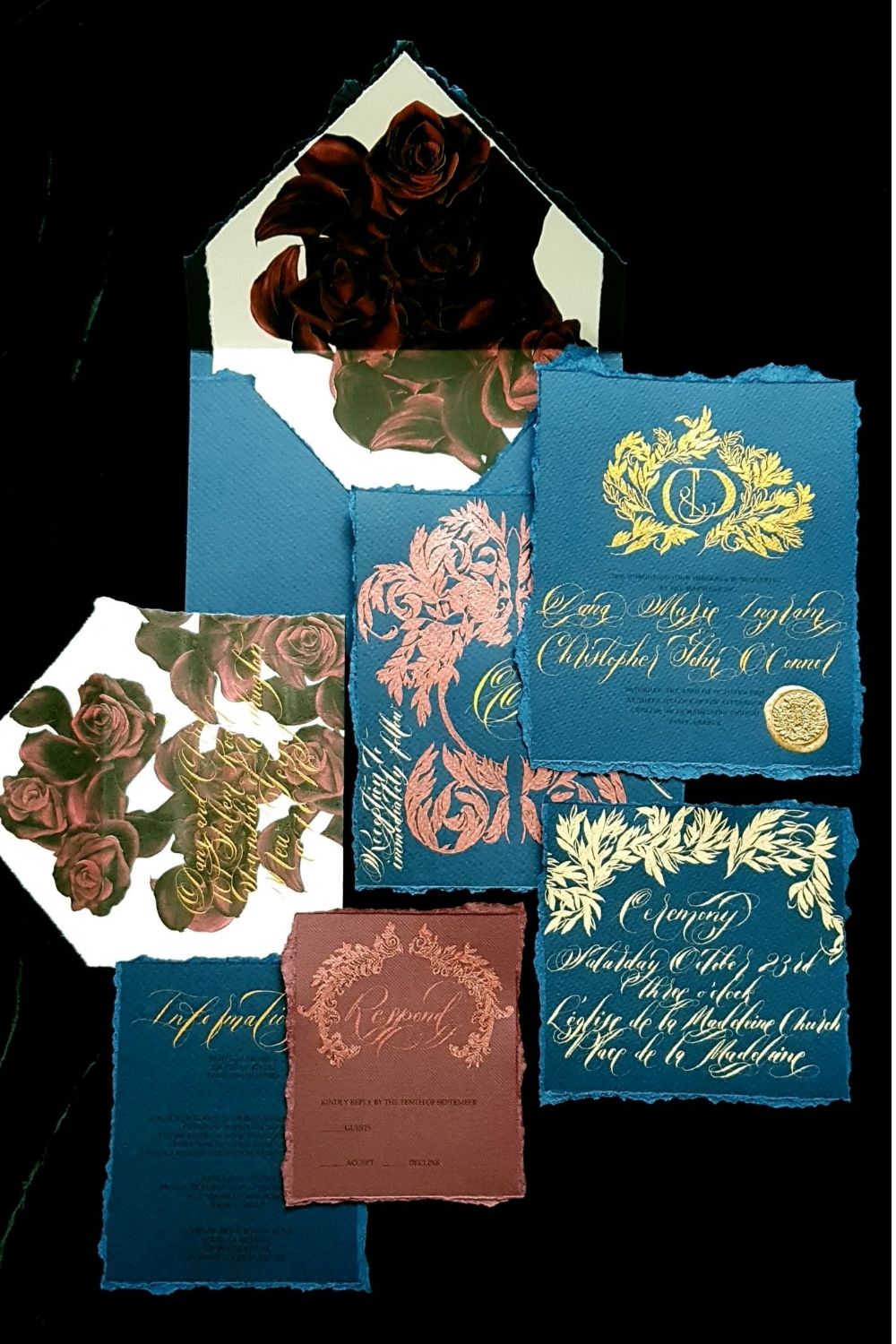 Here are some links to other suites that I have designed for past clients: