31 SWANKIEST luxury wedding cake designers on Instagram (Updated)
31 Luxury Wedding Cake Designers who Create the World's Most Exquisite Cakes
While the style focus during the wedding ceremony is usually on the bride's dress, with guests turning to gasp at her beauty as she swishes down the aisle, the wedding reception brings with it the chance to create another 'wow' moment with a luxury wedding cake and so finding the right luxury wedding cake designers to choose from on this all important day is paramount.
The world's best high-end luxury wedding cake designers create edible sculptures which would not look out of place in an art gallery. These fairytale creations provoke gasps of awe as they are unveiled to guests, creating one of the stand-out moments of any special day.
If you're getting married and looking for the most exquisite- stand out from the crowd luxury wedding stationery, please visit my portfolio and contact me here or at rubana@crimsonletters.com! I would love to hear from you and help you design a custom stationery suite.
Hour-upon-hour is spent baking, sculpting, painting and crafting to create each upscale cake. Each and every one is a marvel of artistry, designed as a one-of-a-kind to enhance the theme of a couple's special day. Designers create exquisite detailing, from hyper-realistic florals to intricate lace, darkly gothic tones to cakes painted so intricately they look like watercolours.
Here are some of the world's most incredibly talented luxury wedding cake designers, and their jaw-dropping creations.
1. Melcakes   
Swiss-Dutch designer Melanie Boers creates picture-perfect luxury wedding cakes in sorbet shades, which are the ultimate in romance. Her handmade creations feature intricate, elegant sugar paste flowers along with sophisticated detailing such as lace or filigree imprints.
Known as sugar haute couture, her artistic creations have included tiers of baby blues and pretty pinks, adorned with matching macarons and finished with delicate sugar blooms. Her sophisticated cakes also feature Baroque detailing and golden filigree, ensuring they wouldn't look out of place at the wedding of Cinderella and her Prince Charming.
Always abreast of the latest trends in upscale wedding cakes, Melanie meets the demands of luxury modern brides with perfectly on point modernist creations in shades of colour-washed grey, teamed with soft pastel pinks. She also uses layering, wrapping icing around her tiers to create a wildly romantic, more deconstructed feel, featuring sugar vines and leaves as well as pretty flowers to tie in with a luxury wedding theme. She is also no stranger to using deep blacks, teamed with her signature golds and pastel shades to create a more darkly romantic feel.
A pioneer in cake design in Switzerland, Melanie's exquisite work is inspired by seasonal flowers, antique paintings and vintage porcelain. Known for working with satin ice gum paste, Melanie starts the creative process by mixing her colours before sculpting her flowers to create the ultimate fantasy cakes.
If you are thinking about planning a destination wedding in Switzerland, why not hire Mel to create your cake?
Visit her instagram here. Website is here.
 2. Lima Cakes
Inspiration can strike Lima Cakes at any time. Some designs are inspired by nature, while some feature florals found nowhere else on earth. Some creations are classical elegance itself, while others are beautiful yet deconstructed.
Lima Cakes have included tiers of swirling, marble effect icing, dotted with edible crystal, which look as if you aren't just delving into a delectable cake, but that you've just discovered an, as yet, hidden cave full of jewels. The effect is enhanced through the use of twirling ivy which sweeps around each tier.
Another standout creation was inspired by the dark ballet movie Black Swan (above), creating a cake adorned with super-realistic feathers in hues of gold, black and white. The couple's luxury wedding reception décor was inspired by the Art Deco period and Lima Cakes was asked for a cake which was totally unique and unexpected. Inspired by prima ballerina gowns, the creation was adorned with countless edible, hand-cut, hand-veined and hand-painted feathers.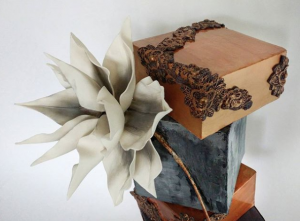 The luxury wedding cake designers inspiration comes from the bride's dress itself and has carefully crafted sugar florals so that they exactly match the design and neckline on a gown. Other sublime designs have featured bright sugar craft hibiscus along with geometric shapes which look like an elaborate fascinator, and edible pearls to create interest and texture on an otherwise all-white cake. Lima Cakes is also not afraid to create stunning modernist cakes which look like modern sculptures, using sharp edges, marbling and texture in hues of grey and gold, finished with organic branches.
Visit her website now, go here. Her Instagram is here.
Specialising in exquisitely-crafted sugar floristry so realistic that the blooms look as if they have been freshly picked from the gardens of royalty, Eastern Kentucky native Alex Narramore is a luxury wedding cake designer whose cakes are renowned for their billowing florals, bold patterns and vibrant hues.
Huge sugar florals twist their way around each tier until every one of her upscale wedding cakes looks like a stunning flower arrangement. Alex, along with her mother Lisa, work on the sugar flowers as a team, painstakingly crafting each bloom until the delicately thin sugar petals and veining of the leaves look just as beautiful as the plants which inspire their creations. These floral sculptures are even infused with edible scents to ensure they are truly a feast for all the senses.
Alex's cakes have featured everything from bold black-and-white stripes, paired with brilliant colours, to soft duck eggs and gold, matched with an array of subtle white blooms. Stunning designs have also included darker, more gothic hues, with ornate gold leaves and sculpted birds and fruit in jewel-like shades to create a feeling of Medieval opulence.
The Mischief Maker's stylish designs become a stunning foreground in photographs of a couple's special day, with Alex and her team taking great care to ensure that each and every cake is one-of-a-kind. The only difficulty for guests gazing upon a Mischief Maker creation will be to determine which of the blooms at the celebration are real floral arrangements and which are carefully crafted sugar works of art.
Visit her Website here. Visit her Instagram here.
4. SWT Creation
The term colour-pop could have been coined for SWT Creation, whose cakes feature tiers in bold shades adorned with contrasting floral detailing. Founded by Sally Brant in 2014, SWT Creation cakes are clearly inspired by her time working as head pastry chef in Michelin-starred Alexander House, and by six months spent in Paris where she perfected her chocolate, sugar and flavour work.
Not only does the designer, based in her own studio in Northampton, England, pride herself on creating totally unique works of art, she ensures her cakes are fit for any luxury wedding reception by delivering on taste just as much as aesthetics. Mouthwatering flavour combinations include strawberry and cream Champagne, lemon and elderflower, and chocolate praline cappuccino.
Every one of her upscale wedding cakes is tailored to the luxury wedding theme. Some of her standout creations have featured icing painted with delicate flowers and matching sugar craft blooms. She has also designed minimalist tiers of white, with just a touch of gold, teamed with subtle white sugar craft flowers and sat atop a crystal stand. Other stunning pieces include marble washed cakes adorned with blooms in pastels and deep burgundy, offset with gold leaves. Dark hued cakes, paired with blooms in russets, pinks and deep purples are perfect for autumnal or winter weddings.
Each of her impeccable designs is approached with attention-to-detail which is second to none and an artistic flair which ensures every creation is swooned over by guests at luxury wedding receptions.
Visit her Instagram here. View her website here.
Award-winning Toronto artist Alexandra Pellegrino creates quirky pieces which are so unique they are guaranteed to be a conversation starter at the luxury wedding receptions they adorn. Looking like they would not be out of place in the fantasy world of a Tim Burton movie, her designs feature one-off sculptural detailing and colours and patterns you would usually expect to grace the catwalks of Paris, Milan, London or New York during fashion week.
Her high end wedding cakes are inspired by the romance of storybooks and days gone by, with stunning pieces including an all-white creation influenced by the Baroque-styling of 17th century picture frames. She has also created a truly one-off piece featuring zebra-print tiers topped with jewel-like sculptural pieces in sapphire and amethyst hues, finished with touches of gold.
Her ethereal "abandoned theatre" style cake has become one of her signature pieces. Taking inspiration from opera performances in days gone by and the beautiful theatres which have fallen into disrepair, she perfectly captures the haunting beauty and fading glamour of venues where audiences were once captivated by the drama playing out on stage.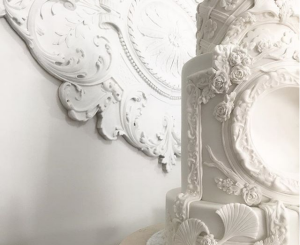 Alexandra is also heavily influenced by everything French and flamboyant. She has become known for using techniques learnt when she majored in drawing and painting at art school to paint intricate Toile Du Jouy scenes onto her cakes. These outdoor pastoral scenes which were popular in the 18th Century have often been chosen by brides who have opted for a vintage wedding theme for their big day.
Visit her website here and Instagram here.
Whimsical and romantic, bespoke and beautiful, Sophia's Cake Boutique has been catering to discerning clients since 2013. Based in South Yorkshire, Sophia's has swiftly become renowned for artistry and craftsmanship, with sublime designs inspired by all things vintage. Her cakes feature ornate gold embellishments atop shades of white, cream, taupe and classic dove grey. With a decidedly vintage feel, her designs have become popular with couples whose special day has been inspired by decades gone by.
While lace has never been out of style, ever since Kate Middleton wore a striking lace gown by Alexander McQueen when she married Prince William, lace has been having something of a fashion moment. Sophia's designs have featured delicate sugar craft lace so realistic it looks as if it could have been an embellishment on the Duchess of Cambridge's dress.
She has also become well known for using 24-carat gold leaf for the ultimate in luxury wedding cakes. Completely safe to eat, gold leaf is used along with a pearlescent finish which catches the light in a luxury wedding reception venue, ensuring that the cake captures the attention of every wedding guest, and creates a feeling of elegant splendour. A couple's initials are added inside an ornate picture frame design on the central tier.
For couples who have chosen a wedding during the festive season, cakes are created using rustic, seasonal décor to tie in with the luxury wedding theme. Icing as white as snow is adorned with pine cones, cinnamon, sugar berries and roses to create the perfect cake for a winter wedding.
Visit her website here. To see her Instagram go here.
7. Miam Cake
Scarlett Kilzer, of Miam Cake, is a luxury wedding cake designer, who describes her work as "visual storytelling" through the medium of sugar art. She delights in translating the beauty of nature into her intricate cake designs. Following a career as a classical opera singer, Scarlett brings all of her knowledge of classical music history, costume and set design into her cake designs.
Her luxury wedding cake creations feature options including painstakingly hand-crafted sugar flowers, 24-carat edible gold, ruffled fondant and custom brush techniques. Each is a unique work of art perfect for the luxury modern bride.
Miam Cakes are also just as beautiful on the inside, with up to three flavours per cake. Each slice is designed to be enjoyed as a perfectly balanced dessert course, providing the ideal piéce de résistance to any wedding feast.
Her stunning work has included layers of teal paired with the palest white and topped with intricate gold florals and steams. Meanwhile, autumnal works of art have been inspired by seasonal fruit of the season, featuring realistic dark-hued berries and blossoms cascading down pristine white tiers.
Scarlett has also created magnificent cakes inspired by the colours and blooms of the Far East in magenta tones, featuring orchid and cherry blossom-style flowers. Other striking designs have been crafted with modernist detailing in 'cracked' greys, tiered in stacked squares as a move away from traditional design. Another of her standout pieces used shades of blue icing, topped with complimentary florals, so that the cake became the "something blue" for the bride on her special day.
To see her website go here. Visit her Instagram here.
Specialising in art buttercream, a creation from Sweet Bloom Cakes is akin to purchasing a beautiful floral abstract watercolour or oil painting. Based in Sydney, Australia, and headed by designer Dewi Kurniadi, the cake house has become known for a signature style of understated elegance.
Recent designs have used buttercream in natural, abstract techniques to create cakes which are stunning yet which have a relaxed vibe. Monet-esque florals on each tier of icing are topped with oversized blooms in pastel and yellow shades.
Other creations feature predominantly white designs, which use texture and touches of gold to add interest and depth. Lace detailing is paired with florals in an array of pinks, or formal cakes are given a more playful feel through the use of different tier shapes. Each sugar flower used in finished designs is crafted to look just as if it were made by Mother Nature.
Sweet Bloom also creates bespoke dessert bars for couples who wish their wedding cake to form the centre piece of a more extensive selection of finely-tuned desserts.
Dewi began her career as a wedding planner, but soon realised that she was destined to be involved in couples' special days in a different way. She taught herself to decorate cakes and now has a talented team who are as obsessed with cakes as she is. The designer says she values celebrations and special events as they are not just a bringing together of friends and family, but an expression of love.
Visit website here. Instagram here.
Sculptural, contemporary and elegant, Victoria Watkin-Jones' designs are very much in demand by the luxury modern bride. Self-taught in the art of sugarcraft, Victoria is now one of the world's leading cake designers, creating pieces for luxury venues including The Four Seasons, The Ritz and le Manoir.
Based in Brighton, but producing cakes internationally, Victoria has been called upon to create designs for special occasions including an Emirati royal wedding, and for the homecoming of British Olympic hero Jessica Ennis-Hill.
She takes her inspiration from all walks of life, including high-end fashion, fine art, Japanese culture, ceramics and sculpture. Priding herself on being a cake artist rather than heading up a cake company, Victoria only takes on a very limited number of commissions so that she can personally create every luxury wedding cake from design to finish.
Stunning designs sit well in either a traditional or modern setting. Recent creations include a classic tiered cake given a modern feel through the use of colour-blocking in pale blue-grey offset with gold. Beaded textured detailing in a rococo style provided the finishing touches while a single perfectly crafted sugar chrysanthemum added interest without being overly fussy.
Victoria prides herself on using natural flavours wherever possible and high-quality ingredients such as duck rather than chicken eggs to create an exceptional taste. Mouthwatering flavour combinations include a rich marmalade vodka fruit cake, orange and cardamom sponge filled with orange curd and vanilla buttercream, and a delicate lavender sponge filled with lemon curd. Each cake tastes as beautiful inside as it looks on the outside.
Visit website here. Instagram here.
A boutique wedding cake shop based in Manhattan, Maddison Lee has been named among the Top Ten Cake Artists in North America by Dessert Professional magazine. She grew up taking inspiration from her mother, who would bake and decorate cakes for her and her brother as a hobby, and from her father who showed her how to have fun with sugar in the professional kitchen where he worked at Cousin John's Bakery.
Now Maddison is using the skills learned as a child, and during her professional training at the Institute of Culinary Education, to create exceptional luxury wedding cakes which have won her a host of awards. She has created cakes which range from the darkly beautiful to the classically pretty.
One of her most exquisite designs featured embossed black icing on each tier, adorned with an array of dark blooms and trailing ivy. Maddison has also created exquisite cakes which look more like abstract modern art paintings, with colour-washed angular tiers set atop one another in deliberately unsymmetrical patterns.
Other striking designs have lifted a simple white cake with crinkle-effect ribbon work topped with cascading green foliage, berries and roses. Maddison has also created birch bark effect cakes with a more rustic feel, perfect for the country or vintage wedding. She describes her signature style as classic and modern at the same time. While she loves the classical look of florals, she likes to add a modern twist to each of her designs, never doing the same thing twice.
Visit website here. Instagram here.
Sonnda Catto Cake
Sonnda's trademark style features luxury wedding cakes, handmade to order from her Glasgow-based studio, using seasonal, local, natural, and even wild, foraged, ingredients, for cakes which take their inspiration from Mother Nature.
A classically-trained pastry chef, Sonnda has worked at the two-Michelin-starred restaurant Sketch before returning home to open her own studio. Her unique style has won her a legion of fans and clients worldwide, with couples from as far afield as Paris, LA, Dubai and London ordering her creations for their special occasions.
Sonnda's stunning designs are perfect for occasions in unique locations or for bride's looking to mirror their vintage wedding theme. Classic white and cream cakes are lifted through the use of sculptural work and texture, with carefully crafted florals weaving their way around each tier. She uses bas-relief techniques usually found in sculpture and carvings to ensure that her florals, figures and animals look just as beautiful no matter which angle they are viewed from. She also uses colour technique to add a subtle difference from the usual wedding colours, working with mushroom and mauve hues which are adorned with an ultra-realistic profusion of sugar blossoms in a colour spectrum which ranges from the palest of lilacs through to the deepest plum. The detail in her floral appliques is truly astonishing.
Other incredible creations have created tiers which look like torn crepe paper winding its way around the cake for a relaxed, textural and sophisticated vibe. These luxury wedding cake designer's creations are topped with homemade sugarcraft garden roses.
Visit website here. Instagram here.
Darkly beautiful, some of Just Iced Custom Cakes' creations look as if they should be adorning the top table in a gothic fairytale. If Sleeping Beauty villain Maleficent were to ever find her happy ever after, we're sure she would choose one of designer Meagan Adamski's deep black satin ice cakes, with square tiers embossed with the beauty of nature, finished with richly-hued purple roses.
Meagan's darker cakes bring a touch of gothic romance to the wedding of a couple who want something outside the norm. But the talented designer also works with more traditional hues, creating stunning designs in the palest of pinks, whites, and silvers, adorned with her signature sugarcraft flowers in complimentary hues.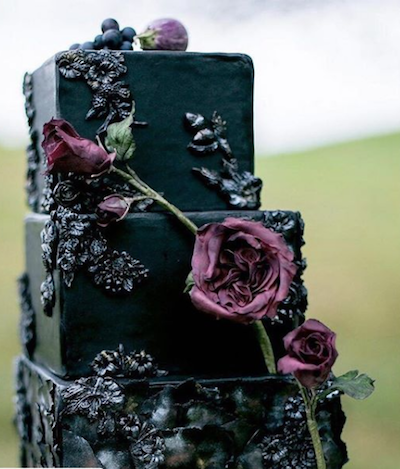 Meagan, who grew up in Cole Harbour, Nova Scotia, Canada, fell in love with how cakes could be pieces of edible art while she was planning her own wedding in 2010. In keeping with the maritime setting of her home community, she has created nautical-themed wedding cakes with stripes of blue offset with the romance of lace and the glamour of gold.
With a deep-seated love of art inherited from her accomplished local artist mother, Meagan found that her creative background and her passion for all things beautiful was the perfect base for creating her own cake crafting business. Her favourite part of any cake is the chance to create stunningly realistic sugar flowers. Every one is handcrafted, petal-by-petal from sugar paste until it looks so realistic it is impossible to tell whether it is real or not until you taste it.
Visit website here. Instagram here.
NOW I PROMISE…YOU WILL NEVER HAVE SEEN A CAKE LIKE THIS BEFORE!!!!
WAIT……..
The awe-inducing creations produced by Tortik Annushka certainly aren't your average luxury wedding cake designers confections. These cakes look like pieces of modern art or architecture rather that something you can eat. Renowned for the use of texture, Tortik Annushka was founded by siblings Madina and Tortik Yavorskaya, and once you realise what their background is, it's not hard to see where the inspiration from their cakes comes from. Madina is academically trained in the fine arts and Tortik's background is in architecture. Now, those skills have come together in perfect harmony to create one-of-a-kind, multi-tiered wedding cakes.
While some cakes are adorned with organic patterns and abstract flowers, showcasing Madina's artistic flair, others use geometric lines so that they look like cityscapes or sculptures, showing off Tortik's passion for architecture.
Some of their most stunning creations combine the two, with bottom tiers embossed with abstract florals before the top tiers are finished with sculptural pieces so shiny they look as if they must surely be pieces of molten plastic or metal rather than edible icing. One of their most popular designs features tiers of swirling florals, which give way to textured golds and oversized petals for the upper layers. Other creations have been so inspired by nature that the bottom tier looks exactly like part of a tree trunk with textured bark, while top tiers are modelled in shades of forest green, finished with blackberries which could have been freshly foraged from woodland. Other creations have the texture of velvet or are handpainted until they look like fine watercolours.
Visit website here. Instagram here.
Unashamedly romantic, the creations of luxury wedding cake designers Lilac Cake Boutique are classical and beautiful, using soft tones, edible pearls, sugar craft blooms and colour-wash paint techniques.
With her signature style of modern romance, cake artist Karolina Montcalm loves nothing better than when a happy couple see their finished wedding cake for the first time. Each of her designs has a feel which is both whimsical, yet edgy, bringing an edible garden to life.
Based in Renton, Washington, one of Karolina's standout pieces was inspired by jewellery, featuring tiers of pale lilac, embellished with lots of bling, pearls and gold, finished with a burgundy accent flower and organic twine.
Karolina often takes her inspiration from the dress or jewellery due to be worn by a bride on her big day, recently creating a striking tower design in blues and golds, which was designed to complement a pale blue lace and chiffon gown created by Emily Riggs Bridal.
Her creations are stunning inside and out, with cake flavours named after well-known wedding day phrases, or declarations of love. Forget me Not, for example, is a vanilla bean cake filled with passion fruit ganache, while Happily Ever After is a banana cake, layered with artisanal caramel and fleur de sel buttercream.
Visit website here. Instagram here.
Anastasiya Tolstih
Designer Anastasiya Tolstih is not afraid of working with colours which are bold and unusual for her upscale wedding cakes. She encourages couples to be brave and to think outside of the norm when it comes to choosing a cake which mirrors their style, personality and luxury wedding theme for their special day.
Incredible creations include cakes of the deepest black, where carefully created sugar craft petals are used to add texture, depth and interest, bringing warmth to a cake which could otherwise be seen as stark. She has also worked with oranges, adding ultra-realistic slices of fruit to provide the finishing touch in a cascade around her design.
Other truly stunning pieces include tiers of marbled lilacs, iris and lavender hues, offset with ruffled layers which look like beautiful silk. Florals in periwinkle shades, attached to stems for a natural feel, finish off this look. Anastasiya also caters for those who love chocolate rather than a more traditional fruit cake or vanilla sponge with tiers of delectable, swirling chocolate, topped with soft pinks, white daisies, and russets for a wedding cake which would be perfect for those who choose to wed just as summer is giving way to autumn.
She has also worked with wafer paper to stunning effect, teaming a dark chocolate bottom tier with upper layers in stunning cream, finished with wafer thin edible paper which almost looks like feathers or the most exotic bloom, mirroring the intricate detailing on a bride's wedding dress or in her bouquet.
Instagram here.
A talented- luxury wedding cake designers exotic location based in Singapore, Hazel Wong's unique creations are frequently influenced by her experiences in the television and movie industry. She also takes her inspiration from the colours of Asia, being unafraid to use truly astonishing combinations to create a wow-effect for couples seeking a luxury wedding cake which is extraordinary.
The cakes she designs also frequently feature an element of abstract art, leading to the perfect cacophony of colour and embellishment. One of her most striking designs to date used black and orange to incredible effect, so that her middle tier took on the appearance of expensive brocade fabric, while the bottom tier was adorned with orange leaves or feathers. Leaving the top tier in a classic black meant Hazel could showcase her papaya-hued sugarcraft florals and golden leaves to the utmost effect. Eye-catching and energetic, the design exudes an air of rich warmth and stunning grandeur.
The sugar artist has also created an incredible piece as part of the Sugar Art for Autism event. Her cake was inspired by the international artist Trent Altman, featuring bold and dramatic lines and strong colour contrasts offset with a less busy bottom tier of white and gold. She finished this creation with an incredible oversized bloom, paired with opulent gold leaves and organic twine to add an air of the rustic to an otherwise formal creation.
Hazel has featured in a host of top wedding magazines, and creations she has showcased include a design she was called upon to create in honour of the popular Downton Abbey series. Taking inspiration from one of Lady Edith's dresses, she created a pink design using edible pearls and finished with a huge black flower to add drama.
Visit website here. Instagram here.
HOLD ONTO YOUR SEATS…….
SOME OF THE BEST ONES ARE COMING UP!!!!!!!
Hanoi-based wedding cake and sugar flower artist Jessica MV is renowned for her use of texture, having just scooped a coveted Cake Masters Magazine award. Well-travelled and frequently posting images of her trips on social media, Jessica brings back to Vietnam inspiration as well as fine ingredients and unusual moulds.
One of her recent pieces was inspired by the beauty and romance of Paris. She handcrafted paste picture frames, painting them gold for a feeling of days-gone-by Parisian elegance. These were filled with hand painted images of the Eiffel Tower and vintage bouquets. Her bottom tier used feminine ruffles to create an effect as elegant as the well-dressed ladies of Paris.
Another standout creation was inspired by the countryside, using a plaque cookie cutter effect of a stag in the mid tier. She also worked with edible gold lustre dust from America, fondant from Brazil and textures she had collected from Florida. In keeping with her woodland theme, the bottom layer was designed to look just like tree bark.
She uses a homemade mung bean paste to incredible effect, creating flowers, chains, beads, laces and chakra knots which are all edible. While other traditional materials used in colder climates often don't work in humidity, she uses mung bean so that she can create stunning designs which will last through a luxury wedding reception, no matter what the weather. Jessica is also known for creating her own unique techniques, which she shares with students, to craft macramé, denim crackle, ruffle and ombre effects.
Visit website here. Instagram here.
Just like any talented artist, Tessa works with a canvas. Only, for Tessa, she sees the cake as the canvas for creating a beautiful piece of art. Based in Greenville, South Carolina, Tessa is so determined to ensure that her artwork arrives in pristine condition that she never ships her high end wedding cakes, insisting on travelling with them.
Tessa sees herself as an artist who has chosen to explore her creativity through the medium of cake. She sees the need sometimes for a cake to be simplicity itself. While on other occasions, a cake needs to be unusual and extraordinary. As an artist, she is able to work both styles in a way which is restrained or extravagant, depending on the wishes of her clients.  She is able to draw incredible designs in freehand on her cakes using edible black ink to create images which look like striking pen and ink drawings.
One of the favourite luxury wedding cake designers she has created to date is a three-tiered design in soft apricot, finished in a swirling abstract design evocative of florals or ribbons. Tessa says she loved it because she was able to have fun with her creation rather than trying to copy anyone else or fit into the mould of what a cake ought to look like. She created the design from a place of love and joy, showcasing her own personality and says she is planning more cakes in a similar theme for the year ahead.
Visit website here. Instagram here.
Maggie Austin's cakes are as elegant as her career in classical ballet. After hanging up her dancing shoes, Maggie completed the prestigious L'art de la Pâtisserie program, graduating with honours. She brought her exquisite artistic vision to life when she decided to launch her own cake house, and she has gone one to design cakes for some of the world's most high-profile A-listers.
Her designs have been in demand from President Obama and his wife Michelle when they celebrated Christmas in the White House, through to Hollywood parties and the weddings of royalty. Maggie has fast become known for designs which display all the symmetry, elegance and sophistication on display from the best ballerinas in the world, paired with subtle touches of haute couture which would not be out of place on the runways during Paris Fashion Week.
One of her most colourful creations to date was inspired by the Mexican painter Frida Kahlo who once said that she painted flowers so that they would not die. Maggie combined an array of pearlescent and matt colours in all hues of the rainbow, finishing her creation with a bouquet of stunning sugar craft florals, along with berries and a little green and yellow bird so realistic it looks as though it will stretch its wings and fly away.
As well as art, her designs have also been heavily inspired by her ballet dancing past, with some cakes looking like the multi-tiered feathers of the costumes in Black Swan, with others using effects which create a bottom layer akin to the prettiest of pale pink tutus.
Visit website here. Instagram here.
Based in London, Wildflower Cakes creates graceful designs evocative of the prettiest of English gardens or meadows. Designer Arianna Lauren grew up in Edinburgh, Scotland, where she fondly remembers baking and decorating with her mum and grandma from a young age. After training and working as a photographer, she decided to turn her artistic eye to the cake world.
Graduating in French patisserie from Le Cordon Bleu London, Arianna worked for many of the capital's leading cake designers before deciding the time was right to open her own studio where she could focus on her love of nature and flowers. Arianna also often uses butterflies in her designs. A symbol of change, hope and life across the world, her delicate butterflies look as if they were designed by Mother Nature herself.
Striking designs have included tiers of the smoothest, most classical white, offset with wildly romantic garlands of sugar leaves and daisies, which look so realistic you can imagine they could be wound into a bride's headpiece. This design was perfect to complement a bride's boho-style lace Jenny Packham dress. The incredible cake included an astonishing 750 pieces of sugar work, each dusted and taped to create four individual wreaths.
She has also created layers which combine the pristine look of white with the opulence of gold, finished with oversized blooms in pale pinks, deep plums and gold, intertwined with deep green stems. Other creations have used grey hues in a marbled effect topped with edible gold leaf and giant pink sugar peonies for a look which manages to be ultra modern yet wildly romantic at the same time.
Visit website here. Instagram here.
Elena Gnut's sublime cake designs look as if they have leapt from the pages of darkly romantic fairytales. Gravity defying designs range from those which look as if they could have been baked by the White Witch of Narnia to those with the innocence of Snow White or Cinderella.
A talented artist, Elena often handpaints designs onto her cakes to create beautifully romantic florals, or to tell the story of one of her favourite fairytales. She has created a host of designs in homage to classical Grimms' fairytales or Disney movies. Her Aladdin cake shows Aladdin and his princess Jasmine sitting atop the cityscape of Agrabah, preparing to fly away on his magic carpet. Meanwhile, a Beauty and the Beast design features a beautifully hand-painted Belle lost in a book while the candlestick Lumiére comes to life atop her design. She has also taken inspiration from Little Red Riding Hood for a design which shows the girl on her way through the forest to her grandmother's cottage amid a tangle of sugarcraft branches. One cake has even been designed to look like a magical storybook, with dark green and black moss growing from the pages along with pale pink roses.
Elena also turns her hand to more classical designs for brides looking for the ultimate in elegance for their high-end wedding. These have featured opaque butterflies, filigree techniques and elegant birdcages where handpainted and sugarcraft birds sit alongside romantic lace and roses in pale creams and greens.
Instagram here.
Born in Bulgaria, Albena Petrova was raised by a sculptor and a jeweller, developing an interest in art from an early age. She graduated from the School of Fine Arts in Bulgaria, specialising in pottery making and glass engraving until she realised her true path lay in cake art.
After honing her skills at the Pearson School of Culinary Arts in Montreal, Canada, she is now using her unique artistic vision to create bespoke wedding cakes according to the ideas, vision and dreams of her discerning clients.
Finding inspiration in flowers, fashion, art, architecture and the beauty of nature, Albena creates stunning designs where she is not afraid to experiment with new techniques and colour combinations. One of her most stunning designs uses shades of blue, embossed with florals, fruit, vines and butterflies in contrasting and complimentary colours.
She has also created darkly beautiful tiers in shades of black, topped with edible jewels in silver and gold and iridescent feathers. Other designs have been inspired by the world's finest fashion designers with handpainted florals dressed in lace in homage to the collections of Dolce and Gabbana. Albena also found inspiration in the metallic gowns sent down the catwalks by Valentino, featuring deep reds and golds. Other cakes have featured the blues and whites usually found on 16th century antique Dutch pottery. Her versatility means she is in demand from couples hosting everything from the most traditional wedding reception to those looking for a more exotic wedding theme.
Visit website here. Instagram here.
Butter Bali
Based in Bali, the stunning Indonesian influences of cakehouse Butter are clear to see. Designer Gita says she is one of the few lucky people who take a risk and manage to make a success of leaving corporate life behind to move to a tropical island.
Butter is one of those luxury wedding cake designers who is completely self taught and has been founded without any professional training or experience but with a lot of passion and dedication. Gita credits her Mom and Granny for instilling a lifelong love of baking in her. Married to Balinese husband Marshello, she says she has now found a way for her inner artist to express herself after opening her own cake studio.
Striking designs include golden crown cakes, adorned with 'jewels' in hues of deep sapphire, vibrant ruby and shining emerald, created in homage to the traditional Balinese headdresses worn as part of traditional dance costumes by islanders. She has also created an incredible four-layered design in black, gold and marble grey, with the bottom tier showcasing her artistic talents with a hand-drawn floral dogwood motif. The gold tier has been left to deliberately drip onto the black layer for a look with is both elegant and relaxed. Another creation featured four golden tiers, inspired by the bride's wedding dress, adorned with handpiping and sequins to mirror the embellishments on the gown.
She credits her Granny's 'magic' red pan, which travelled with her to Bali, as being a lucky mascot and, clearly, it is doing the trick if her incredible wedding cake designs are anything to go by.
Visit website here. Instagram here.
Describing herself as sensitive and playful, San Francisco native Jasmine Rae moved into cake art following formal art training and running her own mural-painting business. When visualising her latest cake designs, she says that she breaks boundaries in her mind, but she is able to rein in her ideas until they are relatable yet novel.
Fascinated by materials which have been weathered by the effects of time, she is known for recreating the romantic look of ageing in her designs, deliberately ageing her decorative sugarwork, creating new textures and playing with light and shadow in a way which only a true artist can.
Unusual designs include a tiered creation of grey marble effect teamed with distressed gold and vintage-style blooms for a finish which looks as if it stepped straight from the banquets of Ancient Rome. Other cakes feature a series of ruffles so romantic they could feature on the brides dress itself, or tiers which look as if they were once part of pillars on the temples of olde worlde Rome or Egypt.
Her portfolio has also included an ultra-modern wedding cake where slabs of cake are iced in an effect which looks almost like wet concrete, before the tiers are stacked asymmetrically. Flowers in her designs are created using fondant with rose petals deliberately aged until they take on an air of fading romance, as if they were picked for a lover who can't bear to part with them. Flavours also have a nod to days gone by through the use of such ingredients as honey, hibiscus and earl grey tea.
Visit website here. Instagram here.
Finding himself baking goods every week for his family and friends, Clifford Luu decided to pursue his new-found passion by launching Cakes by Cliff. His cake decorating artistry has been inspired by his study of architecture, his passion for geometrical shapes and his natural flair for creating delectable flavour combinations.
When working on an upscale wedding cake, he first sketches his designs before showing them to his client. Then he uses his architectural tools of the trade, including laser cutters to create custom cake toppers, to bring his cakes from the page to reality.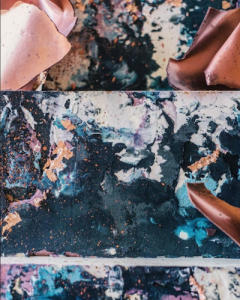 Designs so far have included a stunning square-tiered cake, deliberately set asymmetrically, with swirling marble effects of black, blue, purple, gold and white. These were topped with modernistic, gold ribbon-like ripples so shiny they look like molten copper. The unusual colour scheme was inspired by the couple's wedding invitations. He has used a similar effect for a look that was more classical, yet still modern, with creams and golds topped with sculptural detailing in ivory for a wedding held in the shadow of Sydney's Harbour Bridge. The pale ivory icing gave way to tiers of caramel mud cake with salted caramel buttercream and freeze-dried raspberry buttercream.
Currently, Cliff only takes on around 20 projects per month, crediting his beloved French bulldog Howard as being his biggest supporter. Given his undeniable talent, Cliff is sure to continue gathering supporters and fans as his architectural vision gives way to more and more beautiful cakes.
Visit website here. Instagram here.
Ceri Olofson is an artist at heart, having studied at the University of Arts London. Now, instead of using paints and canvas, she hones her talents working with flavours, icing and texture, creating bespoke wedding cakes.
She takes her inspiration from the story of each couple, from their first date to their proposal, combining flavours in a way which fine artists would mix paint until finding the perfect hue. Some of her most stunning designs have been created with tiers of romantic baby blue, featuring filigree techniques in soft ivory, silver or gold, for a look which is opulent yet incredibly feminine.
Other designs have combined a Monet-esque water colour effect with traditional gold embellishment and wafer paper flowers. This is finished with a hand-piped monogram for a truly individual wedding cake. She has also been featured in You & Your Wedding magazine with a beautiful cake blending traditional floral motifs with up-to-the-minute design techniques, using edible collage and distressed royal icing.
She adorns her beautiful designs with wafer paper flowers in stunning pastel shades. Realistic, yet light as a feather, her florals create an added wow factor in her designs. Not all of Ceri's creations are wonders of floral loveliness, however. She has also created stunning modernistic works of gold leaf, monochrome and marble for an art deco effect to tie in with a couple's theme for their luxury wedding reception. Whether modern or traditional, Ceri's designs come with guaranteed loveliness!
Visit website here. Instagram here.
Based in Trinidad, Jaime Gerard developed a love of painting from a very young age. She is particularly passionate about birds, flowers and trees and loves nothing better than hand painting these into her cake designs.
She takes on only a select number of commissions each year, holding a series of consultations with the happy couple so she can design a cake with them in mind. All aspects of the luxury wedding are discussed, from the theme to the venue and the dress so that Jaime can draw inspiration from the planned ceremony. She also encourages a couple to bring in any keepsakes which are important to them, but asks that they don't bring in any photographs of other designers' cakes as she wants her designs to be completely original.
One of her favourite designs so far is a rich yellow Chinoiserie-inspired cake with was textured with delicate hand-painted branches and blossoms. Another bold, brave design was created for a couple with a love of handpainting techniques. Blooms and vines are painted upwards through the tiers, offset by stunningly realistic sugar flowers in deep reds and finished with even more opulence with a gold brocade effect weaving around the tiers. The result is a cake which looks like the most magical of gardens. Another daring cake was chosen by a bride who Jaime describes as bold, brash and funny, opting for a black design, given added romanticism with carefully sculpted butterflies which look as if they are about to flutter off to greet wedding reception guests.
Visit website here. Instagram here.
Cake artist Danielle Muench is known for her use of handmade sugar flowers to create wedding cakes which are organic yet elegant in their design.
Originally trained as a clinical laboratory scientist, Danielle, who is based in Virginia, turned to cake decorating as an outlet for her creative talents. She soon left her hospital job to train under the renowned Maggie Austin Cakes where she was able to assist on incredible wedding cakes as well as helping to create sugar floral pieces for the White House.
Her incredible pieces have included black wedding cakes featuring bas relief artistic techniques, with sculptural birds, flowers and lace lifting what could have been a stark choice and creating a story of gothic romance. She has also created a black-on-black cake featuring moss rather than florals.
Danielle has also created vintage-style wedding cakes in ivory, overlaid with lace and pearls and finished with autumnal-coloured florals for an end-of-year wedding. Danielle loves nothing more than working in an array of textures, including lace detailing and bas relief sculptural techniques on one cake to create a piece of beauty where there is always a new detail to admire, no matter how many times you gaze upon the cake.
Her menu is always a work in progress as she experiments with, and seeks out, new taste sensations, but flavours to date have included butter cake with thyme and blood orange, pinot noir cake with raspberry jam, and coconut cake with lime curd.
Visit website here. Instagram here.
Based in Singapore, Winifred Kriste is one of those self-taught luxury wedding cake designers  who fine-tuned her skills during a stint at the Maggie Austin Cake boutique where she had the chance to help to create the Victorian-style sugar flower vases commissioned by First Lady Michelle Obama for White House Christmas celebrations.
Fine ingredients are imported from the USA, but Winifred has now moved to Singapore where she creates designs set apart by their meticulous hand painted brush strokes and sugar flowers.
She creates everything from the stunningly eclectic to the beautifully classic. Every piece is meticulously designed and executed until it becomes a refined piece of artwork.
Incredible pieces have included a textural cake featuring colourful pompoms and painted tiers to create a watercolour effect, topped with oversized blooms in deep plum hues. She has also created tiers of blues, modern greys and romantic peaches, all topped with her fantastically realistic sugar flowers. Winifred's floral rustic collection is a particular favourite with couples who want the classic look of a white or ivory-tiered wedding cake, combined with a soft textural appearance. These designs are combined with intricate roses, usually created to be perfectly in keeping with those in a bride's bouquet and groom's buttonhole.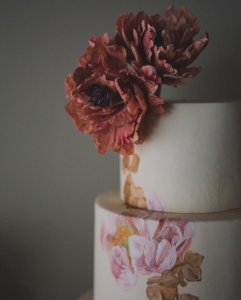 Her flavour combinations are as sublime as her textures and sugarcraft, with couples choosing from a range of eight taste sensations. These range from the lightness of lemon cream cheese to the rich flavours of her salted caramel chocolate baileys option.
Visit website here. Instagram here.
Cupcakes and Counting was formed out of tragedy. When Typhoon Yolanda hit in 2013, reducing the beautiful city of Tacloban in the Philippines to rubble, cake artist Jen Rojas and her husband, who originally hails from Tacloban, decided to fundraise by selling cupcakes.
Able to send a considerable amount of money back home, the demand for cakes continued even when the fundraising stopped, leading to the birth of Cupcakes and Counting. Working as a trained neuro and surgical theatre nurse by day, Jen now works as a professional cake artist at night.
Her bespoke cake atelier, based in Dublin, now brings more than a touch of Irish charm to any wedding, creating eye-catching designs to add 'oomph' to a couple's big day. Jen firmly believes that simplicity is sophistication, bringing clean lines and simple forms to her cakes, yet still providing bags of impact and elegance.
She loves flowers and takes inspiration from the natural world when designing her wedding cakes. Recent designs have included a deceptively simple two-tier affair, where the bottom layer was hand painted with blue blooms and golden leaves providing a colour pop on a pink background. The top layer was encased in soft rose gold icing, while the entire creation was offset with life-like sugar florals in pastel shades of peach, pink and yellow, with a handful of scarlet blooms adding drama. While Jen is renowned for her beautiful white and ivory creations, usually adorned with flowers, she has also worked in darkest black, offset with brightly-hued blooms to tie in with dramatically themed luxury weddings.
Visit website here. Instagram here.
The mastermind behind Elizabeth's Cake Emporium is fabulous extraordinaire cake designer, Elizabeth Solaru. She is recognised nationwide as one of the leading luxury wedding cake designers in UK. She creates the most opulent, ornate cake designs, with exquisitely refined details, with realistic sugar flowers, intricate gem and jewellery work, lace patterns and large towering cakes.
Whichever luxury wedding cake designer a couple chooses, it is vital that the finished creation is not only beautiful, but that it perfectly mirrors their personalities and luxury wedding reception theme.
If you're seeking a designer who will listen to your ideas and transform them into unique and personalised invitations then please check out my website, www.crimsonletters.com Through the use of painting, calligraphy and sumptuous embellishments, each invitation is individually created with love and care and designed to be cherished memoirs your guests can keep forever.
You may also like to view these blogposts:
Wedding Invitation & Stationery Wording Guide
London Black Tie Wedding Invitation Inspiration
Invitation Glossary for an Explanation on Terms
French Style Wedding Invitations
Bespoke Watercolour Wedding Invitations
Bespoke Wedding Stationery – English Country Inspired
Destination Wedding Stationery Tips
20 Luxury Wedding Venues in Italy