Luxury Custom Wedding Invitations – Clients E & A Wedding at Ballyfin Laois, Ireland
Luxury Custom Wedding Invitations- Navy Blue and Gold Foil Custom Wedding Invitations
Client brief:
For this particularly discerning bride, when it came to her wedding every single detail mattered and was important to her. Her wedding was to be a lavish, luxury weekend affair at the stately home Ballyfin Demesne in Ireland, and she certainly wanted some luxury custom wedding invitations to reflect the grandeur of her wedding and to mark the occasion as a special event to look forward to. One aspect that sets the tone for the entire event is the wedding invitation. Imagine receiving a navy blue and gold wedding invitation with an envelope that exudes the height of luxury and is more a work of art that builds massive anticipation for the grandeur of the occasion to come.
Custom wedding stationery design creative direction:
Navy blue card – we chose to focus on a sleek card that had a heavy weight
Gold foil printing – she specifically desired an array of luxurious design work to be printed in rich gold foil
Red roses – This flower was sentimental and especially meaningful to her, she wanted to see this prominently used within her design and throughout the stationery suite, within key places.
Envelope design – she had seen the other envelope designs from my Instagram profile and required that her envelope would make an immediate statement as well.
In this blog post, we delve into the world of luxury custom wedding invitations, specifically focusing on the captivating combination of navy blue and gold foil printing ornate crests, adorned with red foil printed roses, all housed within a bespoke, hand-painted, luxury bespoke envelope design.
How to customise wedding invitations?
It starts off with communication. Once the client has provided the creative direction, it's time to clarify as many points as possible. By far, the best way to do this is to get on a call. However many clients are very busy and prefer to communicate via email. I always like to check in with my clients and run my design ideas by them before they start the process.
With this particular client I knew that creating a sense of drama and opulent design were both essential for her.
Once we finalised how many cards she intended to design within her luxury custom wedding invitations suite, I set out creating a set of designs. She needed:
Main wedding card with the couples names in calligraphy, an ornate crest and roses with a green vine and green leaves.
Details card that would provide a dress code information and the website's details.
A venue card to build anticipation about the venue and provide venue information.
An invitation wrap to hold all the elements loosely.
Opulent and decadent envelope design that would be hand painted.
Artwork for gold foil wedding invitation printing purposes:
For gold foil printing purposes and to make a luxury custom wedding invitations suite, I cannot simply go online somewhere and buy ready made artwork. There certainly are sites out there that offer watercolour clip art and watercolour illustrations that are ready made that you can download and create wedding invitations quickly. However with all of my custom clients' I work one on one with them to prepare custom designed artwork.
For gold foil printing I had to sketch original roses artwork, ink it in and then continue to vectorise it for print purposes.
Vectorising: There are two types of vector files that I needed. Pure opaque black vector files that would be provided in a pdf format for printers and another set of vector files that were in colour, with a gradient that I could use to show to the client for mock ups and design presentations.
Here's a quick example (below) of the black vectorised roses and coloured vectors.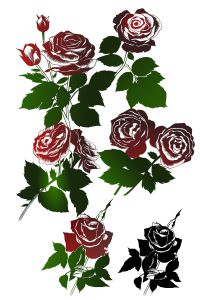 How long does it take to design and prepare custom wedding invitations?
This really does depend on how many pieces of bespoke design are needed by the clients that I work with. As you can see from above, the work needed to create one custom designed invitation card ( I already had the crest design prepared and within my portfolio), I needed to prepare the roses, calligraphy and green leaves artwork. For an entire navy blue and gold wedding invitation suite,  artwork can actually take 3-4 solid weeks to create and refine up until the point that it does not need any revisions and we are ready to go to print. That's without taking into consideration the production time for envelopes, which was an entire 3 weeks and hand painted design and assembly.
Custom Designed Gold Foil Printing
I really went for it with this wedding stationery suite, and created a final invitation design with a layer of three foils! Normally a custom wedding invitation design will only have one layer of foil applied. Yet in this case, I wanted to push the envelope and really add an intense touch of glamour. The combination of navy blue, paired with rich jewel tones red, emerald green and gold is truly enchanting.
Hot foil printing added a touch of class and decadence to the invitation suite. The intricate details of the ornate crests shimmer under the light, creating a mesmerising effect. Gold foil accents were also delicately applied to highlight the couple's names in calligraphy, adding the other details such as their wedding date, or other significant elements, in normal text, elevating the design to new heights of elegance.
These exquisite floral accents provide a striking contrast against the navy blue and gold wedding invitations, add depth and charm to the overall design. The vibrant red foil shines brilliantly, infusing the invitation with an irresistible allure that resonates with the couple's desire to make sure their stationery reflected the venue itself.
Hot foil printing is essential when creating over 10 stationery suites, where you have many pieces. It's incredibly hard to make everything by hand. That's why I focus on printing all of the stationery suite professionally and while it's being gold foil printed ( which is a process that can take anywhere from 1-3 weeks) I use that time proactively to create the hand painted envelopes.
Most luxurious wedding invitations – invitation wrap
I was most excited about the invitation wrap design. I have never within my seven years within the wedding stationery industry seen an invitation wrap design that held centre stage the way this incredibly sumptuous foil printed design. Even my professional printers where slightly baffled and at first hesitated with whether or not they could print this design at all.
The bride specifically requested a vellum invitation wrap. Vellum is a very light translucent thin paper that comes in various weights. The one my printer was using, was not able to hold a colour print layer with the following hot foil print layers, the paper seemed to be reacted very badly. I simply suggested that they use a heavier weight vellum and finally, the prints were a magnanimous success.
Here are some images (below) of the final luxury custom wedding invitation wrap. Combining the layer of green colour printed leaves, with a further three layers of foil printed design, this precious piece became a statement of luxury, captivating recipients and setting the stage for a truly exceptional event.
Designer envelopes – Luxury custom designer unique envelopes
Bespoke hand-painted envelope design. truly acts as the perfect finishing touch.
To truly create an unforgettable impression, a luxury custom wedding invitation deserves an envelope design that is as remarkable as the navy blue and gold wedding invitation collection and wrap design itself. A bespoke, hand-painted envelope design is the perfect finishing touch and it's one area that I excel in and am utterly obsessed with.
Imagine opening an envelope adorned with intricately hand-painted ornate baroque designed patterns, complementing the navy blue and gold colour scheme of the invitation suite. This artistic masterpiece not only protects the invitation within but also serves as a stunning prelude to the extraordinary celebration that awaits.
My client preferred a light coloured envelope, otherwise the final custom stationery suite would have looked far too heavy. We made sure to add her roses into the envelope design, by adding some watercolour rose painting illustrations.

Hand Painted Stationery Design:
Every single envelope required three sheets to be hand painted. Here's the process of design below:
Firstly I had to finalise the printed document and prepare all the artwork, so that it would be a high enough resolution to print well.
Printing of about 100 sheets, I had to have a few extra just in case of any accident during production.
Once printed, I started painting, using a thick gold acrylic paint for Windsor & Newton, this part was really labour intensive and I could only hand paint 25 a day and have enough space to allow them to dry through.
After they dried I placed each sheet in a pile so a very light weight could be applied and the sheets would become straight again.
In a week or so, I had painted all the sheet needed and continued to measure and start to tear edges and assemble the envelope.
After two weeks of production, I torn the final point of the envelope flap and hand painted these edges very delicately, adding a final surface of gold foil leaf.
How much do custom wedding invitations cost?
The total investment is split between a few areas, my personal design fee, printing costs, shipping & materials.
My Design Fee as a luxury stationery designer:
My fee for this particular luxury custom wedding invitations design is £3,500, (my fee can range anywhere from £3,500 – 8,000)which covers all of the custom designed, bespoke and original artwork that needed to be made as well as design presentations, design revisions, mock ups, all communication with my professional printers, and production, assembly and shipping.
Printing costs: How much does gold foil printing in this way cost?
For a luxury wedding invitation suite of this calibre, we needed to print 30 suites. As you can imagine the print charge was significant, regarding the amount of hot foiling plates that needed to be produced for this job.
In total there had to be 9 foiling plates, 3 of those plates where larger than A4 size, so the final foiling printing fee was in the region of £1,750.
Shipping & Materials:
I always charge additionally for shipping and materials needed. The cost of the envelope paper, gold paint, glue to assemble the envelopes, all this needed to be covered. That was a total of about £200-250.
Luxury custom wedding invitations are an opportunity to showcase your style and create a lasting impression on your guests. Not everyone can invest in this level of luxury stationery, it is for a few discerning limited clients.
The combination of navy blue and gold foil printing, adorned with ornate crests and red foil printed roses, is a truly captivating choice that exudes elegance and sophistication. By incorporating a bespoke, hand-painted envelope design, you add a touch of artistry and personalization to every aspect of your wedding stationery. Set the stage for an extraordinary celebration with a wedding invitation suite that reflects the grandeur and beauty of your special day.