Ireland Wedding Invitations – A&B
Ireland Wedding Invitations – Refined & Artistic
Today I'm excited to share one of my latest Ireland wedding invitations client commission, for a small and intimate wedding elopement to be planned later on in 2022. The couple chose to hold their wedding in a small courthouse ceremony and will celebrate their special elopement in Ireland next year.
Ireland wedding invitations for a luxury elopement
While it's true that I do focus on serving a very specific, discerning clientele, one of my most favourite offerings is the luxury elopement suite. After the past two years many couples have opted for a smaller wedding or are planning a luxury elopement and this is actually one of my most favourite collections or stationery suites to design.
I adore working on a unique juxtaposition of custom illustrations and hand painted watercolour florals and giving that special attention to detail and find it highly meaningful to bring my clients vision out onto paper and fashion all the
luxury wedding invitations
that I produce.
Many of my clients have a vague idea, some colours, some rough concepts or images that they would like to use whether that's a crest design or developing drawings of a Celtic harp. Sometimes I have to reread and email quite a few times, just to get my clients thoughts firmly into my head and make sure that I'm not going off on a design tangent.
When I hear those initial ideas from my client, I must admit I do panic a little – for some Ireland wedding invitations, will I be able to do this? I often don't know how I will go about bringing my client's requirements into reality. Yet, every single time, once I begin the work, I am very grateful that my art magically appears and unfolds.
Heirloom stationery suite design
To design one luxury
wedding invitations suite
, we wouldn't look at expensive printing finishes such as embossing or
gold foil printing
. Creating only one small highly customised, hand painted suite for my clients is such an honour to experience and design. I get to record my couples feelings, personalities and love on paper to be framed and treasured for a lifetime. To be handed down through the generations.
Custom iIllustration for Ireland wedding invitations
I must say that the bride that approached me was a dream to work with! She desired a luxury wedding invitations suite to commemorate and mark her special occasion. As a stationery designer I knew once I saw her design inspiration that she knew exactly what she wanted. Whenever I work on a custom illustration commission, or in this case to create Ireland wedding invitations, it is very important to have a good range of visual design. I'm very visually inspired and visually driven.
Design inspiration / moodboards
I was very happily and instantly excited to see that my client had organised and selected some excellent and varied design inspiration on a Pinterest mood board that she had especially curated.
She had saved all sorts of images ranging from vintage crest designs, smaller crest designs for the envelope, a specific harp design that she wanted to incorporate, and a range of flowers that she also wanted to use. She focused primarily on daffodils, bluebells and lily of the valley and expressed a preference for ivy leaves as well. Using all of the inspiration and creative direction that she provided, all I needed was the wording / copy to go upon the main pieces and I could start creating the artwork and compiling the designs.
Below you can see how I used all of her ideas and used her vision to create a custom, luxury hand made and hand painted Ireland wedding invitations suite.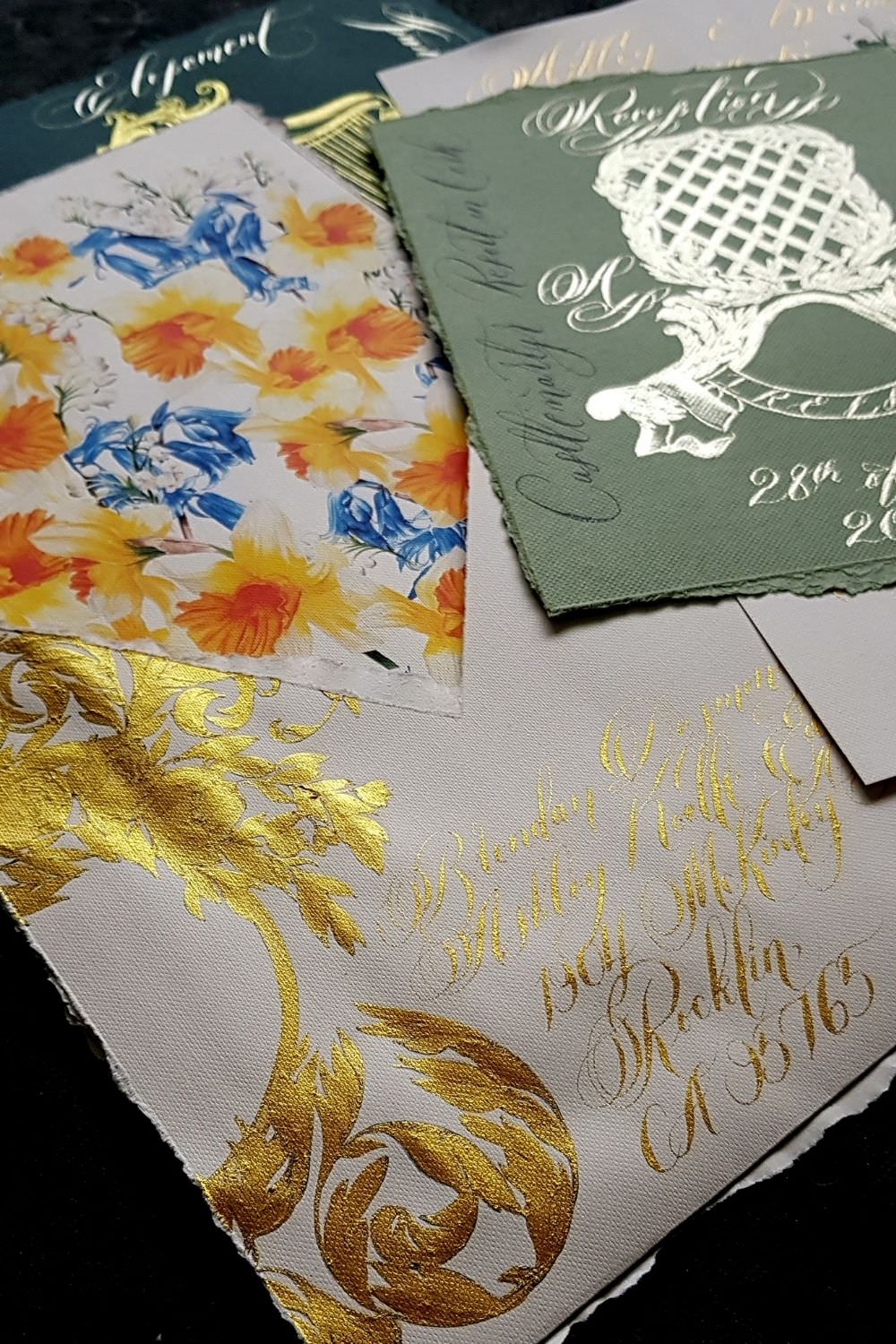 Colours to consider for your custom designed invitations
The floral watercolour paintings that I developed for my client were quite bright and full of summer happiness. The bright colours needed to be toned down with slightly subdued tones to bring the wedding stationery suite together in a cohesive way. I selected a range of calm forest greens, dark bottle green and a pale beige, deep cream textured paper, to bring calmness to the stationery suite's design. I used dark and strong, coppery gold ink throughout the stationery suite to add more depth and brilliance to the design.
If you'd like to see more of my design visit my Portfolio here.
Visit my shop and buy some of my intense, limited edition artwork.
See another fine art country wedding invitations suite here
Yellow hand painted floral invitations