Invitation Glossary (for the World of Wedding Invitations)
Why do you Need an Invitation Glossary?
Invitation Glossary Lowdown. With all the various words being flung about in the fast paced world of the wedding invitation industry, this invitation glossary guide will go through all the main details that apply to your hand painted wedding invitations and will help you to understand what it's all about. I will explain all the invitation wording jargon / terminology to you.
We are supposed to be here to help you, not confuse you right!
In this invitation glossary, I'll be covering areas of:
Calligraphy & Typeface

Invitation Design Elements (what each card is)

Paper Types / Card stock

Printing Techniques
So grab a cup of tea or coffee and let's dive into this together.
Calligraphy & Typeface
Hand Calligraphy
To begin our invitation glossary, hand calligraphy is where a skilled calligraphy designer has taken years to hone their craft used a dip pen and nib and ink to create classical or modern calligraphy and hand writes directly onto your invites, paper inserts (all your various cards from your rsvp, information card etc..)
This type of calligraphy is very high in quality. You can choose pretty much any ink colour, the most popular being, gold, silver, copper, black, white and blue. When you run your fingers over the calligraphy you can feel the slightly raised impression that the ink gives when it dries.
A calligraphy hand addressed envelope starts at £6.00 and an invitation / menu can be anywhere around £7 – 15 per menu depending upon the complexity of the design.
Hand Calligraphy Florals
Hand calligraphy can also be used to create a beautiful decorative design as part of your hand painted wedding invitation design. Below you can see that I have created a gold inked floral calligraphy design. It would be very expensive to create each one of these that is an A4 size for each set on invitations. Yet it is easy to create a metal plate and golf foil print these via a professional printer. This is a service for high end stationery price points.
For each individual sheet to be hand calligraphed it is £199. To create a metal foil plate and have 100 of these created, via a professional printers it is roughly from £700 – 900 Great British Pounds.
Printed Calligraphy
If hand calligraphy is something that you love, but do not have the budget for, then you can easily use this option. You can have a master copy created with some hand calligraphy artwork, then simply digitally print it as I have done for many clients in the past (as seen below right). The cost is considerably cheaper and easier to fit into a lower price point, whilst keeping the elegant look of a calligraphy drawing.
For each printed piece the cost is £2.50, this is after the artwork charge. Artwork charges can be anywhere from 399 GBP to 1299, depending on what you would like to have designed and the complexity of it ( if you want an original custom made design).
Following on, next on the list for this invitation glossary are flourishes.
Calligraphy Flourishes
Calligraphy flourishes are the wild lines that sweep about from the edges of the letters to create a decorative appearance and add a very classical intricate appearance to your calligraphy.
As a stationery designer and calligraphy artist, I have a few key calligraphers that I look up to ( we all do right). When I first came across my calligraphy heroin, I was immediately struck by her work.  She continues to inspire me and her work pushes me to challenge my own limits and keep practising my art.  Nikolietta from Russia ( below).
This type of calligraphy takes more time and skill and therefore has a slightly higher charge, but it is well worth it!
Find some examples below of extra flourishes when applied to calligraphy lettering.
Calligraphy rates are charged per piece. If you would like to have each of your invitations or wedding menus etc… with original calligraphy, each one will be unique and individual, it will be anywhere from £7 – 25 ( Great British Pounds) depending on what you require upon your invitation. Calligraphy artwork can also be prepared as a digital file and digitally printed.
Typeface, what is it all about?
Typeface refers to the font, or the types of traditional printed lettering that you can choose from to create your final set of hand painted wedding invitations. You can choose this route if you would like a more modern contemporary look and you want to limit the amount of calligraphy that you use.  For example the suite below only uses traditional digital font throughout its design (such as the image below).
Next on the list in this invitation glossary……
Following on for this invitation glossary, let's get into the what's what of invitation design elements, which card is which and a good thorough description of what everything is.
Invitation Design Elements (what each card is)
Invitation wrap
This decorative wrap is a loose cover wrapped around the middle of the main invitation or all of the stationery items to hold them loosely. It can be made out of vellum, or very thin paper. It can have sweeps of loose watercolour, hues of ink, and fine art calligraphy to create a very unique, luxury feel with an instant impact. This invitation wrap is for the higher end budget, and this is for you if you want to whack an instant whack and really notch up the wow factor. When your guests open their envelopes and take out their invitations, this is the first thing they will lay their eyes on.
Envelope Liner
Rather than having a completely plain envelope, envelope liners sit inside your envelope and line it as the fabric on your jacket lines your jacket. When you click open the wax seal on the invitation and your guest opens their invitation, save the date or rehearsal dinner invitation the envelope liner will be one of the first things that they see. Envelope liners can be printed from a watercolour illustration, have luxurious gold foil patterns, be hand painted with thick strokes of paint or even be adorned with a hand calligraphy poem. It adds another dimension and layer of richness to the stationery but also raises the tone for your from a normal to a luxury event.
At Crimson Letters, I really like to push the boundaries of design with envelope liners. Have a look below at some of the most dramatic hand painted envelope liners that I make.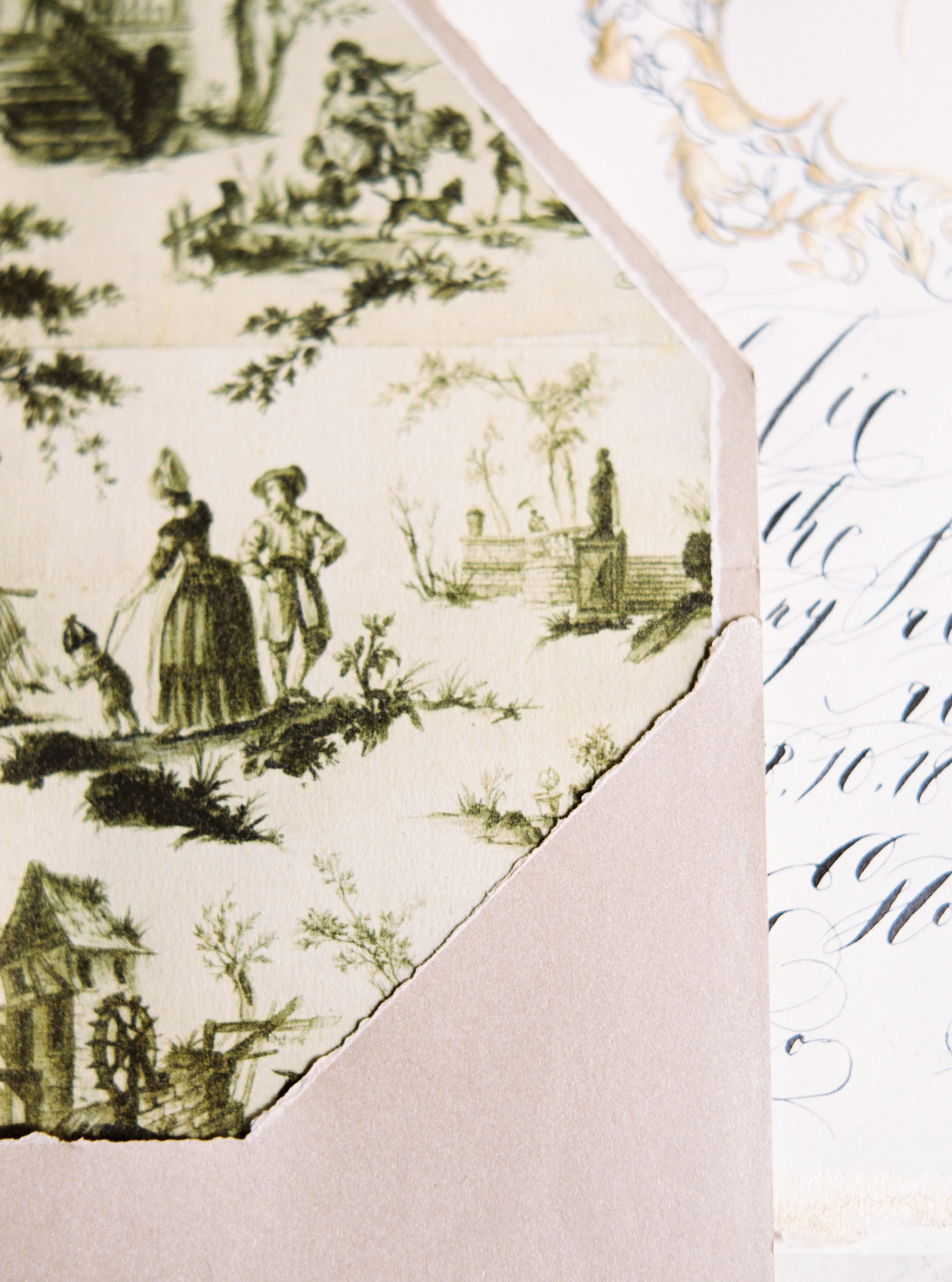 Belly Band
A belly band is a thin strip of paper that can be printed, hand painted or a plain piece of paper that is loosely attached around the middle of your items when they are bunched together. It normally compliments the design of your chosen hand painted wedding invitation suite. A belly band can even be a simple piece of silk ribbon, a piece of lace, a leather strip, some fabric or even a laser cut shape.
Often people also attach a square, diamond, or a rectangle piece onto the belly band for a small extra accent with their monogram or wedding logo on top.
Deckled / hand torn edges
Rather than a straight cut edge, a growing trend, is hand torn edges, or deckled edges. The card or invitation is torn to create a rough, fine art textured edge to add more interest and dimension to the final item. These edges are often quite jagged and can be hand painted with a shimmery ink or paint of your choice.
The images below are from the Crimson Letters bespoke and custom invitations collection.
Venue Card Illustration
More and more couples are choosing to have their venue illustrated by with either a black line drawing or hand painted watercolour. I am seeing more and more clients ask for this to be digitalised an displayed on their website as well as including it as a preview of what's to come within their invitations. This adds a very personal touch to your wedding branding and also acts as a great keepsake. Venue illustrations are often placed on your wedding website, within a crest design. It is very easy to digitalise your design, all you need to do is get in touch and ask!
Maps
Hand drawn map illustrations are fast growing in popularity, whether it is a calligraphy map drawing, a map drawing in watercolour, or just a fine liner's outline of your wedding venue in black. May items are drawn out to the church where the couple will marry and famous landmarks around the area where the couple can explore.
Invitation Wallet
This is another luxury element that clients love to have to compliment and build anticipation for their event. This wallet below is like a folder that loosely contains all the stationery items in one place. You can consider presenting your stationery this way if you have many pieces and you would like to present them together.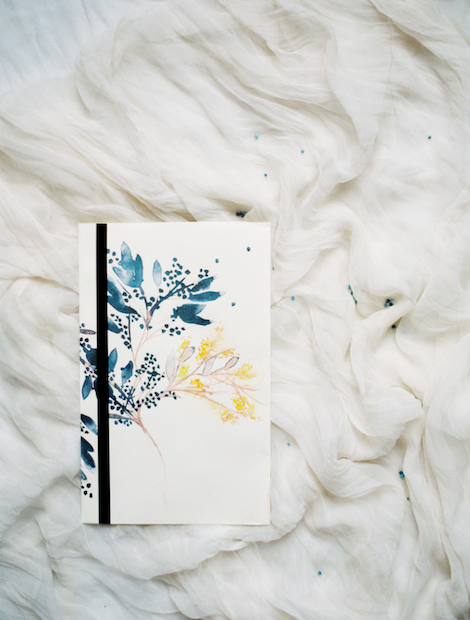 Place Names
Next in our invitation glossary, are place names. Place names are perfect for your wedding day if the details are key. If you want a well designed event, with layers upon layers of interesting items to attract the eyes of  your guests, place names are a great way to do this. Of course it also helps that you have actually planned where your guests will be sitting and that you haven't left it to chance where everyone will be sitting!
Place names fit right next to the plate upon the place where your guest is sitting. They can be flat, or in a scroll shape, the choice is yours.
Place names can also be styled directly onto plates for more of an impact when your guests arrive, as below.
Monogram Card
Monogram cards are a complimentary, signature items for extra touch of luxury that goes along with your invitation suite. It can either feature your initials or your name on a piece of art as below.
But that's not all…..
Next, for this invitation glossary we move onto Paper types and card stock.
Paper Types & Card Stock
Paper types and card stock, so what does that even mean?
Ok, so when we talk about paper types / card stock, we are talking about what type of paper or card you select for your invitations. There are so many varieties out there with a vast range of prices.
Hand Made Paper
This type of paper is taking the 'fine art' wedding stationery world by storm. Many brides are opting to select this type of paper, which has to be ordered as it is often made by hand, so don't forget to keep plenty of time if you would like to take that route. This type of paper really is for the higher end bride, who has a larger budget for her stationery and really wants to make a statement.
Every piece of this handmade paper is a unique piece, no two are alike and each piece is often quite different in terms of size and shape, irregular and imperfect, each with a slightly bumpy texture that is quite interesting to see and to touch. This is something you might like to consider if you would like to create one of a kind, heirloom pieces that you would like people to frame rather than throw away.
Hand made paper lends itself beautifully to gold foil printing which is used below to create the venue.
For a pack of 20 hand made paper sheet, it will cost  around $20.00
Other hand made paper suppliers are:
Textured papers
I source my textured cards ( which are heavier and used to mount the invitation upon) and my lighter weight paper from a high quality paper stockist in London, GFSmith. I get quite excited every time I scroll through their paper collections and often buy much more than I need to!
There prices range from £0.28  for their  Colourplan range, a normal plain matt paper which is great for printing artwork. You can select the option of a normal paper 135sm weight, or a slightly heavier paper weight 270gsm.
Gmund Treasury is a beautiful paper stock for a more elaborate design priced as £0.45 and has a shimmery finish paper which I love to use for more bespoke items. Other prices go up to £0.70 per sheet.
Other paper stockists that you might find useful for envelopes and paper:
Duplex card
What is duplex card stock, I hear you say?
Some printers offer the service of being able to glue heavy card together to create a very thick card. It add so much weight and creates a much stronger impression with your invitation suite.
Continuing on with this invitation glossary, finally we look at printing techniques.
Printing Techniques
Lastly looking at printing techniques, I will look at gold foiling, letterpress/embossing, engraving.
Gold Foil 
The use of gold foiling (as seen below) or even known as hot gold foiling, or hot foil printing is main stay for luxury – high end wedding invitations. Some brides may choose to have all of their wedding invitations items have gold foil, while others use it only on one or two key items, such as the save the date, or the wedding invitation & rsvp cards.
So what does it involve?
Gold foil printing machines date back to the 50s and have been built to last through the ages and print upon a wide variety of papers and surfaces.
First of all your artwork has to be digitalised / vectorised, then it is given over to the printers. The printers then use this artwork to create a magnesium black ( a sort of metal plate) that has your artwork etched into it. This plate is then heated and pressed upon a roll of gold foil. The heat helps the plate pick up the gold foil and then transfer it with pressure to create the final design on your chosen surface.
The results are really quite elegant but it will considerably increase your wedding invitation spend, yet the results really are so worth it.
Letterpress
Letterpress works in a similar way to gold foil.  A plate if made and used (without the gold foil) to create a deep impression on paper. It can either be used with ink , as below, or without ink, which is called a blind impression, or embossing.
Engraving
Engraving also involved the use of a plate and creates a raised up impression that adds an extra special dimension and texture when touched.
I hope this invitation glossary has helped you to understand the ins and outs of the wedding invitation world. Why not send out bespoke wedding invites to create a truly special and luxurious vibe? Crimson Letters is a beautiful website that specialises in hand painted wedding stationery. Head there now to choose a design package suitable for you > www.crimsonletters.com
Visit the portfolio today here >>>>>>>> Crimson Letters Portfolio, or if you need some information and reach out and get in touch.
Now it's your turn, what do you need information on that you don't have or cannot understand?
Drop me a line and let me know.