Handmade Envelopes for Weddings (Top Custom Designs)
Most Beautiful Handmade Envelopes for Weddings – My Top Most Favourite Designs
Handmade envelopes for weddings
There are so many aspects of a wedding stationery suite and so many items and inserts to consider when you are deciding on which items you need most. Envelopes are often neglected. Envelopes are an area that I love to excel at. Today I will be looking closely at handmade envelopes for weddings. I've had the pleasure to be able to create so many unique handmade envelopes for the custom wedding stationery that I offer and I'd love to show you how you can raise the tone of your wedding with adding some touches of opulence with something as simple as your envelope design.
I've made many handmade envelopes for weddings by hand and I thought it was about time to create a small gallery of most elegant ones yet. I thought I'd take this opportunity to showcase my very favourites ones for you today.
Are you considering hand painted or custom designed wedding stationery? Or perhaps you have a special commission that you'd like to speak to me about? Take a moment to look through my portfolio of designs or please feel free to email me at rubana@crimsonletters.com or contact me here.
What do I mean by hand painted envelopes for weddings?
One of the most frequently asked questions that I am asked, does hand painted really mean hand painted? Yes it does! When it comes to hand painted envelopes, that is exactly what I do! Whether it's a striking, bold envelope liner or a large custom made, bespoke hand painted envelope, yes I do hand paint each and every one by hand.
Recently, a client approached me to create hand painted envelopes for her wedding at Montage, Laguna Beach. She wanted the design from an editorial that I had participated in, in Portugal (see the photo below).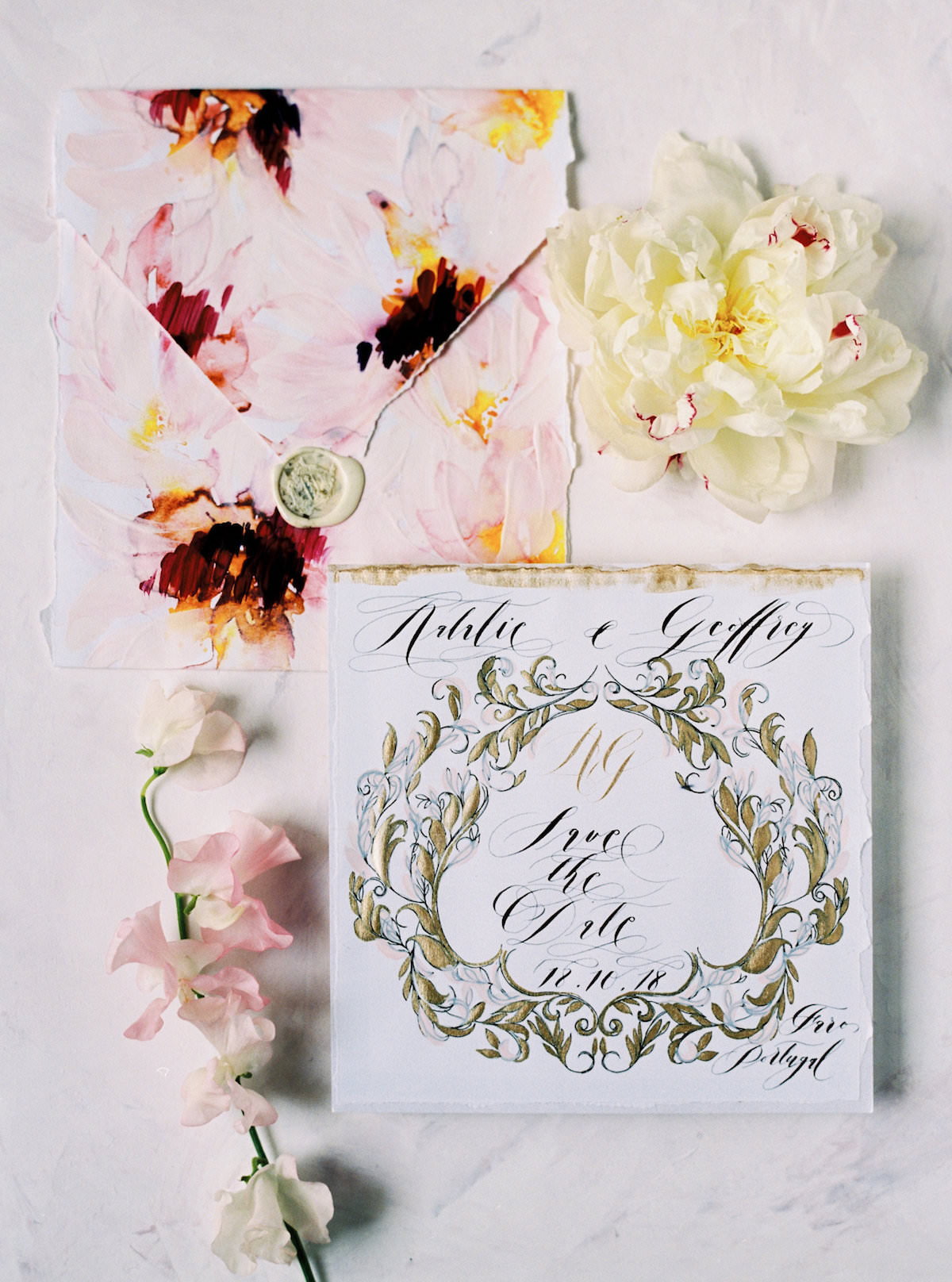 To create the above hand painted envelope, I would need three separate sheets of paper. These sheets of paper, already have a base design, such as watercolour. After digital colour printing, I then continue to hand paint all the pieces, allow them to dry and then finally compile the envelope, before I lightly press them.
Envelopes are most neglected part of the wedding stationery experience
As a stationery designer, I can easily say that envelopes are the most boring, neglected part of the wedding stationery suite. After designing stationery for so many years and seeing a plethora of plain envelopes, it has become my greatest source of creativity. You can add so much character by using a simple sophistication design, or alternatively you can add a strong burst of colour and really create a powerful focus.
Handmade envelopes for weddings – which materials?
When you are searching for the perfect handmade envelopes for weddings, the choices can be overwhelming.  Don't feel as though you need to limit yourself to using ordinary light weight paper for your envelopes. The sky is the limit here and there are so many possibilities open to you. Whether you might consider a heavier weight card that you would like to finish off with a gentle touch of silk ribbon and a wax seal; or perhaps you are looking for something altogether lighter and more ethereal, to make the most elegant and ethereal impression for your wedding. It is all easily accomplished.
Have a look at the fresh, modern vellum envelopes below. Not only are they handmade from vellum, but they are hand painted with thick strokes of acrylic paint before they are assembles and finished off with a calligraphy address label.
Do you have a special occasion coming up? Perhaps you would like to work together to create a stunning range of wedding stationery or something similar? Email me at rubana@crimsonletters.com or get in touch today.  Hop over to connect with me on Instagram or Pinterest!  If you like any of the images, please do pin them and save them for later!
I hope that you have enjoyed this gallery of handmade envelopes for weddings. I do enjoy designing pieces that stand out in a big way!
Perhaps you'd like to see more posts similar to this one, please have a look through my blog.
See some recent client work here.