Hand Painted Wedding Stationery (Client Artwork: Martina P.)
Design Project: Hand Painted Wedding Stationery 
Have you ever wondered about the process of a custom designed wedding invitation suite? This blog post will take you through all the steps that would I present to you as a client and how I lead you through slowly, step by step, supporting you every step of the way and offering as many options as I can to help guide you through the process of designing a hand painted wedding stationery suite.
Working with a client is a very close, personal and communicative process. I will need to ask you many questions as there are many choices are available for you that need to be considered.
This suite is the Vienna Renaissance suite.  It is a high-end, luxury wedding invitation suite, with many time consuming,  hand painted details, hand calligraphy and hand made envelopes for the main invitation and the rsvp envelope.
Each invitation takes around 40 minutes to hand calligraph the intricate gold leaves artwork and and hand paint them. Following that the invitations are then hand calligraphed with gold finetic paint which must be mixed and  applied with a paintbrush.
Therefore, the price starts at $85.00 per suite.
Pricing can always be adjusted to $15-$55 per suite by printing the artwork leaves and simply hand painting over the top.
The client who this was for could easily afford a higher price point as she was planning a very small intimate destination wedding at the Vizcaya Museum & Gardens in Miami for around 30 guests, needing only 17 invitations.
I would like to take you through the process of leading a client through the very first steps from:
How to translate a chosen design from the

portfolio

range into a finished design for a client
What each step of the design looks like
Starting with background options and various coloured inks
Questions to ask for more information
Wording options and envelopes
First step, the watercolour background.
The original    Vienna Renaissance design from my portfolio  has a watercolour background.  The invitations and rsvp designs are created on a very pale watercolour background, each piece of paper is individually watercoloured, dried, pressed and then worked upon.
The client wanted to keep this watercolour background, so to start the ball rolling, I prepared 3 alternative backgrounds and varying artwork using the chosen design.
Below you can see the variety of custom artwork and backgrounds that are created to make sure that the client has plenty of options available. Once a final selection has been made we can move forward to the next step which involves some questions.
At this early stage I used some example names to show what the design would like like in its later stages.
Below you may scroll down through 3 options.
Option 1: This option has a much stronger watercolour impression that lies behind the calligraphy. You have two more images to show you close ups. All the fine lines are first hand calligraphy applied and then the gold leaves are hand painted.
Option 2: Here is a printed version. For a variation, I have darkened the fine lines to a deep brown and printed the invitation, then hand painted gold paint upon the design. The background here does not have a sharp watercolour pattern running through it as Option 1 and has a calmer watercolour background.
Option 3: This last option has a light watercolour background with hand calligraphed and hand painted gold leaves.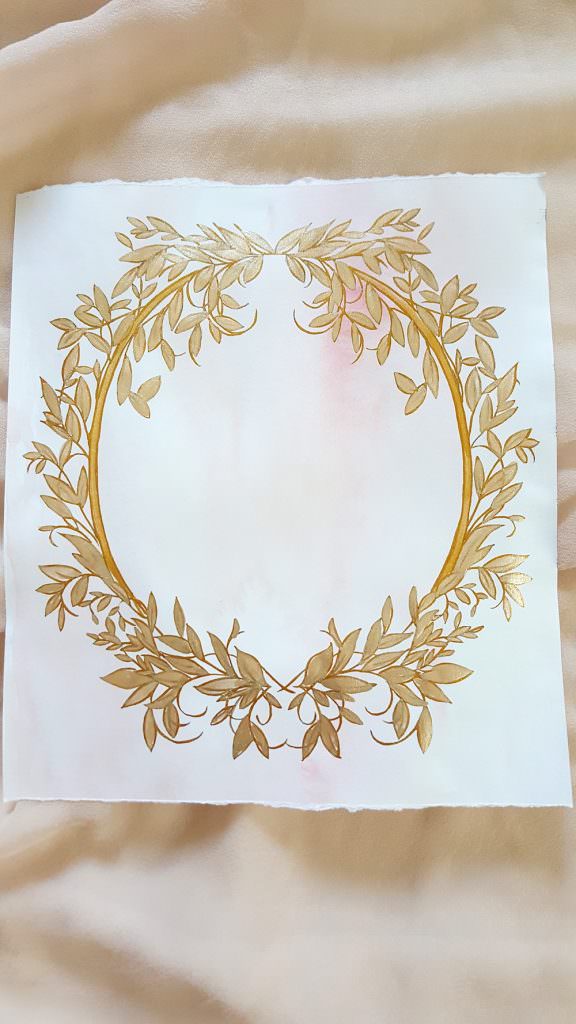 Wording information for hand painted wedding stationery suite
For the next part of the process, after the design has been finalised and all the artwork is prepared, I move on to asking questions as below.
Would you like a vellum (transparent as above) envelope for your wedding invitation and rsvp? Or would you prefer another paper type?
What colour ink ( for the calligraphy) would you like on your envelopes, black or gold as in the photo?
What "text" would you like for the calligraphy for the outside of your invitation envelope? This is the decorative text I am speaking about on the back of your envelope (not the address).
Also for the return address on the back of your invitations envelope, what text would you like? For example your first names and your address, or just your initials and address?
What details/text would you like to have on your invitations? Remember to include your names, date of the wedding, time and any additional details.
I will need all the 17 names and addresses for the guests please that you wish to have on the envelopes for addressing.
Here are some extra suggestions to compliment this design:
We request the pleasure of your company, would love for you to join us, invite you to celebrate with them/us, request the honour of your presence.
To suit this design, I would like to suggest something very simple to keep the aesthetics of the invitation such as,
With great joy ______ & _______ invite you to their wedding
_______2018, at ____pm.
Dinner to follow at _______ 5.30pm
Vizcaya Museum & Gardens, Miami.
What details/text would you like to have on your rsvp?
Would you like your initials and the choice of the following……
RSVP by the Twentieth of June
The favor of a reply is requested by June 20th
Please respond by June 20th
Kindly reply by June 20th
Your reply is requested by June 20th
Graciously Accepts
Respectfully Declines
Accepts with Pleasure
Decline with Regret
Will Attend
Unable to Attend
Yes
No
***Also it is great to bear in mind that all calligraphy will be hand calligraphy and not printed by computer, therefore there will be a natural difference and each piece will be individual, yet as cohesive as possible.
Here are all the final hand painted wedding stationery pieces, highlighting the invitations and rsvp cards for you to see.
All the fine lines are hand calligraphy and then lovingly hand painted with finetic gold shimmery paint.
Edges on the main invitations are individually painted with some pale blush acrylic paint to give that extra touch of luxury.
All the envelopes are hand made using large vellum sheets. They were measured and crafted into a much larger size, about the size of an A4 sheet, to comfortably hold the large invitation.
Here's what goes into hand crafted bespoke envelopes:
Measure the vellum and roughly cut with scissors.
Use a guillotine to neaten up and cut the sides neatly.
Next, add pencil marks on the envelope flap and measure at which point the flap will need to be cut.
Use the guillotine to cut this V shaped flap at the back.
Glue the envelope flaps with envelope gum so that they are sealable.
Glue the two outer sides.
Next using calligraphy, add the poem on the back of the envelope.
Print out the guests addresses in large writing to help you see the addresses as you calligraph them.
This process above was repeated twice,  for the rsvp envelopes & the wedding invitations envelopes.
For a more detailed look at how envelopes are made, visit this step by step guide with lots of pictures to show you clearly how it is done.
The large envelope has calligraphy embellishment on the back with the poem from Ludwig van Beethoven.
The last step is to carefully place the rsvp card, rsvp envelope and wedding invitations into the large vellum envelope and apply the wax seal.
Here is a close up view of the finetic gold paint that I used to create the calligraphy.
Here are the vellum envelopes, all packed up, with a sumptuous silver wax seal, ready to be packed up and shipped off.
Custom made hand painted wedding stationery is a long process which can be very long and arduous, yet as you can see it is undeniably well worth the time, effort and tons of love that is poured into it.
And you deserve nothing but the best for your wedding day! Why not!
If you are looking for a very special wedding invitation package why not consider indulging yourself and selecting a beautifully made design from our portfolio. Visit now >>> www.crimsonletters.com
Looking for something that you can't find, or some particular content, let me know what you would like to see more of.
For more information reach out and have a chat here.
Would you like to see more, visit my blog, I would love to have to flick through!
Leave a comment:
What colours are you looking for that you haven't seen out there yet?
What ideas do you have that you would like to see in a wedding invitation design?
Let me know in the comments below.