Hand Drawn Logo Design (Beautiful & Intricate, Baroque Inspired)
Hand Drawn Logo Design with Vintage, Baroque Style Illustration
Elegant Luxury Logo Design
Last year amid the Coronavirus pandemic, many weddings were cancelled, and lots of couples had to put their plans on hold. Because of this, I took a step away from wedding invitation suites and tried my hand at the world of hand-drawn logo design – starting with this elegant luxury logo design (below).
What is a hand-drawn logo design?
In today's fast-paced digital society, lots of businesses turn to cheap, digital logos that can be turned around within a matter of hours. These are often vector designed logos that usually end up being redesigned or rebranded at a later date. However, with a hand-drawn logo design like the one below, you can create something truly unique and beautiful. These elegant luxury logos are designed, handcrafted and painted by me to create something special.
The design process
As well as being unique, there are several reasons why you might select a hand-drawn logo design for your business, and we'll look at business logos and branding in more detail as we move through this guide.
The design process was long, but the design evolved naturally over time, and the end result speaks for itself. For those considering a unique luxury logo for your business, I'm going to walk through each step of the design phase so you can see how these logos are brought to life.
Diving into the hand drawn logo design world. After the holiday season and the end of a bumpy wedding season last year in 2020, which I am sure no one saw that Covid madness and the world grinding to a halt, I had a wonderful commission come my way. Here below is the final logo design that I arrived to by the end of the long design process. There were many steps that I went through, throughout the natural evolution of design, before I arrived at the below hand drawn logo design that has been converted into a vector design.
As a wedding invitation designer, I have happily been producing high-end, luxury custom designed invitations and wedding stationery for weddings and events for five years now. I have always wanted to dabble in the world of logo design, yet the right client or creative design brief had not yet come along. Alongside that I didn't quite know how to go about approaching a logo design brief. Do I focus on modern designs or produce a gallery of old world logo designs?
You may be wondering, what is hand drawn logo design? In today's quick turn around, mass production society many people will buy a cheap, fast turn around vector designed logo design for their businesses. It's only later on that you will need to update and redesign branding. A hand drawn logo design in not computer generated. No technology is used. It is 100% hand drawn, starting off with an outline and a simple, rudimentary pencil sketch. Next I take a black fine liner and start to fill in the pencil sketch with actual design. Once this sketch is completed I will use a calligraphy dip pen and trace over the design and add other ink colours and build the design as I continue forward. To complete the design, I will add additional finishing touches such as watercolour artwork, an illustrated background and a bespoke calligraphy tagline. Once this is all created I will scan the design in and convert it to a digital file that can be used throughout all my client's marketing collateral and for all business needs.
Stages of logo design. Below I share some of the design process behind my logo design.  I will be updating this post as I continue to work and reach the final design.
Developing additional artwork
Now that the above artwork had been created, I needed to develop some watercolour, acanthus and leaf watercolour illustrations to be placed around and in essence, beautifully frame the above logo design. This would in turn add more depth, richness and a feeling of drama to the end logo design.
Here's below are the bespoke watercolour illustrations. Once painted the background was removed and I set to work placing each new element around the logo to build a new design.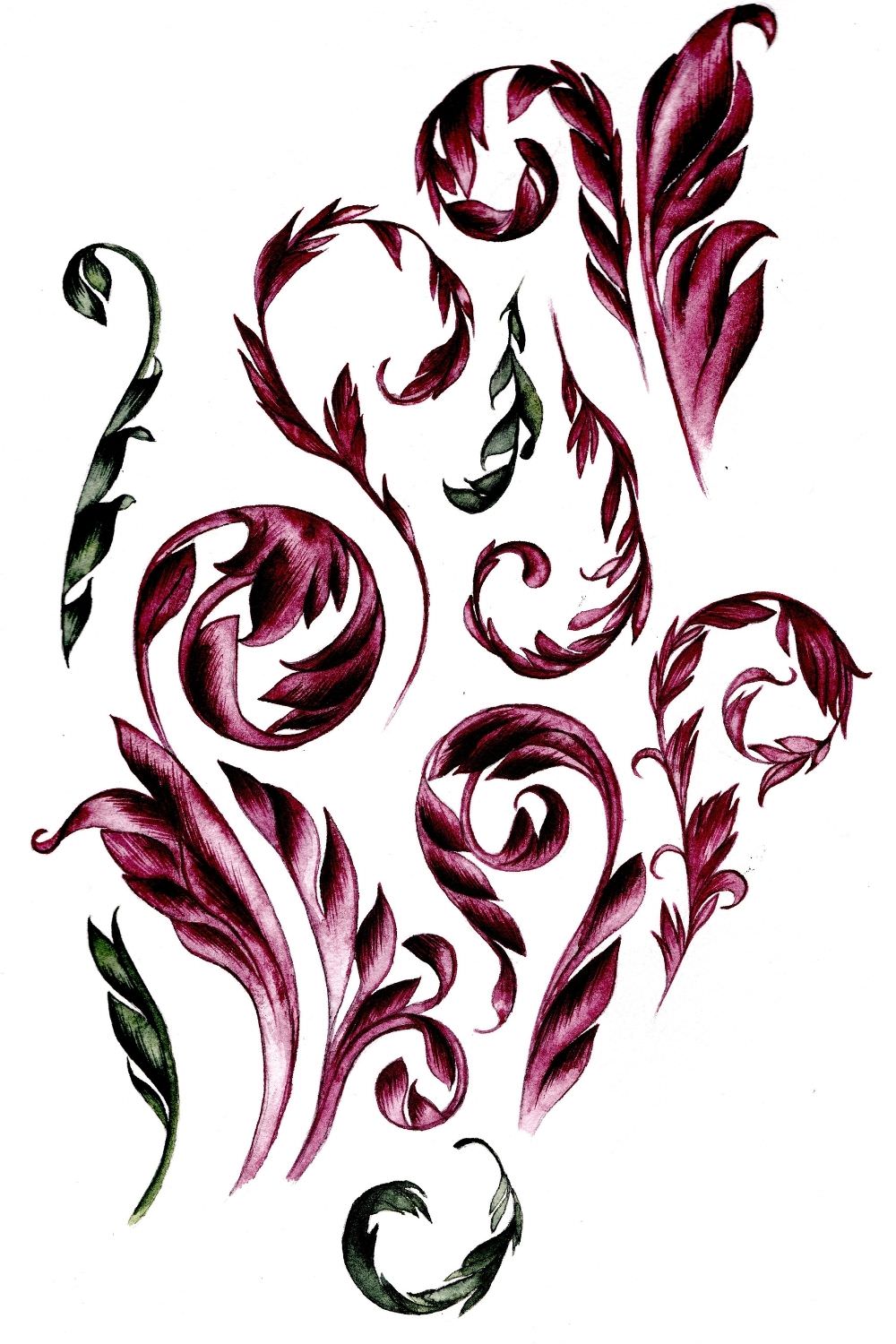 Business logo design
When it comes to designing a logo for your business, there are several things you need to consider. For example, you need to think about all the golden principles; your logo must be: versatile, timeless, appropriate and memorable.
During the initial design phase, you must also:
Make sure your logo represents your brand and company
Do your research and check out logos from competitors
Choose the right colours and typography for your business
Think about how you can make it different, unique and exceptional
How does this apply to my recent hand-drawn logo design?
Well, when it came to the brief, the client was very specific about the style of their logo to ensure it was meeting the criteria above. They were interested in heavily styled baroque type forms and medieval manuscripts.
But perhaps most importantly, it was vital not to completely sacrifice legibility for design. Although the design needed to be good, it also needed to be clear and easy to read and recognise. This gave me lots to think about and lots to work with when it came to my latest logo project.
Luxury brand logo design
Before vector graphic designs became so widely used, luxury logos were created using script fonts, delicate lines and contrasting colours. There were several reasons for this.
Firstly, fluid strokes are decorative and radiate luxury; they also evoke the notion of a personal touch and something that has been created specially. Secondly, the contrasting colour palettes create a harmonious balance but draw attention where necessary. Finally, ultra-thin winding lines create a modern and opulent feel. All of this can help you to create a unique and memorable logo that commands the attention of your target audience.  And as I've mentioned above, my client wanted me to draw inspiration from a medieval manuscript and use baroque type forms—these tick all the right boxes for a luxury brand logo design.
And from the photos, you can see how this hand-drawn logo design began coming together to create a luxury brand logo. It is made up of thin, fluid lines and a rich contrasting colour palette which has resulted in an incredibly bold finish.
Custom watercolour logo
Watercolour logos have grown in popularity in recent years – though lots of these are now being created online using digital effects to look like the watercolour style, rather than actually using a hand-drawn logo design.
However, if done properly, watercolour designs are perfect for creating elegant luxury logos and communicating attention to detail. These logos are also ideal for adding a personal touch to your branding and can suggest to viewers that you've put the same care and attention into your goods or services. Not only this, but another reason that watercolour is becoming so popular is that it's incredibly versatile.
You can create delicate, subtle designs or use elaborate patterns and colour schemes to create a detailed focal point. This can lead to a real 'wow' factor for your audience and a logo that is easily recognisable. Despite the client saying that they liked the versatility, digital compatibility and clean vectors of graphic designs and digital logos, they preferred the look of hand-painted, watercolour lettering, which is why they opted for this style.
Branding logo design
At this point in the guide, we're going to look at how you can create an elegant luxury logo that reflects your brand. In order to do this, you need to have a firm grasp of your brand identity and choose the colour and typography that is going to reflect this.
If you've already got a website or social media accounts, you should consider how your logo can reflect these and be used in conjunction with your existing content. After all, consistency is key, and you want your branding to be seamless across your platforms. By doing this, you can then integrate your logo design into your branding.
For my latest logo project, the client specified that though they wanted baroque and medieval influence in their design, they wanted to tweak the concept a bit with a touch of modernity. This is because combining classic art with current trends is central to the new direction of their brand, and they wanted the logo to reflect this.
More than this, the client wanted an acorn incorporated into the artwork as this was a very personal symbol to them, and they wanted to add an authentic and personal touch to their branding. And ultimately, when creating a logo, it's important that it not only reflects your brand but who you are as a person. Because your business is your baby, and it is an extension of you. By adding personal touches, you can boost the branding, as well as creating a logo that you're passionate about and will love for years to come.
The design process behind creating beautiful hand-crafted logos
As someone who creates wedding invitations and stationery suites, I have been producing high-end, luxury designs for weddings and events for over five years now. However, I have been waiting for the perfect logo design project to come along – and in 2020, it finally did.
So, using my foolproof process, I started work on this exciting new project. Up to this point, we've looked at some of the key concepts you need to consider when designing a logo and the requirements set out by my client for my latest hand-drawn logo design project.
But in this next section, we're going to take a look at how I take these requirements, ideas and inspiration from clients and turn them into an elegant luxury logo that they're happy with. The design process for my projects tends to follow a similar path, but for this project, it looked something like this:
1. The initial communication
The first step to any project is finding out about the client's requirements and communicating back and forth as much as needed until I have a firm grasp of what it is they're looking for. We can then settle on a timeline, and I can prepare to get started on the design.
It is often at this stage that I begin creating mood boards or coming up with ideas. I also use Pinterest and encourage clients to do the same to get inspired and share ideas. I find that using visuals in this way is much more effective for generating ideas and getting ready to create.
2. Coming up with design proposals
After the initial discussion, I can begin putting together some design concepts to send over to the client. This is not a quick process, but it's an important one as it allows me to present my ideas and concepts to the client for approval.
At this stage, there might be some more back and forth as I take on the client's feedback until we settle on some design ideas they're happy with.
3. Creating the hand-drawn logo design
A hand-drawn logo design is not computer-generated at all, it is completely hand-drawn, and no technology is used, so this can be time-consuming, and it takes a lot of patience. The first stage of the creative process is starting off with an outline and a simple, rudimentary pencil sketch. Next, I take a black fine liner and fill in the pencil sketch to make this bolder and more permanent.
4. Adding colour and personal touches
Once the sketch is complete, it's time to get the calligraphy dip pen involved. I then trace over the sketched design with the pen and add any other ink colours that the client wants me to use. This helps to build the design, and at this stage, it really starts to look great.
It's then time to complete the design by adding the finishing touches. These will differ depending on the client, but these can include watercolour artwork, illustrated backgrounds and even bespoke calligraphy taglines.
5. Make the design usable
Up until this point, I've made a point of how important the hand-drawn logo design was, as it was one of the key selling points. While this is very much still the case, I do then digitise the file once the design is complete. I do this so that the client can use this in all their marketing collateral and any other business needs.
Despite it now being available in digital form, the passion, time and detail that have gone into this elegant luxury logo make it very special. As I've said above, this personalised, handcrafted style can be hugely important for building your brand and creating something memorable that the target audience will love.
Applying the design process to my latest project
So, in terms of my latest project, I started by creating the basic outline sketch, and once both the client and myself were happy with this, it was time to develop some watercolour and leaf illustrations to frame the logo design. This continued to add depth to the logo, and the impressive colour scheme added opulence and drama to the finished product. You can see these different stages in the photos above as the logo really begins to take shape.
Are you looking for a luxury hand-drawn logo design?
I know there has been a lot of information in this guide, so I thought it might be helpful to quickly wrap up. If you're looking for a luxury hand-drawn logo design that reflects your business and yourself, I can help. As you've seen from the example logo above, I work closely with my clients to find out exactly what they want from their designs. And by getting to know more about the client and putting together mood boards full of inspiration, we can work together to create an elegant luxury logo that meets all their requirements and 'wows' their target audience.
If you'd like to see more examples of my past work, you can check out my portfolio here. It's worth noting that these are primarily wedding invitation suites, but the same techniques and processes can be applied to logo projects as well and so my portfolio can be great for inspiring your designs.
Alternatively, you can get in touch with me today to see how we can work together on your logo project. I look forward to hearing from you and creating something spectacular that you'll love for years to come.
Visit my shop and immerse yourself in my creative artistry.
View my portfolio and see more of my designs.