GUSTV KLIMT EDITORIAL – Moody Renaissance
GUSTV KLIMT  EDITORIAL – MOODY RENAISSANCE
Gustav Klimt Editorial – Vision / Inspiration:
This Gustav Klimt Editorial took me five years to finally arrive at before I was ready to take the helm and trust my own vision. For the past five years whilst building my design reputation as a luxury wedding invitation designer, I have had the blessing to collaborate on perhaps over 30 editorials and style shoots within the wedding industry. It has been a long hard road and forging my own identity and signature style as a stationery designer has been very challenging, yet only something that has happened naturally over the years.
To see the full range of stationery I designed see this page and this page. You can see more from this editorial here for the full gallery (I'm still in the process of updating this).
Whilst collaborating on those previous editorials and style shoots, I noticed that it was increasingly rarer to come across truly original, creative or inspiring themes. I kept seeing more and more of the same old concepts. A huge array of flowers, the same voluminous chiffon dresses and the same type of bland and boring stationery and table design.
As a highly creative, luxury wedding invitation and stationery designer I yearned to stand apart from the masses and desired to attempt a deeply personal editorial that would encompass all the artistic inspiration that I had been dreaming about, that I was not seeing in the wedding industry.
My vision was profoundly bold.
I craved the mission to hone a creative concept and nurture its creativity and go on to direct, produce and execute my own moody Gustav Klimt editorial. I wanted to be free to play within the boundaries of light and dark, powerful pairings and deep contrasts and attempt to push the quality of my work as far as I could within the realm of artistry that I myself adored. I married the theme of Gustav Klimt's jewel toned golds with glint of copper, deep rich yellow, with strong accents of black and deep maroon to add an extra spice of originality and flavour to create a refined and profoundly sophisticated statement of what can be achieved when you dive deep and design from the heart.
Why choose Gustav Klimt editorial as a creative concept?
From all the editorials that I have seen, Monet has been used many times as have large floral installations. However I have rarely ever seen themes like Gustav Klimt explored in an innovative way. I didn't want to blindly copy and regurgitate Gustav Klimt's paintings onto my work. Instead I used it as a starting point.
I find that the best creative themes, used more than one core concept, especially when designing luxury wedding invitations. Hence, I decided to add my own twist of moody- black and gold and some designs variations of Renaissance and old world European or more of a classical art influence.
Challenges along the way
There were three occasions during the planning and design conception phase of this editorial that I had had ENOUGH and quite literally contemplated completely quitting – even though I had already invested in certain purchases.
Being particular about Gustav Klimt Editorial's venue:
The venue was everywhere.
Firstly, Covid came along and I had to delay the editorial for a year and a half later than I had planned. At the point that I had initially planned the editorial, I came across Prestwold Hall. Prestwold Hall was really interesting to me due to its vibrant and rich yellow marble walls which suited my editorials concept so perfectly (as you can see from the images below).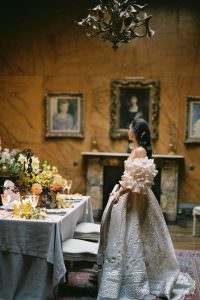 No one had used Prestwold Hall and it was quite unique. However, during the period that I had to wait – Prestwold Hall was being featured, again and again. In the end it had been used many, many times for editorials and I wondered if that would impact my editorial and take away from my editorial's statement and the luxury wedding invitations I was creating.
My gut instincts were right though.
Even though Prestwold Hall had been featured in many editorials, no one had used the rich yellow marble walls and (as you can see from below) it complimented so many of my designs. I had considered many castles, stately homes and manor houses in the run up to my editorial, but nothing really inspired me.
Planner stepped back
Before I go into this I would like to say that I don't hold any resentment at all towards the planner.
Unfortunately, the planner had to step back form her commitment and could not collaborate anymore. I had an inkling that something may have been wrong, every small element that she was handling seemed to remain unresolved. I trusted the process and knew she would come through, she had in fact executed and planned so well for so many of her editorials. Yet something was off.
It did come as a shock when she informed me four weeks before the shoot, that for personal reasons she had to withdraw. She was going to share some of the financial contribution towards this shoot. It caused a huge burden and stress to be placed upon me and it was a very stressful time. I was relying 100% on her to help with the table setting designing as she already had much of the inventory in stock and was going to borrow some items from colleagues.
Nevertheless, it was actually quite freeing at the same time and to some extent, in the end it was a huge blessing in disguise (although I didn't know it).
I was able to completely take the reins on planning and creative design, without having to check back and see if my choices were reasonable with a second party. I thrived to have that much creative control.

Florist quit
Following on, my second mammoth challenge.
The florist, who had agreed to handle a very large floral installation and many other significant design elements pulled out two weeks before the editorial. I was so bitterly disappointed by this. I had booked this said florist, about a year in advance and was paying a good contribution towards the flowers.
I was of course relying on her to provide flowers to use throughout the luxury wedding invitations flatlays. Alongside this, I was also expecting all the other said vendors to follow through and keep their word.
I was so very concerned about this and didn't know if I should call it a day and call off the editorial entirely. Without those flowers a major component from my editorial would be missing and I hate, HATE half doings things. My brand is all about maximalist, lavish yet refined design. In a frenzy, I started to to send out mass emails asking for florists to collaborate with me. No one was interested.
Why? Timing.
England had suddenly opened the floodgates and allowed weddings to be held after a year and a half of Covid restrictions, everyone was booked to the hilt.
I didn't want to delay my editorial again – so I decided to handle all the flowers myself. I ran around the garden centres and bought all the best flowers, dahlias and deliciously yellow orchids that I could lay my hands on.
I'm really proud of how the table, centre piece came out. The bridal bouquet I'm not so keen on, it would have been better if I had handed the small yellow orchids to the model, yet on the day I was literally running about from 8.30am till 5 with no let up. I was exhausted, drained and just trying my best to push through.
Table linen people refused to deliver
The table linen that I had originally sourced and agreed that the vendor would supply were based in London. I got in touch in the run up to the editorial and asked them to deliver the table covers so that I could have everything ready in the run up to the day.
To my horror, they said that they did not deliver outside London and that I needed to go down myself or deliver to a vendor within London. I was horrified that any business would do this. Any business should at least be able to deliver nationally, we certainly had enough couriers to manage this.
Again, I had to not only source but buy in some table linen, which again was an added expense to the whole affair.
Hand painted placemats
With such a huge let down with the table linen being rather lack lustre, I decided to use this shortcoming as a strength. I wanted to lift the simple table setting design from a mundane rather boring affair, to something rather special. I set to work and focused on hand painted some rather large, abstract flowers onto some transparent vellum, and use that to place it under all of the elements upon the table design.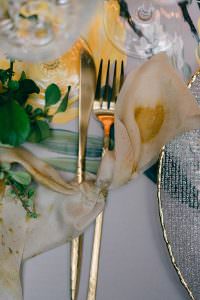 Hair & make up artist pulled out two days before
To my horror, the make up and hair artist that I had previously brought on board over a year ago to collaborate on this editorial pulled out!
I cannot tell you the amount of stress this caused me. I had to scramble and send out a series of emails and of course I had to pay a particular vendor to make sure that they didn't pull out and let me down as well. After frantically emailing many vendors, I finally found a good team.




Moody Renaissance inspired backdrop:
As a luxury wedding invitation designer, for a long time I had dreamt of pushing my creations further and dreamt of working on something that was both equally larger in scale and dramatic at the same time. A creation that I could really be quite proud to put my name to. I set to work, hand painting an enormous black backdrop that was covered with a mass of flowing dark brown branches, paired with gold little cherry blossom flowers.


Gustav Klimt inspired luxury wedding invitations:
The luxury wedding invitations that I had envisioned where truly so hard for me to design. I was aiming to push myself for this Gustav Klimt editorial so much so, that I became completely blocked as an artist. Designing for myself has been the hardest challenge. I did not know where or how to start in order to be able to meet the task of being able to deliver on reaching a higher standard that I had in my mind.
Two months went by without my being able to make a start. Rather than creating an entire vision, I decided to dive in and make a start with one small part of the collection. We can rarely achieve greatness with one step. It's about doing a hundred small tasks, but doing them well that will in the end raise the bar for us when we look back after the years go by.
In the end, I decided to tackle, the humble envelope. I started with the envelope and then ventured into a wrap that would loosely hold the invitations together. From there, slowly the whole vision unfolded. I did not stick religiously to a Gustav Klimt Editorial theme, but also allowed myself to pull from a moody Renaissance style that I am so often drawn to.

Additional /related questions
Costs incurred:
Who pays for a style shoot / editorial?
Essentially for a style shoot or an editorial within the wedding industry, the person that initiates the shoot is the one that pays for all the expenses incurred to make the shoot happen. Sometimes costs can be shared by a few key players or vendors, yet that can sometimes cause confusion and resentment if it is not clearly stated from the outset.
Many quality wedding vendors will only work if they are paid, others who are less well known and simply do not have a good portfolio will quite often take a style shoot on for free so that they can work towards curating a portfolio that will ultimately attract clients – this is the main aim for doing a style shoot.
I was aiming for a certain calibre for my Gustav Klimt editorial and therefore I did hire in some teams and individuals.
Here are the costs:

Hair & make up  – £400

Photography – £650

Professional model – £550

Videography – £1100

Flowers & flower pots – £300

Overnight stay – £100

Large fine art backdrop prints & paint – £500

Paper & materials for stationery – £300

Chairs – £250

Shipping back dresses & accessories – £300

Tablecloth, candles, plates, cutlery, silk ribbons, glasses – £560

Final Total – £5,010
Why do photographers and wedding vendors do style shoots and it is worth it?
I reached out to a photographer friend who I previously did a style shoot with on Lake Como, you can see the style shoot here.
After that very editorial was published, it led straight to a client booking her. I have also seen the very same thing happen to a wedding planner who planned an editorial that I collaborated with in Portugal, who also after the editorial was published, booked a wedding at the very same venue.
I can clearly see that for photographers and planners it does convert well upon many occasions and leads to client bookings. Yet when I, as a wedding stationery designer have done all the 30+ style shoots and editorials, it has sadly NOT led to client bookings in those venues or with that same team.
You have to have very real expectations when you do style shoots or editorials.
What is your goal?
do you need to develop your portfolio?
do you need those images to share them upon your website / instagram / social media?
is it worth the expense?
For myself, I know that the images that I gain from editorials, if they are a certain calibre can bring in more clients, yet I am careful to not continue to get used by the mass of planners that approach me. I have limited the shoots that I take on and try only to work on very specific shoots that I feel elevate or compliment my brand rather than pull it down.
In short, is it worth doing style shoots?
I have written quite a large blogpost here, on the cold hard truth of styled shoots. 
Truthfully, if you are doing a mass plethora of styled shoots (which is what I was doing at the beginning of my business) that is the wrong thing to do. There may be a time that you need to do many shoots, to experience what it is like to work with a wide variety of teams and see what type of work you most prefer producing. Once you have found a preferred aesthetic, stick to it and develop your style. Focus hard only on working with teams that have a proven track record of being published and teams that can elevate your brand and not pull it down. As you move forward you must limit the amount of free work and shoots you do and rather focus only on doing 2-4 shoots a year rather than 10-15 shoots that you don't have time to really put the effort into.
If you focus on doing less editorials / styled shoots, you will have the time to really place more focus and higher quality work, that will stand out and immediately resonate with your client.
How long did it take for this Gustav Klimt Editorial and styled shoots in general?
For the particular styled shoot that I worked on, I arrived to the venue by around about 8.15-8.30am and left at 5.00pm. From 8.30 until 5.00pm I was pretty much constantly standing on my feet and spend the whole day rushing forward and back and sometimes running through the the large rooms of Prestwold Hall.
With the help of my husband we started to unpack all of the contents from the car, that being the dresses, the veils, the steam iron, shoes, accessories all of the flowers, table linens, candles, tableware, cutlery, the large backdrops that were to be assembled, the stationery and all of the antiques for styling the flatlays.
I single handedly had to:
navigate the schedule,
decide which look went first out of the three dresses,
sort out which accessories and veil to place with which look,
had to quickly emergency iron the dresses and table linen,
set up the table scape design,
arrange and style the flowers (normally a florists job!),
assemble the huge 2 metre high backdrop
styled and arrange all of the flatlays
set up the cake area and use the biscuits and antiques in flatlays
What should you bring to a styled shoot?
Apart from all of the necessary items from the list above, I made sure to wear my trainers but I also packed a pair of heels for some professional photography. My husband very kindly offered to go to the shop to buy some sandwiches and an assortment of light snacks and set up a buffet area so that I could make sure that everyone had enough food and water for the day!
If it's possible try to bring an assistant or two with you on the day that can help with the heavy lifting and all the various tasks, it will certainly be worth it! We needed four people including myself, Monika (the cake artist), an assistant photographer and the two hair and make up ladies to hold the back drop up for a good 30-40 minutes!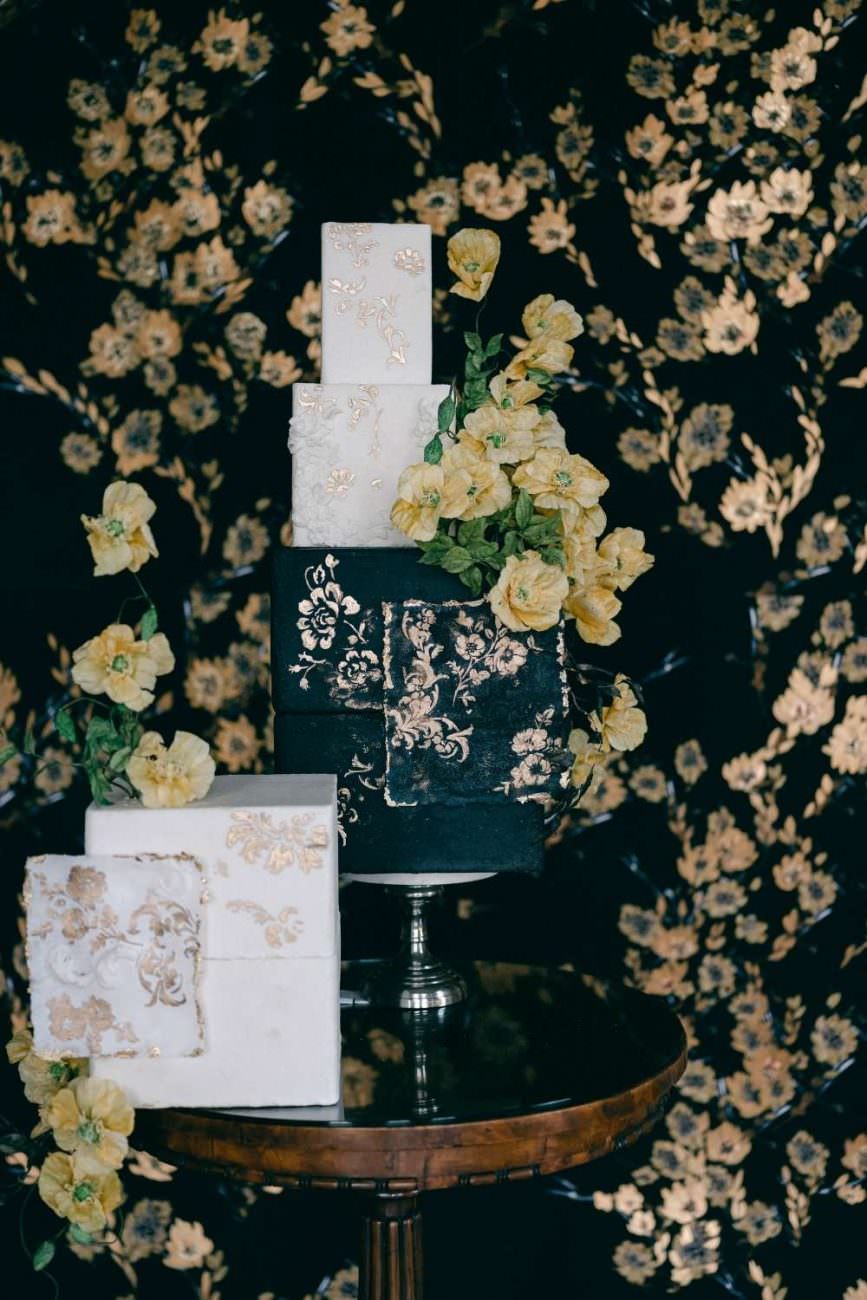 Main Supplier list: