French Style Wedding Invitations
French Style Wedding Invitations inspired by old world European influence. Unveiling the Charm of French Wedding Invitations: A Fine Art, Custom Design with Gold Crest and Handwritten Calligraphy
Planning a destination wedding in a dreamy little French chateau, with a touch of French elegance and romance? One of the most crucial aspects of setting the tone for your special day is through the design of your wedding invitations. Imagine receiving a beautifully crafted invitation adorned with a gold crest and delicate handwritten calligraphy, instantly transporting you and your guests to the enchanting world of a fine art French-style wedding. In this blog post, we'll delve into the captivating world of custom-designed French wedding invitations and explore how the combination of gold crests and handwritten calligraphy can add an extra layer of sophistication and charm to your wedding day.
If you might be interested or looking around for the perfect custom designed French wedding stationery please do contact me or reach out at rubana@crimsonletters.com and get in touch with your vision.
The Elegance of Custom Design for French Style Wedding Invitations:
When it comes to French wedding invitations, custom design is key to capturing the essence of a fine art affair. Customisation allows you to infuse your unique vision and personality into every aspect of the invitation. There are so many elements that can be personalised.
From the choice of paper – think of hand painted touches on luxury envelopes, handmade paper or every sheet having watercolour tones added before applying a layer of gold foil print.
Colour palette – the world literally is your oyster here, think of a vibrant assortment of brilliantly bright colours or choice a sophisticated subtle toned set of hues to base your design upon.
Fonts – think of increasing the size drastically to play with the representation of information.
Calligraphy – you can either have vectorised and digitised calligraphy that can be printed, or have luxury heirloom handwritten calligraphy.
Illustrations and artwork – this is critical and can either make or break a custom wedding invitation suite. For a French style wedding invitations suite I would either go for the typical pale Tiffany powder blue and gold for a classical wedding, or I would research some vintage French illustrations and see how I could extract some rather unique design inspiration and use some elements of design that are not normally seen.
Monograms, or family crests, each element plays a significant role in setting the overall tone and aesthetic of your wedding.
The Allure of Gold Crests for French Inspired Invitations :
A gold crest is a timeless symbol of nobility and opulence, making it the perfect addition to French wedding invitations. Adding a gold crest to your invitation suite can elevate the design and create an instant sense of grandeur and drama. The crest can be customised to reflect your personal style, incorporating elements such as intricate motifs, monograms, or family emblems. Whether it's a regal fleur-de-lis, an ornate frame, or a simply a play with floral shapes, or even some delicate additions of watercolour flowers, a gold crest adds a touch of glamour and sophistication that is synonymous with French elegance.
At Crimson Letters I have a particular passion for crest design, have a look here for more crests.
For this client in particular, she desire something that would stand out yet have a sense of refined, subtle style, therefore with that in mind, I focused on a monochromatic colour palette with some hints and highlights of rich golds, and black and brown colours.
The Artistry of Handwritten Calligraphy:
Handwritten calligraphy is a beautiful art form that exudes elegance and grace. It brings a sense of authenticity and personal touch to your wedding invitations, elevating them to true works of art. The fluidity of each letter and the delicate strokes of the pen create a visual feast for the eyes, captivating your guests from the moment they receive their invitation.
Choosing handwritten calligraphy for your French wedding invitations allows you to incorporate your own style and personality. Whether you prefer a romantic classical and ornate calligrapher, a whimsical script or a more formal and traditional font, a skilled calligrapher can bring your vision to life, ensuring each invitation is a unique masterpiece.
For a bride dreaming of a fine art, French-style destination wedding, the design of her wedding invitations is of paramount importance. Custom design with a gold crest and handwritten calligraphy adds an air of sophistication, elegance, and romance to the overall ambiance. The combination of these elements creates a visual experience that not only sets the tone for your wedding but also creates a cherished keepsake for you and your guests. So, go ahead and embark on the journey of designing your French wedding invitations, and let the allure of gold crests and the artistry of handwritten calligraphy transport your loved ones to a realm of timeless beauty and enchantment.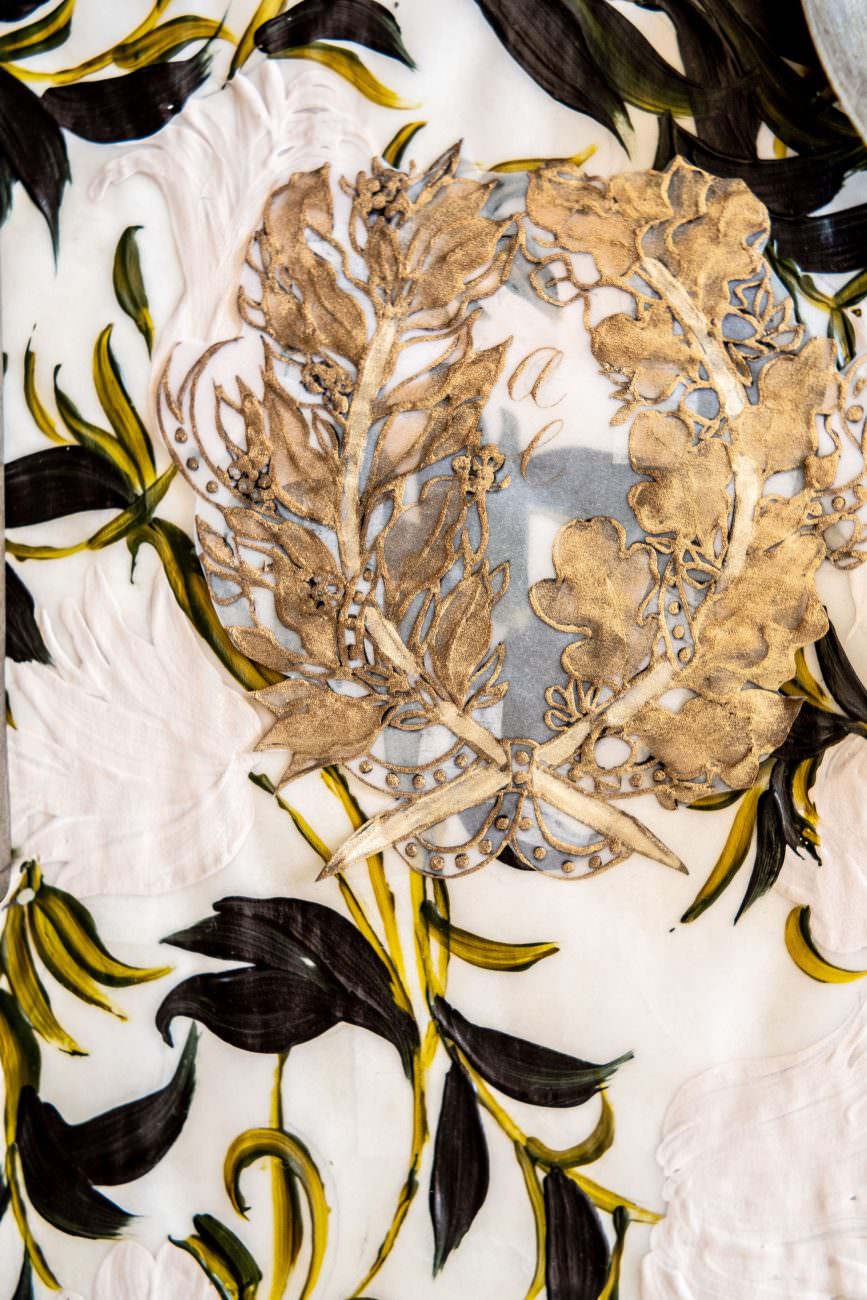 How long did it take to create these French style wedding invitations?
For one heirloom, hand painted wedding invitation suite that is completely custom designed, it can take anywhere from 2-4 weeks to create. Again every single client that I have had the honour of serving has a completely custom timeline, depending on what they wish to have designed. If you choose a design from my website's portfolio and you simply love one collection, and we simply need to add your details, it will not take 4 weeks, but more like the 1-2 week range.
Communication also plays a big factor with the timeline and delivery.  If the client is slower to respond it will take longer. Bearing in mind that the initial design phase needs lots of feedback and many revisions or additions, it can easily extend the timeline by weeks. Subsequently, it is important to leave enough time. You need to allow at least 6 months before your wedding for the design to evolve and for everything to flow smoothly.
Specialist printing such as gold foil printing, embossing, de-bossing or letterpress can also affect timelines. Production can take anywhere from 2-3 weeks.  This depends on the amount of stationery that you require and if we need to use outsourced printing methods.
You might also be interested in these articles:
If you'd like more information about printing methods read here.
If you'd like to see more from my portfolio visit here.
London Wedding Invitations – Create that Black Tie Edge
French Style Wedding Invitations
Bespoke Wedding Invitations for the Country
Unique Escort Cards and Place Names
Watercolour Illustration – Floral and Fauna
More About Me, the Designer Behind Crimson Letters
8 Reasons to Hire a Wedding Stationery Designer
If you'd like to find out more information, drop a comment below, or get in touch here, or at rubana@crimsonletters.com.