French Style Wedding Invitations (Client Artwork: Stephanie )
French Style Wedding Invitations inspired by old world European influence. Created with strong gold accents, antique French bee designs and finished off with hand torn edges and calligraphy.
Are you looking for French style wedding invitations? You've planned that special intimate destination wedding to a dreamy little chateau in France and you are searching for some exquisite French style wedding invitations and stationery to compliment your special day. Rather than the mass produced, throw away stationery that you find online, why not hire a stationery designer to create a range of custom hand painted wedding invitations for you?
How about some hand painted wedding stationery? Something with an heirloom quality. When you look closely you can actually see all of the paint, brushstrokes, calligraphy and the attention the detail.
If you might be interested or looking around for the perfect custom designed French wedding stationery please do contact me or reach out at rubana@crimsonletters.com and get in touch with your vision.
This is a blogpost to show you an example of the various stages of design that were involved for a recent client, getting married in France. She wanted some stationery designed that would be irreplaceable in terms of quality.  Beautifully illustrated and designed especially for her in mind.
French Style Wedding Invitations
Design cycle 1
When this client contacted me and asked for French style wedding invitations or hand painted wedding stationery inspired by France, the very first step I advised her to take was to visit my portfolio and see if there are any designs from the collection that she is immediately attracted to.
This helped establish a great starting point.
We started off by her selecting a design from my Portfolio, from a previous style shoot that I did in the South of France here  (which makes everything very easy when designing custom stationery). She gave me some general colours, using blues, creams and gold. I started to design the first phase of her design cycle, so that we would have something to go on and move forward.
Below you can find the first set of stationery. She required hand painted touches throughout all the paper goods from the rsvp card and rsvp envelope, invitation, statement art-piece and large envelope with hand calligraphy throughout.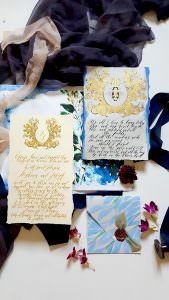 In addition, she requested a watercolour of her wedding venue below, which she was very happy with, so there was no need for any changes or revisions with the below piece.
The client liked the overall design, but she wanted the drama of something a little darker as well as asking for the colours to be more subdued.
French Style Wedding Invitations
Design Cycle 2
For a change I used some lighter-creamy tones, while still keeping some stronger charcoal grey with rich gold for a striking design accent. For the first design cycle, I used a brighter blue watercolour design for the main large wallet style envelope.
In place of the rather brightly watercolour envelope, the client requested a cleaner, calmer looking envelope. I used a lighter delicate beige paper, and some black calligraphy as well as a dark grey envelope liner inside to carry the darker subdued colours through. Blush tones have been introduced for the main invitation with some printed text.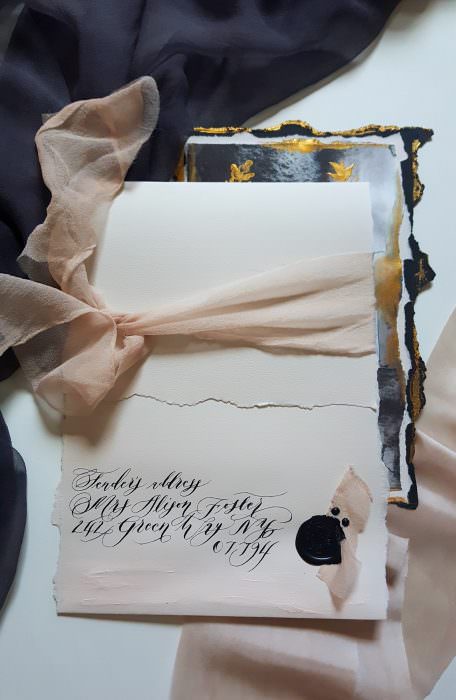 The black wax seal on the bottom, with the addition of a little blush silk, chiffon shows the difference that a darker colour can make as an added feature to the outside of the envelope. We can of course change this to any colour that the client requires. The envelope liner ( this is the darker charcoal grey when you open the envelope) features a large vintage French bee design for extra interest.
Hand torn/ deckled edges with gold paint add a luxurious feel to the whole suite.
The client specifically loved a menu piece (below) from a style shoot that she had seen and wanted to carry this style through to her stationery.
The client requested to use the statement upon her invitation, " Your love and support has helped us become who we are." She and used it for a statement piece with the antique bee design.
Aesthetically it would look too cramped with the quote and other calligraphy so I thought it would be better to make a separate "statement piece"card feature.
It would make a nice addition instead.
This card (below) is mounted upon a double layer of card and paper to really stand out as a memorable piece.
The small rsvp hand painted envelope ( with blue leaves) has been painted with a darker, steel blue, that is less bright and matches the more subdued colours. Also, (above) I redesigned the French bee piece using a different colour concept.
The invitations themselves have a pale blush, watercolour wash for the background. As a suggestion, I have introduced printed text for the majority of the client's wording apart from the main names.  This helps me to reduce the size of the invitation. If the client prefers calligraphy, I can write up the calligraphy and reduce the size for printing and then use hand calligraphy for names.
These invitations are mounted on a thick card with hand torn and hand painted gold edges to add an extra touch of French regality.
French Style Wedding Invitations
Design Cycle 3
All of these invitations are about A4 size in length and are quite large, so to enable all of the calligraphy to fit.
It is possible for me to reduce the wording size if needed to create smaller invitations. The rsvp card is created on a medium grey and mounted on a deep blue card, to add extra definition and depth. I used the medium brown hue from the new colours theme to add leaves to the rsvp envelope.
The large envelope uses the medium subdued green from the envelope the client gave as an example, as well as a watercolour envelope liner  (that is the background for the Bee menu design the client showed me).  Also alongside the muted colours, I used a warm brown for acrylic paint for the leaves.
French Style Wedding Invitations
Design Cycle 4
With this design, I chose to do something different.
The client suggested a poem that was meaningful to her for decorative purposes to be used upon a wrap.
I used the poem by Emily, to decorate an outer wrap and enclosed the large bee design (that I originally paired the poem with) separately for a statement piece. The rsvp envelope has much lighter hand painted leaves, featuring a delicate cream wax stamp. Pale beige and blushes make up the bulk of this suite, with highlights of deep grey and gold.
The envelope liner features a delicate design with hand painted and watercolour leaves, reflecting the colours used throughout the invitations.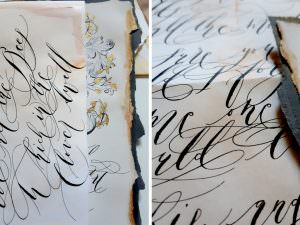 French Style Wedding Invitations
Final Design Cycle 5 
Darker tones need to be used for a sharper more dramatic contrast as well as keeping some of the lighter tones throughout the suite. Wax seal stamps with colour options of Merlot and blush have been introduced and add more interest and texture.
This time I added a double layer of ribbon.  One ribbon,  a deep rich wine colour silk velvet and the other blush silk, topped off with merlot wax. There is plenty of room for the stamps on the other side – which I will show soon.
I used the design from the envelope liner to create two RSVP envelopes. One on a white paper and the other on a medium camel coloured paper.
Both look equally as good. The client needed to choose a colour going forward.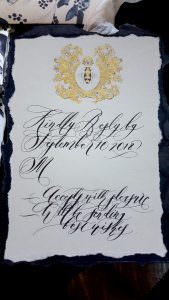 French Style Wedding Invitation Suite
Final Design Concept 6
Here below is the final hand painted wedding invitation design that I produced for the client, and I was so happy that she was over the moon!
By combining the darker details throughout the envelope, a statement piece with the bee design, I used black tones to add extra contrast. In addition, I added texture by hand tearing and hand painted all of the edges in gold. The lighter pieces, the invitation, large bee crest and rsvp envelope gave the entire suite a good colour balance.
The envelope turned out beautifully and has a two tone effect. The front being very dark and having a French Bee Design placed in the centre.
The client still had ample room for the stamps to be placed either side at the top of the envelope. The envelope is addressed with gold calligraphy.
Below I made some place names with gold calligraphy. I added in a darker option on black strong card with some gold calligraphy again for a real statement.
As an added extra I gave this client a little surprise.
I created two place name cards for their special day. To make their table setting more impactful. These place names were A5 sized. With a double layer of card, a hand painted crest in gold, with painted outer edges and a wax seal with some silk ribbon trimmings.
If you have got down to the end of this blog post congratulations!
I think that you can appreciate how much work goes into developing a completely custom hand painted wedding invitation suite. In addition, all of that above is just the design phase.
How long did it take to create these French style wedding invitations?
The design phase above took me about 2 weeks to create.
This client in particular was really good with communication via email.  Even though we are both in completely different time zone! If the client is slower to respond it will take longer. Bearing in mind that the design phase needs lots of feedback, the design phase can take up to 2-4 weeks and can delay a timeline.
Subsequently, it is important to leave enough time. You need to allow at least 6 months before your wedding for the design to evolve.  Design and production of hand painted wedding stationery is a natural evolution.
Next, I go straight into production. Production can take anywhere from 1 – 8 weeks.  This depends on the amount of stationery that you require and if we need to use outsourced printing methods.
You might also be interested in these articles:
If you'd like more information about printing methods read here.
If you'd like to see more from my portfolio visit here.
London Wedding Invitations – Create that Black Tie Edge
French Style Wedding Invitations
Bespoke Wedding Invitations for the Country
Unique Escort Cards and Place Names
Watercolour Illustration – Floral and Fauna
More About Me, the Designer Behind Crimson Letters
8 Reasons to Hire a Wedding Stationery Designer
If you'd like to find out more information, drop a comment below, or get in touch here, or at rubana@crimsonletters.com.