French Inspired Place Names for Weddings and Luxury events
Romantically handmade French Inspired Place Names for Small Destination Wedding and Luxury Events
Recently I created a new black tie wedding stationery suite with some rather classical-chic French inspired place names. Below you can see the scroll design that I used, for an old world European vibe.
Firstly, I added gold calligraphy with lots of flourishing and swirly lettering design and made sure the ink was dry. Secondly, I torn the edges and hand painted the deckled edges to add further texture and interest. To finish the scroll designed place names, I curled the two ends, using a paintbrush. Lastly, using a glue stick (any glue stick will do) I added a copious amount of glue and finished the place names off by adding a multi-coloured, decorative foil leaf.
I'm Rubana, the owner and designer behind Crimson Letters. I adore ostentatious, maximalist wedding stationery and love creating custom design artwork, illustrations and stationery for high-end , special events. If you might have an interesting project, get in touch at rubana@crimsonletters.com or here. Pop over to my Instagram page or Pinterest page and follow me, you will find a plethora if design inspiration.
Gold foil leaf can not only be added to your place name card design, but also it can be used in subtle places throughout your wedding stationery suite. You have to be careful not to use it in too many places, as it could become a little overbearing. A few pinches of gold foil will ensure that a very classical feel is kept.
French Inspired Place Names – complimentary wedding stationery
The above French inspired place names are designed to compliment the below, sumptuous black tie wedding stationery.
I specifically wanted to aim for a dark and moody wedding theme and focused on using deep black card, with rich gold finetic, specialist ink. I wanted to add the the drama and used three shades of gold to combine to create a sumptuous wedding stationery suite, full of grandeur and grace.
I designed ornate crest designs that you can see below from some inspiration from a recent visit to Florence, Italy. As a wedding stationery designer I am always inspired by visiting palaces. The Pitti Palace in Florence, Italy was a treasure trove of ideas for me.
From the outside the Pitti palace certainly looks very uninspiring and quite bleak shall I say, yet as you enter through each of the rooms I was truly stunned with all of the ostentatious art that I witnessed. The grand courtier rooms that were design specifically to hosts cardinals, princes and royal dignitaries.
I used one of the crest designs from a special panel painted upon a wall to directly draw a design from. If you can see the below image, I used the circular design and placed that design onto my signature black card, to create, my black tie wedding stationery look but still keep a look that is attuned to a French style look.
On the above right card, I rather had fund creating a rather oversized rsvp card. Normally rsvp cards are so under rated and easily overlooked as part of the wedding suite. I wanted to really make this rsvp a feature of the suite.
I used hand calligraphy to outline the main ornate design in a medium walnut, brown-gold and then hand painted the leaf shapes in with thick, gold paint for extra texture and dimension.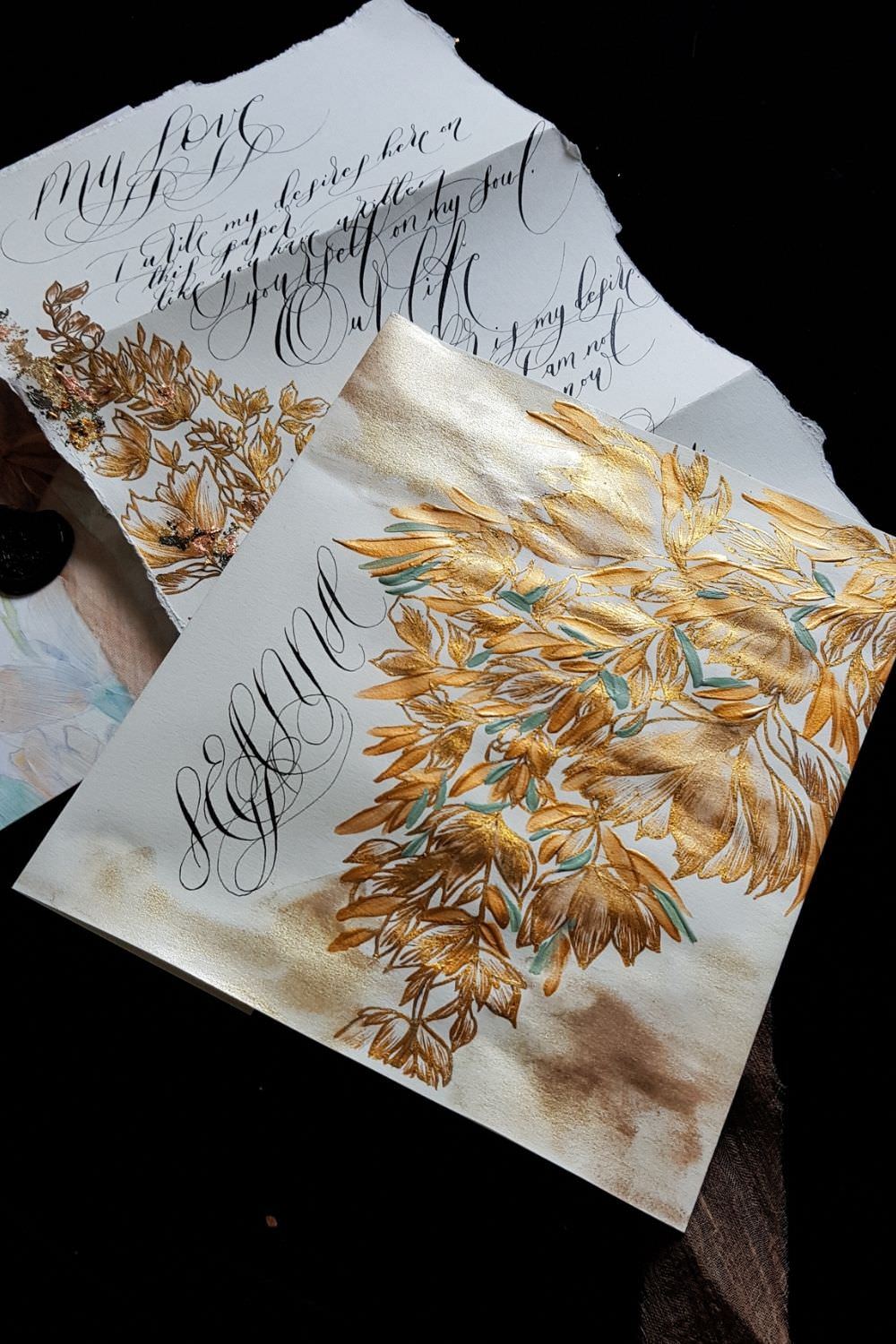 Other blogposts you might be interested in visiting:
17 Questions to ask you wedding stationery designer
Wedding Stationery Design Business
20 Luxury Wedding Venues in Italy