In-VOGUE Escort Cards & Place Names (Benefits & Differences)
Have you ever thought about why you need escort cards and place names?
Escort cards and place names are needed to assign seating at a wedding or large event. They have individual people's names as well as couples' names upon the escort cards/ place names as well as a small number underneath to show which table they will sitting at. Escort cards and place names are an essential part of any well organised, thought out event, where first impressions and the event of the day is significant, such as a formal medium-large wedding or an event of over 10-20 guests.
Secondly, let's consider why escort cards and place names are essential to any successful event, be it a wedding, small elopement or simply an evening out with friends? If you don't have escort cards and place names available and your guests are mismatched in seating arrangements, it could be a looming disaster. If your guests are not sitting next to their close friends, people they know well and people that they love, the experience can really be quite a frustrating one.
It could ultimately leave your guests feeling that it would have been better had they not come to your event. A good experience is essential and feelings are all too quickly hurt. Avoid resentment. Plan your guests seating arrangements accordingly. Don't be lazy!
When you design your wedding or event escort cards or place names, make sure they match the aesthetics of your invitations or event. A talented stationery designer should easily be able to offer you wide range of possible designs that compliment and elevate your event or wedding. Make sure you ask what options are available.
Wedding place cards – don't limit yourself and be as creative as possible to enhance your guests experience.
Understated and subtle elegance
If you prefer some classical place name card design, so that they are more subtle and sophisticated, try some hand painted designs that add a hint of charm with some gold foil leaf, as below, or the following images, where you can see smaller, thin designs with printed design.
The below place names were designed for a small intimate baptism event in France. The place names themselves are inspired by French, antique toile de jouy, using some delicate tones of sage green to compliment the green leaves within the menu and create a more coherent stationery suite.

Following on, the below place names were also thin slits of paper for an elegant and graceful place name card that would not take up too much space upon the table and was perfect for an indoor event, so that you don't have to worry about them flying away. The blue and red watercolour painting illustration was inspired by ancient bible manuscripts from Florence, Italy.
Powerful, dramatic place card name or escort card design
Recently, for my brand editorial, I set about producing some place name card designs that would make a bold statement and be incredibly dramatic (see below). By embracing large, dramatic, and bold designs featuring vibrant yellow hues and hand-painted gold ornate details, you can add an exquisite touch to your reception décor that will leave a lasting impression on your guests.
Embracing vibrant yellow hues & hand-painted gold ornate designs
Yellow is a colour that exudes warmth, joy, and positivity. By infusing vibrant yellow hues into your place name cards, you can create a vibrant and lively atmosphere for your reception. This colour choice not only adds a pop of brightness but also complements various wedding themes, from tropical and bohemian to black tie luxe or even a modern-eclectic feel. Whether you opt for a sunny lemon yellow or a rich golden yellow shade, this invigorating colour will instantly uplift the mood of your guests and inject a sense of energy and celebration into the air.
Gold is the epitome of luxury and elegance, and incorporating hand-painted gold ornate designs into your place name cards adds a touch of opulence to your wedding reception. Hand-painted details add a level of intricacy and artistry that simply cannot be replicated by digital printing. These delicate golden accents can take the form of ornate borders, swirling motifs, or intricate flourishes, creating a sense of regality and refinement.
A Blossoming Beauty: Hand-Cut, Ornate, Multi-Layered Floral 3D Flower Place Names
When it comes to place names, imagine the enchantment of delicate, hand-cut, ornate, multi-layered floral 3D flower designs. These exquisite creations (below) not only serve as functional place cards but also double as stunning works of art that elevate your tables cape. Hand-cut and meticulously crafted, these ornate, multi-layered floral 3D flower place names exemplify the artistry and attention to detail that goes into every aspect of your wedding. Each petal is carefully shaped and layered, resulting in a lifelike flower that captivates the eye. The intricate cuts and folds create a three-dimensional effect that adds depth and texture to the overall design. Whether it's delicate roses, charming peonies, or elegant lilies, these hand-cut floral masterpieces showcase the exquisite craftsmanship that is sure to impress your guests.
Sized at 3 x 4 inches each flower, these can either be hand made or gold foil printed.
Botanical Opulence: Luxury Bespoke Large Place Name Cards with Hand-Torn Edges
These exquisite botanical place card designs (below) were especially requested by a couple having a quiet and intimate country wedding between family and friends. It was meaningful for them to have the thistle and heather flowers on their respective cards. Featuring delicate botanical floral designs, hand-torn edges, and hand-painted touches in pale pink and green, this was a great way to elevate their intimate wedding reception to a new level of meaning.
Every detail mattered when it comes to luxury bespoke large place name cards. The hand-torn edges give these cards a distinctive and artistic touch, creating a sense of organic authenticity. Each card was carefully  and lovingly crafted and tailored to their specifications, reflecting their unique style and vision. Hand-painted touches add a layer of sophistication and refinement, ensuring that each card is a one-of-a-kind masterpiece. The use of high-quality shimmery, metallic calligraphy inks and meticulous attention to detail further elevated their final designs.
Sized 5 1/2 x 4 inches.
Luxurious Artistry for a Tropical Wedding
Crafted with meticulous attention to detail, large luxury flower place cards showcase a level of artistry and luxury befitting an intimate wedding in Hawaii. Each card is individually handcrafted, ensuring a bespoke and personalised touch. The torn edges add an element of artistic texture, creating a sense of authenticity and uniqueness. The use of high-quality materials and precise craftsmanship elevates these place cards to a level of true luxury, making them not just functional pieces but also exquisite keepsakes that your guests will treasure long after the wedding celebrations.
6 1/2 x 5 inches these are super sized vellum place names.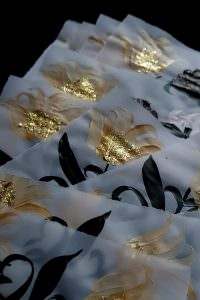 Here is my own personal experience with the lack of escort cards and place names.
Recently, I went to what I thought was going to be a small intimate event. Or so I thought.
Yet when I arrived and realised that the event had been planned in a banquet hall. To my dismay it began to dawn on me that about 50 – 70 guests were starting to arrive. Guess what? I hardly knew anyone there.
I felt awful. Naturally I really dislike large crowds and if I had known this event would have thrust 50 strangers in my face, I would have definitely sat it out. I was waiting all by myself in a corner for the few people who knew me to arrive.  When they did I was pretty let down and disappointed at the seating arrangements.
By that, I mean that there were no escort cards and no place names.

It was embarrassing.
I really wanted to run out of there and kept frantically texting my husband to ask when we could leave. Not only was I standing in the corner like some lost child but there were so many tables that I ended up sitting on my own.
The few people that I did know well ( by that I mean that I knew these friends well enough to invite them to my home) all sat together on one small table. I saw an empty spot on that table.  To my horror when I bravely asked if I could take the seat there, I was told someone's aunt will be sitting there.
It could all have been a much better experience. Had there only been some sort or organised seating arrangement. Was it so hard to offer place names or escort cards? So I have personally experienced how much upset can be felt from such situations.
These were some of my – so I thought closest friends. Yet I came out of that evening, really annoyed that I had been cast out, so to speak. If only escort cards and place names could have been organised for me to be able to sit next to 2 or 3 friends that I was close to, the whole evening would have been such a pleasant one.
So yes, do consider having some escort cards and place names to be made for your next event.
What is the difference between escort cards and place names?
Escort Cards:
When you arrive at an event, wedding or small party, there should be a large display or area where escort cards are waiting for you. They will display your name and have a small number under the name, which will indicate which table that you will be sitting at. You take the escort card in your hand and let it "escort you",  (hence the name escort card) to the table that you have been allocated to sit at.
Table Numbers:
With the above system of escort cards the event will have to also use table numbers that are clearly displayed on each table to avoid confusion. However one tip here, don't make the table numbers too small, so that your guests will have to hunt where they are and waste time on the way to their allocated seat.
Seating Chart:
Alongside escort cards and table numbers, do you have to have a seating chart? You may have seen large seating charts at some weddings and events, although they are more particularly used for weddings. However, if you are using escort cards, you really don't need a seating chart to be displayed at all.
Continuing with escort cards – what size are they?
Normally escort cards are an A6 size, or the size of a business card, approximately 4 x 3 inches or about that. I recently created some escort cards for a wedding. I was limited to the size due to the type of display.  The wedding escort cards were displayed in a bicycle's basket area. I had to be careful not to cover up too many of the flowers. Therefore I had to make escort cards that were a small business card size.
However, this really is not always the case. Escort card displays are changing all the time and conventional sizes are being changed all the time. Many more creative alternatives are popping up all the time.
How do you display escort cards at a wedding?
This area should be immediately visible to your guests. Alongside this remember not to clog the room up. What do I mean by that? Don't place all of your escort cards in one area that blocks up entry into a room. You will cause a large queue. Let's face it, your guests won't want to wait in line for thirty minutes and then have to hunt their names down. Either the escort card display area should be a long one, or break the areas up into lots of smaller areas.
Have a look at the example below.
Below is an escort card table. The artist / stationery designer, Rubana at Crimson Letters, is making a bold statement out of the escort card tables. You can easily have four – eight tables set up in different areas. That way you keep your guests buy for a while while they need to walk around to find their seat. A vast improvement on your guests waiting in one area or in a long line.
Place Names – what are they for?
Next, as your guests find their tables  (you should have your table numbered / labelled clearly to avoid confusion) your guest will still have their escort cards in their hands. This is when the place card comes into play and is crucial to avoid any embarrassment. When they arrive at their designated table, they can then find the place name which shows them their exact seat. You should only have one person's name per seat and not a couple's name on one card.
Position the place names in the exact place that they should be sitting. Believe me, when the right guests sit together you will not regret it. It will add so much more to the overall experience when guests sit next to their friends and close family that they love.
Make sure you do a little research in advance to the run up to your wedding. Who likes who? Make sure you place the groom's family together and the bride's family together, so that all parties are comfortable and you get off to a good start.
How are place cards different to escort cards?
Place cards only display your guest's name.  Whereas escort  cards can have a single guest, or a couple's name with the table number as well. So again, for the place name, it's only the guest's name and that's all. It can be the first name, or the first and second name. You could add Mr or Mrs if you wish, it depends on how formal, or casual your wedding is.
Flat place name cards versus tent cards?
There are a vast array of place name cards available in all sorts of shapes and sizes. The tent card is the more conventional type of card that has been used over the past decade or so.
Many designers and brides are interested in more personal, fine art styles featuring calligraphy and gold foil leaf as in the wedding below. Weddings and particularly the type of paper suites that bride's choose are becoming more than just practical stationery.
Now they are expressions of identity.
Wedding stationery, including place names are becoming a part of your personality and style. This wedding (below) is a destination wedding in Portugal. It shows how the bride has a passion for fine art style.
If you don't have enough space on the table to put your place names do this.
If space is limited for your event and you don't have huge tables, why not consider adding place names directly onto your menu design. You can keep them firmly attached with a wax seal stamp incase they might fly off with any passing breezes (outdoor events, or if your placed near a large opening).
Why not opt for creative place names?
As you can see (below) I created some illustrated, hand painted place names with a special baroque twist, inspired by Briar Rose.
Escort cards and place names really don't have to break the bank. Simple ones are quite affordable.
If you'd like to splurge and invest in some luxurious place names to elevate the tone of your event and make it really special, then perhaps invest in some more beautiful designs.
If you are having a wedding, it is likely that you will continue to see some of the same people afterwards. Why not collect them in and use them after your main event?
Place cards and escort cards are an investment that you can continue to use. Party after party!
Conclusion
I hope this article has helped you to understand the importance of escort cards and place names at intimate events and weddings. If you're putting together a seating arrangement at the moment and you'd like to work together on creating luxurious escort cards and places names full of intricate details and hand-made touches, I'd love to work with you.
At Crimson Letters I put my heart and soul into every design I produce right down to the smallest details and together we can create something your guests will love. So if you'd like to work together on some bespoke stationery for your event why not reach out and get in touch.
Email me at rubana@crimsonletters.com or get in touch here.
Here are some other articles that may interest you:
Here is how I work on Custom hand painted wedding stationery.
If you'd like to know more about me and read some testimonials, pop over to my About page.
If you'd like to learn more about wedding invitation terminology read this Glossary here.
Perhaps you might like some wedding wording suggestions? Read this article.
Take a look at this article for a look behind the scenes at how I create bespoke wedding stationery and the process involved.
Are you up for some French inspiration? Look here at how I designed a custom wedding suite for a client with a destination wedding in Paris.
If you'd like to discover or look through more design, visit my Portfolio page.
Interested in London wedding invitations with a black tie influence? Read here.
8 Reasons to hire a wedding stationery designer