Dahlia Flower Painting with Watercolours
Client Artwork: Dahlia Flower Painting & Roses Watercolour
I'm excited to start a new dahlia flower painting for a lovely new client's custom luxury wedding stationery. This beautiful floral watercolour illustration is hand painted using watercolours and will make quite the statement upon an envelope liner. You can see the final stationery suite that the below artwork is used for here.
I'm Rubana, the owner, illustrator and artist behind Crimson Letters, luxury wedding stationery design. If you have a special project or occasion coming up and you'd like some special pieces designed, get in touch at rubana@crimsonletters.com or get in touch via my contact page. You can also find a plethora of design inspiration and ideas on my Instagram and Pinterest pages. Come over, say hello and follow me to stay in touch.
Dahlia flower painting – how does it all start?
Starting on an entirely new watercolour piece or in this case a dahlia watercolour painting can be daunting. Staring at a blank canvas or trying to envision what a final piece will look like can cause nervousness and block creativity. To stop any form of anxiousness, the way to approach new client work is to start with a good thorough consultation. It all starts with selecting the right visual inspiration ( which the client kindly supplied). I am a very visually inspired artist and designer. Words are in no way good enough. Sometimes clients will approach me and say that they want a painting to look romantic. What does romantic mean? I need visual examples and clear clarifications before a piece of artwork can be started. Once the correct images and colours are provided and I feel as though I'm on the right track, it's full speed ahead with generating new artwork.
Here below is the very beginning of the artwork.
It starts with an outline. The very first stage and to lay the foundations of any good detailed watercolour piece, comes the pencil drawing. I meticulously sketch out the pencil drawing. I use a mechanical, rotary pencil  so that I don't have to waste my time sharpening a pencil as I sketch away. I'm looking for very fine lines that will eventually be covered in watercolour paint and hidden below the painting itself.
I do not start watercolour until I am quite happy and sure that everything has been sketched out well and to the correct scale that I am looking for. I make sure to make full and proper use of the paper and try to fill the paper itself yet leave enough negative ( empty) space to make a good balance of the way that this watercolour illustration will look in then end.
Dahlia flower painting with watercolours
Next, starts the exciting part. After I have ordered in some high quality paints (you can see my stockists right at the end of this blog post) I carefully build up the detailed watercolour in stages and by using many many layers throughout the painting process, taking breaks between my work as and when I need them.
Dahlia flower painting – stages of the process
Below you can see a series of photos showing the stages of watercolour painting as well as some videos for you to enjoy.
Adding layers of detail-
Once I have finished this time consuming shading with watercolours, I then focus on adding more detail. How do I do this you might ask? You can see from the below photo, that I use a technique of drawing thin lines with watercolour, using a very fine watercolour brush to slowly build up more details.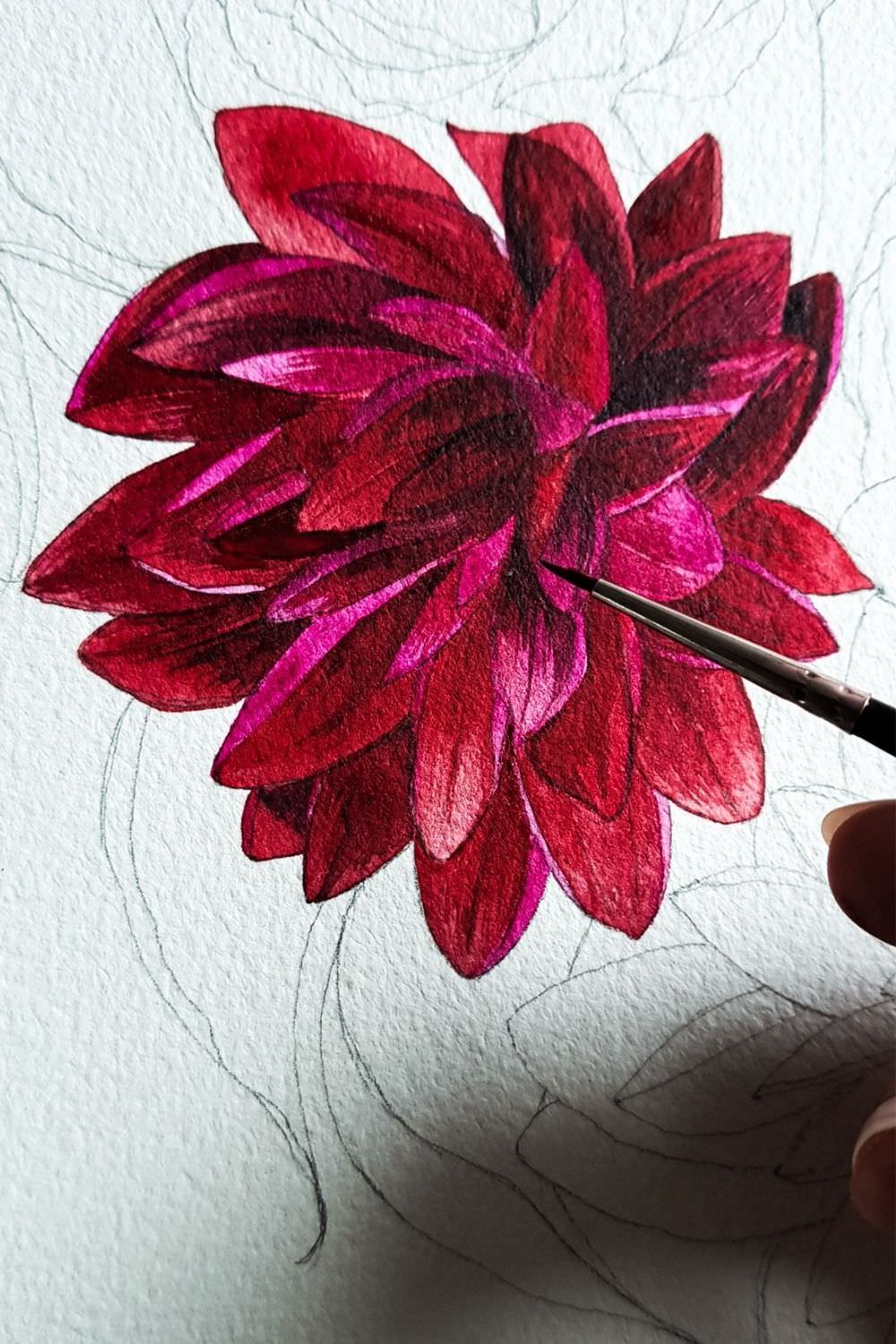 What equipment do I use for this dahlia flower painting?
Whenever I source my materials and equipment, I am always careful to use the highest quality supplied possible. You would be amazed at the difference it makes in producing high quality work and illustrations that are far more beautiful.
I use Daniel Smith watercolours, that I source from Jackson's art supplies. I know that I am helping a small business here, rather than buying something from Amazon!
Arches is my choice of watercolour paper. You can see the full range here, I love using cold press Arches paper.