The HIDDEN BEAUTY of Custom Watercolour Wedding Invitations (Reasons to Choose Them)
The beauty of custom watercolour wedding invitations and the advantages of choosing them
What are custom watercolour wedding invitations?
Firstly let's take a quick look at what custom watercolour wedding invitations actually are. To put it simply, I design and hand paint the artwork for your wedding invitations using watercolour paints,  to create truly luxurious wedding invitations. Not only are these intricate and beautiful pieces of work but they are also totally unique, so you can wow your guests with stunning invitations like no other. They really are the perfect way to kickstart your special celebrations.
If you have a special event coming up, or if you're looking for some custom designed stationery or invitations get in touch at rubana@crimsonletters.com or reach out via my contact page.
There is something truly spectacular about custom watercolour wedding invitations. Designing, hand painting and crafting these is one of my favourite parts of my job as a designer. There's a lot of work that goes into creating watercolour wedding invitations, but the end product always fills me with so much pride and joy, and each new project gives me the chance to let my creativity flow.
Below you can find some loose, abstract watercolours as well as some highly detailed watercolour paintings and videos.
If you're currently planning your wedding and you're looking for something special and unique, beautifully hand painted watercolour invitations could be the perfect way to kickstart your wedding celebrations.
That said, I understand the importance of choosing the right wedding invitations and this is not a decision to be taken lightly. That's why I've put together the following guide to show you the beauty of these custom wedding invitations, talk you through the process of creating them and give you a better idea of the options available to you.
Are you searching for the perfect wedding invitations? If you're looking for a dedicated designer to create beautifully unique, hand crafted wedding stationery then get in touch today!
All wedding stationery designs from Crimson Letters 
Why choose watercolour wedding invitations?
There are so many reasons you might choose custom watercolour wedding invitations for your big day. So if you're looking for inspiration for your wedding stationery or you're still unsure about choosing watercolour, here are just some of the reasons these invitations can be the perfect addition to your day.
They're totally unique
We'll work together to create something that is completely unique. I believe that every wedding is as unique and special as the couple themselves and their day should reflect this. Having custom made invitations is a great way to set the tone for the day and send your guests something special that they won't have seen before.
You have complete control
Because we work so closely together to design the invitations you'll have total control of the end product. Buying pre-made invitations or even having these produced for you can come with limitations. Having something made especially for you means total flexibility, you can take your visions and make them a reality.
You can use your venue or theme as inspiration
As I previously said, your wedding invitations will set the tone for your day so you want them to reflect your theme and venue as well as your personalty. If you've chosen a particular flower for your big day we can tie this into your invites. Alternatively if you've chosen a stunning venue with detailed interiors we can use that too! Having a destination wedding? Let your chosen location influence the artwork for your watercolour invitations.
They're beautifully finished
I put my heart and soul into every design I create so that the artwork is perfectly finished and crafted with love, down to the very last detail. This means you'll receive something truly charming and beautifully finished. When you find a designer that is truly passionate about their art, they will bring a level of energy to the project that other artists won't.
It's your big day
As if you need any other reason! It's your big day, your once in a lifetime and it should be special. Custom watercolour wedding invitations are the luxurious wedding stationery you deserve for such an important occasion.
The importance of choosing the right designer
If you're going to choose hand drawn wedding invitations, you need to make sure you choose the right designer. Getting this part wrong could leave you feeling disappointed or having to compromise on the style of your stationery. This is a very delicate process so you want someone that's going to produce carefully crafted and beautifully finished artwork.
But more than that, you want a designer who is passionate and completely dedicated to your project, someone who you can communicate with throughout the process to ensure the end product is everything you dreamed it would be. This is not a decision you should rush into, but at the same time you need to make sure you leave plenty of time to order your invitations as custom watercolour wedding invites take a bit of time to create.
If you're considering watercolour wedding invitations and would like to find out more about how we can work together to make your dream a reality, get in touch for a quick no-obligations chat.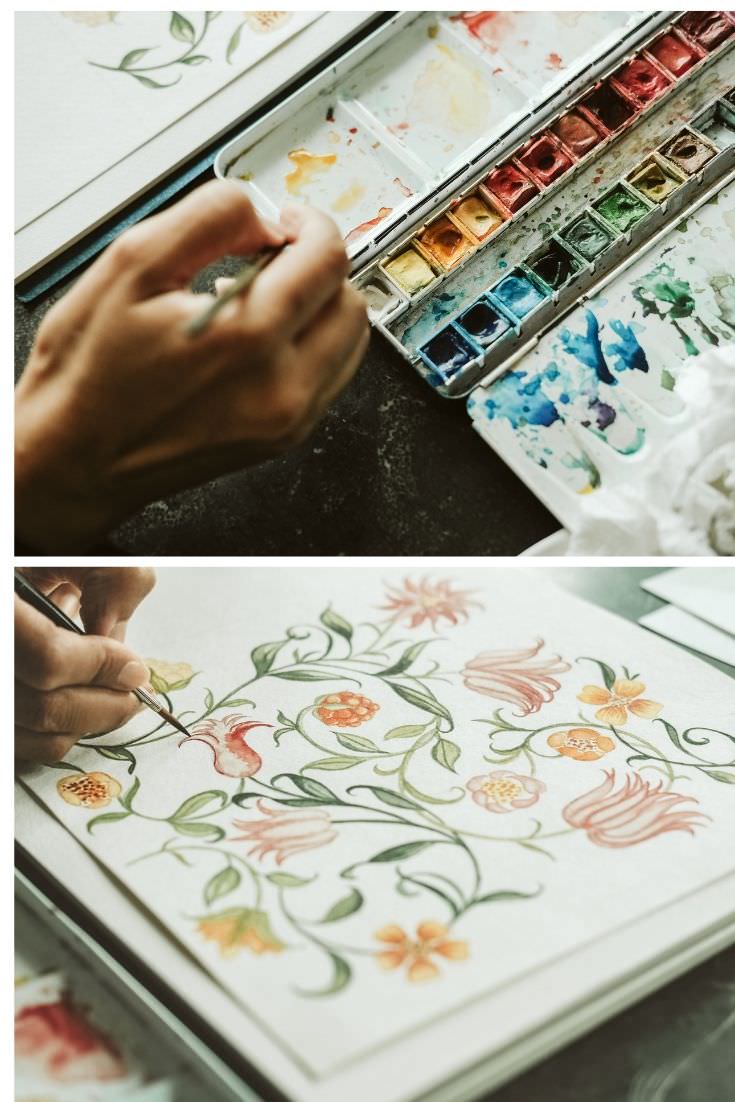 The process of creating your invitations
To give you a bit more insight into what it takes to create custom wedding watercolour stationery and why it is so special, I've put together a brief outline of my process below. The whole process takes around two to three months depending on the design and number of invitations that need to be produced. The timeline below should give you a better idea of what's involved and how we can work together to create luxury watercolour wedding invitations and stationery suites.
Step one – Consultation and communication
Firstly, I like to get the technicalities out the way. Once the client has given me their requirements I can send them a quote via email. Continuing to email, we'll settle on the timeline and payment requests. Then, once the formal bits are out the way it's time to get creative!
The best way for me to get to know my clients and what it is they want is through detailed briefs and visuals. For example, I love working to a mood board as I am a very visual person. The more details the client can give me about what they want the more I'm able to transform their visions into a reality.
Communication is absolutely key at this early stage so I can prepare myself for the design process. I do like to ask a set of questions and ask for as much feedback as possible. Have a look here at some of the information that is really helpful, so that you can be fully prepared before you approach a wedding invitation designer.
Pinterest boards work really well in this regard and help me to clearly see which direction clients are thinking about. I can clearly see which colours and types of design such as formal, more relaxed, rustic, elegant or black tie.
Step two – The designing begins
Once I have a good idea of what they want, perhaps I have pictures of their flowers, venue, colour scheme, etc. I can begin to design their artwork. Believe me, this is not a quick process and my designs certainly don't come together overnight.
More often than not I will set about to produce three or four attempts that make their way to the bin because I don't feel they perfectly capture my passion or the clients requirements.  It can take a week or so for me to get something solid together to show the clients.
Here below I created two versions of a watercolour rose for my clients. They preferred the burgundy rose from below.
Step three – Presenting the design concepts to the client
I tend to produce a range of design concepts to the clients using the artwork I have produced. This gives them a feel for the design as well as allowing them to see what a complete stationery suite would look like. I give them time to reflect on what I have produced and feedback any changes or suggestions they have.
Once I have taken on board the feedback from my clients I can make their amends. At this stage I'll communicate with them regularly to settle on the final artwork and ensure I've produced something they're completely happy with.
Step four – Printing and producing
Once the design is finalised it goes into printing and then the hand painting and calligraphy can begin. At this stage I hand paint the invitations and address the envelopes, so this can take a few weeks to complete depending on the number of invitations I have been asked to produce.
Step five – Assembling and packing the invitations
The final part of the process is assembling all the completed artwork and invitations. This will depend on what I have produced for my client, but these can be completed with ribbons, dried plants and wax seals. I then neatly package all the completed stationery and send it to the client.
What designs can you choose for your invitations?
The beauty of custom made invitations like these is that they can be inspired by the smallest or biggest details of your wedding day. For example, you might choose watercolour venue wedding invitations, these are inspired by your wedding venue and open you up to loads of options. You can choose artwork of the building itself, the intricate interiors, the location or even the flowers in the gardens. It's about letting creativity flow to produce wedding invitations which are beautifully unique and reflect your chosen venue.
Alternatively, you might want to focus solely on the flora and fauna of your wedding location or even your chosen wedding flowers. I love creating beautiful floral pieces and these always look so delicate and rustic when they're complete. These are particularly great if you're getting married outside or you've chosen to host your wedding in the countryside.
Another way you can inspire your wedding invitations is by incorporating details of how and where you met. This can be the most subtle details or you might have chosen to host your wedding in or near the place you met. By sharing as much information about you as a couple with your designer, you'll help them to really let your relationship shine through and influence your wedding artwork.
One final finishing touch that I like to add and this is a personal style of mine, is to hand paint the edges of wedding stationery with watercolour. I do this because I think it adds real depth to the artwork. This can be done alongside your chosen design to really help it pop and stand out on the page.
Creating beautiful stationery suites
Once you've settled on the perfect artwork, you can use this design for not only your wedding invitations but also to create entire stationery suites for your big day.
These can include:
RSVP cards, Save the Dates,
reception and ceremony cards,
bespoke large envelopes as well as invitation wraps.
Alongside all of these, don't forget the wedding day items.
Information packs,
welcome booklets,
signage,
menus cards,
table numbers,
drink and food labels,
room labels.
As you can see below I like to create an original concept and then use this to inspire an entire luxury stationery suite.
Above is the beginning of the design process. Once I have shown my ideas to the client and worked on the revisions based on their feedback, I can transform this into beautiful suites like one on this blogpost here.
What if I want custom watercolour wedding invitations?
If you've decided that custom watercolour wedding invitations are the perfect addition to your day – that's great! The best way to get started is to look around for inspiration and begin putting together ideas (maybe even a mood board) for what you want. That way you can get in touch with your designer and let them know straight away the sorts of artwork you're after. This will help them to give you a more accurate quote and timeline for producing your wedding stationery.
It's also a good idea to get started right away! As soon as you have booked up the big stuff like the venue you'll have the date and location set in stone. You should then get started right away with your invitations. Taking into account the process and timeline outlined above, you'll want to give yourself as much time as possible to get these designed and produced, especially if you want to send Save the Date cards first. You also need to give your guests enough notice to put the date in their diary and ensure they can make it.
Are you interested in working with me?
I hope you enjoyed reading this article and that it has helped you to get a better understanding of watercolour wedding invitations and the work that goes into producing them. This beautiful artwork makes such a special addition to your wedding, setting the tone for the day and acting as a beautiful keepsake that you and your guests will want to cherish.
So if you're looking for a dedicated and passionate designer who can make your vision a reality, I'd love to work with you. Here at Crimson Letters I take inspiration from the beauty of the world around me, as well as working closely with my clients to produce emotive and immaculate artwork that truly reflects them as a couple. If you'd like any more information or you want to start working with me, do get in touch so we can discuss your vision.
Please do read these other related articles, you might find them helpful:
Creating watercolour illustrations
Abstract watercolour floral artwork
Bespoke watercolour wedding invitations – my process of design and communication with a client and what's involved
A helpful guide to invitation terminology, for example what is a belly band or an envelope liner?
When to send out your wedding invitations
A comprehensive invitation wording guide 
A week by week guide to a wedding invitation production timeline