Couture Luxury Bridal Gown Designers (Top 15)
Penultimate Couture, Luxury Bridal Gown Designers
Deciding what to wear on your wedding day is a massive, once in a lifetime decision. In fact, it is one of the biggest decisions and I'm sure most nerve wracking choices you'll make when planning your wedding. You only get to wear your wedding dress once, so picking the perfect gown is not a decision you should rush into. That's why I created this couture luxury bridal gown designers guide, to help!
Of course, as a luxury wedding invitation designer, I will be having some fun and pairing some of the gowns with my designs, to show you what's possible in terms of couture, custom designed stationery.
You want something that will leave your guests breathless, that will flatter your figure, fit like a glove yet make a dramatic statement and that is comfortable enough for you to dance the night away. In fact, many higher end brides are now selecting not one dress, but four to five dresses to change in and out of as they go through the day.
I'm Rubana Gaspar, the designer, illustrator and calligraphy artist behind Crimson Letters, luxury wedding invitations. If you're looking for some stunning wedding invitations to go along with a haute couture gown, I would love to go on that journey with you and design the most extraordinary custom designed invitations for you. If you have any stationery requirement, get in touch at rubana@crimsonletters.com and let me know your thoughts.
Who are my top 15 best couture, luxury bridal gown designs?
Without a doubt, it's a hot list of my most coveted designers, Krikor Jabotian, Ziad Nakad, Maram Borhan, Iman Saab, Hany El Behairy, Kojak Studios, Esposa Group (Esposacoutre), Dovita, Nicolas Jebran, Aden Fashion, Sara Mrad, Georges Chakra, Zuhair Murad, Steven Khalil and Elie Saab.
As a luxury wedding stationery designer, I adore discovering new haute couture bridal gown designers and let me tell you, it's often hard to find all of the top gown designers listed in one place. I ultimately decided to curate my own haute couture list of premium designers.
Enter haute couture bridal gowns.
Imagine having something custom-designed and perfectly tailored to fit like a glove and simply oozing and dripping with the most sublime embellishment and embroidered details, created by world-class couture bridal designers.
Below I'll introduce you to some of the best couture bridal designers the world has to offer. From classic couture, the most refined beaded and mouthwatering embroidered finishing, to luxe silk and head-to-toe lace. Here are some exquisite haute couture bridal gowns to inspire your wedding day.
Couture Luxury Bridal Gown Designers
Couture bridal gowns are romantic and sensual in nature; they are bursting with exquisite details, including lace, silk, beads, embellishments and more. They are designed to be figure-flattering, creating sexy silhouettes while also being comfortable to wear all day long.
Haute couture bridal gowns raise the bar for high fashion, and what more could you want for your big day when all eyes are on you? So, to help you on your journey to finding your dream dress, here are 15 couture luxury bridal gown designers you need to be aware of.
1. Haute couture bridal gown designer extraordinaire – Krikor Jabotian
I discovered Krikor Jabotian on instagram quite a few years ago. I was instantly besotted. His designs resonate deep within my heart and I cannot get over his sheer vision, style and flair for effortless finesse.
Born and raised in Beirut, Krikor Jabotian started his career as a designer after graduating from École Supérieure des Arts et Techniques de la Mode (ESMOD) in Beirut. Upon leaving, he was given a chance to work in the creative department at Elie Saab. It was this experience that paved the way into the industry and cemented his love for couture design.
He then left Elie Saab and began creating his own independent designs. Not long after this, Jabotian was chosen by Starch Foundation, a non-profit organisation that helps launch emerging Lebanese designers, to share his creations. With his career already on an impressive trajectory, at the age of 23, Jabotian set up his first studio and made his first collection a reality. This company quickly became a family business, with his mother, father and sister joining the team.
Since then, couture bridal gown designer Krikor Jabotian has crafted several collections of opulent wedding dresses, sweeping many a bride off her feet. He perfectly balances tradition and innovation with 3D elements and gold detailing to create timeless haute couture collections.
He uses different types of embroidery in each collection, relying on sequins, semi-precious stones and crystals woven throughout lace to produce his signature style. The level of photography that he uses to display his works of art, elevate his work.
Below, these

luxury wedding invitations

that are French renaissance inspired designs, would be the most perfect compliment to the above gowns.
2. Lebanese bridal designer – Ziad Nakad
Ziad Nakad is a Lebanese fashion designer that has been passionate about couture fashion since he was a teenager. In his younger years, he worked with many famous fashion designers in Beirut until 1997, when he opened his own fashion house. He was able to participate in Beirut International Fashion Show for Couture with his own designs that same year.
This first fashion show won him plenty of attention from critics, and he continued to gain exposure in the shows that followed, including Milano in 2001 and Cannes in 2003. Nakad has always been praised for his ability to reveal the feminine side of every woman, and this shows in his dressmaking. His love for eccentric fabrics, beautiful beads and sheer embroideries has led to his signature style and his range of breathtaking haute couture bridal gowns. Over the years, he has created line after line of couture bridal gowns that epitomise glamour and simplicity. This has won him a strong and discerning clientele.
A huge part of what makes Nakad one of the world's best couture bridal designers is that he is passionate about the female form and creating aesthetic cuts and stunning silhouettes. His dresses carefully weave and caress the body to create something truly timeless.
Below are some custom invitations that I design for a wedding in Florence, Italy, that would compliment a statement high-fashion wedding with a blue couture gown as above.
3. Egyptian couture gown designer – Maram Borhan
Maram Borhan is an Egyptian designer with an eponymous luxury couture house that creates stunning haute couture bridal gowns.
Her career took off in 2009 when she established The Boutique, a shop that created stunning evening and bridal dresses. During this time, she worked with numerous labels on collaborations until she was ready to go it alone.
And then, in 2017, with eight years of experience under her belt, she opened her namesake fashion house, continuing her love affair with bridal and evening gowns. This has made Borhan one of the biggest couture bridal designers in Egypt, though her gowns are loved by women around the world.
She is widely recognised for her ability to create luxurious feminine gowns using a variety of textures, embroidery sequins and pleats. Borhan has revealed that many of her designs are influenced by her travels around the world, as well as elements found in nature.
With every new collection of her couture bridal gowns, she imagines new ways to fuse modern and chic, never wavering from the luxurious, elegant aesthetic she has become so famous for. Her dresses have been likened to those in fairytales, particularly her SS19 season, which saw her collection focus on nature's favourite flower, the rose.
4. Couture bridal designer – Iman Saab
Iman Saab is the second Lebanese fashion designer and École Supérieure des Arts et Techniques de la Mode (ESMOD) graduate on our list. Having originally studied to become a dentist, he eventually did a complete U-turn in his career when he decided to attend ESMOD.
After completing his degree, he worked with some of the best Lebanese designers, including Rima Bohsali, and this was the positive start he needed to his fashion career.
Saab has revealed that his ideal clients are strong, independent women that clearly know what they want from their gowns and their big day. Donning his dresses, they will light up the room as they enter and quickly become the centre of attention.
The couture bridal designer has become renowned for his use of intricate details, 3D beading, embroidery and handcrafted materials in his work. He uses these techniques to create dramatic but elegant gowns that steal the show.
Over the years, he inadvertently created his own signature style, and this was his unique and repeated use of ruffles on his dresses. Although a very distinctive detail, he ensures that no two gowns look the same and that each ruffle is strong yet feminine, a statement piece that combines over-the-top glamour with simplicity.
5. One of the most dramatic couture luxury bridal gown designers – Hany El Behairy
From a young age, Hany El Behairy was always creating intricate drawings and making dolls from scratch, donning them in dresses with beautiful hair. Although he was always interested in fashion, he never thought about it as a career choice until he spent a summer at home, working tirelessly on a bolero for his aunt to wear to a wedding.
This sparked his passion, and he went on to train with Boutique Habib and was soon designing wedding dresses for several Egyptian socialites.
At age 15, he participated in the Mediterranean Festival in Napoli and was named 'Best Fashion Designer' for Haute Couture in the Middle East. Since then, he has taken part in many fashion festivals alongside huge Designer Houses, including Chanel and Valentino.
To this day, El Behairy insists that all his gowns are made in the traditional way, and each one is an original piece of art. He uses rich, luxurious fabrics to create both ready-to-wear and couture bridal gowns. Although his gowns are designed for any bride that wants a glamorous, unique dress for their big day, his designs are often dressed to suit the taste of women in the Middle East.
As an additional interesting challenge for himself, he set about making the most expensive wedding gown in the world in 2019 to showcase at his 100th show. The gown came in at a staggering $15 million (a price tag which has since been overtaken).
To compliment the drama from above, I have added my rich, decadent gold crest design below that would pair perfectly with a baroque, couture black and gold veil.
6. Kojak Studios
Kojak Studios was founded by Egyptian designer Mohanad Kojak. Since he was a boy, Kojak grew up with creativity already running through his veins as he came from a very artistic family. He would sketch designs from a young age until one day, a local artisan took him in and taught him the basics of tailoring.
During his time at university, Kojak was asked to design costumes for another student's video project. Happy to oblige, and with designs ready to go, he had these costumes made up. The shoot won him so much interest that he actually began to get orders for his outfits. Flooded with requests, he left university to focus on making and selling his designs.
In 2014 after leaving university, he founded Kojak Studio and in 2016 was the youngest contestant on Project Runway Middle East. By the age of 21, he had his own fashion house and was dressing celebrities and socialites in the region.
As his carer went from strength to strength, so did his haute couture bridal gowns. His designs have been described as bold and undaunted, and over the years, he has experimented with fringe details, elegant bustles, feathers, woven textures and ethnic accents. Kojak likes to break the rules and challenge commercial fashion as we understand it.
I would eagerly pair the above gown, focusing on the beautiful burst of red and create a powerful statement invitation design as below, this is a sumptuous invitation design I fashioned for a Persian Night.

7. Esposa Group (Esposacoutre)
The Esposa Group was founded in 1987 by a couple with a deep passion for the bridal industry. For more than 35, Esposa has been growing in the hands of the Romanos family, weaving love stories for couples all over the globe.
The Esposacouture bridal line was started by designer Kristie Romanos who inherited her love and knowledge of the industry from her family. At a young age, Kristie acquired the art of sewing and would travel around the world with her family learning more about the industry and getting a taste for fashion. She quickly became a pillar of the Esposa bridal boutique, and in 2004 she set about roaming the world and earning herself various degrees in fashion, design, marketing and bridal dress consultancy.
Then, in 2011, she launched Esposacouture, a label that would put her name firmly out into the fashion world. By 2018 Esposacouture had spread to more than 15 countries, including Milano, New York and Tokyo.  She began designing signature wedding gowns that were romantic and sophisticated, each one carefully crafted to make every bride feel like royalty. Her gowns offer feminine flattery, and she often uses custom lace, typically adorned with beautiful beads and limited edition fabrics that will make any bride light up a room.
8. Dovita
Dovita was founded in 2009 by designer Victoria Ergun, who at the time, was a small bridal atelier. Since then, Dovita has been at the forefront of bridal fashion and has become known on an international scale.
The brand's headquarters are currently located in Istanbul. The entire production of her couture bridal gowns takes place in the 1000 m² production centre, under the careful watch of the company's 65 employees. However, Dovita Milano does have four flagship stores around the world, in Canada, Italy, Istanbul and Iraq. Plus, Ergun's designs can be found in more than 200 retailers in 72 countries.
As a couture bridal designer, Ergun is a trendsetter in the bridal industry. Her designs are elegant, modern and timeless. Each Dovita gown is handcrafted with love and passion, and Ergun believes that they aren't just making something for the bride to wear; each gown is magic itself.
Founded on original design and fine techniques, Dolvita wants to give brides true luxury on their big day. The brand focuses heavily on classic couture, impeccable tailoring and creating flawless gowns. Though the lines and shapes may be pristine and form-flattering, these dresses are dramatised using signature lace and beading to create truly iconic wedding dresses.
9. Nicolas Jebran
Nicolas Jebran is a famous Lebanese fashion designer for haute couture; he also has his own namesake line of accessories, shoes and bags (branded Jebran). It was his love for art as a child that opened the door to his fashion career, and then in 1999, he participated in a Lebanese reality TV competition called Studio El Fan, where he was in the fashion category. He came second and, in 2000, was able to open his own fashion house in Abu Dhabi. A year later, he launched his very first line.
Despite having a successful business already, Jebran continued to study the design of jewellery and accessories. This led to his second fashion house, which he opened in Beirut, Lebanon.
Jebran takes inspiration for his designs from nature and architecture, and he is fascinated by every tiny detail. This is perhaps why his couture bridal gowns feature feathers, flowers and other floral patterns. He typically favours heavily embellished gowns and billowing trains, using beautiful beads to create breathtakingly elegant designs.
Every gown he designs is very distinctive and ambitious, and he isn't afraid to be innovative. On more than one occasion, he has moved away from the classic white wedding dress in favour of mellow pink hues and colourful beads to accentuate this.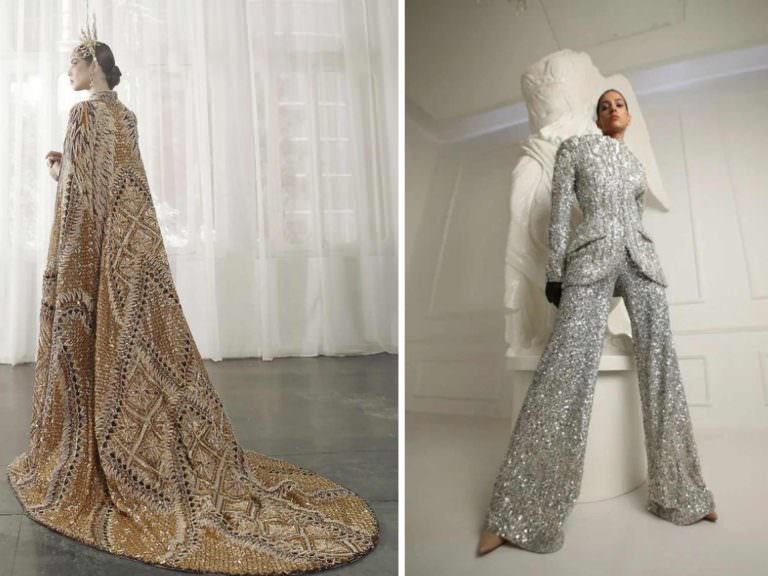 10. Aden Fashion
Aden Fashion was founded in 2006 by couture bridal designers Adnan Mhaidly, but his passion for fashion started at a much younger age. At just ten years old, he would find himself drawing dresses in his maths class. He was fascinated by fashion magazines and would even style his friends when they went out shopping together. However, he originally chose a career path in graphic design and decided to study this at university. He believed that the art of combining colours, shapes and designs through graphics was what helped to shape his career in fashion. It also gave him some handy marketing techniques that he applied to his own business.
His work experience started in advertising and photo shoots, but after he opened Aden Fashion in 2006, Mhaidly quickly built a name for himself in the Lebanese fashion industry. Adnan believes that elegance is a mindset, which is why he uses only the most impressive European fabrics and lace for his wedding gowns. He takes inspiration from everything around him, including nature, beauty and the elegance of others.
He wants his designs to make each woman stand out, and feel beautiful, which is why he has embraced exotic elegance to create line after line of breathtaking wedding dresses.
11. Creative Bridal fashion couture – Sara Mrad
Lebanese fashion designer Sara Mrad is undeniably unparalleled in style and bold, sheer creative genius. Her gown, whether you're looking for a haute couture intensely coloured gown, or a white wedding dress with droves of finesse that's a cut above the rest, you will adore what Sara Mrad is one of the Couture luxury bridal gown designers that has masses of style to offer.
An École Supérieure des Arts et Techniques de la Mode (ESMOD) graduate and the final one on our list of top couture bridal designers. After graduating with a degree in fashion design, she took on several internships and was invited to present her first collection by Dubai Fashion Week in 2011. Not long after this, Mrad was invited to work with Zuhair Murad as an Haute couture atelier. It was there that she developed her techniques and knowledge of the world of haute couture so that in 2013, she was able to open her own brand at her showroom in the heart of Beirut.
Mrad is recognised for the way her bridal gowns celebrate shapes and silhouettes and how they are a hallmark of elegance and femininity. She very carefully toes the line between sophistication and comfort, using only the best materials, soft drapes and breathtaking embroideries. Her aim is to showcase the personality of each bride she dresses, letting their natural beauty shine through.
Although she typically sticks to romantic silhouettes and classic couture, she puts a modern dreamy twist on every dress she designs.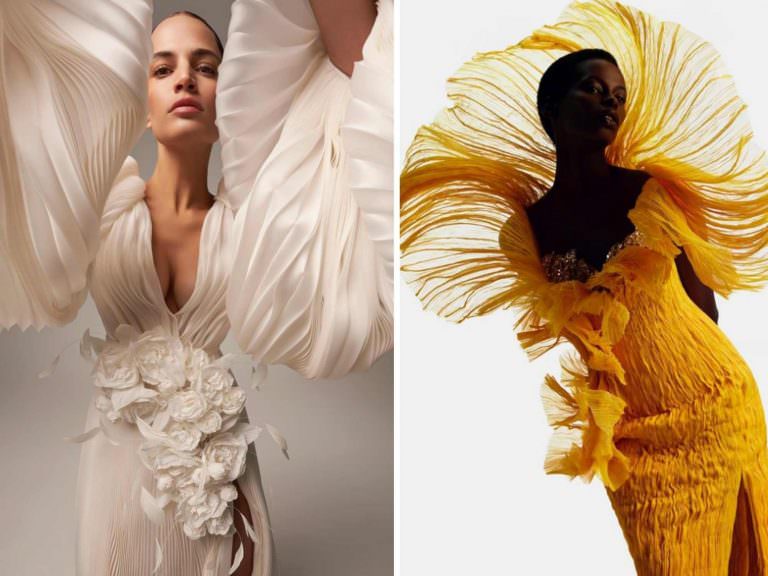 The below design from my couture collection is perfect for a creative colourful wedding of classy event.
12. Georges Chakra
Georges Chakra is an eclectic artist who, over the years, has defined the fashion world. But he came from very humble beginnings, starting his work in war-torn Beirut after graduating and moving back from Canada.
He set up a little studio in his living room where he would sketch designs and sew the garments himself. But in 2002, Chakra debuted his first collection at the Haute Couture Fashion Week in Paris. Then, in 2009 he launched his own ready-to-wear line, which he presented at the Mercedes Benz Fashion Week.
Chakra was always fascinated by the world around him, and he used this to inspire his designs. He wanted them to embody female confidence, sophistication and glamour. He also wanted them to be modern and feminine, so he often used his gowns to create fluid art through embroidery, prints and unique cuts.
Chakra has a signature style in which he combines elaborate and intricate back details on all of his wedding dresses. He pairs this perfectly with bold fabrics to create a sophisticated allure. Over the years, he has dressed famous celebrities like Blake Lively and recently has begun to explore the play on femininity and masculinity to create gowns that find a perfect
13.  Haute couture gown designer – Zuhair Murad
London stockists: The Wedding Club
Location: Yeomans Row, Knightsbridge
Nearest station: Knightsbridge
Zuhair Murad grew up in Baalbek, Lebanon and was always sketching pictures of dresses from as young as 10 years old. He opened his first atelier in 1997 and his success continued to grow from then on. In 2016 he opened his own store within Harrods, London, to showcase his designs. Zuhair's design skills and the subsequent gowns are part of something much bigger. The craftsmen that make his gowns used treasured skills that have been passed down from generation to generation, from his cultural heritage.
His gowns are a work of art and there is something so wonderfully elegant about his wedding dresses. If you want to purchase a design by Murad, you can visit The Wedding Club at Knightsbridge who stock his latest collection.
Check out his full website, here. You can also check him out on social media. Follow these links to find them on Instagram, Pinterest, Twitter and Facebook.
14. Steven Khalil
London stockists: The Wedding Club
Location: Yeomans Row, Knightsbridge
Nearest station: Knightsbridge
A specialist in his field, Australian born Steven Khalil is well recognised for his elegant wedding and red carpet gowns. Having studied fashion he found himself as Head Designer for a bridal house when he was just 22 years old. His success continued and in 2003 he was able to open his own fashion house in Sydney, Australia.
Khalil likes to mix classic elements of bygone eras with modern European couture. If you opt for a Khalil dress, you can choose your gown from his luxury wedding dresses collection and have it tailored to create something completely unique – the dress of your dreams! The designer uses only the finest satins, silks, wools and beads for his creations. This is because he wants only the best for his clients and loves working closely with them to create a masterpiece that they'll cherish forever.
Check out his full website, here. You can also check him out on social media. Follow these links to find them on Instagram, Pinterest, Twitter and Facebook.
15. Elie Saab
Flagship store: Bruton Street, Mayfair
Nearest station: Bond Street
Lebanese fashion designer and leading couturier, Elie Saab set up his bridal business in 1982 aged just 18 years old. He has been famous in the Middle East for a long time now, having been worn by royalty across the globe (including the Queen of Jordan, the Princess of Greece and the Princess of Sweden). So if you want to feel like royalty on your big day, you can't go wrong with a Saab gown.
His aesthetic is feminine and romantic and every gown he designs is intricate in detail, and often crystal encrusted. What makes Saab so unique is his perfect combination of Western and Eastern influence in all his designs.
Check out his full website, here. You can also check him out on social media. Follow these links to find them on Instagram, Pinterest, Twitter and Facebook.
Are you ready to find your dream dress?
As you can see there are a huge number of boutiques and beautiful couture luxury bridal gown designers out there to help you find luxury wedding gown. Choosing your wedding dress is arguably the biggest decision every bride will have to make about their special day, therefore you want it to be perfect. Don't settle for the first dress you find, shop around until you find your dream gown and a team of passionate consultants that will make your shopping experience truly memorable.
Take inspiration from the list of luxury wedding dress designers above. These cover a range of aesthetics, designers, materials, visions and budgets – so you're sure to find the right dress for you.
Final words from Crimson Letters
I hope you've found this article helpful and that it has started you on your journey to finding the perfect wedding gown. As with choosing your dress, I'm also aware of the importance of choosing the right wedding invitations to set the tone for your big day.
If you're looking for a wedding stationery designer that is passionate, will take all your ideas on board, and is able to produce impeccable artwork that you'll love, Crimson Letters can help. Get in touch with me today to find out how we can work together on producing stunning, bespoke wedding stationery suites for your special day.