Country Wedding Invitations – Luxury Heirloom Design
Breathtaking private country wedding invitations
When it comes to wedding venues, we are spoilt for choice. From hotels, mansions and lofts to barns, farms and vineyards, there are so many wonderful places you can say your vows and share your wedding day. However, a wedding in the country gives you a unique opportunity to wed in a tranquil and peaceful setting. Often, these venues allow for a much more intimate and private affair, giving your big day a more exclusive feel. This is something that every couple deserves when they say 'I do', and this is exactly what one of my recent clients chose to do.  As they were tying the knot in a beautiful private country location, they needed a country wedding invitations suite that would set the tone for the day, and I was excited to work with them on this. Together we settled on rustic wedding invitations, and I soon set about, taking their vision and design inspiration and set about, making their dreams a reality.
You can find out more about their customised wedding invitations and beautiful stationery suite below.
Choosing rustic wedding invitations 
Understanding that this was to be a rustic wedding invitation suite, I needed to gather a little more information about my clients to give my designs more direction. Often, the hardest part of creating wedding stationery suites is finding the starting point. The lovely couple shared their Pinterest board that was full of a plethora of various ideas. I narrowed these ideas down to a focus on a common thread.
Design inspiration for country wedding invitations with rich emerald greens
Luckily we uncovered two huge influencing factors that the clients wanted to be incorporated into their designs; these were Dante Gabriel and William Morris. This helped to inspire me further, and I was able to create a luxury country wedding stationery suite for them.
Settling on a colour scheme for these customised wedding invitations
These customised wedding invitations needed a unique and elegant colour scheme that complemented the venue and reflected the client's style. This is where their love for Dante Gabriel Rossetti came in.
I was able to create a strikingly beautiful private country wedding stationery suite by taking inspiration from some of Rosetti's paintings. The green and golden tones were taken from paintings such as The Daydream, The Beloved, Proserpine and more.
Not only this, but I chose to use darker green hues and golden baroque accents as this embodies the luxury of the day. I also chose the green ornate acanthus designs that I layered with an extra layer of artwork. This reflected and brought a feel of luxury, artful heirloom stationery that my clients wanted to achieve. With a colour scheme settled, it was time to move on to the next stage of the design process.
Influenced by iconic patterns
The next influencing factor was artist William Morris, another passion of my client's. His iconic patterns are instantly recognisable and can still be found all over the world today. His use of elegant swirls, vines, flowers and leaves on his woodblock-printed wallpaper designs was hugely important for this country wedding invitation suite.
I used these ornate curves throughout my own design and paired these with decadent gold baroque accents. The aim was to create a suite of rustic wedding invitations that not only reflected the countryside but also oozed grandeur and sophistication. Getting the balance was important for the overall look of the stationery suite.
Taking inspiration from the country location
So far, I've briefly touched on how nature has influenced these country wedding invitations, but let's dive into this a little more. I believe it is so important for any customised country wedding invitations to reflect the venue. This is because your 'save the date' cards and wedding invites will set the tone for your big day. Therefore, letting the location inspire the design gives guests an idea of what they can expect on the day.
In this case, I used the green and gold colour scheme and the use of leaves and vines to symbolise the wild nature of the countryside. This also contributes towards the rustic appeal of the artwork while still allowing the hand-painted invitation suite to be as elegant and unique as the venue.
What's included with these country wedding invitations
These customised wedding invitations were not the end of this couple's stationery suite. As part of the package, I also worked on some beautiful crest designs and monograms, as well as flawless hand-painted calligraphy throughout the suite. The menu cards followed the same design, and the suite was finished with delicate floral wraps.
I believe that every tiny detail matters, and a full stationery suite needs to be perfect down to even the smallest, finest detail. This is why I work so carefully on every aspect of my stationery suites.
Why choose custom wedding invitations
Custom-made hand-painted wedding stationery is a long process, but it is one that is totally worth every moment. I work closely with my clients, as I have done for this country wedding invitation suite, to find out what they are passionate about and what reflects them as a couple.
I pour my heart and soul into every piece of artwork because this is what every bride and groom deserves on their big day.
So, if you want something truly unique that no other couple will have, customised wedding invitations are a great place to start. As we work together on a custom design, you'll know that none of your friends or family will have ever seen this before and that it is unique to your wedding.
Not to mention these are wonderful keepsakes for both you and your guests; a token to remember such a beautiful, elegant day.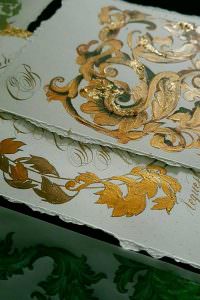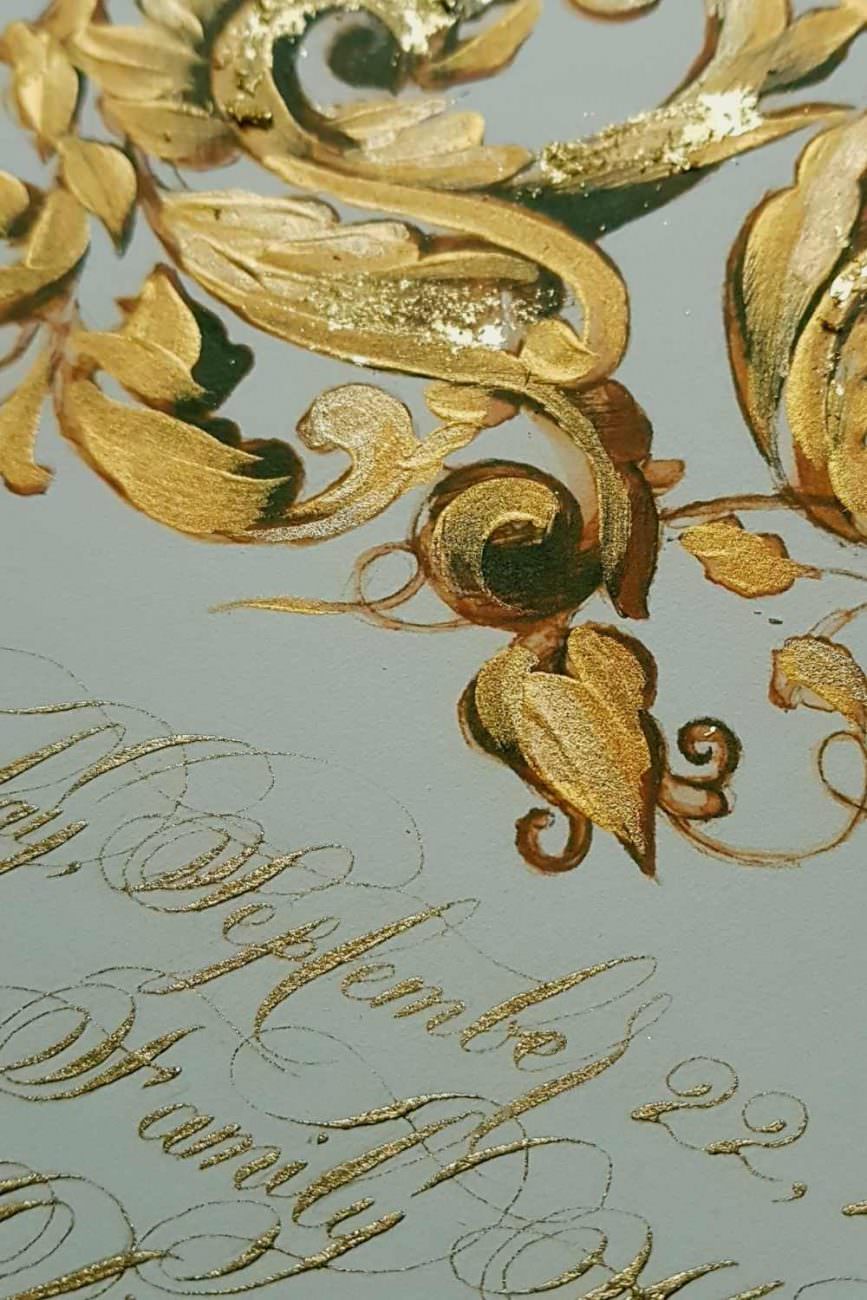 Video of the menus via Pinterest.
Are you looking for custom, hand-painted wedding stationery?
No matter where you're getting married, whether it's a location wedding, in the countryside or at one of the world's most famous hotels, you deserve a very special wedding invitation package. So, if you're currently planning your wedding and you can't find the perfect wedding invitations, that's probably because they don't exist yet.
Working together, we can get your vision out of your head and onto paper. So, if you'd like to know more about country wedding invitation suites like this one or for any other design, don't hesitate to get in touch.