5 Wedding Cake Designers (a look behind the scenes)
This article takes you behind the scenes with 5 wedding cake designers and follows on from my other large EPIC ARTICLE covering 30 of the SWANKIEST cake luxury wedding cake designers on instagram, have look at the article

here

.
Alongside this right at the bottom, I have also added some links to cake masterclass workshops.
So what sparked my interest to write an article about 5 wedding cake designers?
Being a hand painted wedding stationery designer myself, I know the immense amount of work that goes into envisioning a design and pushing a design from concept through its various stages until you actual create a final piece. with this knowledge in mind, I have always been curious about not only he journey that other wedding vendors have been on, but what their jobs also entail and all those behind the scenes aspects that we don't often get to see or understand.
I have always wanted to explore and learn more, particularly, with the 5 wedding cake designers that I am interviewing, what inspired them to do what they do? What they love most about their job?
What are some of the toughest times they have had to overcome?
So join me below as we take a close look into the world of fondant, cake sponge, sugar flowers and endless tiers as we get up close and personal with some short and long interviews from 5 wedding cake designers:
Sally Brant from SWT Creation
Alex Narramore from Mischief Maker
Mel Bowers from Melcakes
Maria Hargreaves from Maria Dobson Cake Design
Sona Karapetyan from liMa Cakes
No. 1)  To start our interviews for this 5 wedding cake designers article, we chat with the lovely Sally, based in Northampton just outside London ( U.K) from

SWT Creation

.
Have a look at Sally's instagram here.
What inspired you to become a cake designer?
I have always worked in the pastry world and built myself up to being a head pastry chef. I had travelled with my career to produce and make my own desserts and make my own menu's as well as being able to create different flavours and make cakes look pretty on plates as well as taste good too.
I knew I wanted to take it further and step away from working for someone. I had some time out and I was baking a lot at home and creating new idea's and recipes. On my last trip to Paris I met with a old friend who made cakes and he showed me how to stack and make a simple wedding cake.
All the techniques and all the work that he showed me made me want to put all my idea's to being a wedding cake maker. I love how you can create beautiful cakes for everyone, each one being so different in style colour which make them look like art.
What do you enjoy most ?
Creating cakes for wonderful couples, cakes has taken over my life (laugh). It's such a big part of my life, I wouldn't change it for the world.  Creating something everyday that I love doing is a dream!
Also I play three saxophones, Soprano, Tenor, Alto, as well as the piano and flute! I play them most days to have some me time to enjoy and relax with them and travelling when I can with my family is something else I enjoy. Also to see as much of the world as I can,  I am lucky enough to have travelled a lot.
What was the most challenging project you have worked on so far ?
The most challenging project I would say would have to have been a 3D edible Budha with 3D elephants and all gold intricate work on a large two tier base. I was so proud of it but the work that went into it was crazy! I think I didn't sleep for two days because the Budha had to be the same as what was in the picture and it was made out of plastic chocolate, modelling chocolate and the elephants where made out of modelling paste.
I had never done elephants or a Budha before so it was all new to me and was in away very daunting as well.
Yet I was excited as well as nervous and it pushed me and made me realise I could do anything if I push myself and try new things which I would never think of making. All the little details had to be exact, it was one of my first ever cakes that went out to a celebrity and she never thought I would do it 3D and was so surprised when she came through and saw it!
Seeing people's reaction just makes all the hard work worth it.
What sort of fillings do you offer?
SWT Creation offers a really wide selection of fillings due to my background in patissiere from wild berry, compote with a white chocolate, pistachio filling to a swiss chocolate truffle cream with praline and amerrato cherrys. All these fillings come with great tasting cakes and we cater for egg-free cakes as well as dairy free and cater for vegans too. If you head over to my website all my flavours are on there for you to have a look at the variety that we do.
How far a head do your clients need to book?
For wedding cakes, you would need to book depending on spaces but normally 6 months a head and with birthday cakes or cupcakes, whereas celebration cakes I like to book in a shorter timeframe with 1-2 weeks notice.
What are your favourite ingredients to work with?
I love working so many ingredients.
I love working especially with fresh produce such as, apples, raspberries, strawberries and blackberries to make my own jams and compotes!!! Chocolate I do love working with especially to create some marble, or even tempering chocolate in my spare time as well. Amongst my favourites which I absolutely love are cherries, lemons and passion fruit for making curd with.
What is the greatest challenge that you have managed to overcome and what do you do say to yourself to get though tough times?
Greatest challenge has to be loosing my mum and my brother. That rocked my world and you never think that you will get over something like that but the cakes to me has helped me so much. I know that my mum and brother would not want to see me give up my dreams and would want me to carry on keep creating and pushing myself further to create beautiful cakes.
To get though the tough times I have had the support of an amazing family and a good network of friends who are my rocks. Without them I think it would be hard. My three children who are so incredible they lift me up and they always make me laugh and my fantastic partner Michael who has been on my cake journey from the start.
Sally has been listed as one of my top cake designer and is included in this article here. Go and take a look to see more of her work.
No.2)  For our next 5 wedding cake designers we go and chat to Alex Narramore, based in Kentucky,(U.S.A) from

Mischief Maker

.
For her instagram visit here.
What inspired you to become a cake designer?
The want and need to create art and apply it to a job in a useful way that brings people joy.
What do you enjoy most?
The design struggles and triumphs. Meeting and learning from such a diverse array of clients. Seeing the way various clients think highly influences their final cake designs, as each is retired after the event of that specific client.
What is the most challenging project you have worked on so far?
I couldn't say! Since each design is retired after each cake, there is very little comfort established with my work. Each cake is a new cake with new challenges!
What should brides know or research before they come and meet you?
They can research as much or as little as they wish. I like working with them even before major details have been established. Oftentimes, by working with me on making a fully rounded out colour palette for the cake design and also sugar flower choices that are filled with life and texture etc.
The cake often influences the entire event in a positive way. I love speaking with and working with any bride that likes an extra ear or a second opinion!
Things they should know for certain are their final guest count and their budget! It's good for a bride to become familiar with colours and design aesthetics that they're naturally drawn to, at least at a base level.
Even a very minimal start is helpful. However, we work through such things together to refine the vision into a solid design, regardless of how much prep has taken place on the client's end.
As one of the 5 wedding cake designers, what is the timeline for creating a cake and how long does the process take from beginning to end?
That's hard to quantify! Often months, if you count the time it takes to design the cake and become familiar with the client's aesthetic choices and personality. I find this to be very important.
Then you have the numerous weeks and hours that are included in the work time and execution of the cake itself.
I maintain a very high level of detail on my cakes by keeping the calendar small and exclusive. For one wedding cake, sugar flowers may take a full week of two people working full on, nonstop 12-18 hour days of work.
18 hour days are very common during wedding season. This is often how we prefer to work, as opposed to spacing out the sugar flower making in advance.
Commonly, there are last minute changes to the bride's bouquet, as fresh flowers aren't ordered for weddings until two weeks before. By waiting to complete the sugar flowers until closer to the event, they look their best, and we can accommodate small tweaks and last minute design alterations that make the cakes blend with the event perfectly.
Your average working person may work 40 hours a week.
So, in comparison, we will complete 90 hours of work over a typical five day span, 18 hour a day work week, and that's only for one of us.
When both my time and my mother's time are factored in, we easily spend 180 hours in five days, making sugar flowers for one wedding cake, and we often work 6 to 7 days on sugar flowers for one order; so, our workload is usually closer to 168-252 hours on the sugar flowers alone for one cake.
Then, there is a week dedicated almost solely to finishing up last minute sugar flower details, making of macarons or other desserts, preparing to bake the cake, assembly, other design elements etc.
This, again, doesn't include the hours of pre-planning, consulting, concept development, design work, and sketching. In order to maintain the freshest cake possible, the cakes are baked on a 2-day to 3-day timeline before the event, while still arriving on time at the venue for sugar flower assembly.
If you could create any type of cake, the cake of your dreams, or be hired for a dream job, what would that dream job be?
Every cake is a dream job and opportunity! I love connecting with my clients. Seeing their heart and vision come to life through a cake design is dream enough!
How many cakes can you design in a year?
I'm sure as many as we were able to fit in the schedule for that given year!
What are your favourite ingredients to work with?
The best vanilla beans, homemade vanilla extract and generally quality ingredients all around. I also love working with traditionally southern ingredients and hope to do a few cake flavours dealing more with specifically the Kentucky Appalachian region of ingredients/cooking history, as that's where I'm from.
What sorts of fillings do you offer for your cakes?
That's a complicated question! I have a wonderful signature cake that I make and I also offer custom flavour profiles to my clients.
The inside is as important as the outside, after all! We've become known for catering to foodies and the majority of our clientele come to us, because they are in the search of something delicious.
For starters, all of our cakes are complex, clients need not be fooled by deceptively humble titles or signature flavours. White Buttermilk Cake is a signature flavour for a reason, and it has become beloved by foodies, due to its interesting complexity. My custom flavour creation begins with hearing what clients like!
Generally, there are flavours people gravitate towards.
I may ask them,
"Do you really love peanut butter?
Matcha green tea?
Do you love pistachios?
What ice cream do you like?
What craft beer?
What kind of cocktails?
Does your cultural heritage or region have certain flavours they love in their dessert pairings?"
There is no need to censor what they say and both high brow and low brow loves are taken into consideration. See an image example and description from two of my wedding cake tastings with custom flavours here and here.
Based on the list I'm given, I might even pick up a few other hints for possible pairings.
A listing of flavours can look something like this,
"My groom loves tropical flavours and I love raspberry, what suggestions can you make?"
"I love coffee and dark chocolate"
"I love matcha green tea, and we recently visited Hawaii where my groom fell in love with liliko", or,
"He likes pies better than cake, From a list, I can see which flavours may compliment one another.
So, I'm happy to have random lists sent my way. I will bounce some possibilities around, and once my clients and I decide on flavours, I will bring the flavour to them at their cake tasting or in their final cake.
How far ahead do potential clients need to book you?
6 months can sometimes work, but a year or more is preferred to ensure the dates are not taken. On a few occasions, last minute orders for elopements etc. have been accepted, so it's always good to ask no matter what!
Do you create custom designs according to what the client wants, or must the client select a design from your portfolio?
I create custom designs for each of my clients.
I don't believe in selecting from a portfolio!
The cakes are made for one client and one client only, then the design is retired forever. Never to be made again. Each and every client is unique, and their cakes belong only to them.
I even find that if you speak to clients long enough, you could have two people that on the surface seem as if they are going for the same aesthetic, but if you dig deep enough there will be small nuances and preferences that make the designs just as unique as the person the final cakes go to.
On my end, this also keeps things moving forward from a design perspective and never backwards.
Do you provide cake stands to rent with the cake?
Yes. I always provide the cake stand that I feel appropriately compliments the cake design and offers the utmost stability.
For more of Alex's work and to see some of her most exquisite cakes, visit here, where she has been listed as one of the most swankiest cake designers.
No. 3)  Following on for one of the next 5 wedding cake designers we have a short interview with Mel Bowers, based in Switzerland, from

Melcakes.
Visit Mel's Instagram here.
What inspired you to become a cake designer?
As a teenager I was baking very often and took pictures of what I had baked. Eventually I went on to win photography prize and this drove me to built not only better cakes but especially beautiful cakes.
What do you enjoy most?
That there are no rules to build a cake.
What is the most challenging project you have worked on so far?
The most challenging project was a huge quantity of cupcakes for the FIFA, that was a huge logistical challenge.
What should brides know or research before they come and meet you?
It would be helpful is brides knew my pricing and if there is availability before we meet.
If you could create any type of cake, the cake of your dreams, or be hired for a dream job, what would that dream job be?
I have my dream job already creating cakes, alongside this I am now writing my book and creating whatever I want and inspiring others through my classes and workshops.
How many cakes can you design in a year?
Due to my busy schedule I only create a limited number of cakes during the year, next to my existing clients, I am fully booked til end 2018!
What are your favourite ingredients to work with?
I love herbs. To create new recipes with unusual combinations makes my job just wonderful, there are no limits to create, with ingredients or the manipulation of sugar paste.
What sorts of fillings do you offer for your cakes?
I always work with my basic fillings, no fancy fillings, just natural ingredients and herbs and chocolate and Swiss meringue butter creme are a must.
Do you create custom designs according to what the client wants, or must the client select a design from your portfolio?
Client is king, they always lead the way and we work from their ideas and we always come together to a design.
She regularly runs classes and workshops where you can learn these incredible skills to create your own masterpieces too.
No. 4)  Continuing on for one of the next 5 wedding cake designers, we chat with Maria Dobson-Hargreaves, based in and covering all of Lancashire (U.K) from Maria Dobson Cake Design.
You can find Maria's Instagram here.
What inspired you to become a cake designer?
My inspiration for design stems from designing and making jewellery.
Choosing a subject such as art, pottery, architecture, fashion or nature…..sometimes I can sketch for a few days or even weeks on one particular design, until it has been resolved. I always have a sketchbook with me, inspiration can be born from the oddest sources.
I trained in confectionery upon leaving school and made my first wedding cake at the age of 16. I then took a huge interest in jewellery making, manipulating and soldering metal was fascinating to me. I continued with this and studied HNC in 3D design and became a qualified silversmith.
I eventually went on to design and make jewellery for various galleries which eventually then led me back to making and designing cakes.
What do you enjoy most?
I really enjoy meeting couples for the first time and discussing their ideas for their wedding cake. I always have a few sheets of blank paper ready to start the design process, sometimes I need to go along with client ideas more than my own and other times they completely trust me to create something for their wedding, but I always draw a couple of sketches following our first meeting.
Any tips for choosing a cake designer?
I think when a couple are looking for a cake designer to make their cake they should look on the internet and choose someone whose cakes they like the look of, all designers have their own unique style!
I have been asked to make cakes in the past which really are not my style at all! Nevertheless, some couples insist they still want me to make their cake. It is sometimes the case that they can relate to you as a person rather than liking a particular design, so I can be flexible and work with them to achieve what it is they want from their cake.
My aim is to make a cake of their dreams, rather than encouraging they follow my own style because this will probably be the most important day of their lives.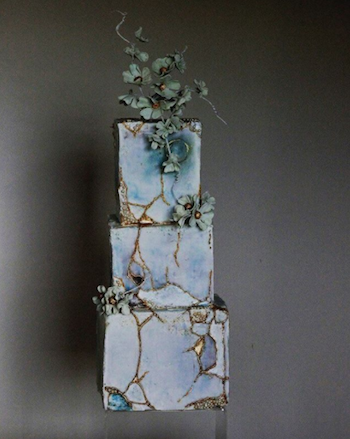 When should a couple think about reaching out and making contact, or consider booking you?
I usually only book in one wedding cake per week, that way I can give the cake the time it deserves. I make the flowers and decorations in advance, so that helps me with my timing.
If you could create any type of cake, the cake of your dreams, or be hired for a dream job, what would that dream job be?
To make the cake of my dreams it would possibly be a woodland theme in 3D which tells a story.
What is the greatest challenge that you have managed to overcome and what do you do say to yourself to get though tough times?
If I am having a bad day, I just remind myself of how lucky I am to be doing the job I love and their will always be something to learn from a stressful day! A positive always comes from a negative.
How far ahead do they need to book you?
At present some months are already booked for 2018 and I am taking orders for 2019 and a few enquiries for 2020. For any new enquiries I usually ask for the booked wedding date, if it's still available I will invite the couple for a cake taste testing and a consultation.
It is only after meeting a couple that I can secure the date thereafter with a deposit; so it really does depend on the availability rather than the time scale for the booking process.
What are your favourite ingredients to work with?
I am experimenting at present with wafer paper, I love texture! So I have tried stretching it before and using it on a cake to create some sort of movement.
I used this method for a recent cake which I named Moody Autumn (below). I also love the range of metallic edible lustre dusts there are on the market, they add a bit of luxury to any cake.
I tend to stick to more conventional flavours at any cake tasting weekends.
I usually have a choice of around six flavours to sample (sticky toffee with a homemade caramel sauce has been a firm favourite). Yet I will be introducing pink champagne and coconut with passion fruit for 2018.
Do you provide cake stands to rent with the cake and what about pricing?
I do have various cake stands which can be hired out to show the cake off to its best potential. Some venues have very tired looking, outdated stands so I usually offer one of my own for use if needed. The prices for my cakes vary dependant on the time involved with the decoration, sugar flowers for example are very time consuming.
No. 5) To wrap up this 5 wedding cake designers article we have a quick chat with, Sona Karapetyan from

 liMa Cakes

, based in Canada.
Visit liMa's Instagram here to keep up with her workshops and see if you can catch her Paris workshop!
How did you happen to start this business, what inspired you to start and how many years have you been designing cakes for?
I have been working on cake art now for about two years.
Previously I worked as a graphic designer, so I do have a rich design background but after starting a family and having my two beautiful girls I really wanted to just experiment and try something completely new.
I have for a long time been drawn to hand made things and have always enjoyed the process of creation and decorating pretty much whatever I could get my hands on!
So I decided to jump into cake art and now, two years into the game I cannot imagine doing anything else!
What is your favourite design so far?
I actually don't have a favourite design.
Surprisingly the way that I am, whatever I create at the moment, or the project that I am working on within the moment becomes my favourite one. I don't really have a dream project that I aspire to work on but I do feel so blessed with the clients that I do have.
Blessed that they trust in me and give me that full creative freedom that gives us creatives full reign to create something magical.
Sometimes I might have some designs in mind that I really do want to do, so I hide it in one part of my memory and patiently wait for the right client to come along so that I can use that design. And they always come!
What sorts of flavours and icings do you offer?
Oh yes I do offer different flavours and icings and like to experiment with flavours all the time. My favourite one at the moment is lemon black current.
I do offer a sweet table that the couple can opt for and I also do try to make different dessert tables, something that is tasty and beautiful and featuring items that people are not familiar with or used to seeing.
What does a potential bride need to know before she meets or hires you and how much time does it take to make a cake?
Usually I ask my brides and grooms to send me all the details about their wedding decor and arrangements before coming to the consultation.
That way I know what they expect and can gather all the information and try to get inspired and make some sketches for them. During our consultation, I will guide them and often I help them choose the designs or if they prefer the different details from other sketches I combine them on the spot and sketch something completely new and custom.
Some artists like to make sketches on the spot, but I like to brainstorm a little. Sometimes visions and ideas can come a little late, I don't like rushing them.
How long does a cake normally take to make from start to finish?
Usually my cakes take around a week to create and bring together. The sugar flowers are very time consuming and all totally made by hand. I don't really like to repeat the same ones or to reuse them. Instead I like to make new ones which match with the design.
If you would like to learn from an expert, liMa regularly plans workshops where you can learn essential techniques needed to create these unique cakes and well as the decorating skills needed as well.
Visit Lima's Instagram here to keep up with her workshops.
Cake Baking Workshops
U.K:
If you are based in the U.K and would like some top cake baking classes that cover a wedding cake course, sugar flowers and baking fundamentals then Rosalind Miller is your place to go, here.
SCOTLAND:
If you are based in Scotland Suzanne Esper has been crating her own cake art for 7 years and offers her own unique cake masterclasses, covering al sorts of areas such as vintage cupcake classes and even two day classes with watercolour wedding cakes and ruffles, lustre and stencil cakes! She even offers gift vouchers, perfect if you are stuck for the proverbial gift! Visit her classes here.
U.S.A:
If you're based across the pond then you won't want to miss out on Maggie Austin's workshops. Her workshops run regularly at set months throughout the year and she covers specialist areas such as wafer paper, new unique sugar flowers such as Dahlias, Ranunculus and Ivy as well as advanced techniques of the statement Peony and the David Austin Rose and Hydrangea sugar flowers! Visit this link for more information, here.
Are you thinking about what you might need to start your own cake making business? Make sure you have something unique, it could be your style, your flavours, the colours or textures that you use or even the themes that you use to create your cakes. If you are not different, how will you stand out from the crowd?
If you need some more cake inspiration, visit this article here, where I have made a special effort to find all of the best, most creative and artistically inspiring cake artists I could get my hands on and put them all into one large article for you to see.
For more articles have a look here. If you can't find what you're looking for, let me know what you would like to see more of!!!
I hope you enjoyed chatting and learning more about the world of cake designers.  Why not send out bespoke wedding invites to create a truly special and luxurious vibe?  Perhaps you have a rather special destination wedding? Crimson Letters is a beautiful website that specialises in hand painted wedding stationery. Head there now to choose a design package suitable for you > www.crimsonletters.com