20 Luxury Wedding Venues In Italy (Sophisticated Updated List)
20 Luxury Wedding Venues in Italy
Are you looking for unique but super chic places to get married in Italy? I have you covered in this helpful comprehensive penultimate guide of 20 Luxury Wedding Venues in Italy. Exactly which luxury wedding venues are the best in Italy? You will find a wide range of wedding venues below, including venues from Tuscany, Puglia, Sorrento, Venice, Lake Como, The Amalfi Coast. I cover, Palazzo Gori Pannilini, Masseria Salamina, Castello Di Vincigliata, Therasia Resort, Hotel Denieli, Ca Sagredo, Grand Hotel Cocumella, Villa Astor, Villa Cipressi, Villa Balbiano, Villa del Balbianello, Villa Pazzi, Castello Bracciano, Hotel Bellagio, Grand Hotel Tremezzo, Villa D'Este, CastaDiva Resort.
I'm Rubana Gaspar, the designer and illustrator behind Crimson Letters, luxury wedding invitations. I would love to take you on a journey. Let's discover the hidden gems of Italy together and also have a look at the best wedding invitations for that wedding venue.
If you're looking for some stunning wedding invitations to go along with an Italian destination wedding, reach out and contact me. I would love to hear from you rubana@crimsonletters.com so please do get in touch.
Looking for  wedding destinations in Italy or are you just a sheer romantic when it comes to views over looking nature?
Think Tuscany. Oh yes! One of our 20 Luxury Wedding Venues in Italy has to be Tuscany! It is known for it's gorgeous vineyards and medieval towns. Because of all it's historical nature, it is an amazing town filled with a lot of medieval elements and castles. This feature alone makes this the perfect place for anyone to pick Italy for their destination wedding. Tuscany is one of the richest parts of Italy as it is known for it's wealth, art and architecture as well as its rolling green, grassy hills.
Do you need to find activities and plan what to do while you're there? View this link for a huge list of interesting things to do, to suit all types of tastes. With so many small wedding venues in Italy, let's look at which location should you pick out in Tuscany? How about somewhere over the Chianti Hills of Tuscany? Wedding ceremonies and receptions that take place in the Chianti hills of Tuscany are completely gorgeous and it is reason enough to book it for your chic wedding in Italy.
1. Palazzo Gori Pannilini
Below, I have picked a 5 star luxury hotel in the Palazzo Gori Pannilini. It's an outstanding ostentatious beauty, the interiors are perfect for the ultimate luxury Italian wedding as the entire building oozes historical excellence, charm and delivers superior experiences every time you turn a corner.
It is ideal for a small luxury destination wedding with a capacity up to 100
With 51 rooms and suites for overnight visitors
Shuttle service to the airport
80km from Florence, making it perfectly situated for day trips
2. Masseria Salamina
Next we travel to Puglia for Luxury Wedding  Venues in Italy.  Let's dive right into the Masseria Salamina for our wedding venue. This quaint yet romantic fairytale castle is to die for. If you are planning a small intimate wedding with around 20 – 30 guests than this is the perfect little wedding venue for you as it hold many indoor and wonderful outdoor spaces for your guests to dine and party, surrounded by historical castle walls, or within the tropical gardens. The Masseria Salamina is located a few kilometres from gorgeous beaches and its olive trees make it the perfect location to host your next wedding. Want to be able to taste Puglia cuisine? Then you have come to the perfect place as this area makes amazing food that will have your mouth watering.
Need a list of things to do while out there? Visit here and hit the translate to English button!
3. Castle Castello Di Vincigliata
Castle Castello Di Vincigliata is above. This popular venue caters to small and intimate weddings. When in Italy I'm sure you know just how amazing the food is. The food at this venue lives up to its name and provides one the best of dishes known in Italy. The venue is literally a castle and we know that Italy is full of castles. The venue has the ability to host the event out doors which allows you to enjoy the beautiful Italian skies, rain free of course.
With Florence being a mere 25 minutes drive you will want to make sure that you take time out and visit!
 4. Therasia Resort
As we promised, Italy is the ideal place for you to host your luxury wedding reception with all its amazing views, great landscapes and again- more AMAZING food. So book your wedding right now! Our next love affair is in Sicily and if you are looking for more of a modern experience, look no further – the venue is the incredible Therasia Resort. It is located on its very own island, surrounded by volcanoes and sparkling green and blue coloured sea, this place is a hidden paradise. Why is the perfect place to host a wedding? Your guests will love its jaw dropping scenic view and look out into the distance and at those rolling hills and just sigh. Picture the sun rising from over the Mediterranean and setting back down behind a landscape of mountains, unforgettable skies bursting with colourful clouds. To top it all off you get to spoil yourself with the height of modern glamour? What more can you ask for? To find out more, visit here.
The city of Venice is extremely famous for its Luxury Wedding Venues in Italy with sumptuous hotels and private renaissance palaces which most couples are able to rent and use as private wedding venues.
Who hasn't dreamt of riding the gondola along the Grand Canal?

Remember that the city of Venice was built on water.

What better way to wow your wedding guest than in this beautiful city?
 5. Hotel Denieli
Have you ever wanted to explore Venice as one of your 20 Luxury Wedding Venues in Italy? This renowned city is a marvel and if you chose this luxurious destination for your wedding you need to be fully prepared with a checklist of all the places to see, visit here to make sure you are not missing out! This type of a destination wedding certainly needs to be enjoyed over a wedding weekend. Why not stay in the a hotel with extraordinary, world class rich, elaborate interiors that really offers an entirely unique experience for your guests. Nothing but the best is what you are looking for, and this hotel even has its own private water entrance and an extraordinary lobby that trumps or at least rivals the glorious Downton Abbey! This time we take you to the Hotel Denieli located in Venice. Remember that Venice is extremely popular for weddings so we suggest booking way in advance. The banquet halls are full of decadent colours and sumptuous antique interiors (below), there are a number of areas to choose from. This area below has a maximum capacity of 160.
Hotel Denieli is such an opulently furnished Italian mansion, that it deserves an equally regal wedding stationery suite from Crimson Letters. Hand Painted Wedding Invitations, inspired elegant leaf prints exquisitely teamed with brooding blacks, sumptuous purples and rich greens make the

Baroque Splendour

collection the ultimate indulgence. Enhanced further with flashes of regal gold, this collection is the perfect choice for your sumptuous luxury Italian wedding venue.
Here is a list of more Luxury wedding venues in Venice:
 6. Ca Sagredo
If nothing short of a royal palace floating on the canal and the air of the aristocratic-royalty is a must for you, then this breathtaking Luxury Italian wedding venue ticks all the boxes. Nothing comes close to the sheer magnificence and drama this venue commands. The Ca Sagredo Palace is a spectacular testament to time, boasting some impressive works of art with Venetian painters fro the 17th and 18th century, from large handing tapestries, elaborate architecture, tall vaulted ceilings, statues, well…..really this should be a museum!
Many rooms have a view of the grand canal outside.
Banquet facilities up to 150.
42 spacious rooms and suites that are decorated fit for a king and queen!
Open throughout the year

For our 20 Luxury wedding venues in Italy I have picked some more top locations:
 11. Grand Hotel Cocumella
Next we travel to Sorrento!
This beautiful city has the most amazing views of the Bay of Naples. Want a chance to explore the beautiful Amalfi Coast? Then Sorrento is exactly where you need to be. Your guests will absolutely love it and have the ability to visit the ancient towns of Pompeii and Herculaneum. Time will seem to stand still and you can throw away your worries and soak in the romance lavish floral displays. the walls that hold this grand hotel once where a Roma Villa, dating back 1,500 years ago before it was turned into a hotel. A renovators dream! Stay below at the 5 star Grand Hotel of Cocumella. A refuge over time for a collection of artists, men of science and noblemen, this hotel is steeped in rich history.
One of the first to have a Robata Grill with a Japanese chef, so you can enjoy oriental dishes for some variation!
For the price of 2000 Euros you can hire a boat and sail around the Bay of Naples with lunch provided, what could be better then that!
Banquet capacity 250, as well as outdoor dining capabilities.
48 suites, with a sleeping capacity of up to 100.
12. Villa Astor
The Amalfi coast has quite a powerful pull and a charm all of its own. The highly acclaimed, Villa Astor is positively mesmerising and has been meticulously restored to a highly luxurious wedding venue, fir for royalty and celebrities such as Sophia Loren and often enjoying press in many leading lifestyle publications such as the Telegraph, Forbes, Bloomberg and Town and Country. Dating back to the 1st century A.D Villa Astor is brimming with rich culture and history. Its interiors are truly magnificent and bask in the glow and rich, moody marble tones, fine art, antiques and a collection of deep coloured decadent decorated rooms and suites. Overlooking the Bay of Naples this venue has the best of both world, interior delights and exterior sea views. A perfect luxury destination location for a luxury wedding weekend.
13. Villa Cipressi
For our next pick for the 20 Luxury Wedding Venues in Italy we venture to Lake Como.
Lake Como is such a hidden oasis that we have picked more than one Luxury Italian wedding destination. Located in the northern part of Italy's Lombardy Region, this area is positively blooming with beauty, known for it's up scale resorts, stunning scenery located near the Alps. They are so many amazing resorts to choose from in the area and our first absolute favourite is the Villa Cipressi. The Villa Cipressi is known for the amazing view of the renowned Lake Como that is often used as a discerning destination for Luxury Wedding Venues in Italy.  It boasts a secluded terrace which is perfect for an intimate ceremony, especially useful for outdoor intimate events or post- Covid facilities. You have the choice of having an indoor or outdoor reception which is fantastic. The outdoor area is actually on the terrace which over looks the lake and it is covered under a pergola. What makes this villa stand out to us is the beautiful botanical gardens that spread out all around the villa. Outdoor gardens are positively brimming with lilac coloured florals, tropical plants and many ancient trees which overlook a beautiful area of the lake. The perfect venue for a photographer.
14. Villa Balbiano
Boastingly one of the most lavishly decorated and high-end, luxury venues is Villa Balbiano. Also located on the western part of Lake Como, this wedding venue is perfect for a destination wedding, when you want to make a statement. Situated right on Lake Como, it's a wonderful destination for private boast rides with its own private pier. With a private on site chef, a private swimming pool and
 15. Villa del Balbianello
Continuing our Lake Como picks, Villa del Balbianello. This Luxury Italian wedding venue seems to be something from a fairytale. How did the producers of Game of Thrones not know about this hidden floating paradise? It is the perfect large scale impeccable Italian wedding villa venue if your looking for the perfect hideaway venue, away from  prying eyes, private yet utterly swoon-worthy.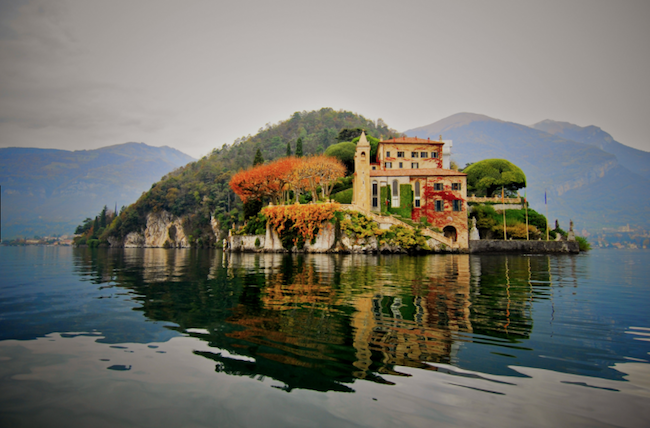 16. Villa Pazzi Al Parugiano
Villa Pazzi is a hidden gem, tucked away in the heart of the Tuscan region and located very close to Florence which is a double advantage when planning a wedding weekend. There will be lots of activities and sightseeing for your guests to enjoy. Villa Pazzi has an incredibly rich history, with elaborated hand painted frescos and a chapel that dates back to 1566. This is hidden mini paradise that is an extremely elegant venue.
I recently spoke with this venue owner, Azzura,
"We are a new venue on the market and we started this year after many renovations! We have 5 rooms for accomodations and they are all fresco painted in XVII Century.  Outside we have the ark and the Italian garden. They are very large, with ancient terra and 60 lemon tress. Inside we have the lemon house, the altana and the ballroom that can accommodate 230 guests who can all be comfortably seated in the same room.  If you ever need a plan B we have more than enough spaces and areas to help. We also have some rather special cellar areas that are full of wooden barrels. The cellars act as a very unique area and we have had some couples that have had a dinner there before the wedding. We also produce wine and oil! We are 25 minutes by car from Florence airport ( around 20 km). "
17. Castello Bracciano
If villa's don't quite do it for you and you're looking for something that creates a much greater statement, then how about considering a large castle for a wedding venue? Castello Bracciano is a rather large, impressive fortification and stands as a breathtaking wedding venue. Dating back to the 15th century this incredible castle is steeped with interiors and facades that magically transport back to a bygone era of rich lavish papal living.
More from Lake Como for our 20 Luxury Wedding Venues we have a list of these hotels:
Do you need assistance in planning your luxury destination wedding? Visit these links for the best in the industry:
Sarah Haywood, is a sought after luxury wedding planning expert. She plans wedding around the world for small affairs to grand state of the art events. Elisa Mocci Events is also another luxury wedding planner.
Here is a list of other wedding planners in Italy:
Visit here and read about another couple who married in Italy and the process involved.
Are you looking for a wedding stationer with lots of exciting ideas? Here at Crimson Letters I am constantly craving inspiration to fuel my imagination and my artwork. I love being creative and using delicate, intricate designs to create beautiful wedding stationery. New countries, cultures and historical places are where I find my inspiration – and I'd love to hear your ideas too! Working closely with my couples I'm able to create unique and luxury handmade wedding invitations suites, crafted with love and care. So get in touch today and we can begin discussing your vision.
You simply must visit our portfolio and indulge yourself in your very own, custom designed hand painted stationery.
We took you on a tour around Italy to pick out your favourite chic destination wedding location. Which of these venues would you choose? Did we forget your favourite location? Please leave a comment and tell me what your favourite Luxury Wedding Venue in Italy or anywhere else is?
Happy Planning.
Here are some other articles that may interest you:
Visit my shop to immerse yourself in my artwork.
Perhaps you might like some wedding wording suggestions? Read this article.
Take a look at this article for a look behind the scenes at how I create bespoke wedding stationery and the process involved.
Searching for some French inspiration? Look here at how I designed a custom wedding suite for a client with an intimate destination wedding in Paris, in The Loire Valley.