15 Designer Wedding Invitations (Hand Painted)
Why Designer Wedding Invitations?
Ever thought about why you should go for the very best Designer Wedding Invitations? Is there any day that is as special as your wedding day or any other stationery that will be as important as your designer wedding stationery? I'm sure the answer to this question will be a resounding NO. Many couples and indeed even members of your family plan meticulously with a collection of Pinterest boards in anticipation of the big day. The sheer joy and memories created on this day will be something that you will look back on for many years to come. To compliment your special day, we will be looking at 15 Designer wedding invitations.
Together in this article we will go through:
What it means to have the best designer wedding invitations
The process behind their creation
Answers to questions
Interview with the designer herself Rubana, that's me!
My favourite top 15 designer wedding invitations
If you are in a rush, scroll down to see a review of my top 15 Designer Wedding Invitations.
What are Designer Wedding Invitations all about?
It is understandable that you would like to go all the way to make this day as special as you want it to be and one way to ensure that your wedding stands out head and heels above all the rest and scream utter luxury, is by choosing the ultimate designer wedding invitations.  Designer wedding invitations are much more than just a few random pieces of paper or a few cards with the same old gold foil print, informing people about details of upcoming wedding. It is much more than that, a wedding can reveal a lot about your personality, style and flair, your likes, dislikes and sense of taste. You can really set a high tone to your wedding or special event (who says a wedding has to be boring?).
There are seas and seas of wedding invitations and stationery online, which all start to look the same after a while. Things have changed immensely from the typical random wedding invitations from the 90s and now you have the chance to select couture wedding invitations with the unparalleled opulence and design that I can offer you at Crimson Letters as your personal stationery designer.
Let's dive into the process behind the creation of designer wedding invitations.
Crimson Letters couture wedding invitations are strikingly hand crafted on so many levels. Don't think wedding invitations, but imagine your story as a couple painted into art.  How does Crimson Letters achieve this?  From the specially made calligraphy, watercolour backgrounds, thick strokes of acrylic paint that you can run your fingers over, one off distinct-individual pieces, torn and watercolour edges and hand made bespoke envelopes with specially hand painted envelope liners.  Every single designer wedding invitation item is intentional and created to make an enduring impact.
With my luxury event invitations all designs are tailor made to blend with your style and sophisticated enough to make a profoundly lasting impression. Your luxury wedding invitations are specifically designed through lot of close communication with me.
Perhaps you would like have your venue painted upon your invitations, flowers or architectural details. Even patterns can be expertly woven through your wedding invitations. I can easily create a stunningly beautiful vow book featuring hand painted details and your wedding vows with calligraphy. Custom designed couples monograms can be shaped to create the most extravagant designer wedding invitations.

Honestly, my hand painted wedding stationery is so unique and versatile that they are not just used in the run up to your wedding but are also perfect for sending a special message to someone. Slip it into the outfit of your partner, or hand over on the day of the ceremony, before that all important first look.
I am the artist and designer behind at Crimson Letters. I'm a qualified professional designer, with an Art degree who knows what it takes to make your letters look effortlessly unique, and explosively exquisite because I have had the experience of working continuously for two years on a lot of editorials. Throughout those two years, my style has developed and evolved to now offer a world class luxury feel. I know how to pull out all the stops and deliver high quality designed pieces that will not only stun you but touch your heart on every level.
Below is an example of a luxury client from Dubai, who requested a suite of designs be created to reflect her luxury wedding venue in the south of France, Chateau Diter.  She especially requested that the suite be opulent and have the French bee pattern woven through the design.
Next, let's move on to questions related to designer wedding invitations.
 If I would like a completely exclusive, new design created that is not on your portfolio, how long will the design process take and when will I get my first design proof?
For designer wedding invitations the design process will depend on how many pieces you would like to have designed. One item of artwork can come together in a few days. If you need a variety of designs for one suite then it can take from 1-3 weeks to create a high quality design.
Do you take small minimum orders if I want only 10 to 20 invitations?
Yes, this is something that I am happy to do as long as I am available.
Can you post the invitations or wedding stationery out to all the guests, or do you ship them directly to the bride instead?
I prefer to send the stationery directly to you so that you can look over and inspect the stationery before you send it out. I often travel so shipping lots of individual envelopes with a courier service that requires am individual phone number for each address can get a little tedious and logistically complicated! Yet, if this is something that you need and are willing to pay for I will try my best to accommodate you. Get in touch and ask!
How do I get started on the process of design?
From the first point of contact I will work very closely with you to develop your design or vision. You, the client absolutely lead the design, while I will try to assist and offer as many creative options as possible within your chosen design package.
During the first few weeks of your order, I'll  work closely with you, noting each of your ideas to put into your designs. A private Pinterest board will be set up for you to share the look and feel of your wedding.
You will need to provide as much inspiration as possible, visual inspiration or architecture, patterns, colours work best; or you can provide any inspiration or designs via email. Alternatively you can jump onto a call with me and explain your vision and what you hope to get for the end result. You can lay out the details for what is needed and expected from your couture wedding invitation design package, the master copy of your design is then digitally copied or embellished with calligraphy and printed onto fine paper, then hand-painted to help give an authentic fine art look.
Can I select any design from the portfolio on your website?
Of course, you can chose any design and the I can easily change the text and details to your requirements.
What if I like a few different design elements from separate collections on your Portfolio?
This is not a problem at all, I can fuse your chosen elements and bring them together in a final design that will be complimentary and cohesive as a final designer wedding invitation collection.
How many changes can I request to the final proof before I am charged?
You can request up to 3 minor changes before production starts before you will be requested to pay an additional design fee.
Once the design is finalised, how long will it be until my couture wedding invitations can be delivered?
If you will be selecting a design from the portfolio and your hand painted wedding stationery requires minimal design alterations, only printing or light painting and only 20-50 cards are needed, your order can be expected within 3-6 weeks. This also depends on if we have your desired paper in stock. Alongside this, it also depends on how complexed your design are and how much of the artwork is required to be hand made, production can be expected anywhere from 4-12 months.
Can I incorporate gold foil, letterpress, engraving (raised letters), or have acrylic designs created?
Yes, this is all possible. I can outsource these design requirements, as you can see below, gold foil design has been outsourced.
How far in advance should I book you?
You need to book me as early as possible. Availability goes quite quickly as I love contributing to editorials and style shoots. Think of booking your luxury wedding stationery, the same time as you would book your wedding cake.  Save the date cards should go out at least 6 months in advance, invitation sets traditionally, will need to go out about 5-6 weeks before the wedding.
Is assembly provided, to save me time?
Yes, we can easily assemble the wedding suites for you.
Yes, I am happy to address all of your stationery, so that they are ready to send out.
What happens if I want to change something or add a design halfway through the design process?
Changes can be made as you wish, but you must understand that if the production process has started to you need to pay an additional cost to create new items. This may also impact  your timeline, so make sure you have plenty of time.
How can a bride contact me and am I available on the weekends?
For busy working brides, they can schedule a call or contact me after office hours and on weekends as long as notice is given. I aim to respond to all emails within 24 hours, if I am out of office, it will be within 48 hours.
Following on,  next I will go over some of my background with you and how I came to walk this wonderful path of being a luxury stationery designer. 
What inspired me to become a designer wedding invitations artist?
I have always been passionate about design and grew up drawing to my hearts content. As a child in primary school I was shocked when I won 1st prize and received an award infront of the entire school. That moment stood out for me as one of the most notable moments from my childhood. Later on I went to University to study Textile Design and I am still zealous about intricate, good classical design.
At first I wanted to become a wedding planner, as we intend to move to Portugal soon and initially I thought it would be the perfect way to marry my skills and make an income once we move out there.  Destination weddings are very popular and I knew that I would be wonderful creating unique events. Yet somehow, I happened to come across some hand painted wedding invitations and it is as though all the moments in my life pointed to this, my love for weddings, the way that art seems to spring out of my hands, my enthusiasm with painting and the ability to design and the way I love connecting with people, it all came together beautifully.
What do I enjoy the most?
There are so many things I enjoy! I get weak in the knees when I get clients from all over the world, it is wonderful and I entirely enjoy connecting with my clients and over delivering. I downright love, love, love painting but most of all I adore styling all the designer wedding invitations out on a surface and placing flowers and silk ribbons all around.
How many luxury wedding invitation design clients can I take in a year?
This all depends on the amount that a client needs and the complexity of a project but I like to aim for about 10 projects a year as I also have lots of editorial requests that I have to balance with.
What are my favourite elements to work with?
Acrylic paint is where I live and breathe! I also am infatuated with using the highest quality textured papers, luxury hand made silk ribbons to tie my pretty items up, playing with watercolours and using definitely the best part is creating custom calligraphy wedding invitation art.
How do I translate your ideas into a design?
At times it can be challenging. I'm always on the quest for perfection and that is a high bar to set for yourself. At times it can be frustrating. Limiting. Other times when inspiration or an element deeply influences me it can be very spontaneous. The design can flow from my hands. It's a very organic way of working. Sometimes I use completely different design items, such as large colourful peonies paired with an ornate baroque monogram. I always use complimentary colours or contrasting features to bring the entire design together effortlessly.
What are my future aspirations?
Eventually when I have enough time (sooner rather then later I hope) I would like to start an online shop selling individual fine art watercolour and acrylic paintings.
If you could create any type of wedding stationery suite, the wedding stationery suite of your dreams, or be hired for a dream job, what would that be?
One day I would be honoured to create the most extravagant wedding invitations or couture wedding invitations for royalty or a famous celebrity!
What do brides or clients need to know before they come to me?
Brides need to have some idea what they're looking for, in terms of colours, what size invitations they would like, how many guests they expect for the wedding, how many items they will need and when the date of the wedding is.
Do I design for businesses or only brides?
Great question! I can create custom illustrations for businesses and brands, whether you need specially crafted postcards, poems or enclosers for client packages, illustrations or logos for your website or even calligraphy business cards, it is all feasible.
Let's zip onto my favourite top 15 designer wedding invitations.

Weddings are so special, they celebrate the union of two people, the beginning of the rest of their lives, and should be celebrated as such. This carefully handcrafted menu speaks massively to artistic couples; as the simple gorgeous white background helps emphasise the beautiful soft strokes that form a floral pattern. This design sets the seamless fine-art tone, perfect for an Autumn/Winter wedding. Standing as simplistic, as it is sophisticated and artistic in nature. The vibrant colours of red, which signifies passion, blue and the traces of yellow that lend a stroke of vibrancy without being too brash. The handwritten calligraphy also plays a huge role in the absolute prettiness of this card.
2 & 3
Continuing on with the Autumn theme, the luxury wedding cards below are designed with lenient strokes and dabs of the paintbrush, which helps capture the beauty of fine delicate foliage and tiny berries which provide sustenance to the birds throughout the winter months. The pristine nature of the white background serves as a great canvas and helps to enhance the beauty of the card as a whole. The play of colours lends itself charmingly to help create the mystique of a winter wonderland wedding, set amongst a grand manor house perhaps.
Inspired by the romance and grace of Europe, harping back to the days of the aristocrat where ladies attended fine balls in grand houses, men would gather to discuss politics, where stately homes were full of far fetched Eastern antiques, this suite stands as a testament to the regalia of wealth and all fine tastes.
Welcome your guests with this magnificent couture wedding invitation suite that your guests will be in awe of. Embellished with intricate antique gold calligraphy that shimmers as you hold it, adorned with thick hand painted details, this signature suite boasts the highest point of refinement and style. These carefully crafted designer wedding invitations will indulge your guests in regal luxury, they will certainly want to keep their invites and use them as family heirlooms.
The plain looking nature of the white background with soft tones of watercolour is sharply contrasted with the gold foiled thick edges. This gold foil signifies wealth and love and the white background signifies peace, serenity and coolness, sealed with a black coloured wax seal. The divergence from the modern day design, the seal takes the whole design back a few centuries fusing together the lavish and luxury.
Wedding vows are a sacred part of your wedding day. They take you straight back to a moment in time that was intensely genuine and heartfelt. Surrounded by your loved ones and all who are precious to you, you take out your wedding vow book. While you focus all your energy on trying not to shed a tear, you pour your heart out with solemn declarations of love, commitment, passion and promises for the future. This time is a precious milestone in your life, a moment that is so precious it will remain for a lifetime.
The tender words you speak to each other should be captured on something equally as beautiful and dramatic and the moment itself, not scribbled down the day before onto some normal notepad paper.
This is where my luxury wedding vow books will stand as a keepsake, that you can treasure and even professionally frame and showcase in your bedroom.
Before you think of designing your wedding vow books ask yourselves some questions.
What do you love the most about your fiancé?
What do you look forward to in your future?
How did you feel when you first met?
How did your love take root and grow?
What could you say now to get through and overcome any challenges?
The beauty of these luxury wedding vow book needs no explanation. The moment you touch this couture wedding vow book, as your hand brushes over the hand painted textures, the hand torn, frayed watercolour edges that are embellished with glistens of gold, you realise immediately how utterly priceless the vow books are.
The deluxe nature and complexity involved in this wedding vow book, ensure that only the crème de la crème opt for this design. These wedding vow books are highly exclusive and no, they do not come as mass produced print offs!
The wedding vow book is designed in pale cream iridescent paper, with a large elegant monogram design painted in gold, with the couple's initials in calligraphy. Offering a truly unique hand painted wedding stationery experience, any design can be adapted and tailored to the style to your wedding theme.
If you're looking for the most sophisticated extravagant wedding invitations, without being too ostentatious to match your luxurious wedding dress, yet you cannot seem to quite find the right fit, look no further. This particular card is beauty personified, it speaks of sumptuousness in more ways than one. The creamy paper background helps to illustrate the opulent nature of this card. This luxury wedding card has the floral embellishment fit for a queen, with classical gold leaves encircling the details of the couple. The painted brushstrokes and gold paint make a feast for the eyes. The edges are hand torn and bejewelled with gold foil. Leaving no stone unturned, even the vellum envelope is adorned with gold calligraphy, wrapped in the finest silk ribbon and completed with an antique wax seal.
If you are planning a luxury destination wedding to perhaps Venice or Paris, or an elopement, these hand painted luxury wedding cards are the perfect addition.
Floral Fine Art Wedding Invitation – Elysium
Our handmade watercolour luxury wedding invitations with lighter shades with a charming botanical twist, this floral wedding stationery suite stand as a sophisticated alternative to choose. Relish in the blazing glow and soft unspoken enchantment of this floral hand painted wedding stationery. Offering delicately painted sweeps of watercolour with the calmest hues, paired with strokes of gentle gold calligraphy and finished off with a dusky pink, this design offers couples a new modern way to use botanical-pink combinations.
Inspired by ancient Irish castles that stand strong in their foundations on the grassy rolling hills of Ireland, this designer wedding invitations suite was conceived with the Irish clover and the beauty of the Irish countryside in mind. Inviting guests to their first taste of your special day, having the perfect wedding stationary is essential to setting your theme and indulging each guests in the luxury setting of your wedding day.
Roses are red and violets are blue and this blue luxury wedding card is just for you! The design of this card is simply out of this world as it screams class and style in more ways than one. The letter is made with a hand drawn blue ornate classical patterns that draws attention to the monogram and gives it that royal feel.
Using detailed elaborate illustrations and exclusive calligraphy our bespoke invitation suite is also available with matching table cards, table numbers and envelopes.
Elaborate yet refined designer wedding invitations
A treasured family jewel is the way to describe this suite. Influenced heavily from the classical renaissance interiors at the Chateau Ville de Vicomte in Paris, France. Invite your guests into true luxury delivering a truly unique hand painted wedding stationery experience. The silver glistening design is perfect for you if you are looking to immerse your guests into sheer extravagance. The name and initials of the couples are handwritten on the front of the card in a unique way that you can be sure that there is no other couple in the world who has the same as you.
A rare, exquisite luxury wedding card with carefully hand printed floral design using a gold antique finetic calligraphy ink with a strong contrast of black. Boasting optimal luxury and style, the lashings of gold contrast perfectly against the black.
Indulged with shimmering strokes of hand painted large rich pink peonies, our beautiful invitation suite is adorned with lashings of hand-painted floral designs. Teaming perfectly with the golden hand-painted typography, our beautiful invitation suite can be tailored and adapted to your wedding theme.
Start your celebrations right and excite your guests with our luxuriously crafted invitation suite. Hand-painted with a beautiful style and palette, our regal invitation suite is also available with matching table cards and envelopes.
The black background serves as a strong contrast to the gold writing. The rich black color captures the essence of elegance. This accentuates the beautiful soft strokes of Gold that helps capture the simply complex design.
This particular crimson letter card is not for just anyone. This card speaks of strength, elegance, exquisite taste. The card is a convergence of minimalistic and sophisticated opulence.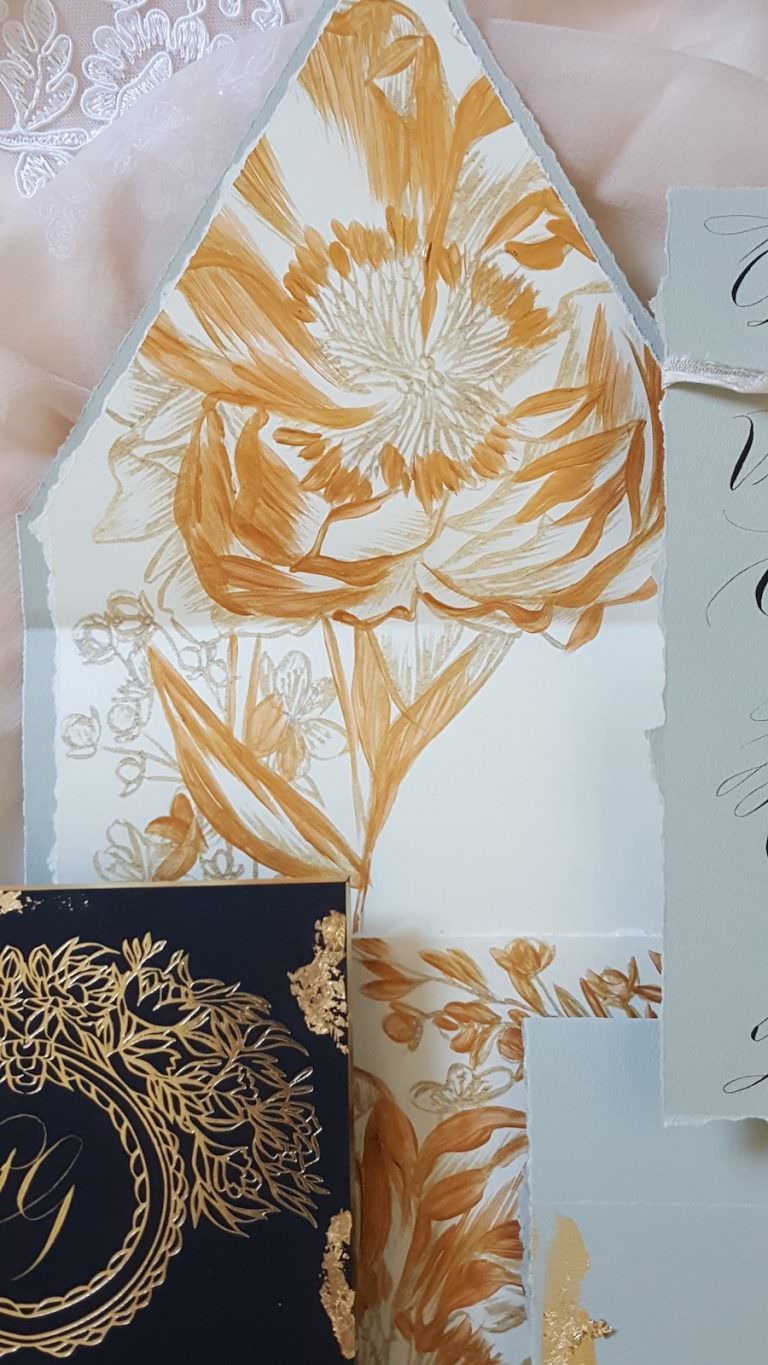 Inspired by the elite French style living and the panache of the French Riviera, this signature luxury wedding invitations suite is synonymous with the higher society and the finer things in life. Immerse your guests in a whirlwind of lavishly painted large gold flowers, sumptuous hues and faded yet rich colours. Fusing together creams, glittery pale gold, contrasts of deep obsidian black, highlights of calm blue and deep grey green. Offering a truly unique luxury wedding invitation experience and perfect for a wedding any time of year.
Saving the best for last, these wedding menus will certainly have your guests gawking at their dinner tables and stroking the menus in wonderment as they oooh and aaaahh. Created on a deep, black and Prussian blue hand painted watercolour background, embellished with gold calligraphy and lashings of glistening gold paint.
So why should you choose a professional wedding invitation designer? Because your wedding is a celebration of your love and every aspect of the event should reflect this with beauty and originality. If your love is one of a kind, your invitations should be too!
At Crimson Letters I offer luxurious packages specifically tailored to your wedding. Please check out my website > www.crimsonletters.com to take a look at my portfolio and services.